I had the idea not too long ago to create a little group picture of sorts of various famous non-film characters from Disneyland. I decided to draw them in Flash so that I could easily move them around and arrange them.
Anyway, I was wondering if anybody knew of any good sized clear images of the new bride (besides DaddyB's infamous cross-eyed picture of the bride). A video would suffice as long as you can see her dress clearly. I'm having trouble figuring out what it looks like so until I hit the parks again I'm hoping maybe someone might know of any pictures.
Here's the progress on the picture so far: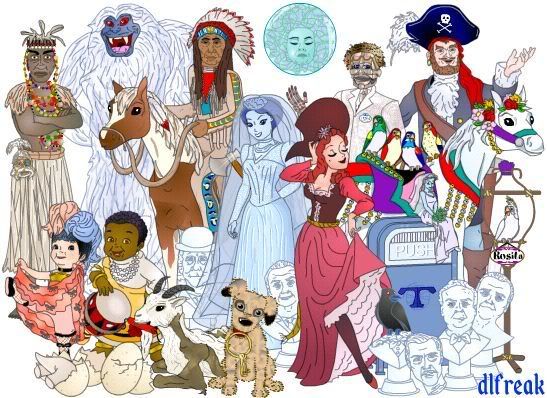 As you can see, I only have a very basic outline for her dress. Also, she's currently a red-head but I believe she is a blonde. Actually, she'll probably end up various shades of blue since she's a ghost.
You may recognize some of the other Disneyland residents in the picture. Keep checking back as I'll keep updating the image as I add more to it.