Back with another update, not much to see around the parks, but Disney is starting to bring in Year of a Million Dreams merch already as the 50th winds down and Tomorrowland is still Constructionland. ...Take a look:
YEAR OF A MILLION
MERCHANDISE OPPORTUNITIES.
The new line of
"Year of a Million Dreams" merch
has started to hit the shelves at the DLR. The Emporium in Disneyland has a full line of
"Disneyland Resort - Where Dreams Come True"
merch, and the Star Trader in Tomorrowland oddly offers
"DisneyParks - Where Dreams Come True"
merch. It seems weird to me that they'd even make "DisneyParks" merch, because most people are going to want to have a t-shirt or a sweatshirt with the name of the actual Resort that they visited on it. I don't see to many Disneyland guests buying the "DisneyParks" shirts, and a CastMember we talked to doesnt seem to think so either. He said a woman already told him "I don't even want the shirt unless it says 'Disneyland' on it!" ... Can you blame her?
Also check out CrazyLegs' related thread, with additional photos of the "Where Dreams Come True" merch, HERE.
Adult Men's T-Shirt:
$19;
Adult Women's T-Shirt:
$28.
Adult Baseball Cap:
$19.50.
Gray Children's T-Shirt:
$17
Navy Adult Zip Hoodie:
$44. Front.
Navy Adult Zip Hoodie:
$44. Back.
Bag:
$24.
Adult Men's Polo Shirt:
$39
DisneyParks merch:
Blue Rock Candy Cube:
$4;
Static cling window decal:
$8
TOMORROWLAND CONSTRUCTION CONTINUES...
Work continues...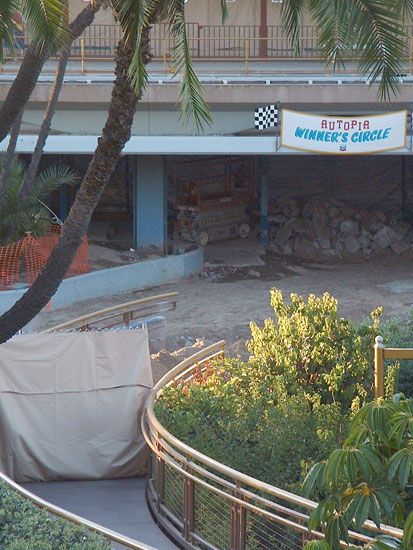 HALLOWEEN CONTINUES TO CREEP IN...
Candy Palace on Main Street has gotten it's character display area re-dressed with a more Halloween/Fall theme.
...And that's all. Until next time...