So I know that pretty much everyone here who has been to the parks has been stopped or attempted to be stopped by a Survey Taking CM. You know exactly who I'm talking about: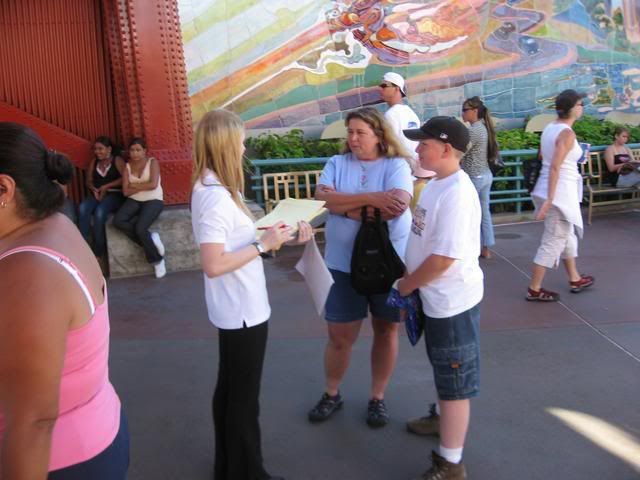 Correct me if I'm wrong, but most of us find them just a tad annoying and over eager to get your attention; plus I'm pretty sure most of them don't see their job as rainbows and sunshine even more than the average CM.
So here's my suggestion to make this experience a little less painless for both parties involved:
Make sure all Survey CM's are wearing both a regular and a kids lanyard for pin trading! I know how simple and stupid this may sound, but think about it for a second. They already are able to get the majority of the tourist population to stop for them because they're unfamilar with this aspect of DLR; but when was the last time one of these CM's got a local guest or AP holder to stop? And these are DLR's main daily visitors! These are the people they need to get opinions from considering their view is a lot more objective. And I say this because the regular tourist who comes once every year or couple of years may be too starstruck by the entire experience to really critique it accurately.
Following my train of thought, a large portion of locals and AP holders are in fact pin traders because it becomes just another aspect of enjoying the park when you're there so often. I know for a fact that they would get me personally to stop and chat with them if they had a lanyard. I mean I stop and chat for a few minutes with almost every CM I see wearing a lanyard (Those who've gone to the parks with me know what I mean).
Maybe they could even take it further and give out a special pin (Nothing too fancy, maybe like the AAA ones, which I see
everyone
in the park with nowadays) if you complete the survey. And if they're worried about it being tradeable with CM lanyards, maybe make it a non-tradeable to CM's pin. The Pin Traders around the world would still go nuts to trade for a pin you can only get by visiting DLR and completing the survey.
In any case, something needs to be done to spice up these CM's jobs and make it a tad more magical to the guest. It would definitely benefit both parties.
That's my story and I'm sticking to it.