I gotta pick this guy,
Bob Gurr.
He designed the original Autopia cars, the Monorail, The Mr. Toad ride vehicles, The Flying Saucers, the Motorboats, the Matterhorn Bobsleds and ride layout, all of the Main Street vehicles, the Omnibus, the Tomorowland Viewliner, and the humble parking lot trams of old.
He's also responsible for the original look of the subs in the Submarine Attraction, and the Omni-Mover that is what transports you around the haunted Mansion.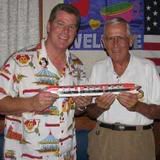 Who's your favorite Imagineer(s)?