Eyes_of_Mara, last seen here in this picture was thought
to have vanished forever suffering the curse of his namesake idol!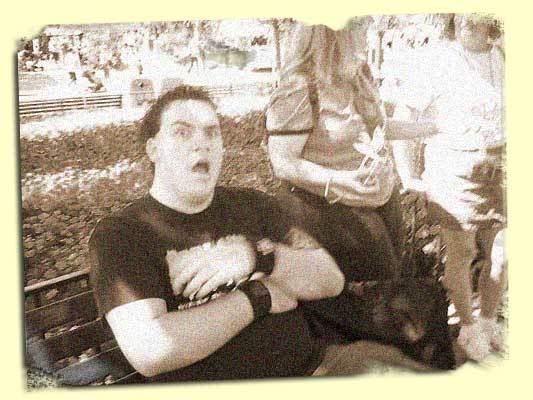 News of his where-abouts suddenly came to a halt back in early
January of 2006 and he was last seen at the base of the Sun Wheel
cleaning vomit out of the cabins and walkways.
Finally, at long last he made plans to return from hiding under the steel supports of the attractions in DCA to make his glorious comeback to the CHURCH OF WALT!
(all Church of Walt Merchandise can be purchased here for Sunday services)

Dustysage and I raced up the Golden State Freeway to make the noon meet at the Hub (a.k.a. the Church of Walt, C.O.W) to hang out with everyone's favorite idol, Eyes_of_Mara!

Expecting the worst we took the side entrance to the parking structure and sailed right through. We got a great spot in the Goofy level and headed to the escalators.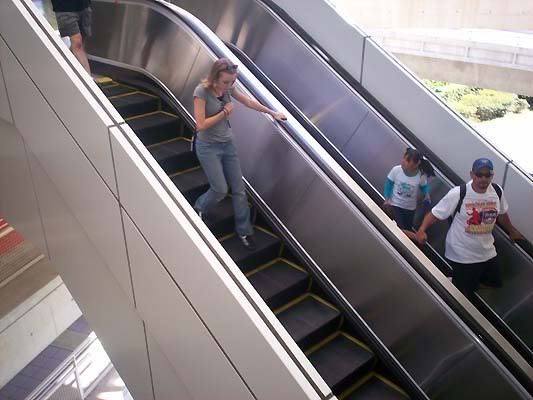 Yup the were broken. I'm not gonna start.
We bolted down the adjacent stairwell and rode the escalator down from the Daisy Level.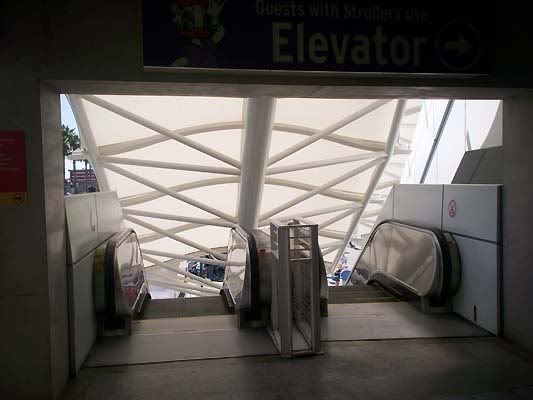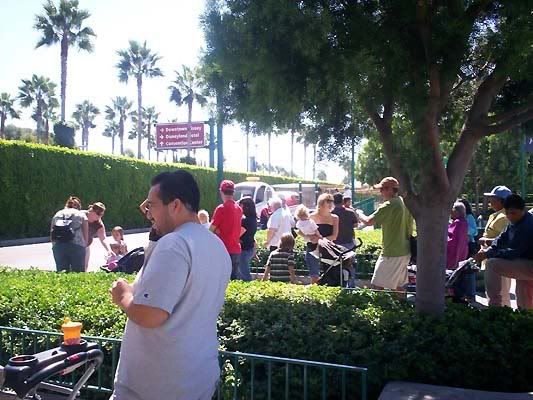 Surprisingly, there was hardly a wait for the trams! WOW the transportation department had their act together! GREAT JOB! We boarded the tram and I looked over and thought I saw a familiar face.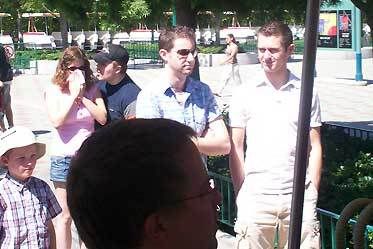 Imaginerd was that you?!?
The tram dropped us off and we walked to the security tents. ALL THREE TENTS were open and there was NO WAIT! This was unheard of. It was Amazing. Great spot in the Parking Structure, no wait at the tram, a breeze through security. Huh. What could possibly go wrong?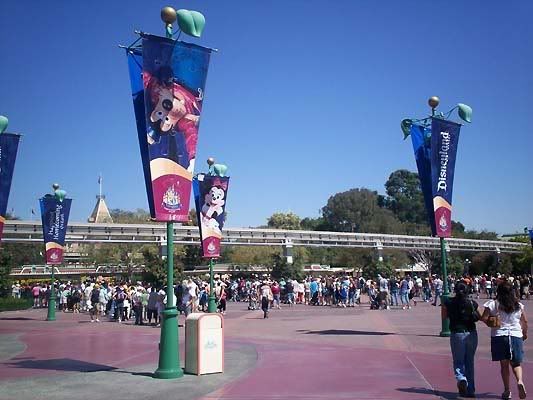 Oh.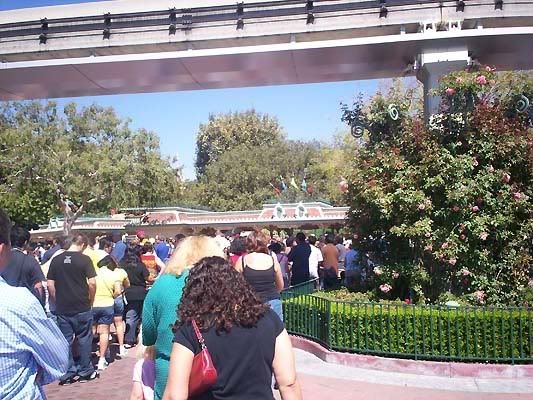 The lines stretched out to the Esplanade, threatening to meet DCA's line.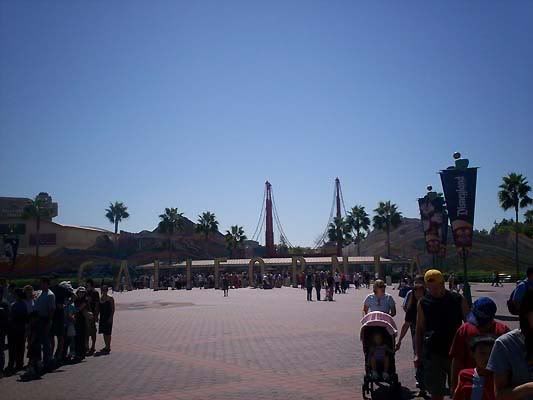 To the CM's Credit, however, it took us a mere ten minutes to get through the line. There weren't as many gates open as there should have been, but the CM's were hustling!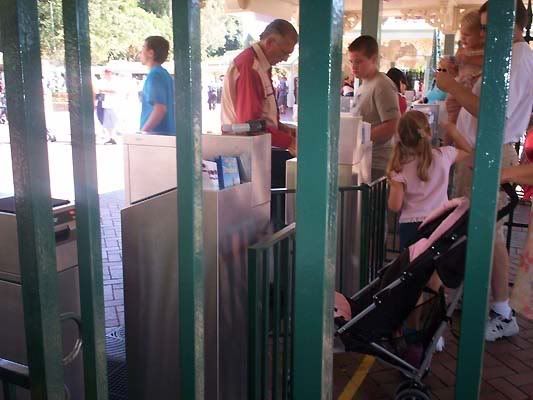 We got in and bolted to the right this time. Pluto and Goofy greeted guests on Main Street.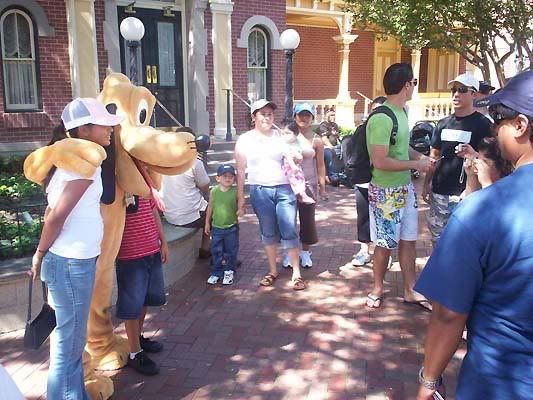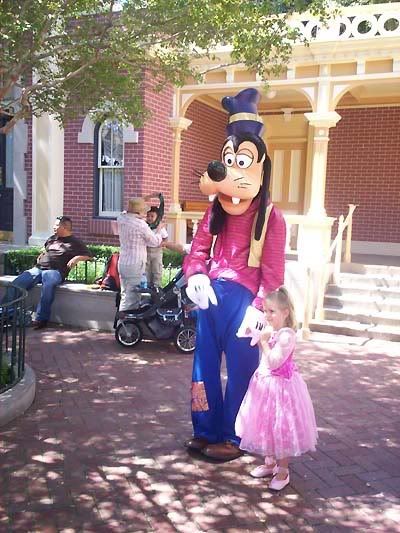 The Disneyland Band played a frantic song as Dustysage and I darted through the crowds to make the noon meet.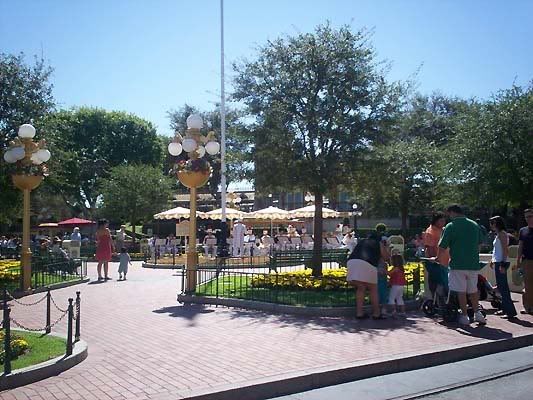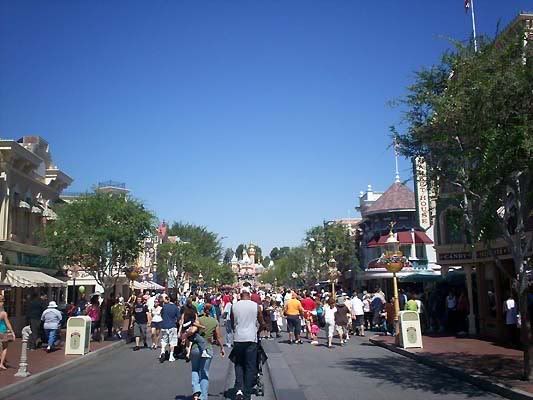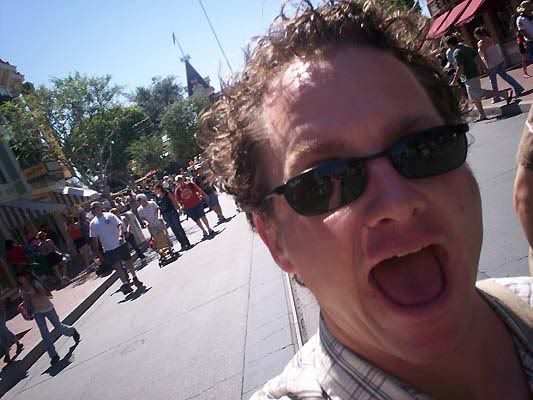 We Made it! Late, but, you know, We made it!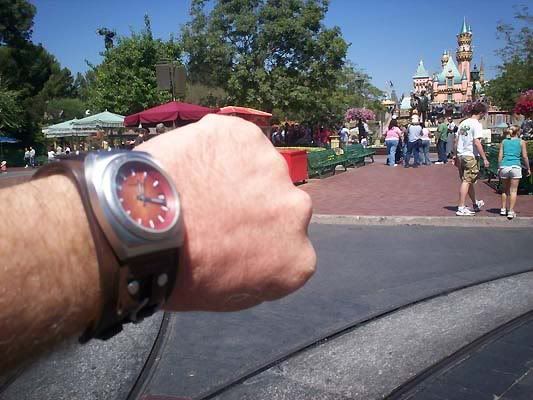 EYES_OF_MARA!

Fishbulb and Eyes_ofMara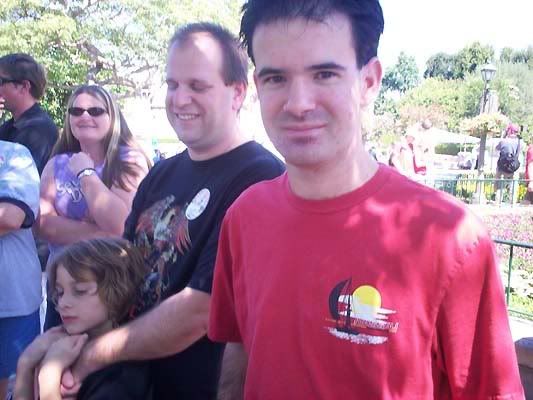 Mr.Mainstreet gives a hearty hello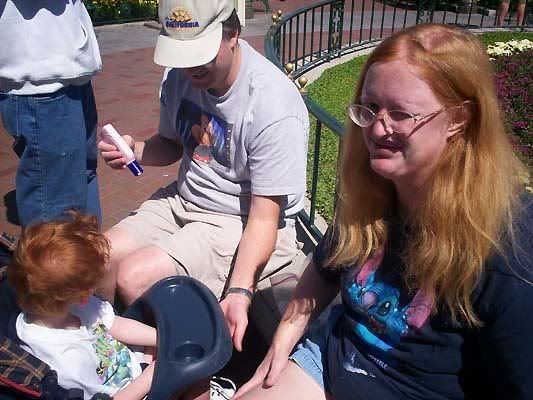 DisneyRedHead hangs with the family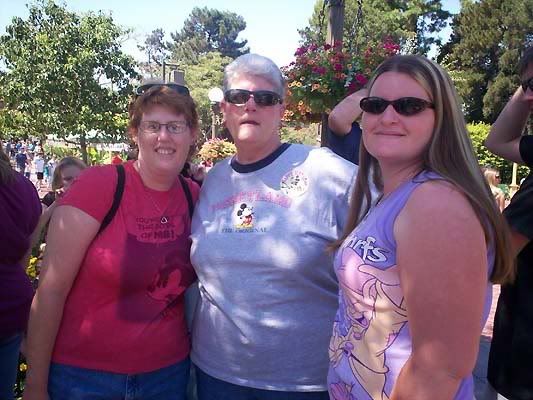 StitchTT6 and her Mom (HAPPY BIRTHDAY MOM!) and Sister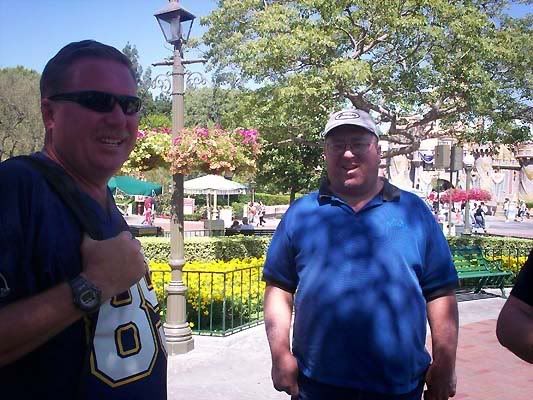 Darkbeer and David Lane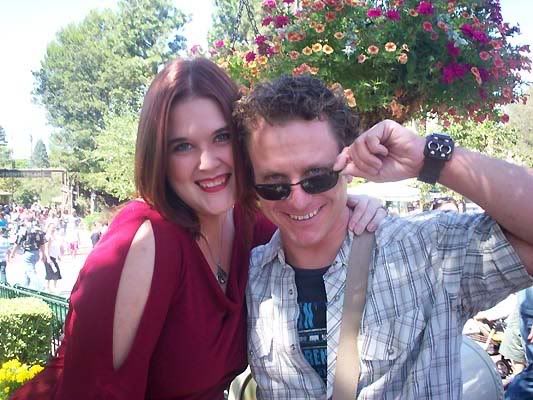 RoseRedAngel and the Fishbulb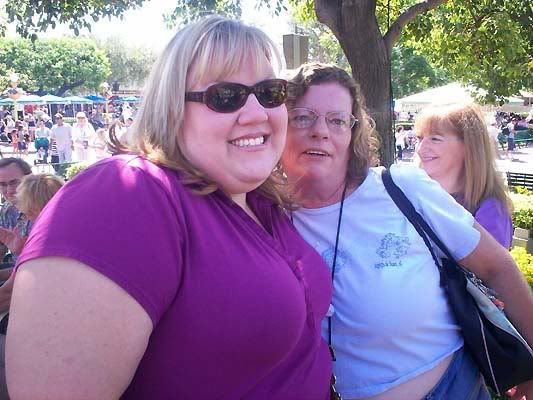 IndianaJenn and Wolfy999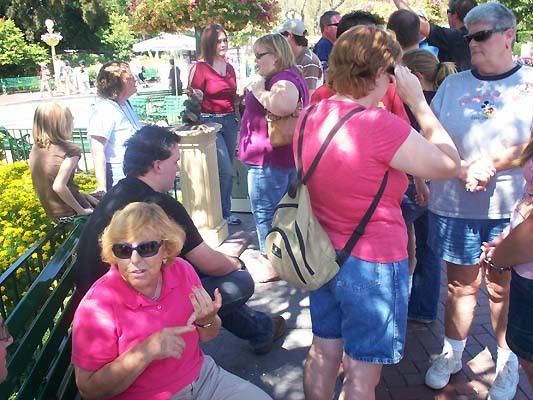 Frogberto, Wife, and a sleepy Tadpole showed up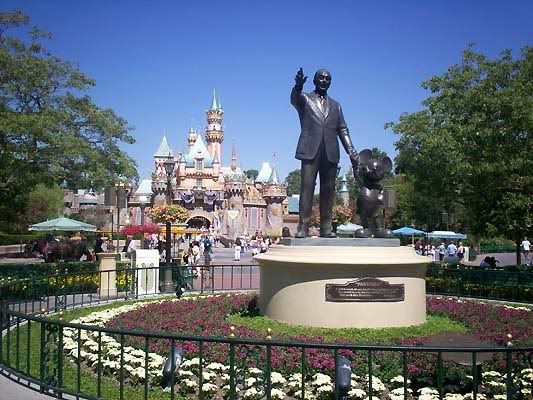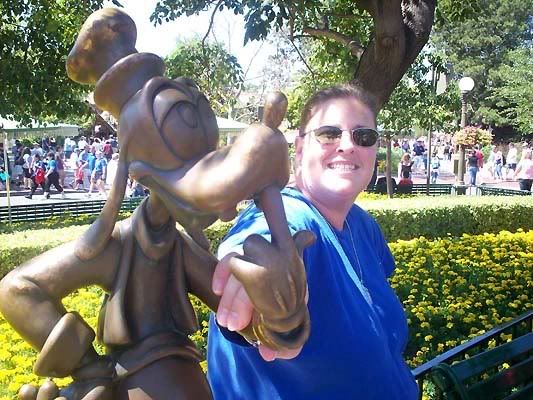 Grumpy4 hangs with Goofy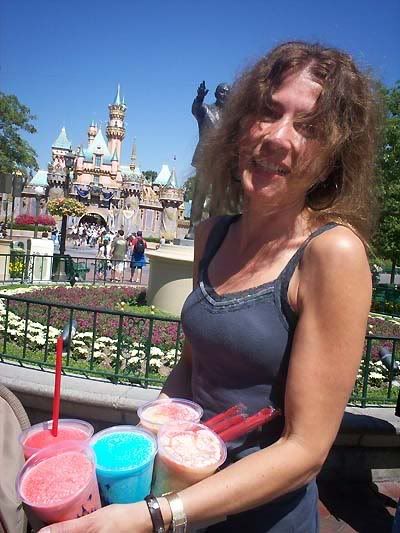 Nemopoppins made an appearance at the meet!
What does Santa do in the off-season?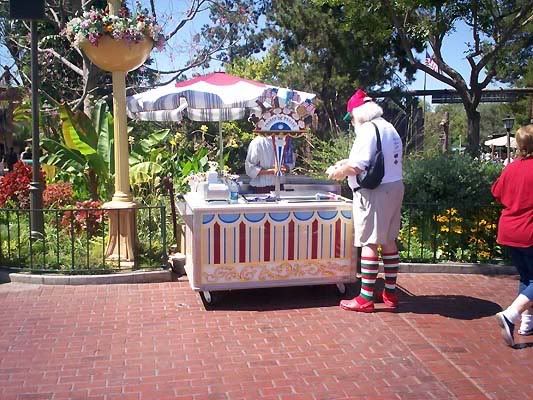 Santa likes to stay cool while at Disneyland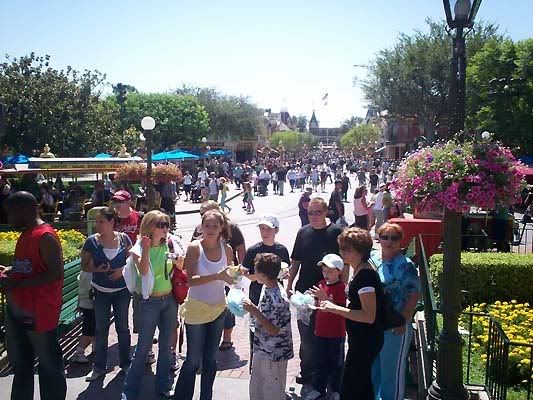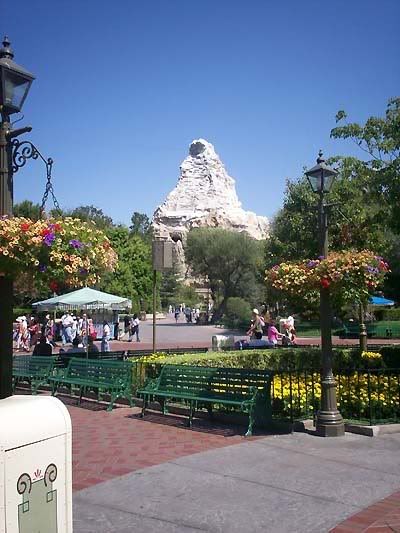 The Mercifully silent Matterhorn presided over the noon meet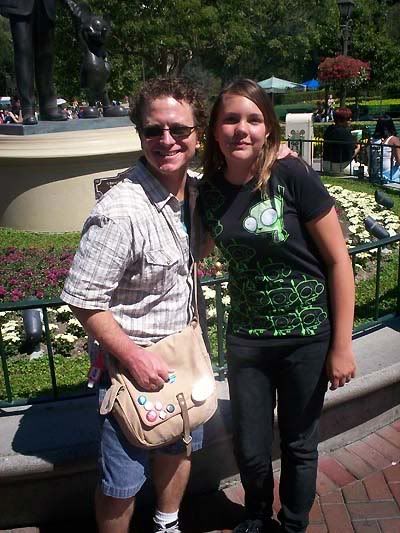 Fishbulb and Paige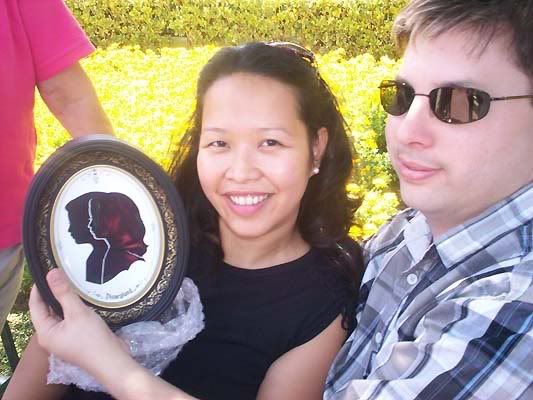 Savik101 and his wife Jenice

Once we had hung out long enough, we all decided to address the issue of Lunch.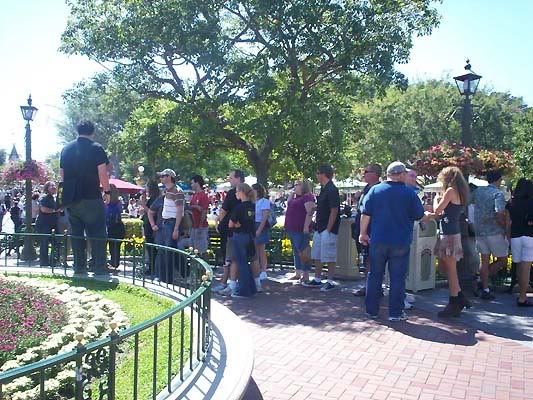 EOM addressed the crowds and we all decided to go to
Redd Rockets Pizza Port.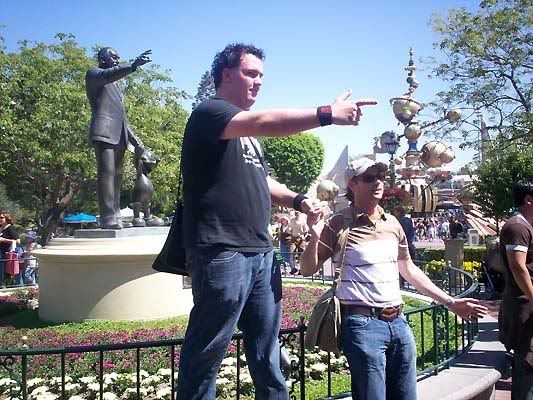 Eyes_of_Mara and Dustysage recreate a special scene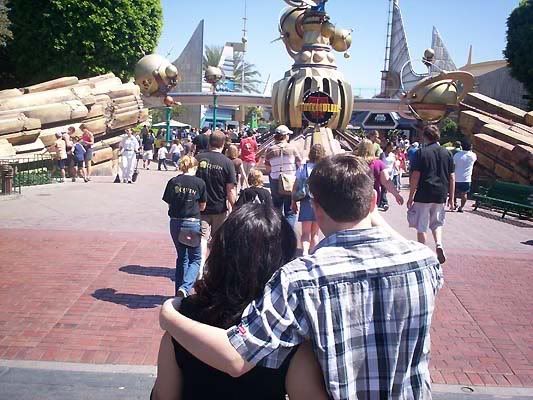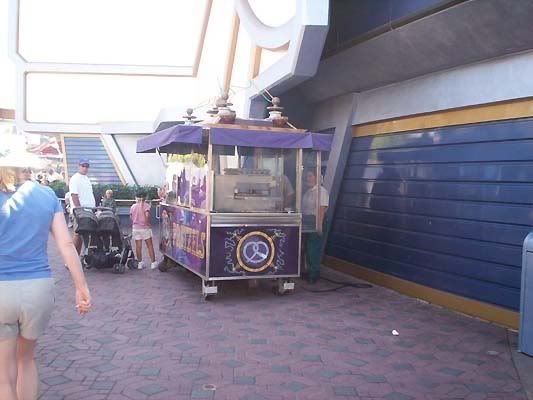 Yipee! another ODV in Tomorrowland!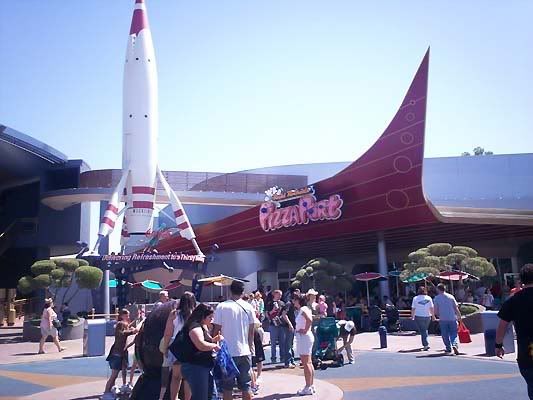 We all got our fabulous food and headed out to the outer dining area.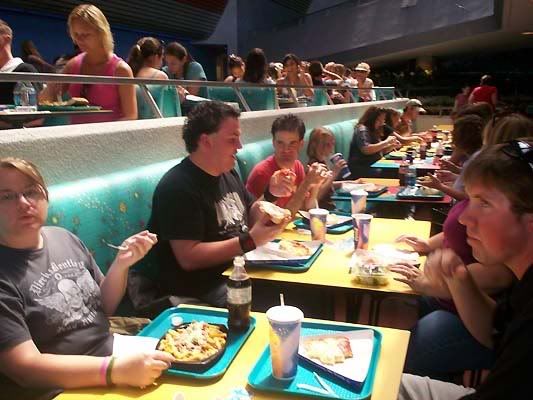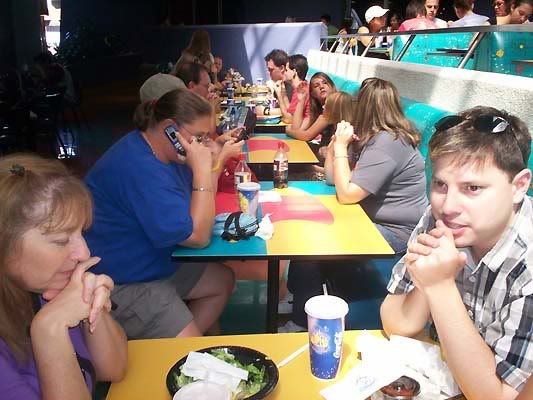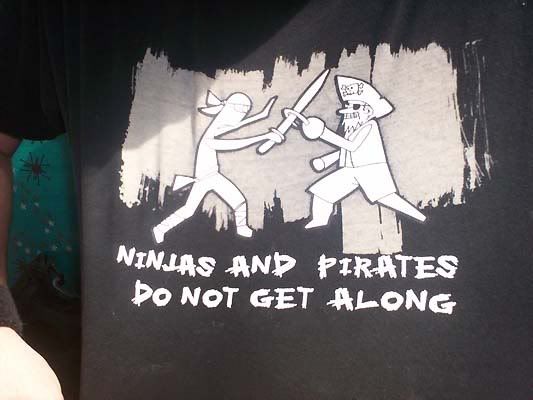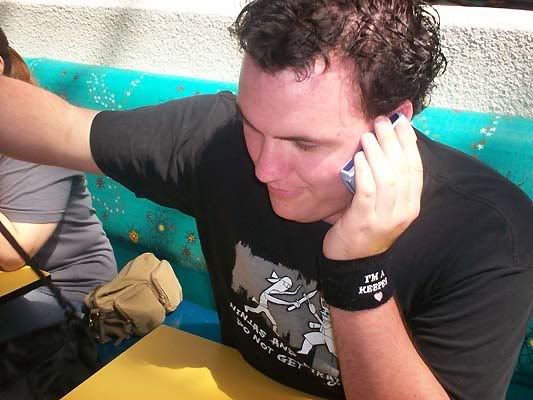 Eyes_of_Mara called Big Daddy Kyle to harass him for not being at the EOM meet.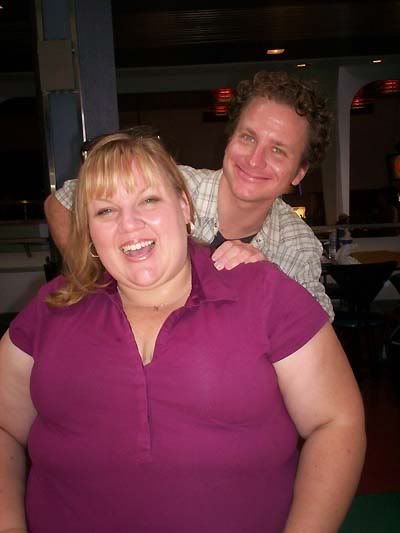 IndianaJenn and the magic hands of Fishbulb
During lunch Savik101's Wife confessed she had not been on the new Pirates. Well, after an uncomfortable silence we all quietly decided it best if our group just get her there immediately.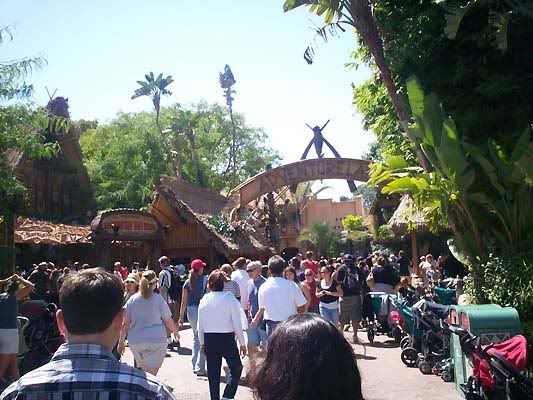 After making a brief pit stop to get Fast Passes for Indy...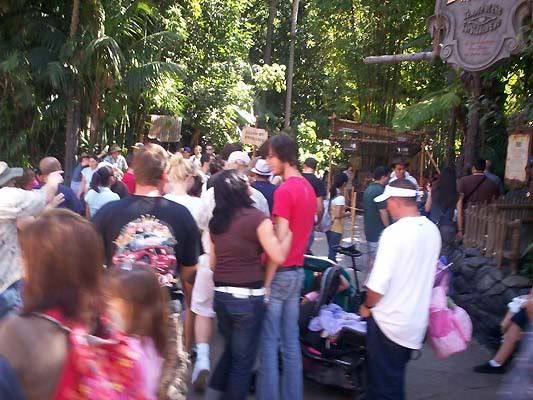 ...21 of us MC'ers stormed the line for Pirates of the Caribbean line.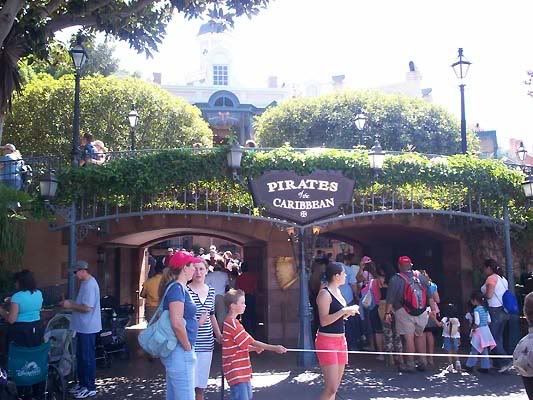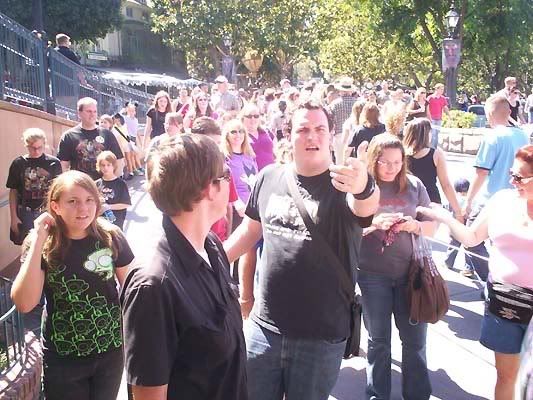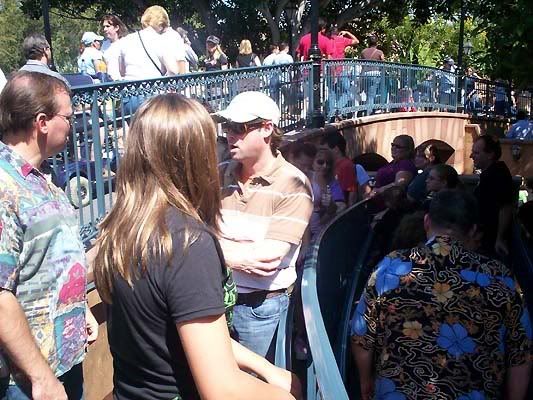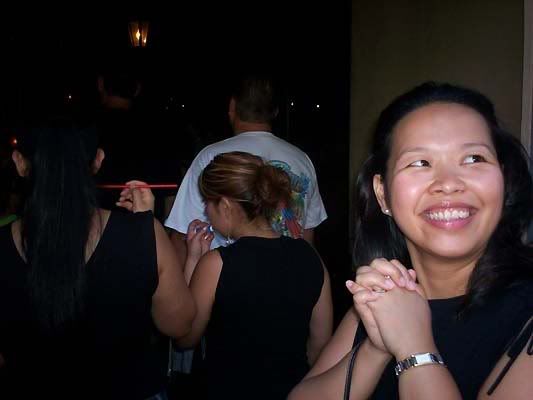 SO EXCITED!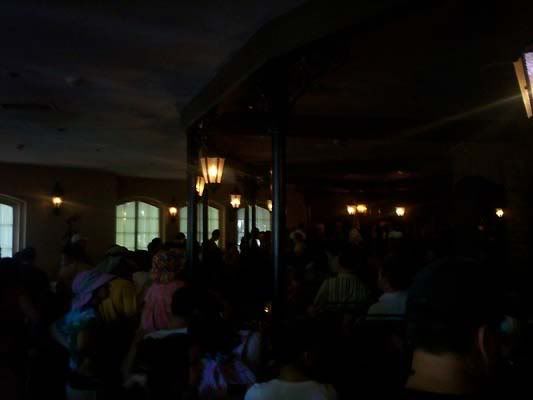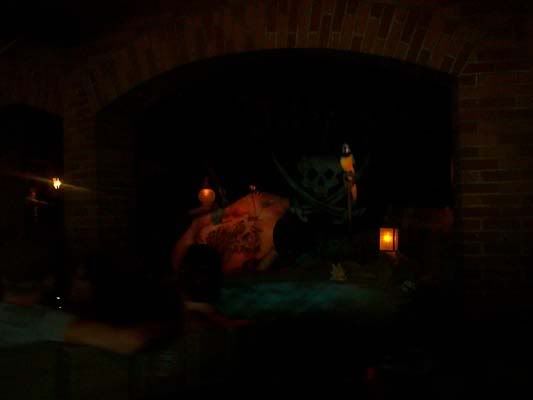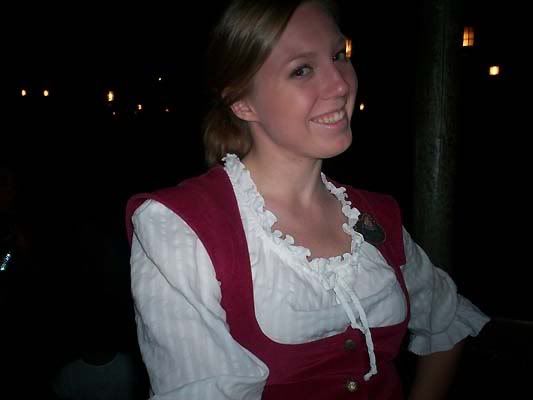 Full boat of 21? No problem!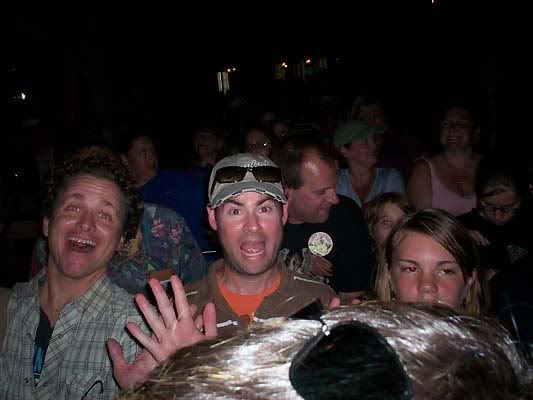 Ship of fools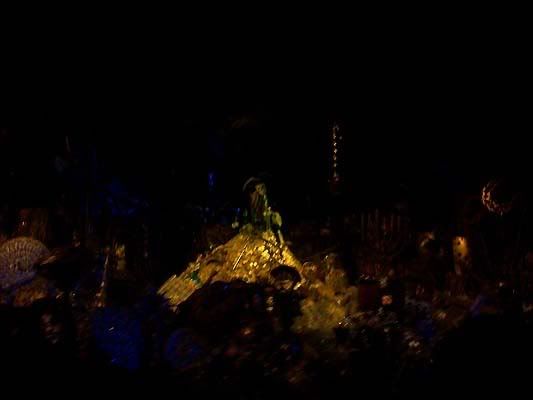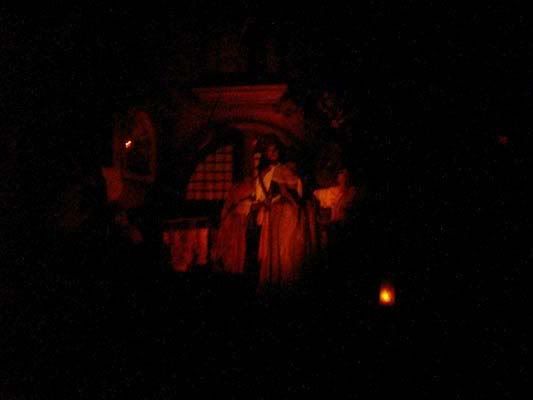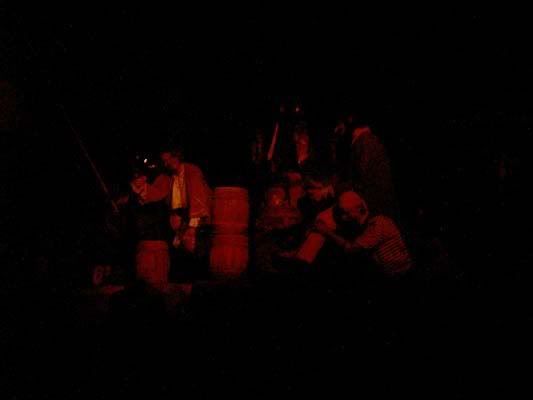 The verdict? I think she liked it! We all grouped afterward outside the Pieces of Eight store and decided what to do nest. Savik101, Jenice, Wolfy999 and Wolfette had to run.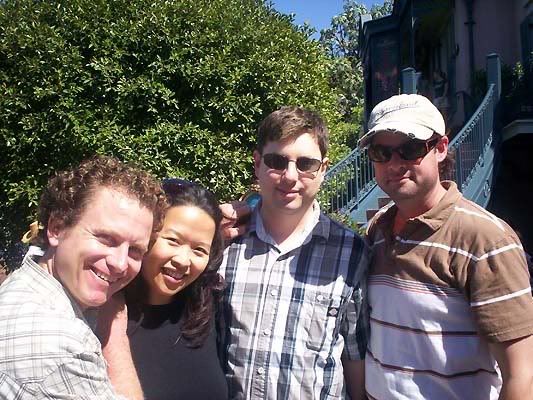 Fishbulb, Jenice, Savik101, Dustysage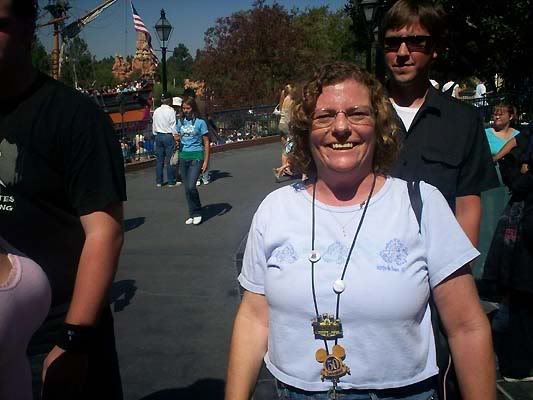 Wolfy999 says adios as Sam looks on from the background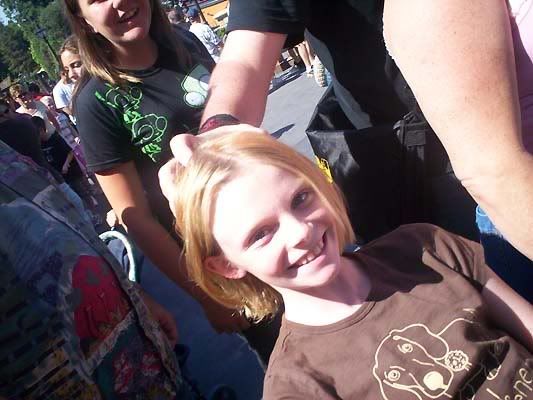 Bye Wolfette! Have fun on Buzz!
We said goodbye to them and then headed on to Indy.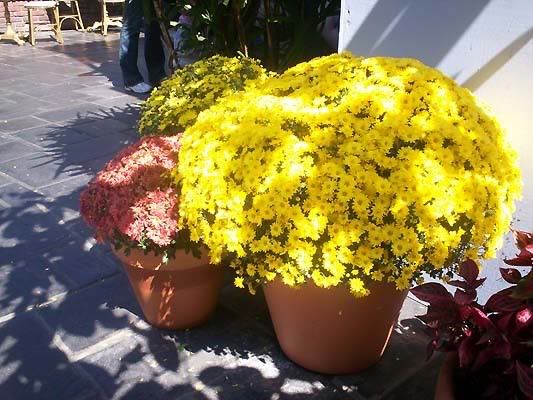 The lovely mums in New Orleans Square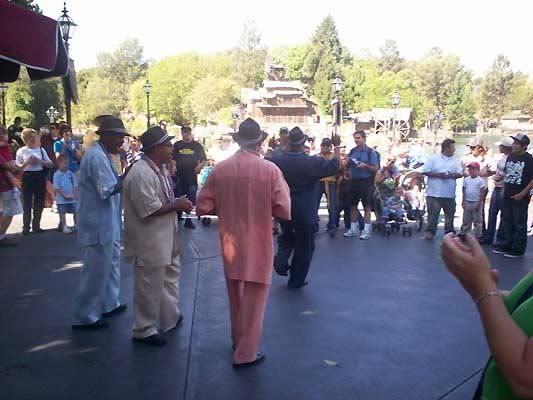 A wonderful vocal group entertained the crowds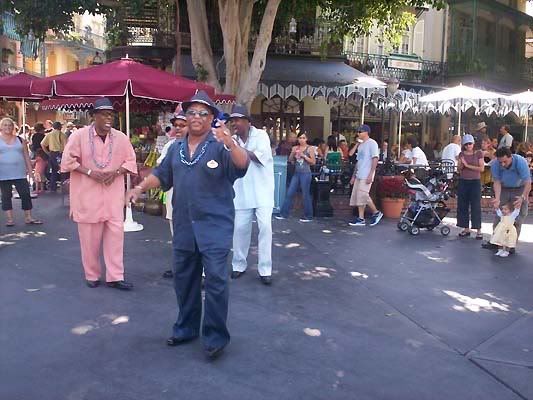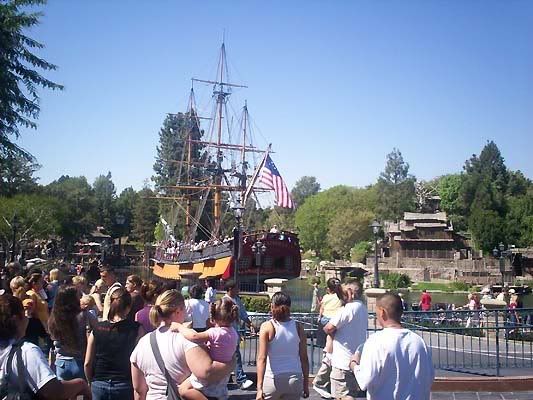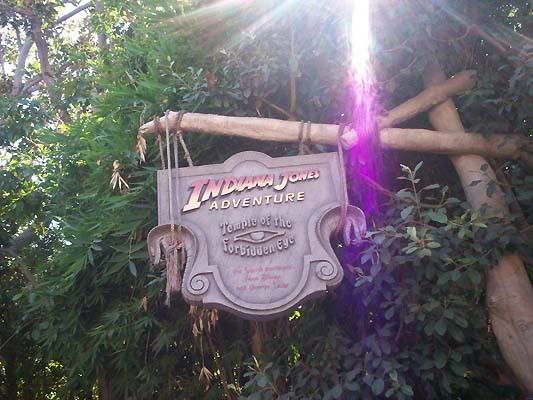 Indy Jones!
At the entrance to the line we realized that some of our party had not gotten their FP's and so, after a yet another tearful goodbye, we agreed to meet them at the exit.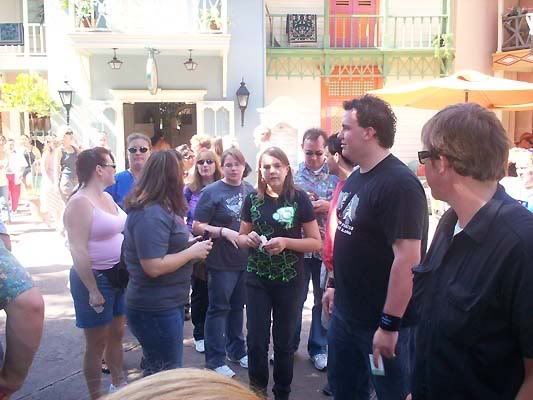 Our clan of now 12 adventurers stormed the Temple in search of fun and excitement.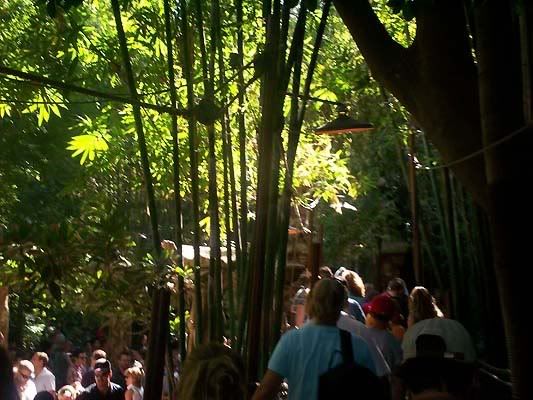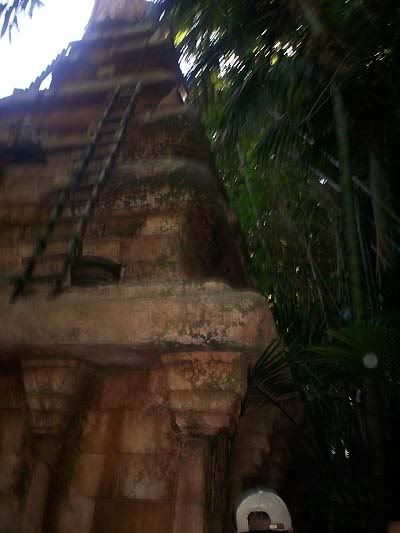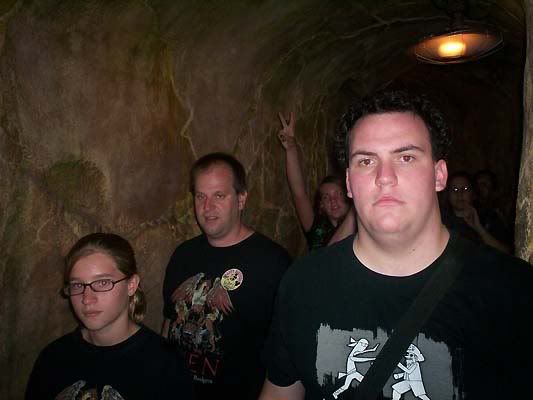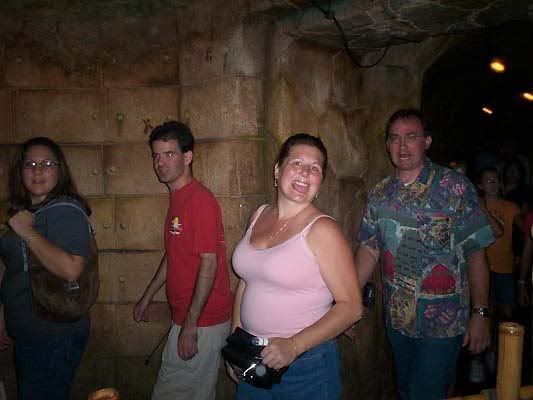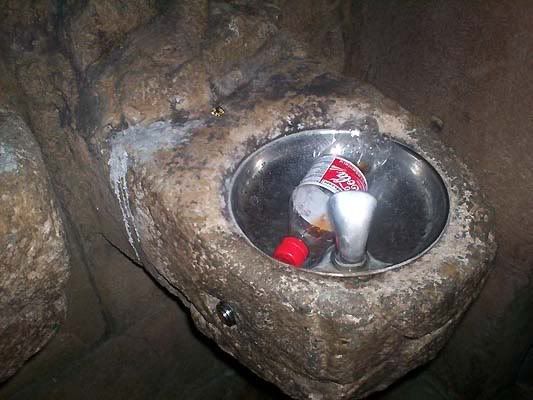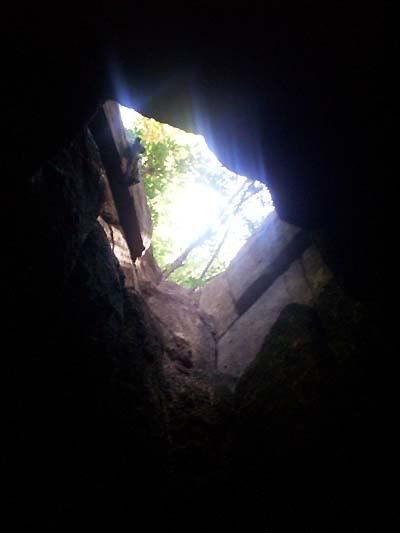 Jessy was elected the driver for our trip into the Temple of Mara. We found out later that was a pour choice.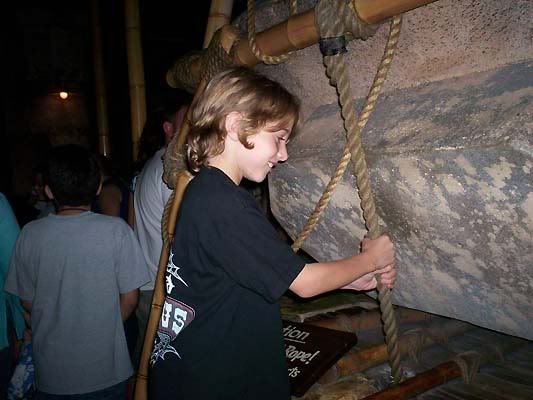 Jessy tugs the rope of Destiny!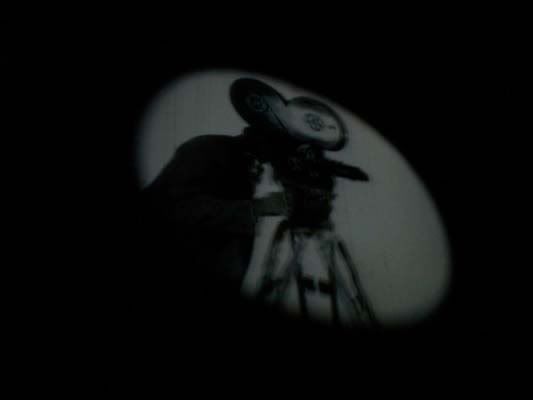 The Projection room of Death!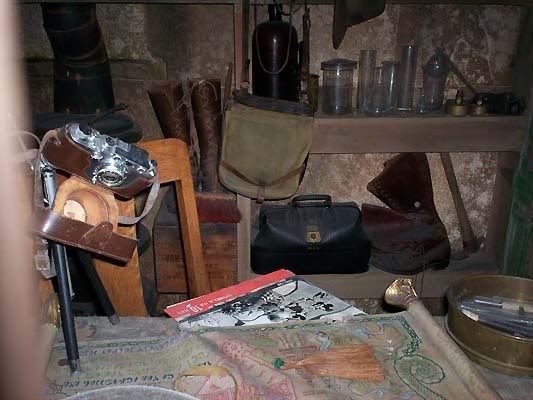 The hidden Mickey of Fate!
We boarded the transport and everyone buckled in.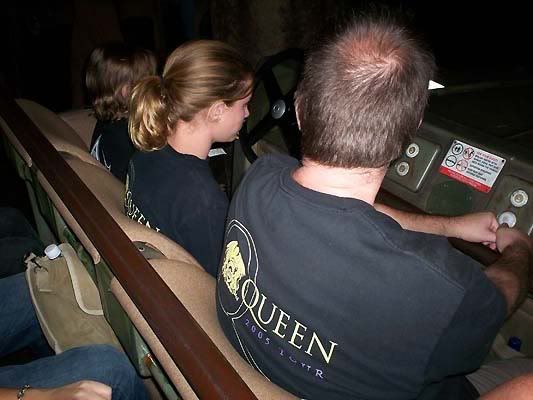 Eyes_of_Mara was racked with fear that the real Mara would be angry at him for stealing it's name and then put a hardcore curse on him.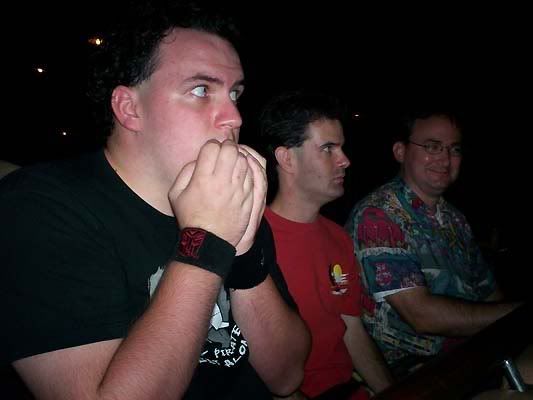 We encountered all manner of dangers!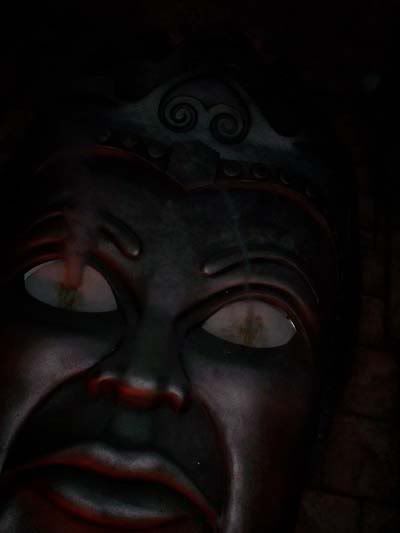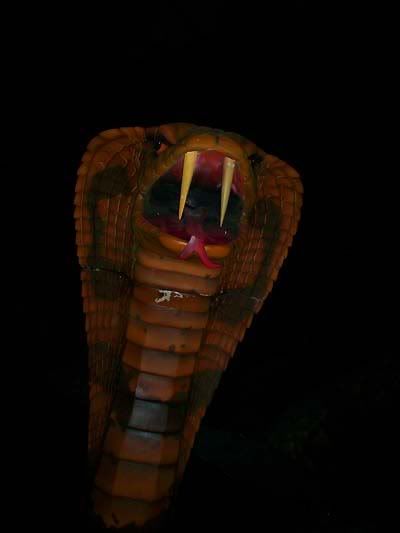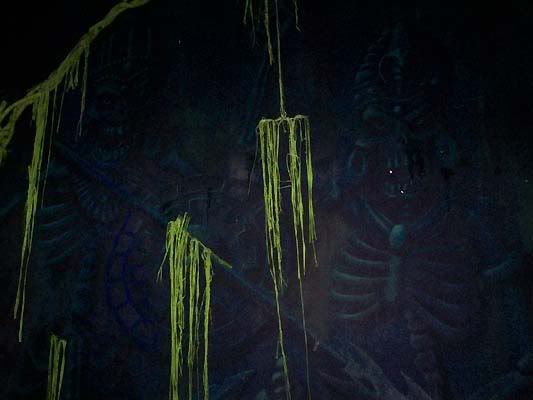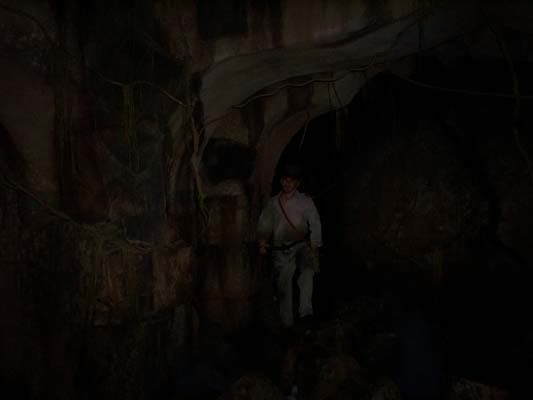 Well fortunately we survived that crazy mixed up tour of The Forbidden Temple. It was now time for us to start saying our goodbyes. At the little refreshment stand we congregated and talked about when we would see each other next. One of us has a birthday coming up soon, so we might meet up then. Don't know for sure.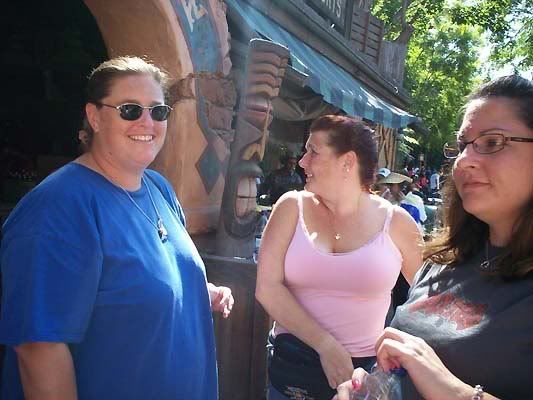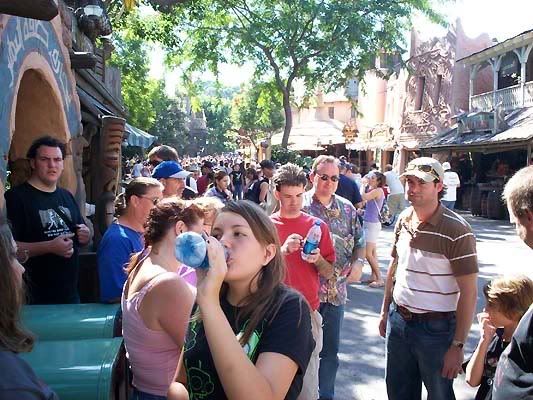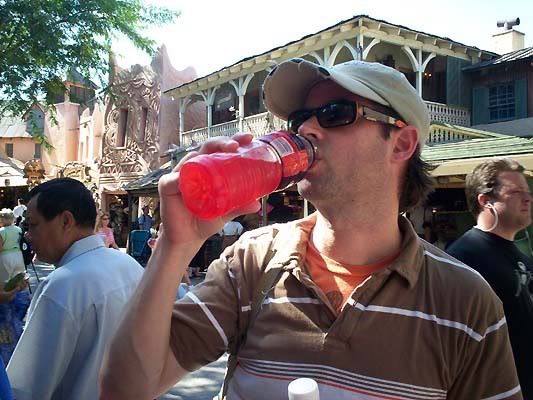 Dusty savoring the elixor of LIFE.
Where's Barbie? asked to eat some of Dusty's Brownie. Then Grumpy4 got in on the fun. MMMMMMMMM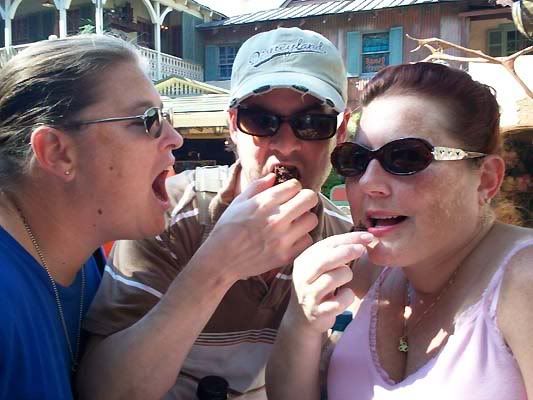 SunnyGirl suggested that the group head out to Big Thunder Mountain!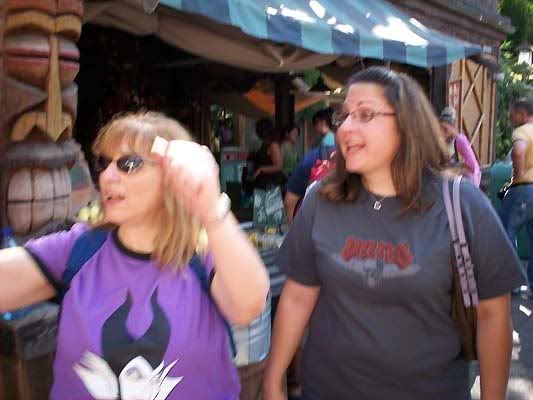 "Hey! Big Thunder!?!?"
With that we all left.

We passed the ever-long Dole whip stand.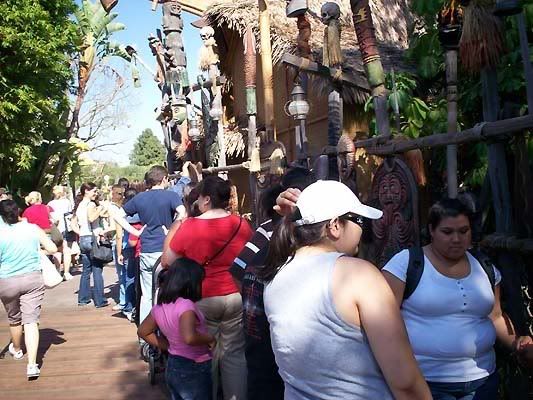 and headed down Main Street from whence we came.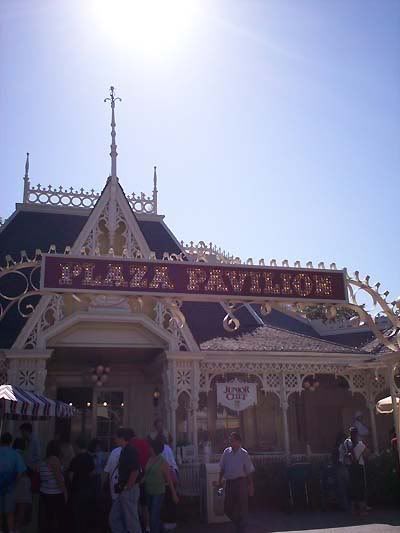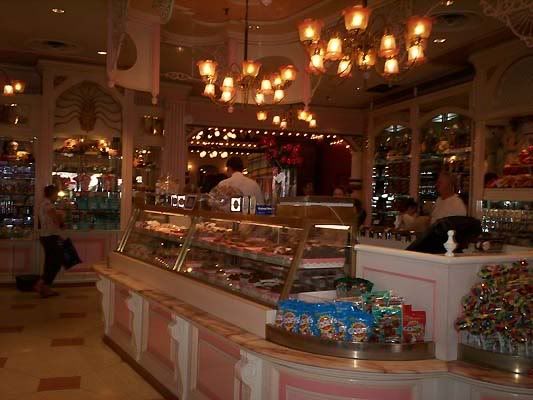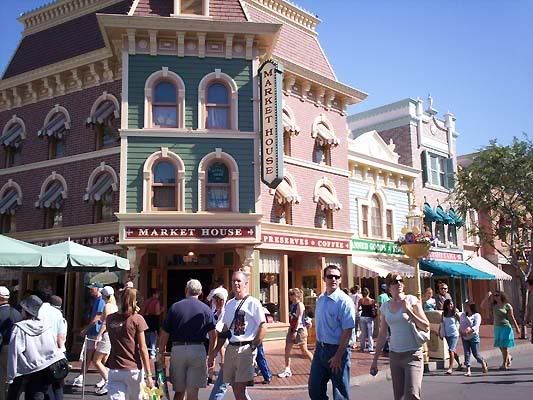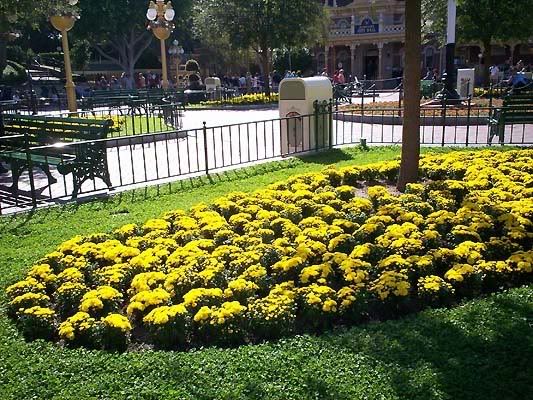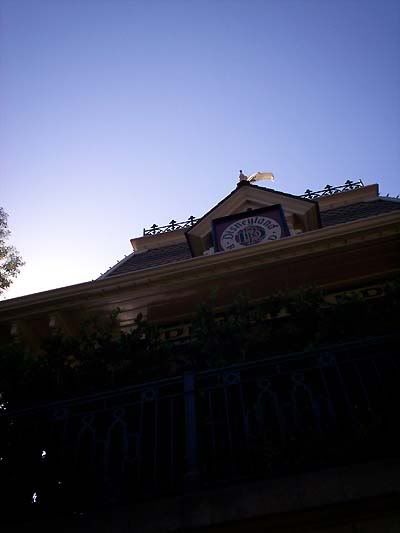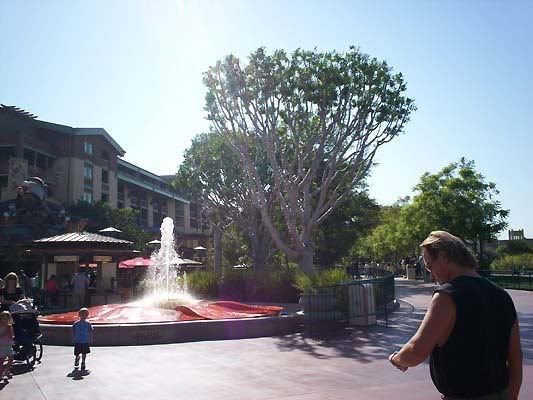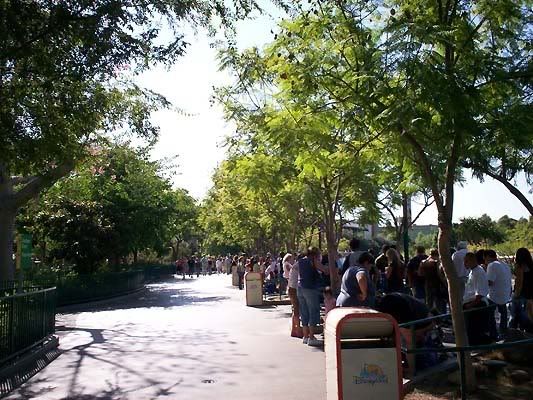 As we were approaching the boarding area for the Trams, we saw another familiar face. SADAKO!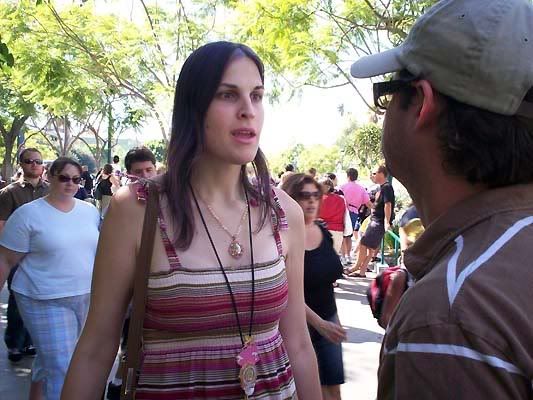 After quick hugs and kisses, we had to quickly jump on the next tram and get outta dodge.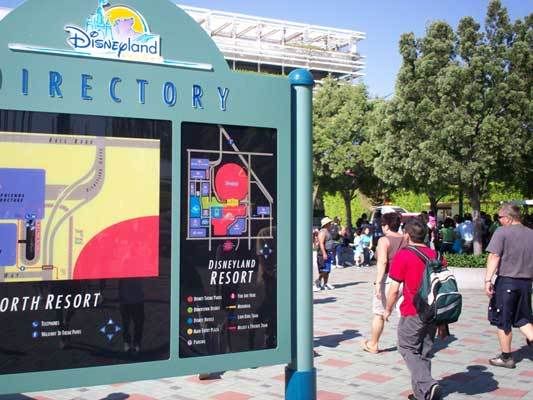 It was such a great meet today. We have missed EOM something fierce at the meets. As a founding member of C.O.W. it just didn't seem right not to have him there. What a nice return to form that was. Also there were so many great new faces, new people. Today I got to hang out with PezLightyear, Sam, and IndianaJenn (who, by the way, has NEVER been on Monsters Inc. just sayin.) I got to meet NemoPoppins real quick too!

Here's the thing. If you are new, we know you are shy. WHO CARES. Just come up and say hi to all the nutty MiceChatter's and instantly you have a connection and something to talk about so there isn't that weird silence. You know the one. The one where you go "Are you from MiceChat?" and we say, "yeah.", And you say "Oh me too." and then it gets quiet? That one? Yeah, well, that really doesn't happen. We are way too friendly.

So come on by. It's fun!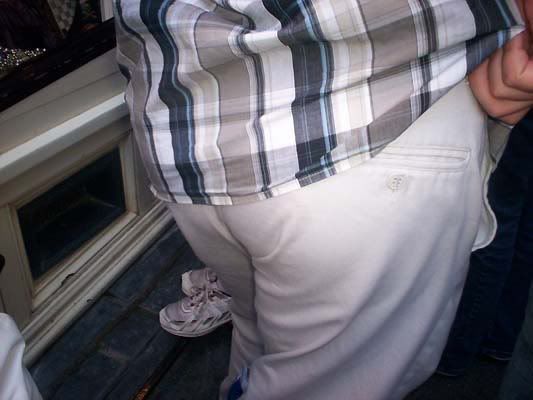 THE END