YEAR OF A MILLION PROBLEMS:
The Cast Member Name Tag Debate
Alright, so I've been thinking about this whole "problem" with the CM Name Tags that will be introduced as part of the
Year of a Million Dreams
(pictured below). The name tags will include the hometowns (hometown not on image) of the Cast Members working at the Disneyland Resort. This name tag feature, was, in the past, reserved soley for CMs working at the Disneyland Hotel and at the pavillions in Epcot's World Showcase at Walt Disney World.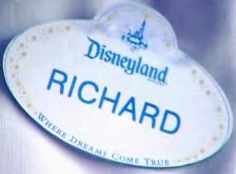 YEAR OF A MILLION DREAMS NAME TAG (HOME TOWN MISSING FROM IMAGE)
IMAGE: Alyssa3467
Back in June, MiceChatter
melmel
posted
a thread about the new nametags in the Break Room forum
:
Originally posted by melmel
That thread back in June didn't cause any controversy, and most MiceChatters didn't care too much about the change. In fact, many felt that it was a good change from the "Class Of" nametags used for the 50th Anniversary.
AL SPEAKS:
MiceAge columnist shares the problem with the new name tags
However, recently it was noted that the addition of CMs hometowns on regular non-hotel CMs creates a problem by Al Lutz who recently talked about this issue and the problem it creates in his
9/12 Lasseterland column
:
For decades it was forbidden for a Cast Member working in the park to have their hometown on their nametag like the CM's at the hotel did. The home towns were put on nametags at the hotel to spark conversation amongst visiting guests, and the Disneyland Hotel never tried to pretend it wasn't anything but a big, modern hotel next to Disneyland.

But in Disneyland, having your hometown on your nametag was strictly forbidden. The reasoning was that a Cast Member working in New Orleans Square was a member of that community and part of the show being portrayed there. It would be totally contradictory for a person in New Orleans Square to have Yorba Linda proclaimed as their hometown on their nametag. A chambermaid working in a spooky southern mansion would seem far less spooky and period specific if she wore a nametag advertising any of the modern day, mundane suburbs of Southern California. The training materials written by WDI show writers for every Disneyland location instruct the trainees that they are a resident of Fantasyland or Critter Country or Tomorrowland, and the training guides give them background information on how those different types of people would act in those themed communities.
Al's column sparked a little controversy on these boards regarding the name tags:
Originally posted by Sediment
Originally posted by pineapplewhipaddict
Personally, I
do
happen to find it to be a bit less magical to have a CM's hometown featured on their name tag, unless they're from Paris and actually working at the France pavillion at Epcot, or greeting me at the Disneyland Hotel.
However, I find very little credibility in the arguments against adding the CM's hometown to nametags. Now, hear me out:
THE HAPPIEST HOMECOMING ON EARTH:
How the 50th Anniversary name tags ruined themes first
May 5, 2005 marked the beginning of Disneyland's 50th anniversary celebration, which was officially called
The Happiest Homecoming on Earth
. The Happiest Homecoming on Earth introduced new Cast Member name tags that, for the most part, were welcomed with open arms by the Disneyland fan community. Beneath the Cast Member's name, the name tags prominately featured the year they became a Disneyland Resort Cast Member. Whether it be "Class of 1976" or "Class of 2006," the name tags matched the "Happiest Homecoming" theme.
HAPPIEST HOMECOMING ON EARTH NAME TAG
IMAGE: www.nametagmuseum.com
I find it interesting now that many in the Disneyland fan community have become strongly voiced against the Year of a Million Dreams name tags. Why you ask? Well, much like the CM's birthcity being contradictory to the the Disney storytelling of a CM working in the Fantasyland community, the Happiest Homecoming name tags contradict this as well. If we are to believe that a Cast Member is part of the overall story of a land, we shouldn't be seeing the year they became a Cast Member.
Here's why: Let's say a Cast Member is working at the Haunted Mansion and their nametag proudly says Class of 1995. This strongly contradicts the period-specific theme of New Orleans Square. 1995 is not representative of the time period that New Orleans Square is meant to represent, nor is it representative of turn-of-the-century Main Street, USA; the future time period of Tomorrowland; the old west of Frontierland, or the 1890s of Critter Country. Not only are hire-dates contradictory to the "story" of a land or attraction, but we should be assuming that Cast Members working in Frontierland have always been part of the Frontierland community. Cast Members working in Tomorrowland have always lived in Tomorrowland. The guy working at the Candy Palace on Main Street has always lived in small town America, and he's only following in the footsteps of his dad and grandfather, who were candymakers themselves...
So why the sudden uproar over seeing Cast Member hometowns? For the past 17 months, we've been seeing dates that contradict the theme of every land a Cast Member has worked in, emblazoned upon their name tags.
GENERIC NAME TAGS:
How five decades of Disneyland name tags have failed to continue the "story"
Not only that, if a name tag is truly supposed to be a part of a land or attraction's overall "story" and "theme" why are we seeing the same design on every nametag throughout the Resort? Shouldn't we be seeing something that represents the 1930s jungle adventure that is the Indiana Jones Adventure? Shouldn't we be seeing something that represents early 1900s Main Street, USA? Shouldn't we be seeing name tags that represent a town of Cartoons?
These generic name tags work at Disney's California Adventure, as the park is themeatically set in the here and now. It's contemporary setting doesn't contradict any themes or time periods, and people from all over can work in the park as California is certainly a melting pot of society.
But as for Disneyland, if we aren't complaining about generic name tags, or even the 50th anniversary name tags, why all of a sudden now, are we complaining about home towns appearing on them? Is it really that big of a deal if we've gone for 5 decades without griping over the lack of land-specific name tags?
What's the real problem?
Maybe there is no real problem with any of this at all. Maybe we're all just frustrated and now that we're in the middle of a good time for the Disneyland Resort, we need a villian.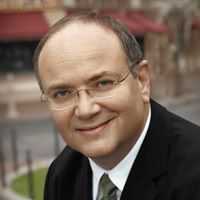 JAY RASULO - IMAGE: Disney
Could it be that these name tag issues have even arisen because we really just don't like Jay Rasulo?