The
9/19 edition of the Disney Insider e-newsletter
features a couple CGI mock-ups/concept art of the new decor that will be in place for the new Disney's HalloweenTime, which begins September 29.
Check it out:
Halloween floral Mickey at the Train Station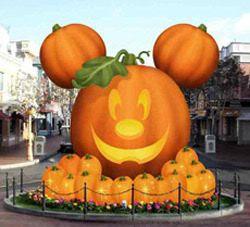 Giant Jack-O-Lantern Mickey in Town Square
...and not concept art, but kind of neat:
Building the giant Mickey Jack-O-Lantern
And a couple interesting tidbits about the new HalloweenTime decor:
Floral Mickey will be more than just flowers:
The Halloween fun starts the minute you step into Disneyland Park - take a look at the floral Mickey display, and you'll see that he's gotten a seasonal makeover. His ears and cheeks are made up of mini pumpkins!
And apparently Main Street, USA will be hosting a Pumpkin Festival:
Adding to the ambiance is a plethora of pumpkins, thanks to the Pumpkin Festival at Main Street, U.S.A. At the heart of Disneyland Park, where the famous "Partners" statue of Walt and Mickey stands, you'll find jack-o'-lanterns sporting famous Disney faces. We'll let you in on a cool theme: each pumpkin represents a different Land around Disneyland:
Buzz Lightyear represents Tomorrowland
Tinker Bell represents Fantasyland
Woody represents Frontierland
Winnie the Pooh represents Critter Country
Tarzan represents Adventureland
Jack Skellington represents New Orleans Square
Roger Rabbit represents Mickey's Toontown
Also, HalloweenTime officially starts September 29, but beginning September 24, we'll begin to see HalloweenTime in the parks:
Bringing this new seasonal event to life was a major undertaking -- it took almost a year to plan and create. And getting the Parks decorated is a tricky business -- since they're open every day, night crews must add the new décor after closing time, a little more every night for five nights, until the Parks are revealed in their full Halloween finery on September 29.
Check out the full article, here: http://disney.go.com/inside/issues/stories/v060919.html