During a rather empty showing of The Enchanted Tiki Room yesterday afternoon (9/20/06), we noticed someone in the back corner of the room very obviously taking a nap. She must have confused the Tiki room with her hotel room. I have to say I'm quite impressed considering how loud it can get in that room at times. Just in case, before I get jumped on; all pictures and videos were taken without flash as not to disturb this individual or anyone else for that matter.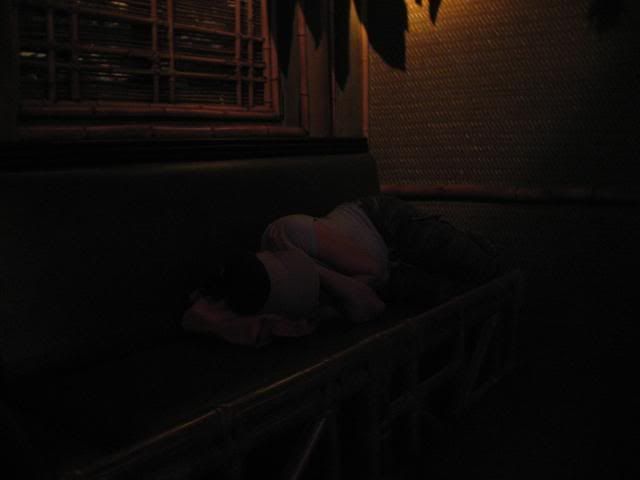 http://www.youtube.com/watch?v=r-H_VGjt2E8
<--- Towards the end of the show; awaiting the grand finale!
I actually asked a CM after the show how often people fall asleep in the Tiki Room; and he said in the 15 years he's worked the attraction even though he's seen people doze off for a minute or two while seated, he's never seen someone so obviously taking a nap.
Now IMHO, if you're that tired why not call it a day or an afternoon for that matter and just head to your room/car/home. Falling asleep in a public / crowded arena is basically just asking for attention. It's the same thing I think about PDA's. I don't have a problem with them; as a matter of fact I've sort of become a PDA offender with my current bf, but if you're going to do it, don't be suprised if/when it attracts attention.
The reason I say this is because we're coming up on anecdote time. Right after I finished recording the above video, a rather aggravated older woman came up to me, yelling "How would you like it if someone took pictures of you while you were sleeping?" and then fumed off as I tried to respond after her "If I were sleeping in public, I'd probably deserve it; but since I only sleep in private areas I'd call the cops because they'd be trespassing." My point is, this isn't the place to be sleeping, and if you do sleep so obviously, then don't be suprised when people take notice.
Personally, I think the old woman was just irked over the fact that it was so cold when we entered that in whispers we called it "The Enchanted Ti**y Room". At that point we very poignantly caught
her
staring at
us
.