So as Wolfy, Wolfette, CaptPhoebus and I were walking away from Paradise Pier earlier today, I stopped a CM to trade pins. We talked for a bit and I pulled out all my trader pins to show him what I had. He noticed my 'Fantasmic!' pin and asked if we were planning on seeing the show later tonight. I said I might because I was planning on staying until closing. He then told us that he was part of the Dream Squad and as part of the Year Of A Million Dreams they're planning on having a Priority Standing Area set aside for about 100 people they were testing and asked if we'd be interested in going. I said yes and he then went over to a phone and called in to have my name added to the list.
A look from the back at the Dream Squad costume: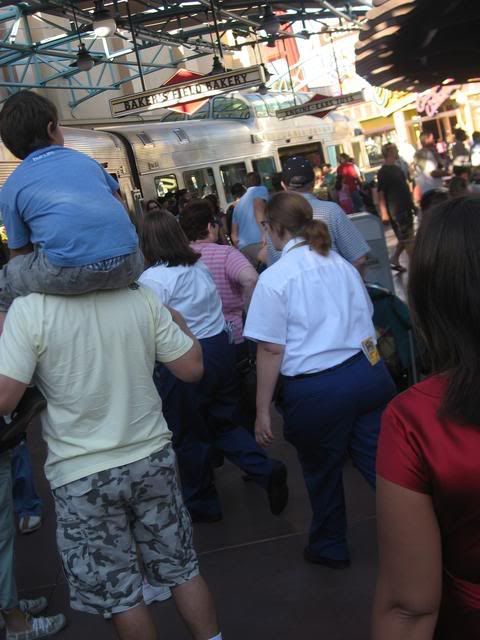 (White Shirt, Blue pants, Pin Lanyard)
When the time came for the show, Sam, CaptPhoebus and I were joined by MissChristine, Grumpy4 and ScarLion as we embarked on this pseudo-soft opening adventure. Let me start of by saying the area they chose to do this at is a total dissapointment with many issues. It is right in front of Haunted Mansion, across from Fantasmic's stage right, to the left of the Floor Priority Seating area.
Before the show started, a Dream Squad manager came up to us and asked how we liked the view. We told him our honest opinion, that for the purpose they're looking to serve, it's one of the worst choices they could have made. We wanted to go more into detail, but at that point the show was starting. When the show ended, it seemed like the Dream Squad had mobilized, but I managed to spot them walked into the back of New Orleans Square. We got a chance to talk to a different manager who was quite eager to hear our opinions. I'm actually really glad that she was so receptive. It proves that TDA is actually listening. I also gave her a Micechat card and told her that she should come and read if she wanted more in depth comments. Hopefully this is being read by her or others in TDA.
Before I go into comments. Let's take a look at what we experienced.
Here's a look at the area during the day: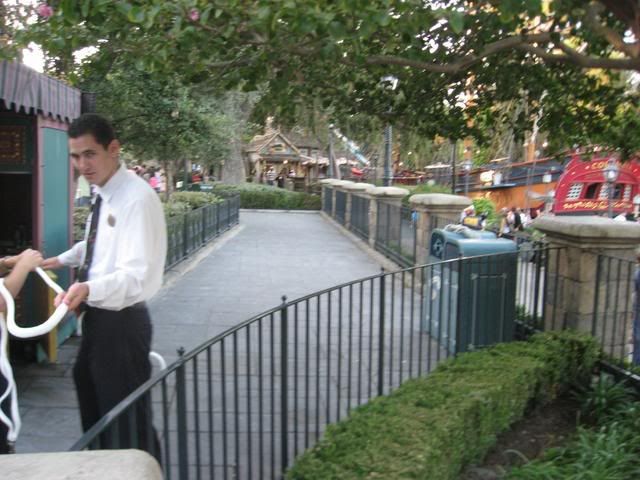 Overlook from the Priority Standing Area: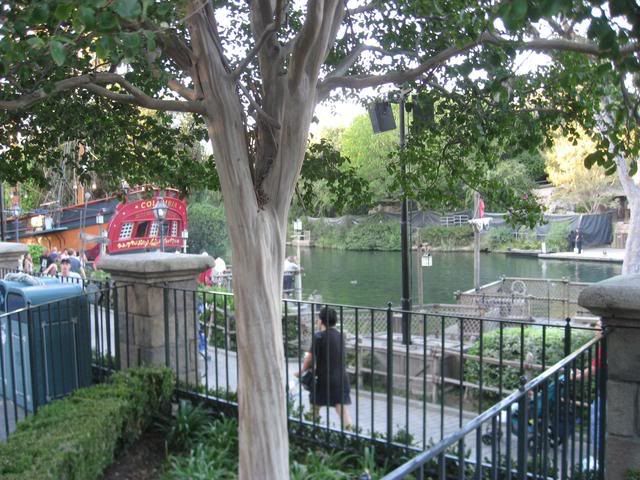 Here are some shots of the area and the view during showtime: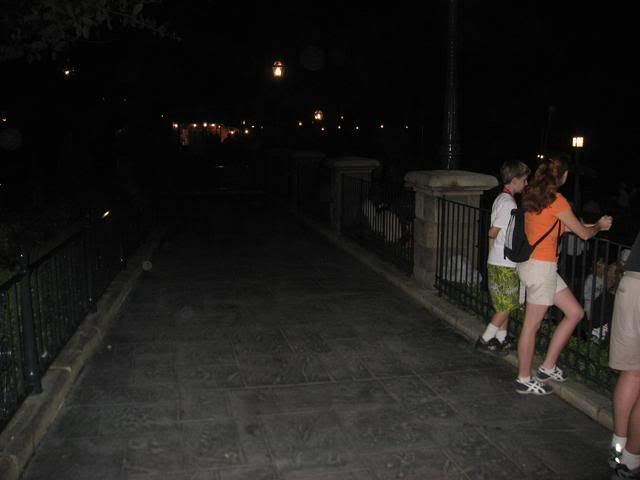 Wondering what the show looked like? Wonder no more. (Listen closely and you can hear our comments during the show)
http://www.youtube.com/watch?v=4aZINn0qD50
- Part 1
http://www.youtube.com/watch?v=IMxq8UYmwwk
- Part 2
http://www.youtube.com/watch?v=Gdwazzxuzu0
- Part 3
So, what's the verdict? This isn't a very good start for the much talked about promotion. For AP'ers who've seen the show dozens of times and actually oogle at the thought of "The Backside of Fantasmic", it's cool because that's pretty much what you get to see. However for people who only get to come once every few years and are experiencing the show for the first time; seeing flower petals running off-stage, a paper thin Pinnochio with very apparent puppetteers, and a dragon with a broomstick for a body and stagehands vigorously working to make the wings flap (We joked around that they're probably chanting "I hate my job, I hate my job" while doing so [RHPS reference]), the magic is is gone. This is not the kind of memory you want to give people. There is also the issue with parents arriving late with their children. The area still neccessitates different rows to accomodate all guests, so if someone arrives late, they still end up having to place their child on their shoulders, thus creating the same viewing issues that priority areas were created to avoid. They also only had CM's guarding one side of the area, so guests were actually able to sneak in through the back, which a few did. To make matters worse, this particular area is downwind from the smoking area. I don't think secondhand smoke plays a part in most peoples dreams.
The question then arises; what area could they use? A few areas come to mind:
- The area where the Bootstrappers play, right in front of Cafe Orleans.
- To the sides of the towers, which is actually used to currently accomodate guests who did the VIP Tour that day.
- Rope off the front of the bridge, creating only a single row along which Dream winners can stand comfortably without anybody being stuck behind a taller person or someone with children.
Any more ideas are welcome. It's about a week until The Year Of A Million Dreams kicks off and the Dream Squad still has a lot of work ahead of them. We were told this was the first night they tested out the Priority Area for Fantasmic and will be testing more stuff out as the week goes by. I can only hope our ideas help shape what could turn out to be a very memorable experience and promotion for guests and CM's alike.
P.S.= And personally, I think I'd actually like a pair of Dream Ears or a Dream Lanyard more than a spot in the Priority Area for a show.