THESE GUYS WON THE RALLY OKAY!?!?!?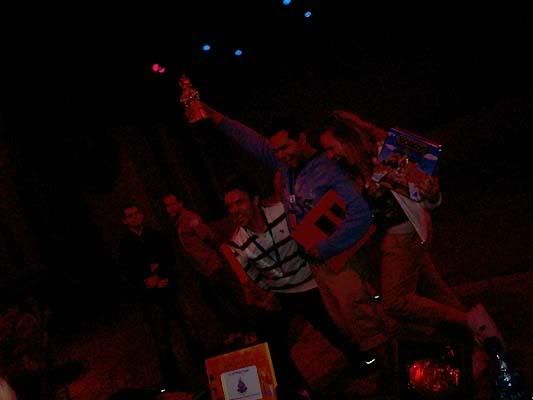 Anyway. Today was truly something else. For months I had planed on doing nothing but parking my butt in front of the T.V. doing NOTHING else but soaking in the mindless entertainment from T.V. after the events last night. But we received a call from our wonderful friends KevvyBaby and GusGus (Susan) inviting us to a very very special lunch at none other than Club 33! THE ONE THING! THE ONE THING that would pull me from my restorative hiding place was dangled in front of me. Did I pass on it? HECK NO! Lunch at 2:30? Yup. We'll be there.

Dustysage and I took out time getting ready and, ironically, we showed up to the park on time for the noon meet.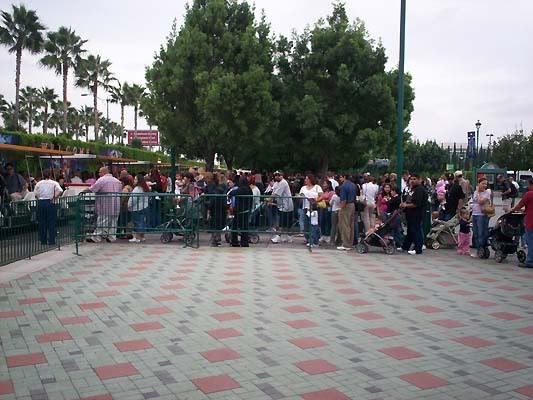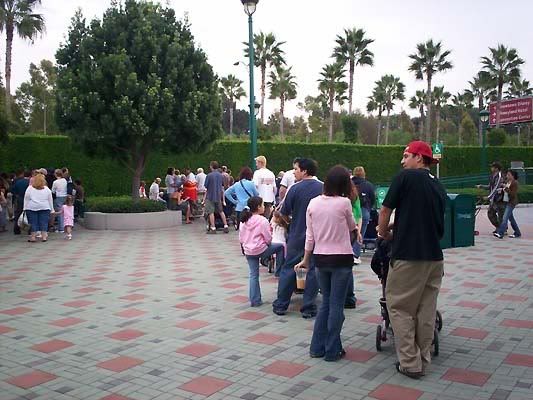 The unreal Stoller line for the trams
Trams were BACKED UP but we braved it. After two tram loads we were on our way.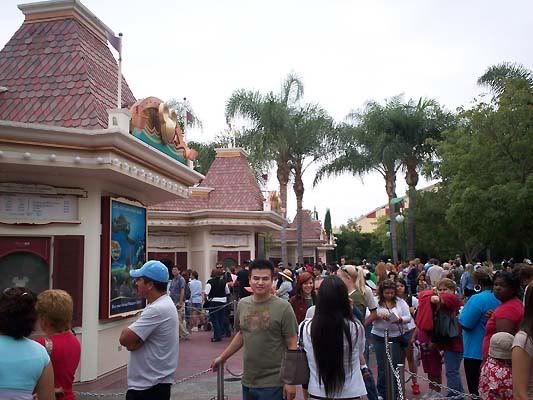 The ticket booths were packed
Lines to get into the park were mild and we made it in the gates.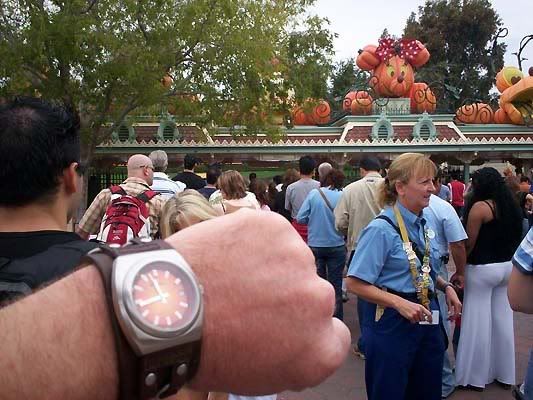 I had not had any coffee yet and my head was about to explode. With 10 min to spare Dusty left me at the bakery and headed on to the hub. My GOD this place is disorganized.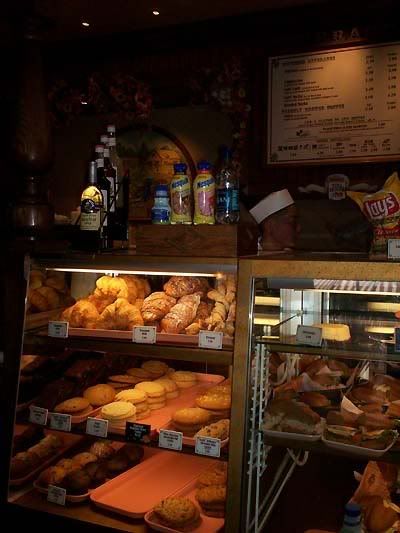 THE MEET! AND we were ON TIME.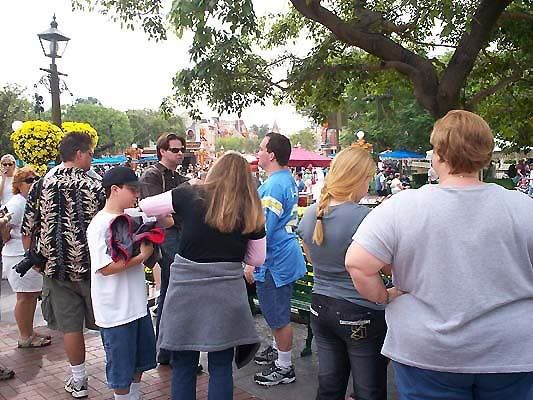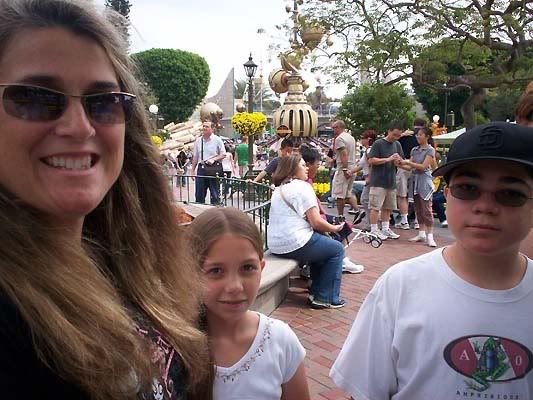 BandofGypsies and family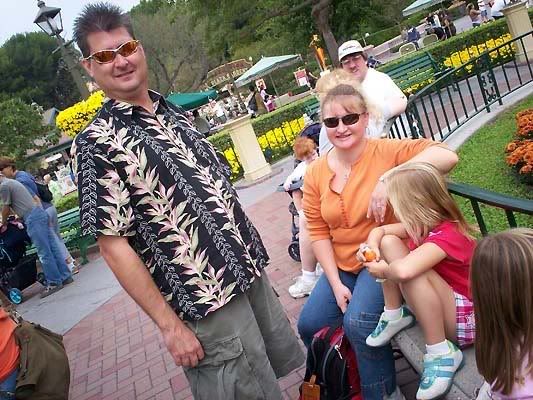 DisneylandFanAZ and his wonderful family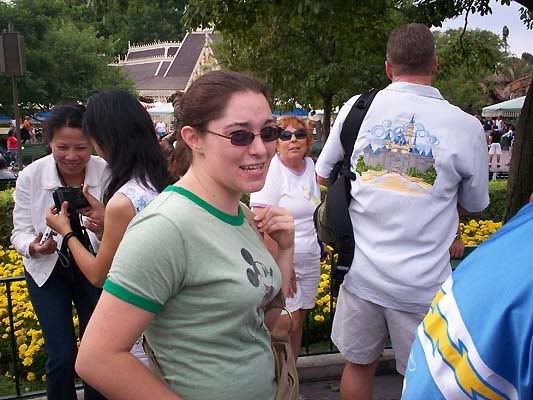 It was her first meet everyone!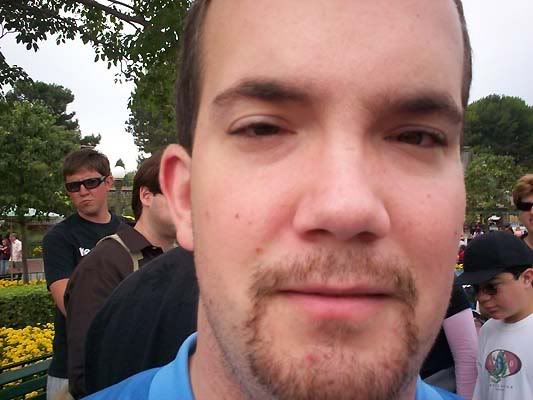 SocalJoeyB gets personal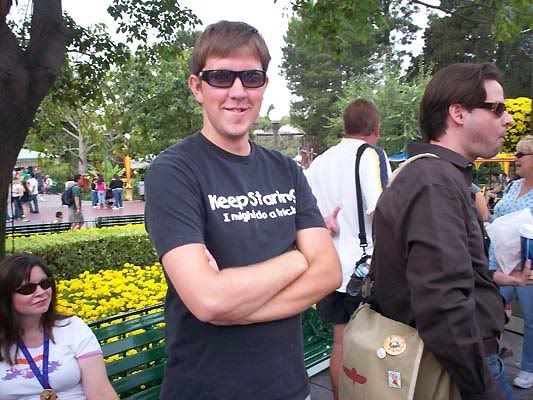 SAM



Dustysage, Fishbulb, and DCADude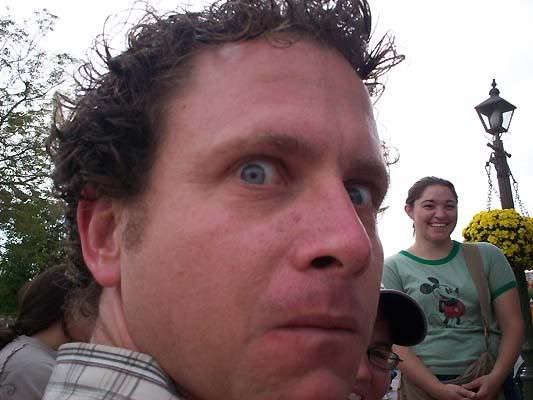 Fishbulb gets the Fishbulb treatment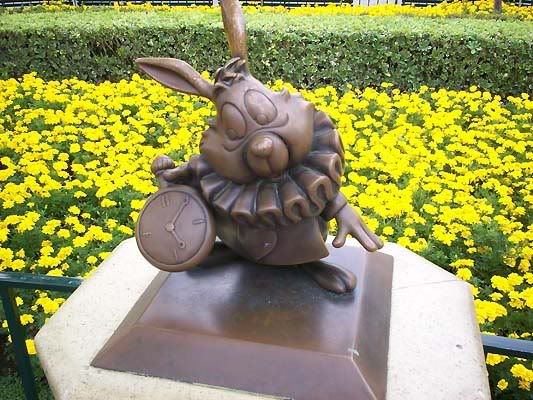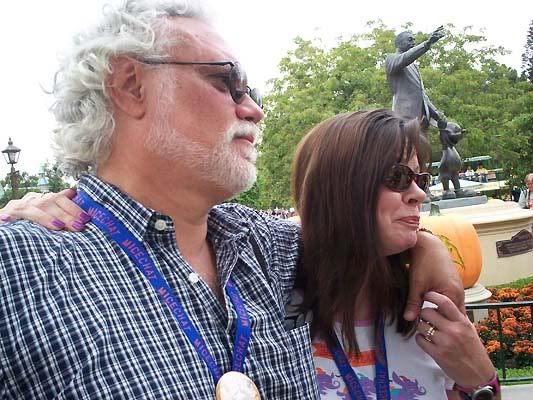 MCow1 and his lady
Unfortunately we could not join the group for Lunch as we had rezies for 2:00 at C33 so we bid them farewell. Sam, not that hungry joined us on our trek over to Haunted Mansion Holiday for Fast Passes. Yipes this place is crazy.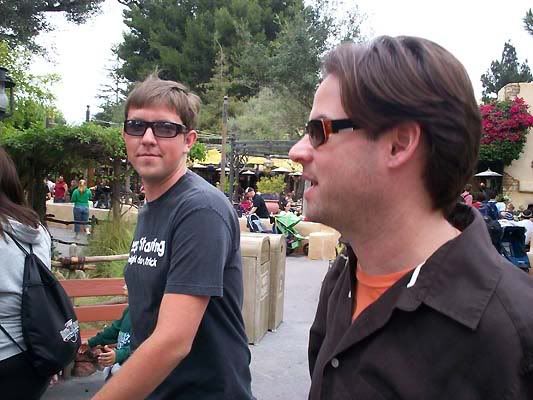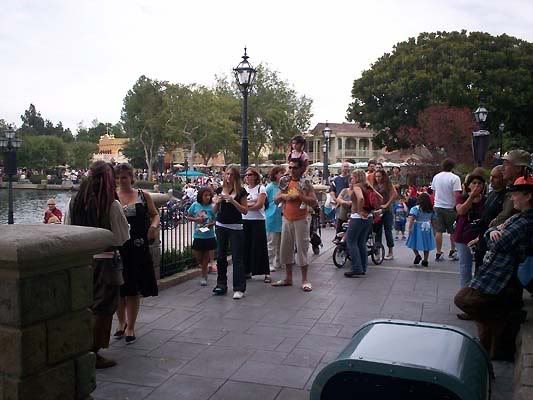 The line for a pic with Jack Sparrow was silly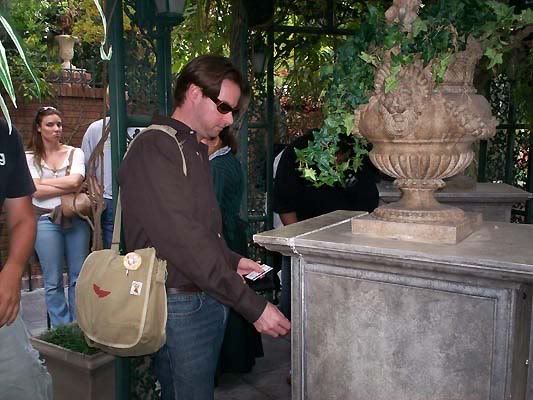 Well, Sam had Fast Passes for right then too so he took off and rode HMH and Dusty and I headed over to bum around the Disney Gallery to kill time.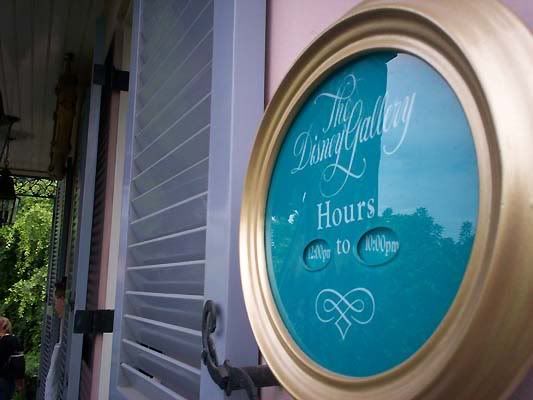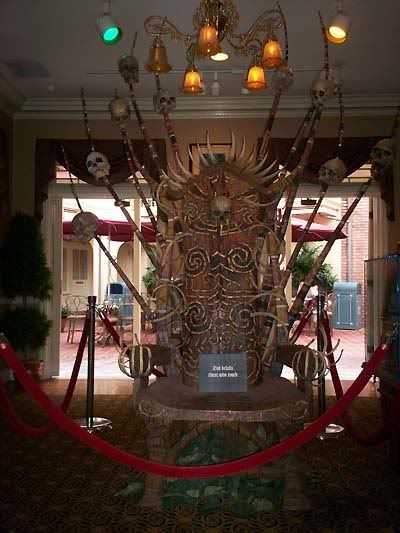 I took a minute to sit a spell in the courtyard just sat to relax. Dusty found me and, after hanging up his phone, told me that our hosts, KevyBaby and GusGus were just leaving their house and that our lunch was not until 2:30. We had a full hour to kill.

We decided to take on one of the most frightening rides in the park...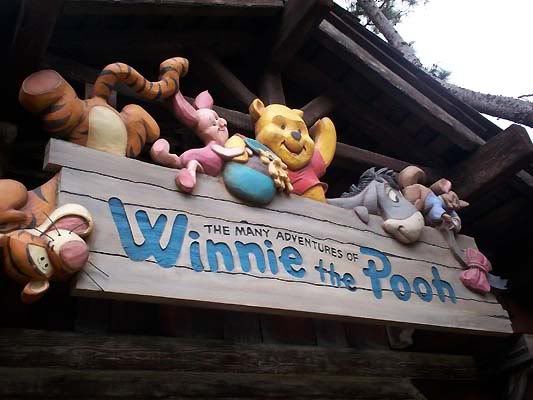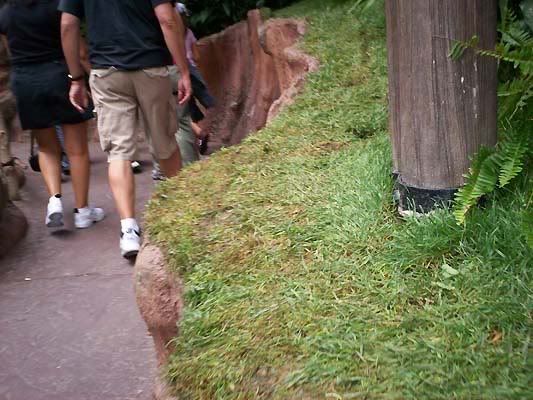 Matted grass in the Pooh Queue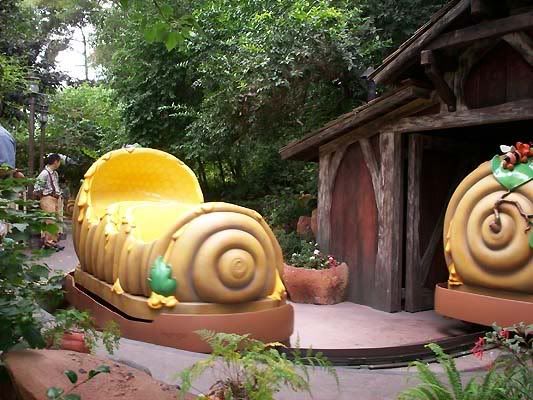 Getting into our vehicle we turned around and...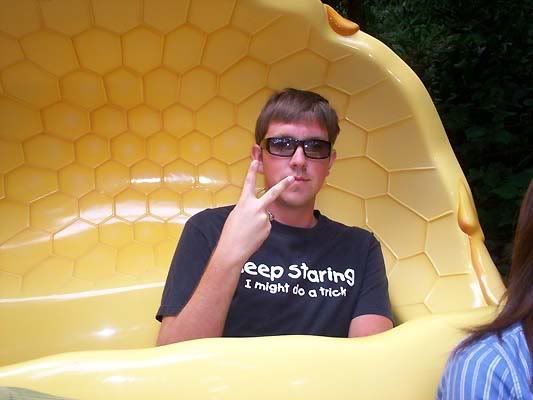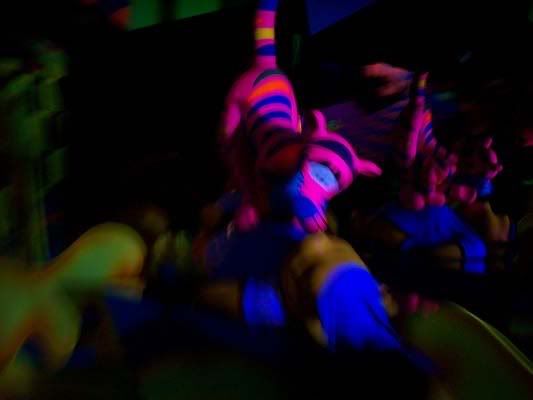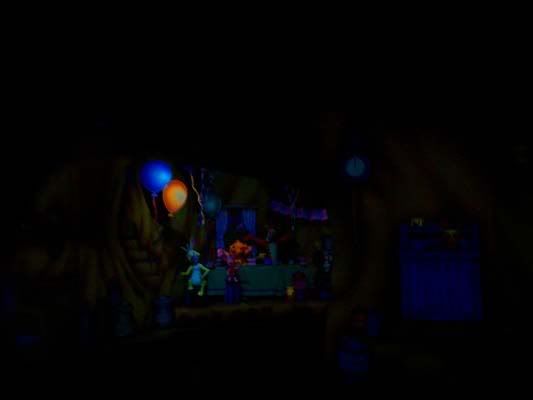 "WE RODE POOH!" I said after getting off of the ride. "Hey Sam, Wanna do SIngle rider on Splash?" "Sure!" Sam replied and we headed off, leaving Dusty in the Pooh shop. LOL Pooh shop.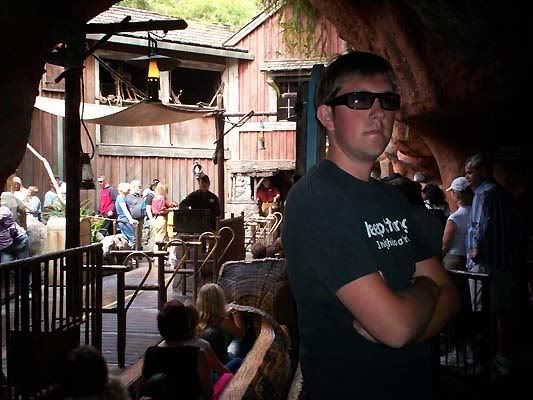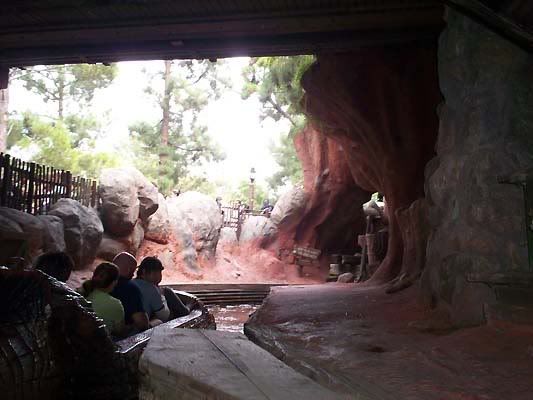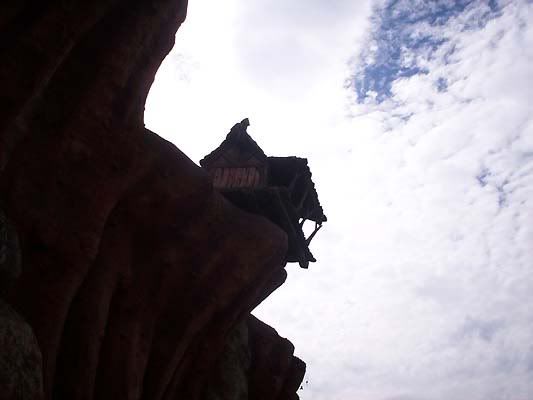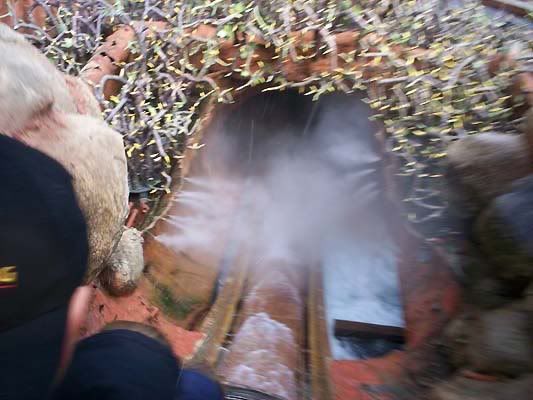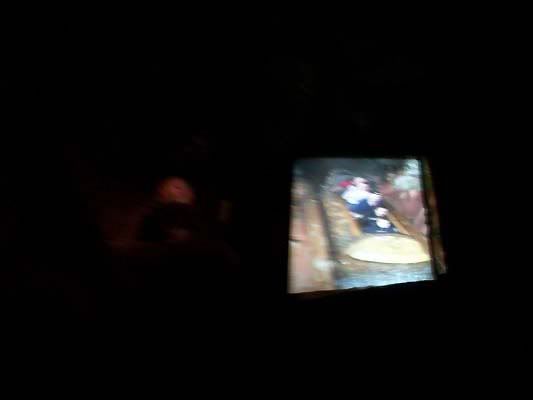 It's back!
Then after that we decided to ride on the ol' Jungle Cruise.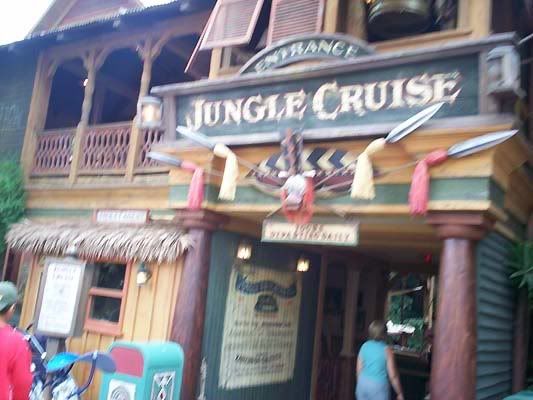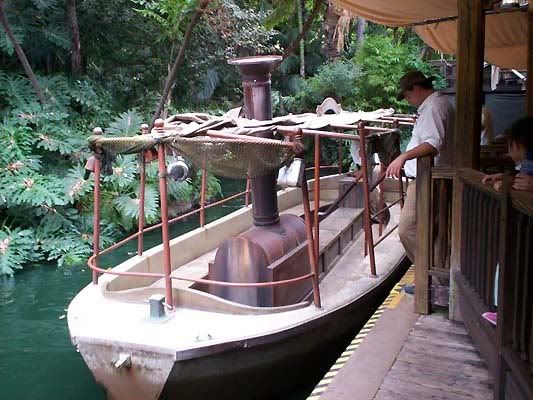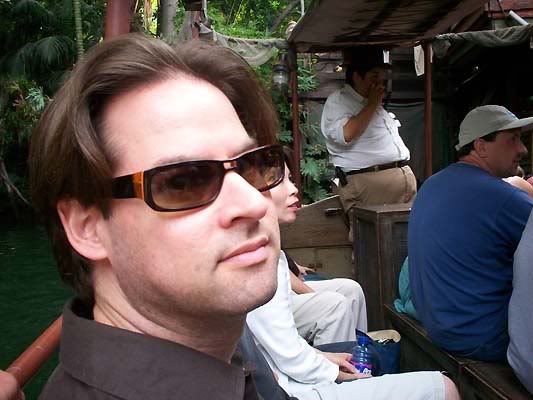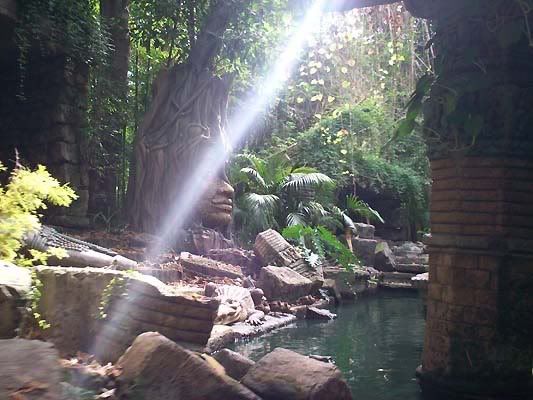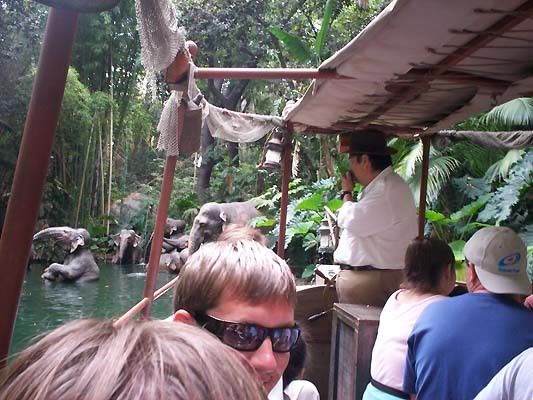 Too much fun. This time it really was goodbye to Sam as we prepared to meet our friends for my FIRST trip into the hallowed grounds of Club 33.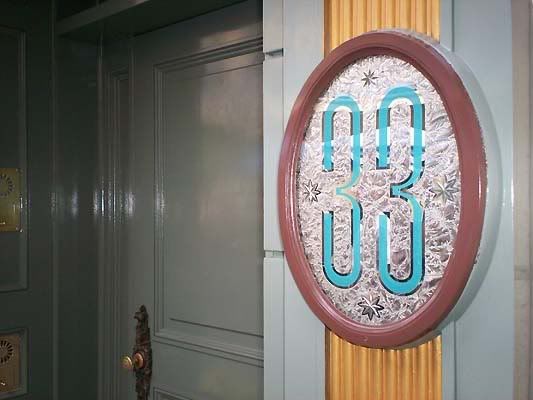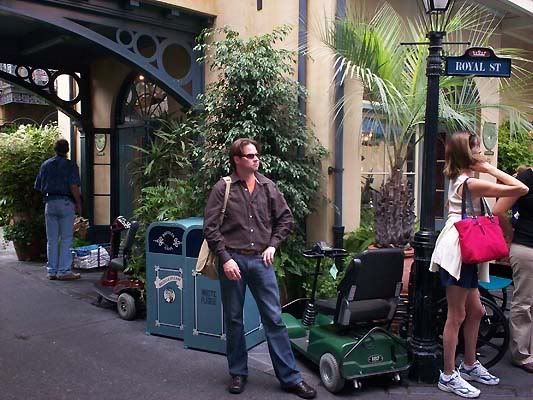 While waiting we ran into the old hub group again.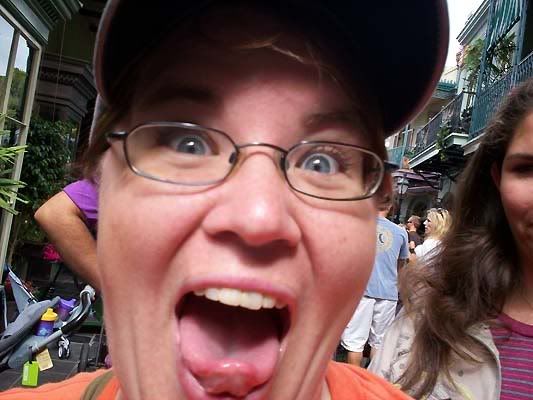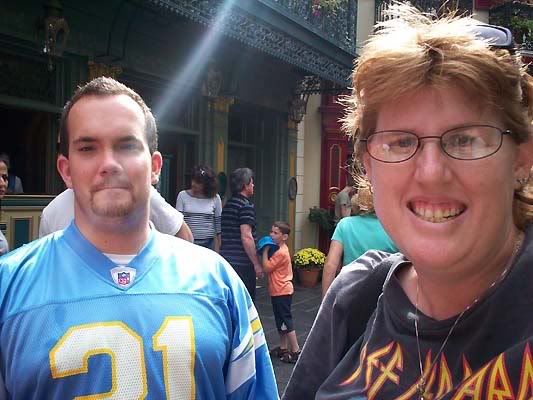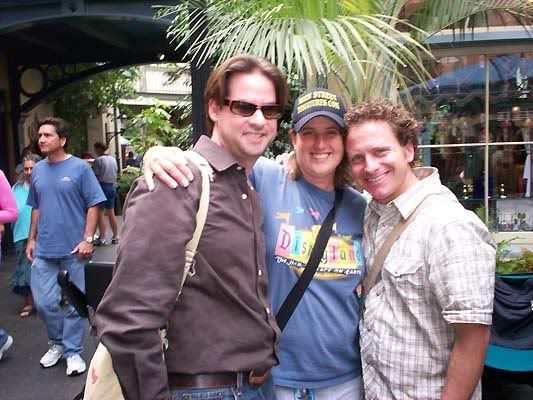 Then it was time.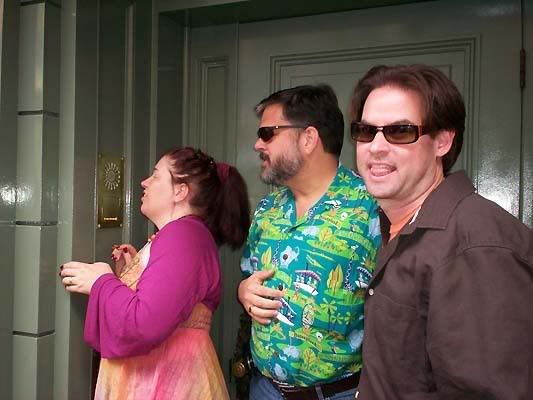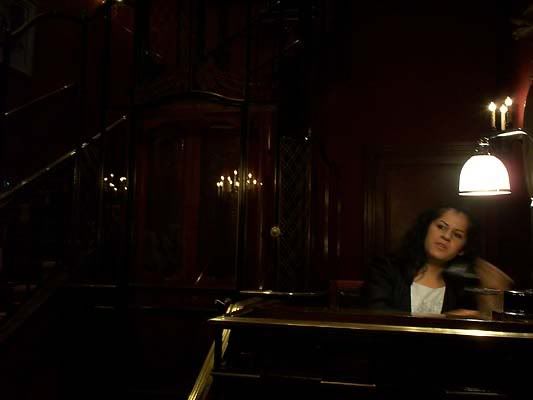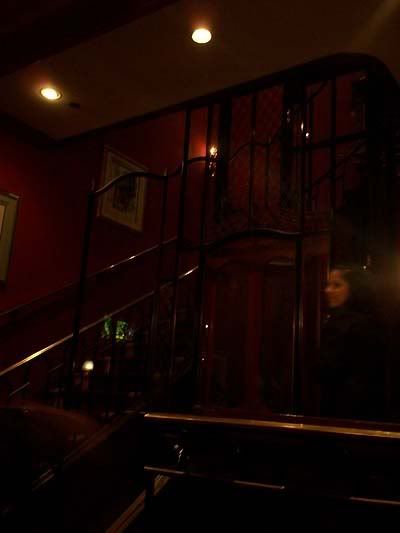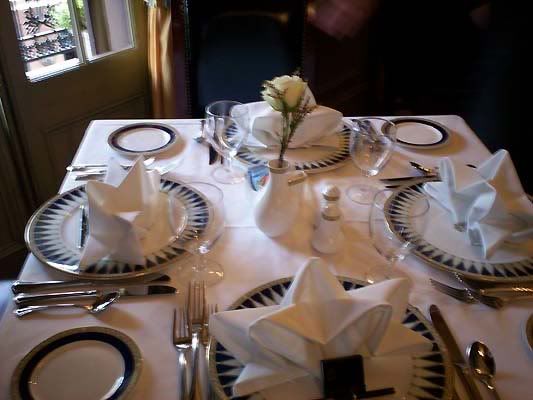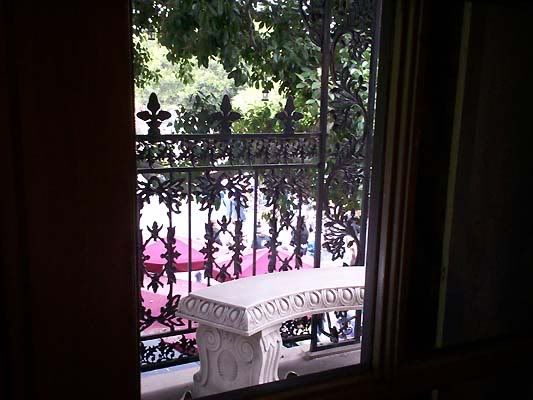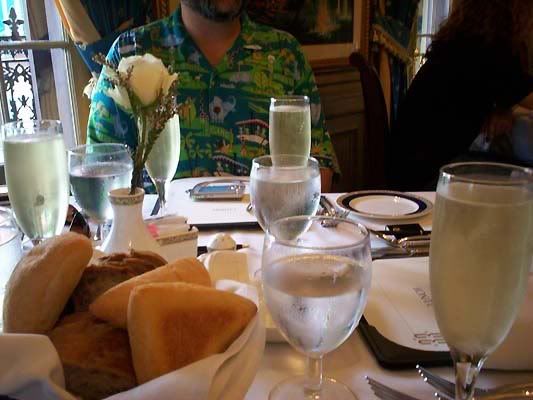 "To Walt!"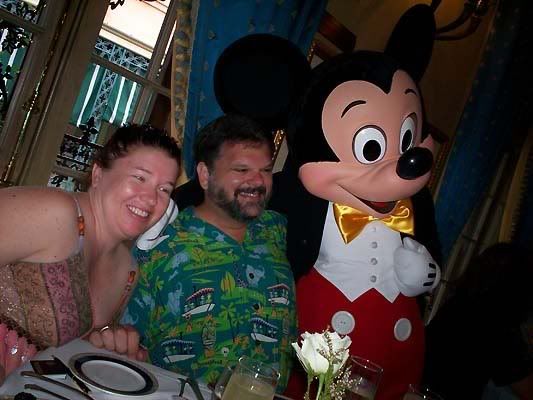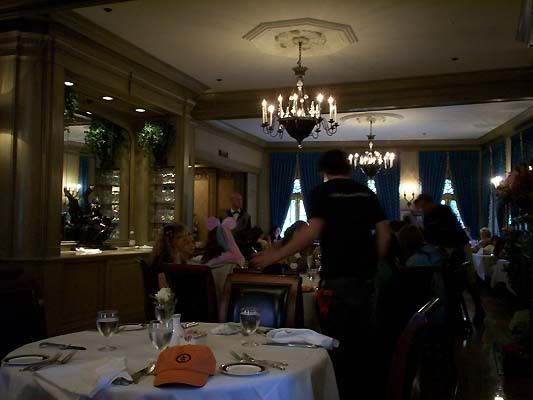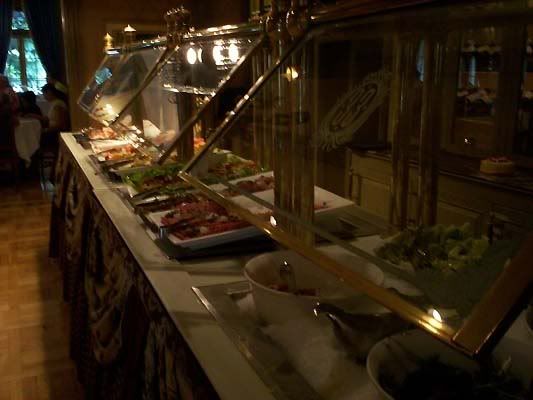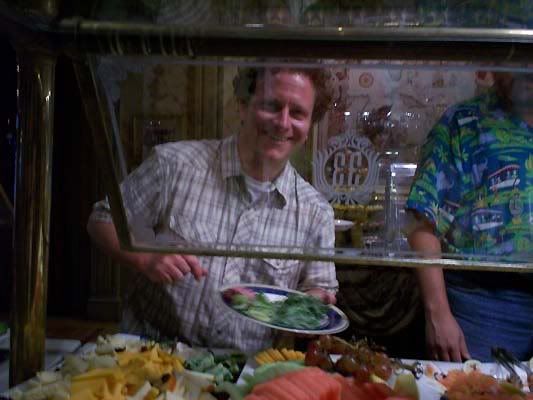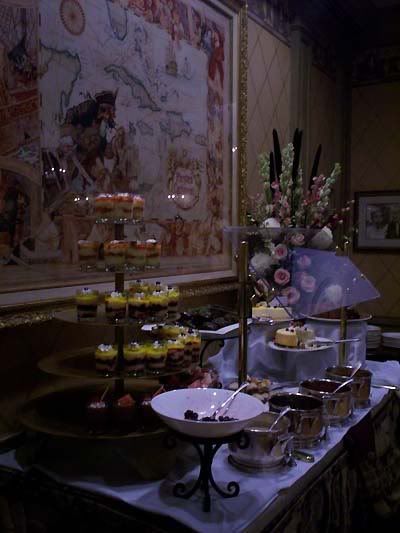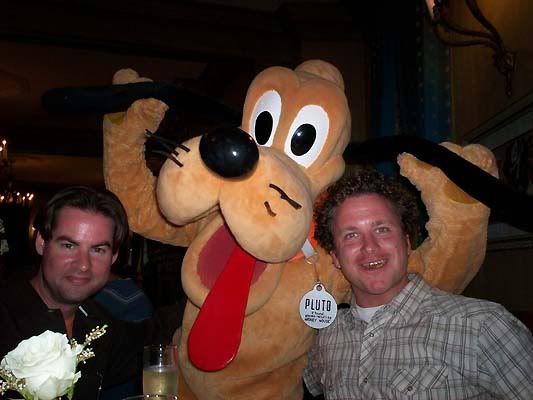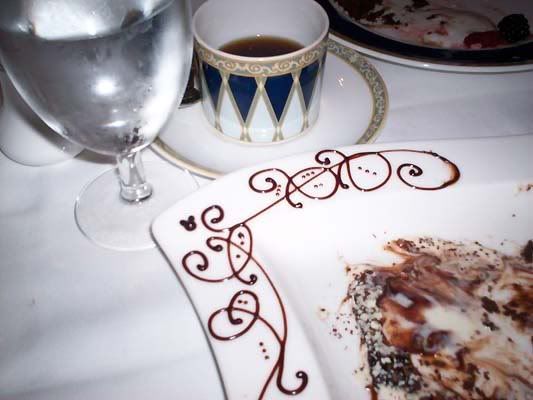 A hidden Mickey made with chocholate
syrup on the edge of our dessert plate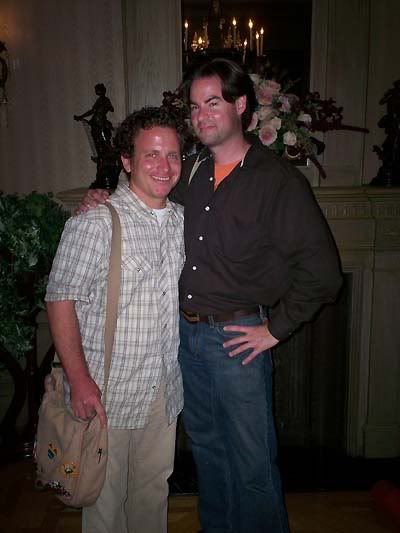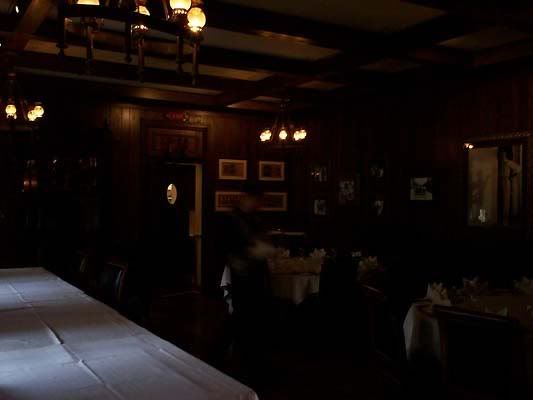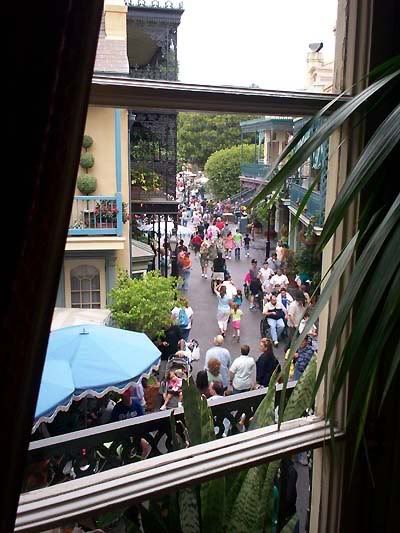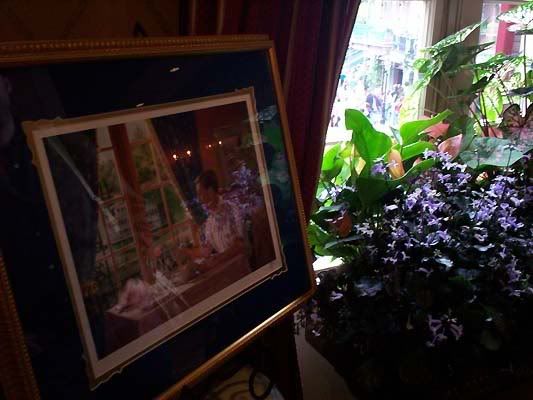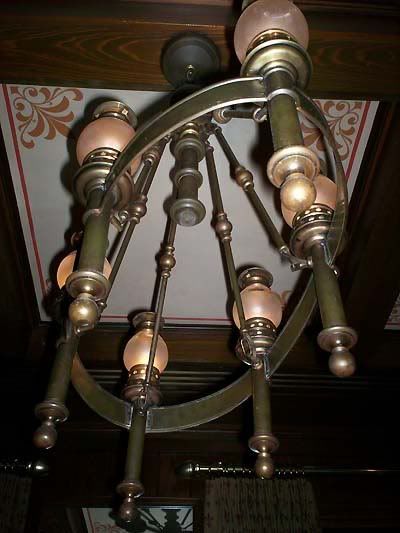 The fabled light fixtures with the microphones in the middle
The meal? EXQUISITE. The cold bufffet? Wonderful. The champagne? Magical. The cast members here truly made my first visit to CLub 33 a memorable one. My water glass or glass of tea were NEVER less than 3/4 full. Each part of the meal, from the Entree to the desserts were intoxicatingly delicious.

Meeting MIckey in C33 made tears kind of come up as it meant just so much to me. I had wanted to visit this place since I was 7 years old. And now Walt wasn't there to welcome me, but MIckey was. Yeah I am a Disney freak, but I LOVE IT.

Well it did have to end. But not before we were given free roam over the entire restaurant! And yes ladies, I SAW THE LADIES RESTROOM!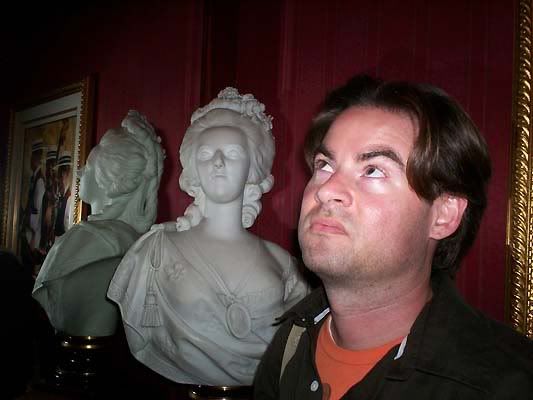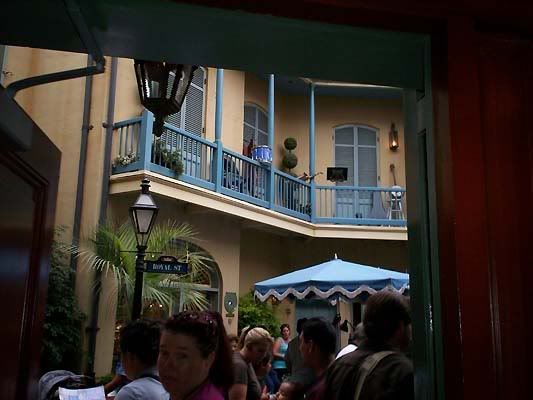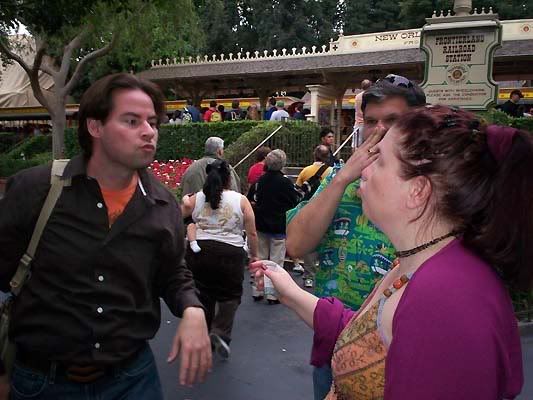 kiss kiss
After our prolonged goodbye we gave KevyBaby and GusGus our FastPasses for HMH and raced through Frontierland, and down Main Street to finally head home and get rest. Then we saw someone...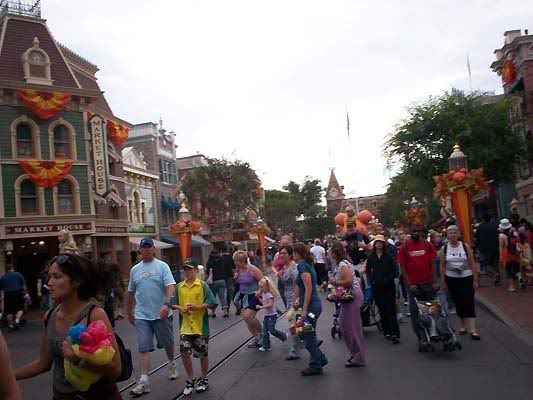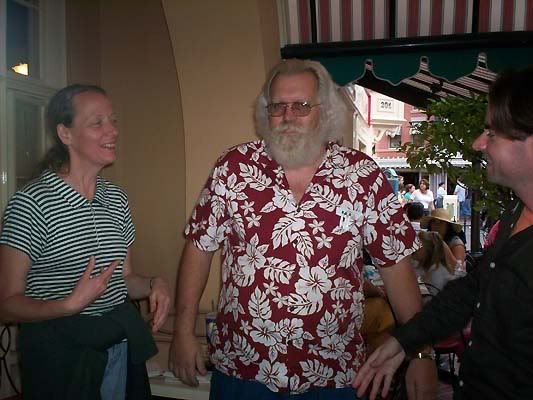 PromoMan and his gal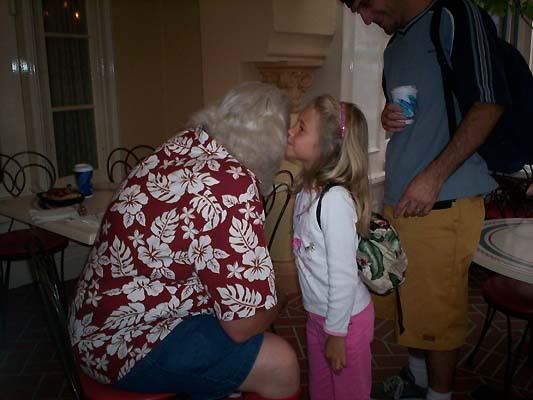 Kids began lining up to tell Santa what they wanted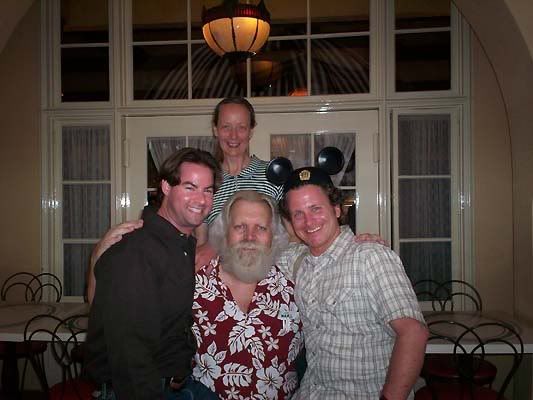 Santa said he might make a meet at the hub before Christmas.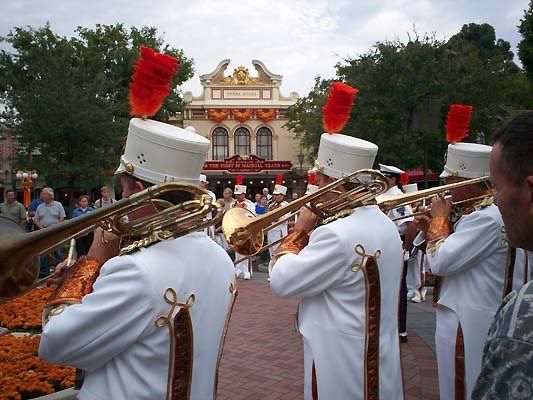 And now I bid you farewell. It was one amazing trip. I got to go to Club 33 and met Santa Claus. WAY TOO COOL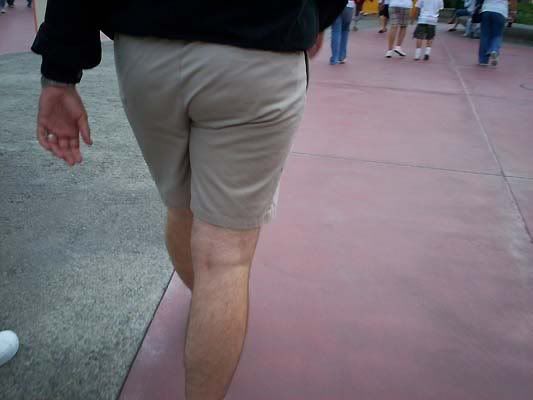 THE END!