LOOKING FOR HALLOWEENTIME? Check out my HalloweenTime thread, instead!
Well, with all of the HalloweenTime hoopla going on around the parks, its easy to forget about the rest. As we all know, Tomorrowland in the middle of a revival, and if theres any indication of where that troubled land is headed, look no further than the newly re-named Tomorrowland Terrace, and the new TomorrowLanding store- both nodding to Tomorrowland's past, while certainly looking forward, here's hoping the plussing and revival of Tomorrowland doesnt stop there... And don't forget about the former Le Bat En Rouge in New Orleans Square. The new store, called Port Roayl is now open for business, and although the remodel and merch offerings seem a bit half-a**ed compared to the Peices of Eight remodel a few months back, it's a nice little shop. Oh, and if you're in the mood for merch - then thank the Year of a Million Dreams - cause all your merch dreams are coming true this year!
Let's get to it:
GIFTS FROM OUTER AND LIQUID SPACE!
The new TomorrowLanding store is out from behind construction walls. Although it's not open yet, all walls and tarps are down, and the storefront looks great!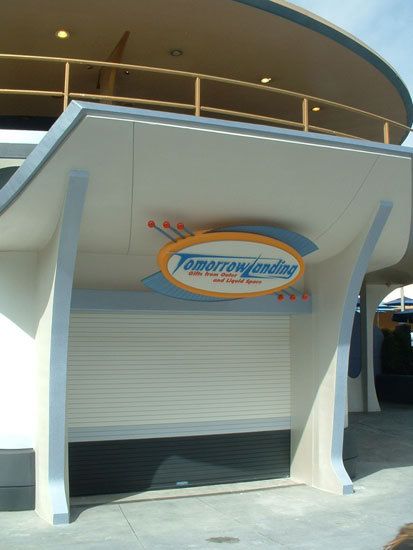 The signage at night: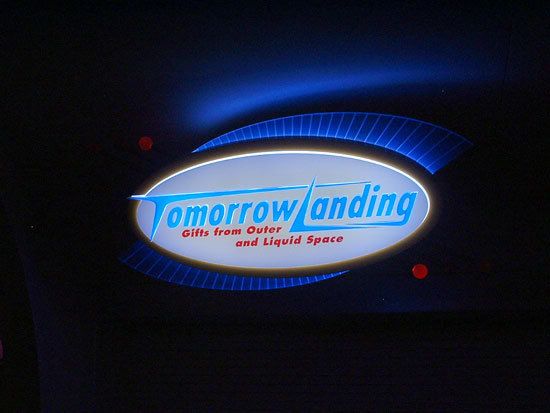 STAR TRADER
The Star Trader was closed earlier this year for big rehab, but it looks like they're tweaking, adding, or changing something... they've got a wall section moving around the store...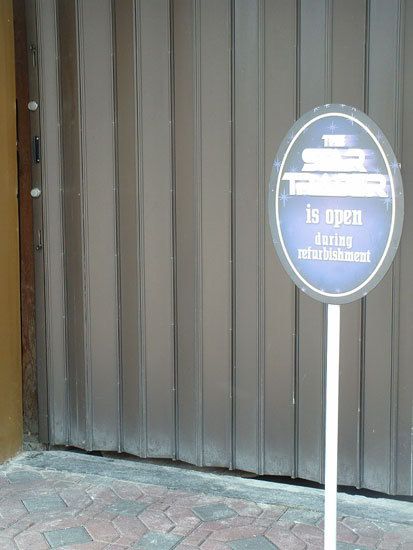 CLUB BUZZ - TOMORROWLAND TERRACE!
I never thought I'd ever be this happy to see this stage. Ever.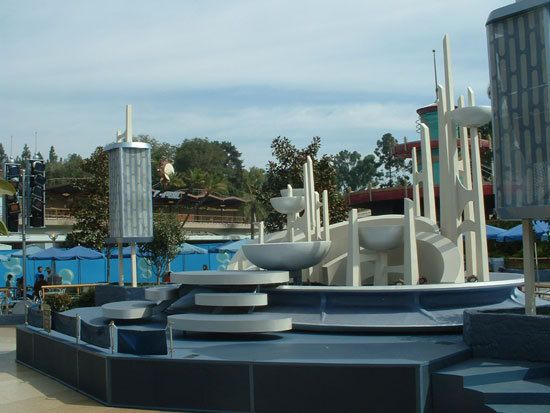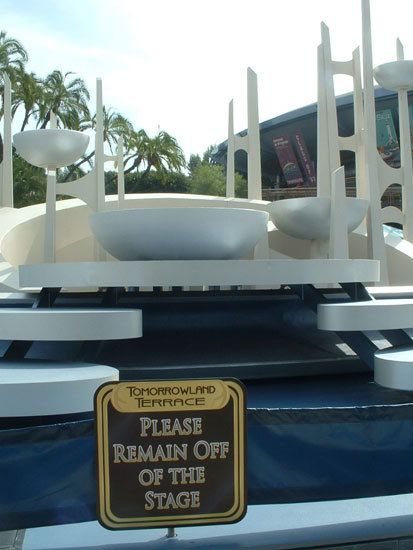 The back of the stage has the Tomorrowland Terrace logo on it in shiny blue:
Jedi Training Academy posters and ads...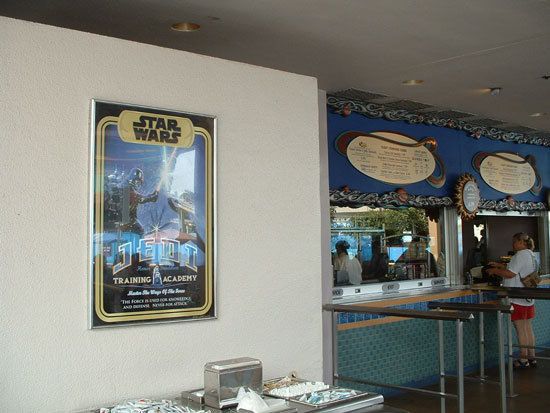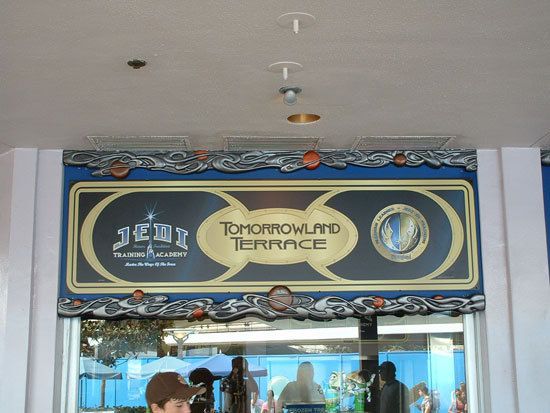 My only irk is that if they really want this to be a complete transformation, they need to re-theme the ENTIRE facility. Theres still a lot of bronze and '98 colors lurking around by the food counter area and in the main dining area... Hopefully, this is gonna get out of there soon. And the menu frames - yikes. They should have never been designed like that to begin with, get them out of there!
TOMORROWLAND TERRACE STAGE AT NIGHT:
Suburban Legends was playing. I know they have a decent following here on MiceChat, but I had never seen them before. I must say, I was rather impressed!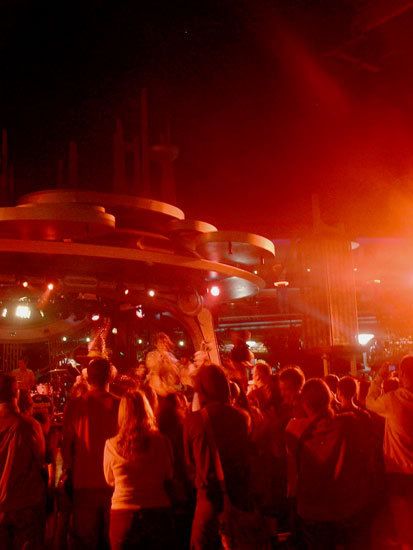 The back and sides of the stage have neat designs too: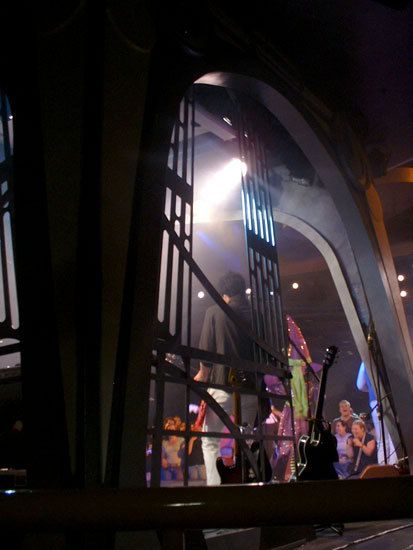 ...As for the rest of Tomorrowland, work continues over by the Monorail platform and old Winner's Circle area: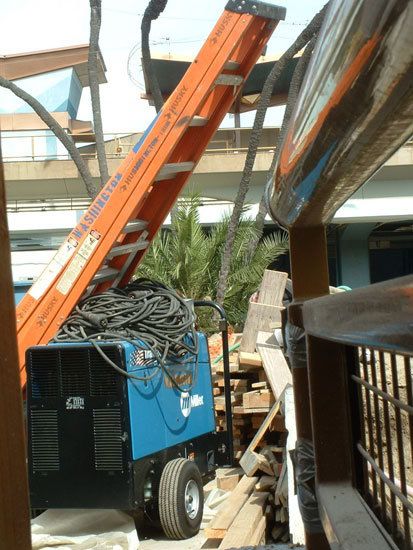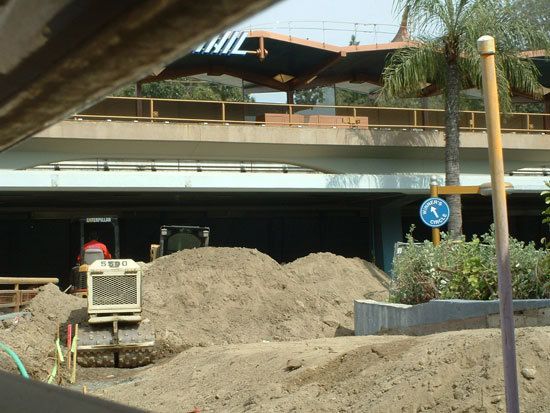 Speaking of Winner's Circle... the DMV photo booth for your Autopia license has been moved over to the Innoventions area by Autopia FastPass machines: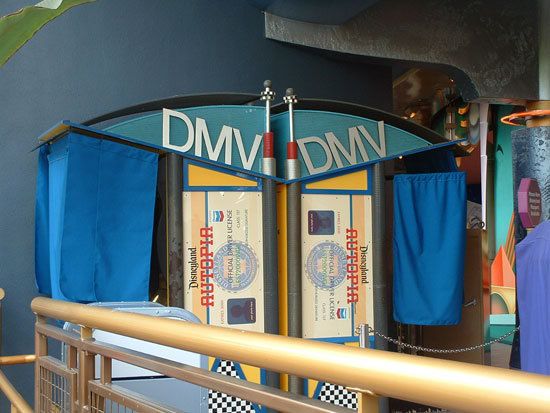 And a peek at Sub work: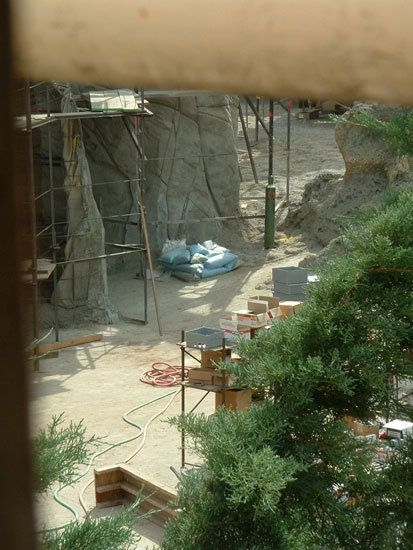 YEAR OF A MILLION BILLION MERCHANDISE OPPORTUNITIES
Aside from the otherwise typical tourist shirts that the Year of a Million Dreams machine is cranking out, loads of new retro merch (mostly in girl designs though), and some upscale designs for men and women (stuff Peoplemover1 called "for the golf club crowd") is hitting the shelves - and its really nice. An interesting note: I did not see a "Disney Parks" shirt in a single store inside either park. Granted, I didn't go to any store, but Star Trader - where the shirts were notoriously initially spotted at, no longer has them. And I didn't see any at World of Disney or in Greetings from California at DCA. Peoplemover1 asked a CM, and they claimed it must've been a misprint, and were supposed to be for Walt Disney World, since they have four parks... but in all honesty, the CM didnt seem like they knew what to say, so the first thing that came to their mind, came out. Interesting, though, that DisneyParks is no longer around, huh?
The Emporium had very little 50th merch left on Saturday, and a huge Year of a Million Dreams display was up where 50th and Pirates stuff used to be in charge:
Does anybody else think that Mickey looks like... erm, Elton John, in his sparkly new blue tux?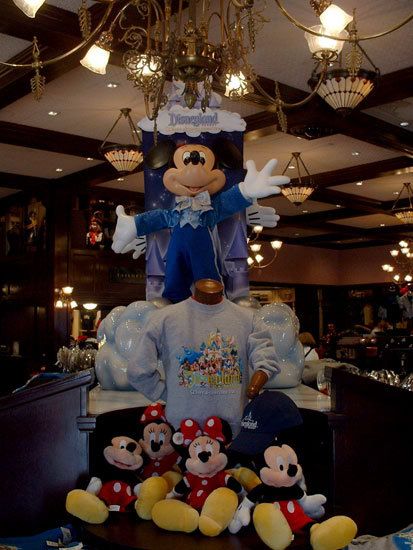 The back of the display has Minnie:
A light-up display... Its actually pretty nice... but such fancy lightup displays are a bit jarring in turn-of-the-century Main Street locales tough, no? Better suited for World of Disney, maybe?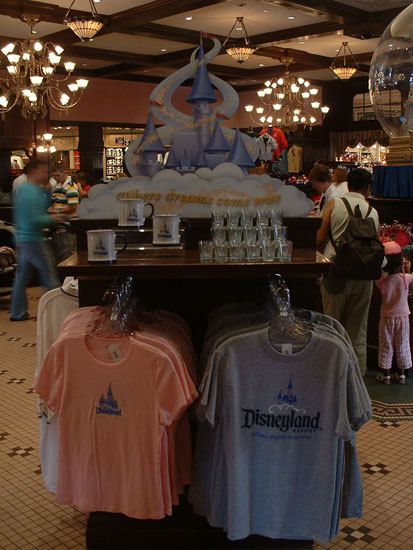 New hats: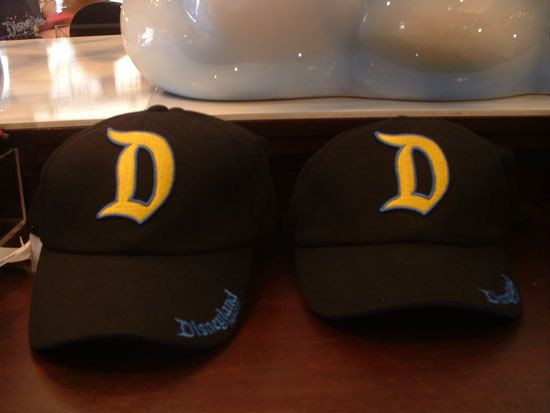 Stickers, scrapbooking stuff:
Silver is the new gold. Instead of gold ears, you'll be seeing silver:
All your dreams come true in silver ears...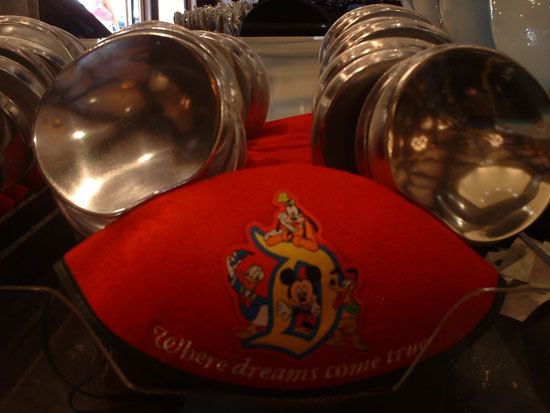 New sweater, front and back: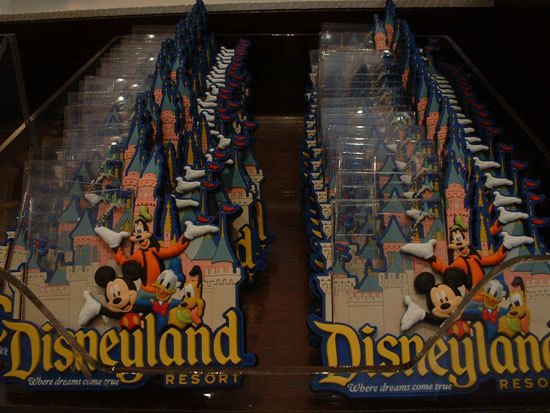 New "retro" merch, that was first introduced during the 50th is out. All of the previous "retro" icons that were on the old retro merch are different now, except for Tink at the Castle. We've got Skull Rock and the Skyway in Fantasyland now, a mermaid and sub and the House of the Future in Tomorrowland, and the Swiss Family Treehouse in Adventureland... It's really nice stuff! And instead of blue retro - its now green!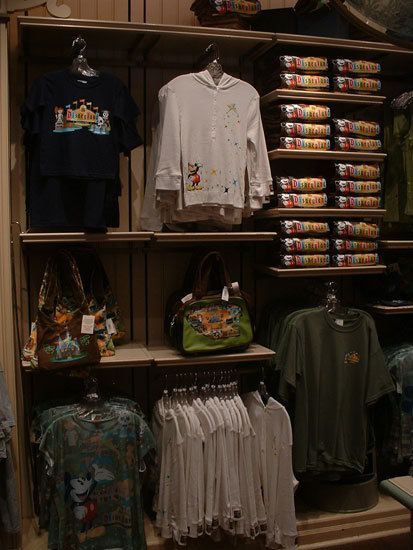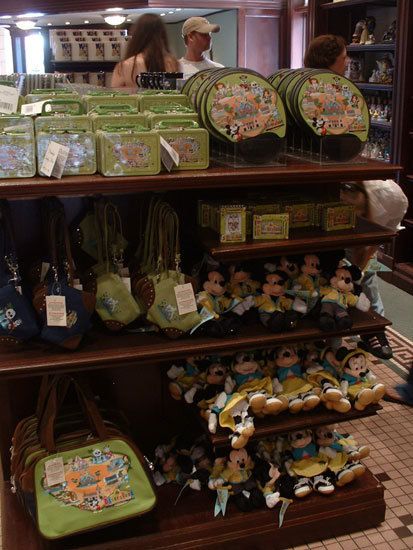 New retro board games - $15/each (the Monorail and Fantasyland board games are still available as well):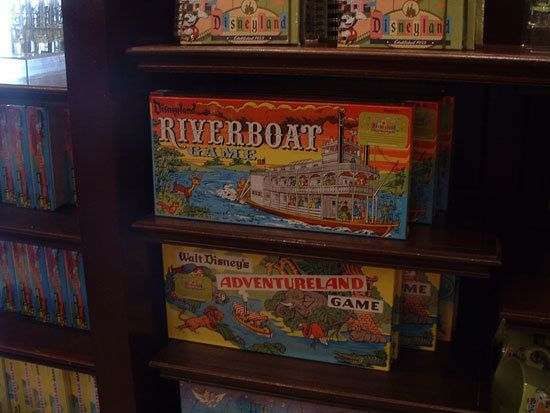 All of the new Disneyland 'crest' merch is here too - or what peoplemover1 called the stuff for the "golf club crowd"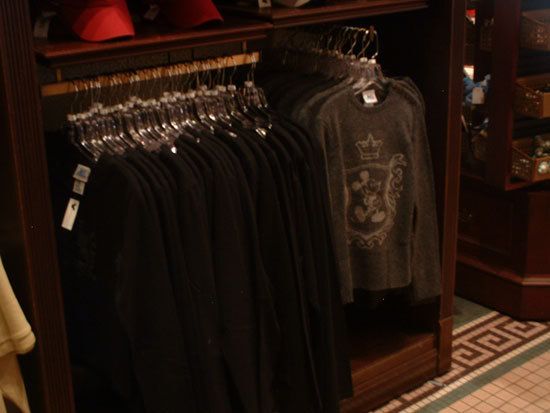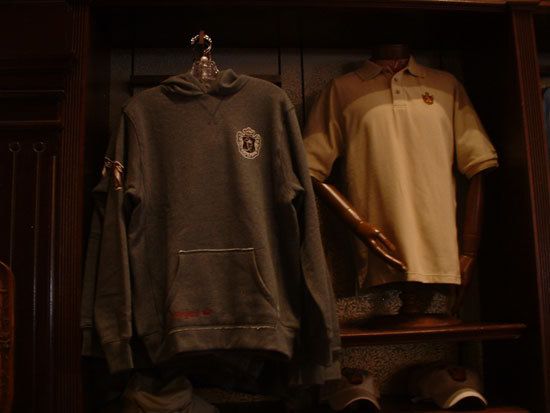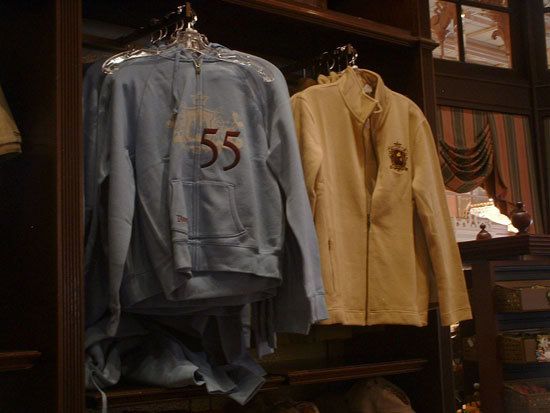 The big Castle rotating globe in the Emporium is no longer dressed up for the 50th:
The jewlery cases in the hallway through the back of the Main Street shops no longer bear the 50th logo: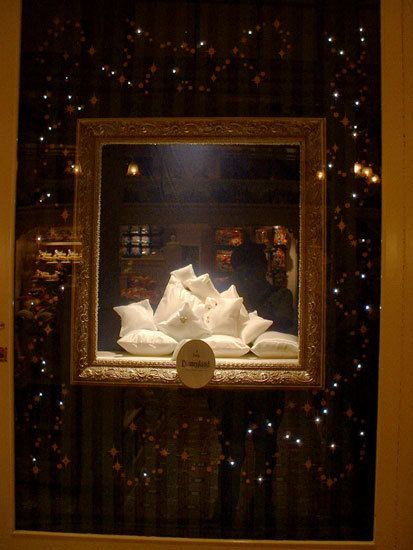 And Disneyana now has a $125 men's limited edition button-down silk shirt. It's kind of ugly in my opinion, but not sure how the rest of you feel about it: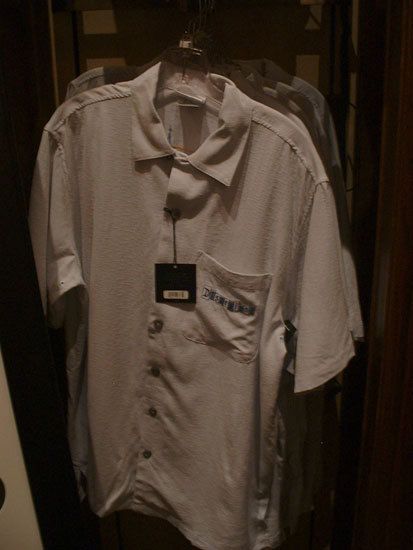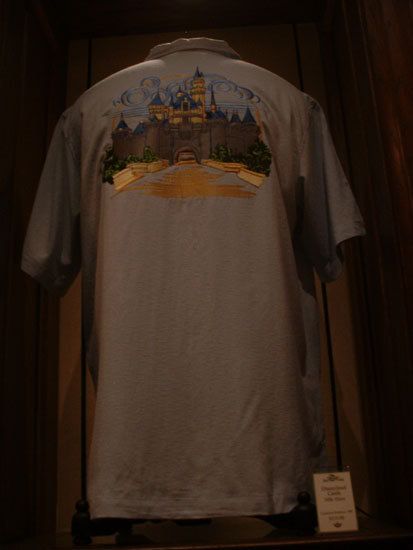 The shirt itself is made of material with Mickey designed directly into it:
PORT ROYAL
I was hoping this store would live up to it's "curos and curiosities" slogan painted outside, but alas, it does not. Strangely, theres a mix of Billabong and Paul Frank tees mixed in with the Pirates merch. And the themeing is really nothing great, compared to the great Peices of Eight remodel that took place a few months ago: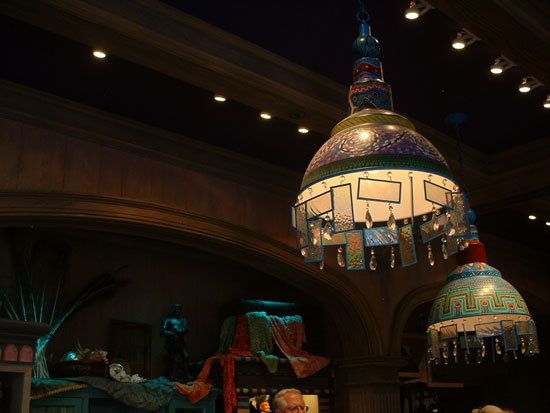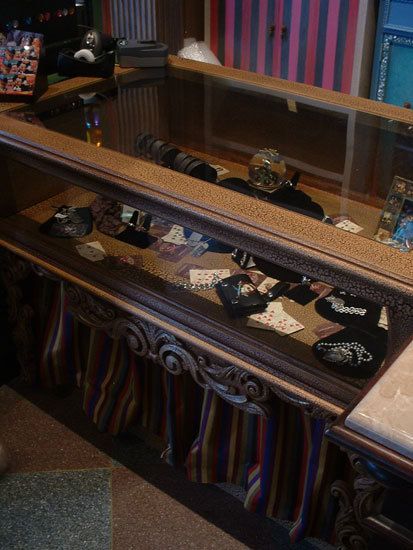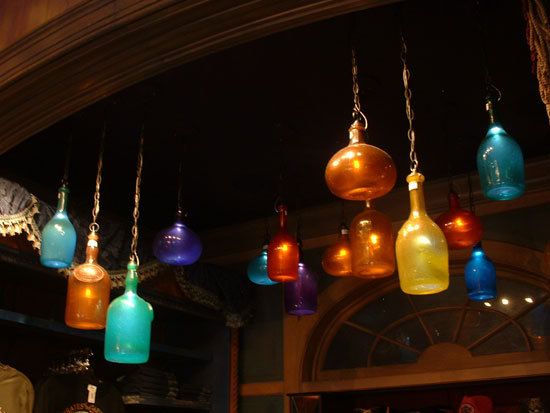 Have these little people been ...hanged?!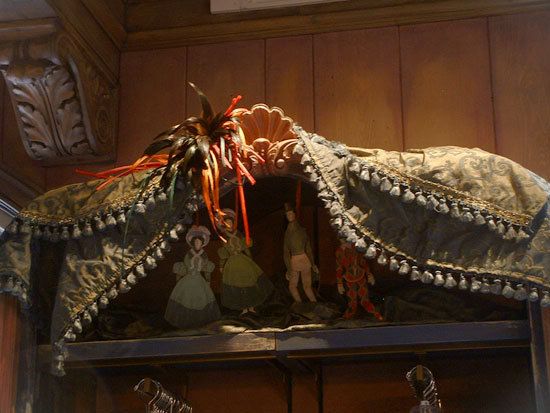 Leftover display rack from Le Bat En Rouge: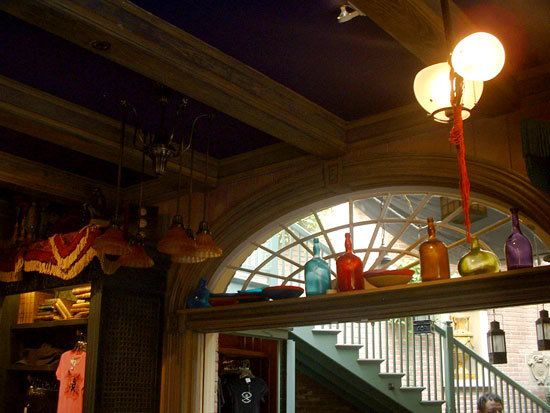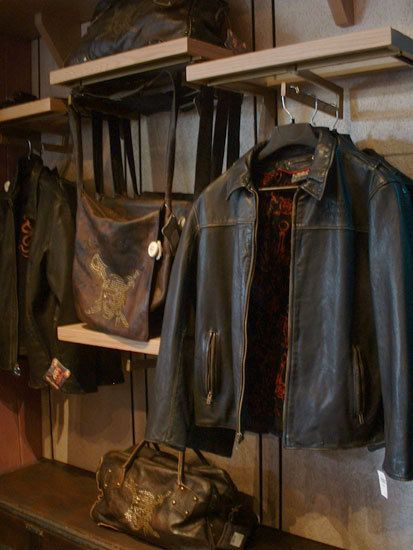 THIS AND THAT: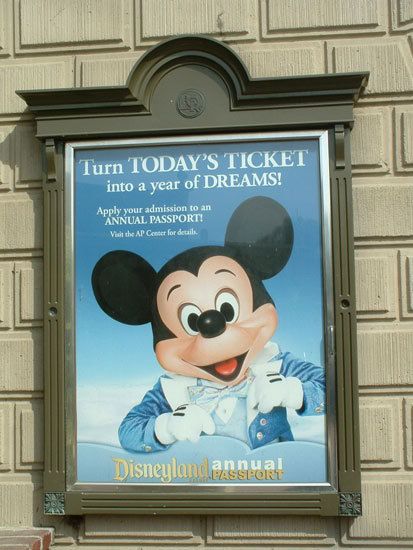 Good-bye golden Storybook Land lighthouse: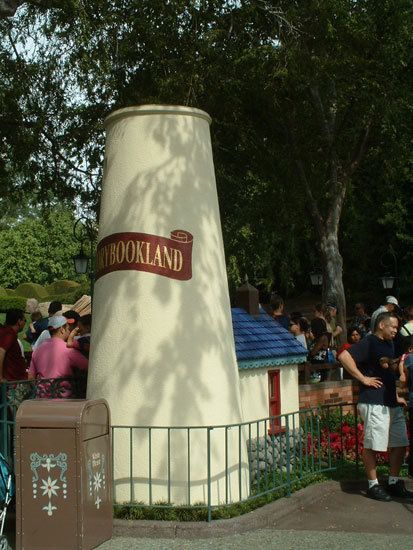 The Golden Horseshoe is open again:
The menu isn't much different from what I remember, and still, unfortunately, isn't anything to brag about...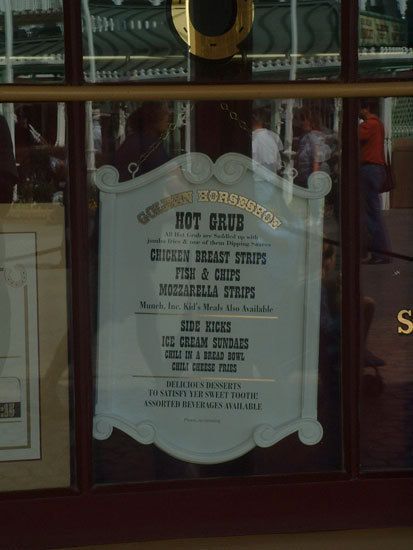 Disney's Vault 28 is coming along nicely: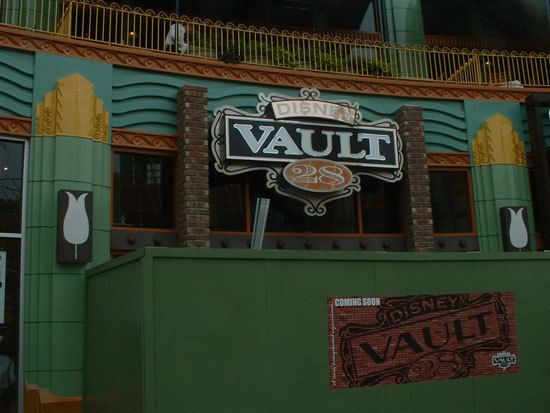 Caught the Fireworks from coming from the Tower of Terror: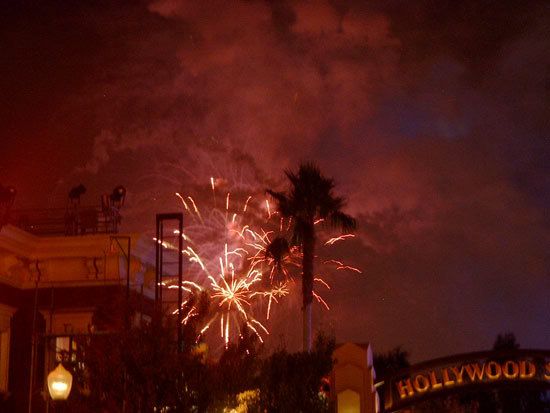 ...And a final look at the 50th Castle...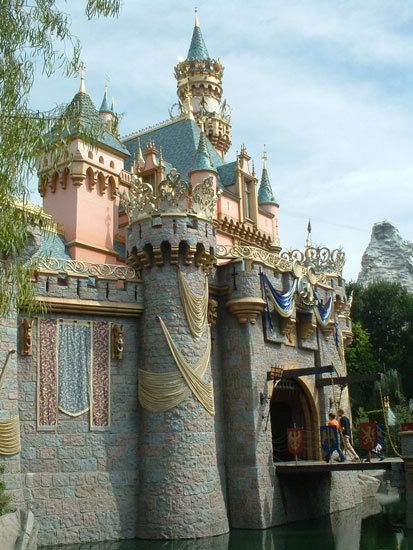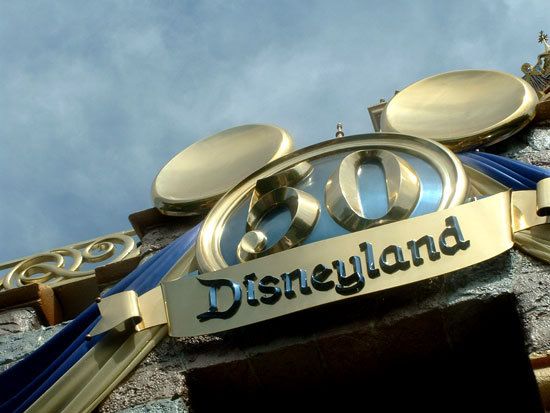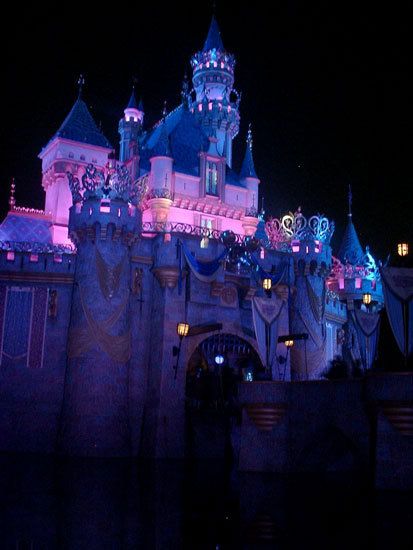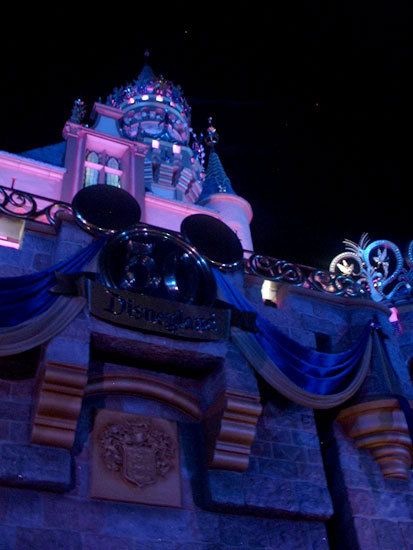 ...Allllrighty... that should do it.