October 7th marks the 4th anniversary of the opening of DCA's "a bug's land". It was a really fun well-planned and packaged event,
a bug's life
director John Lasseter, actor Dave Foley, Flik, Disneyland Resort President Cynthia Harriss and others were on hand for the "unearthing" of the new "a bug's land," October 7, 2002 at Disney's California Adventure park in Anaheim, Calif. Inspired by the Disney/Pixar animated film,
a bug's life
, the new "a bug's land" is designed for kids ages 4 to 7 to look at life from a bug's point of view, with everyday items taking on huge proportions. Three key areas in the land are "Flik's Fun Fair," "It's Tough To Be A Bug" 3-D adventure and the Bountiful Valley Farm
http://www.startedbyamouse.com/happe...FOpening.shtml
The fun kicked off with a media event on Oct. 6th with our host Mickey greeting us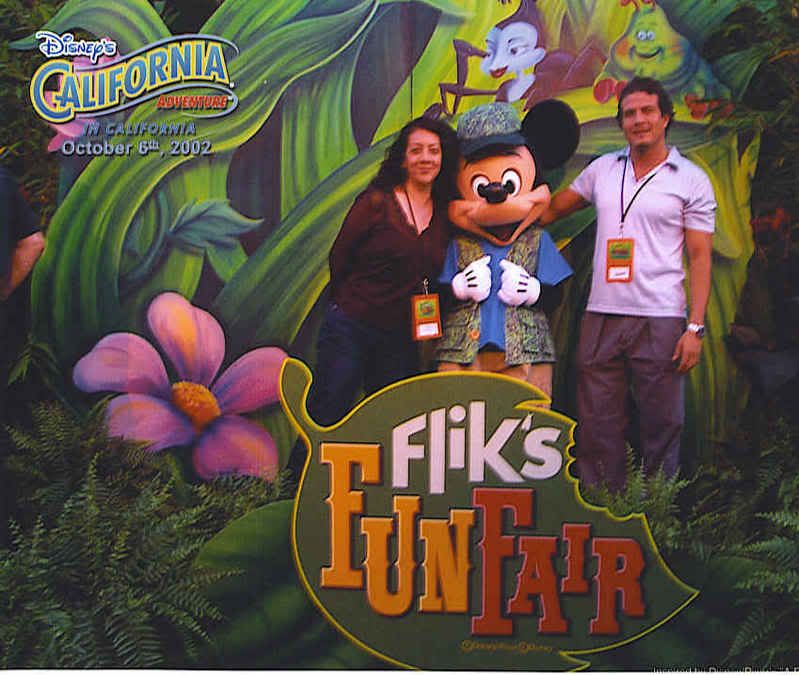 and themed hors d' oeuvres, cocktails and rides on the new attractions throughout the new land. Then followed dinner in the Bountiful Farms area with entertainment by a "Beatles tribute band" (
not
The Fab Four and can't recall their name) and the triumphant return of the giant ice sculpture martini bar! The first one in DCA had been one of the most popular attractions at the opening events in February 2001.
Then everyone was escorted to DTD's House of Blues for more evening fun and then off to the GCH for the night.
Opening day had alot of guests and small events scheduled, the best held in the theatre that nows houses
Turtle Talk with Crush,
a private concert by Academy Award winner Alan Menken where he performed and shared stories of creating the music for
Aladdin
,
The Little Mermaid
,
Beauty and The Beast
,
Pocahontas
and
The Hunchback of Notre Dame
. Disney's Anne Hamburger then conducted a video conference with Francesca Zambello from France showing rehearsals of DCA's soon to arrive, "Aladdin - A Musical Spectacular".