So, as an oddjob, my brother and I do street team for the Rabobank Arena & Convention Center here in Bakersfield. Today, my brother text messaged me and asked me to go pick up some posters at the Arena for Disney On Ice. I said, sure, whatever - not expecting anything exciting coming from the folks at Disney On Ice, probably just another Disney Princesses On Ice show, or maybe another Pixar on Ice... You know, nothing too exciting..
But when I get to the Rabobank to pick up the posters, I was pleasantly surprised to see a stack of posters with this design on them: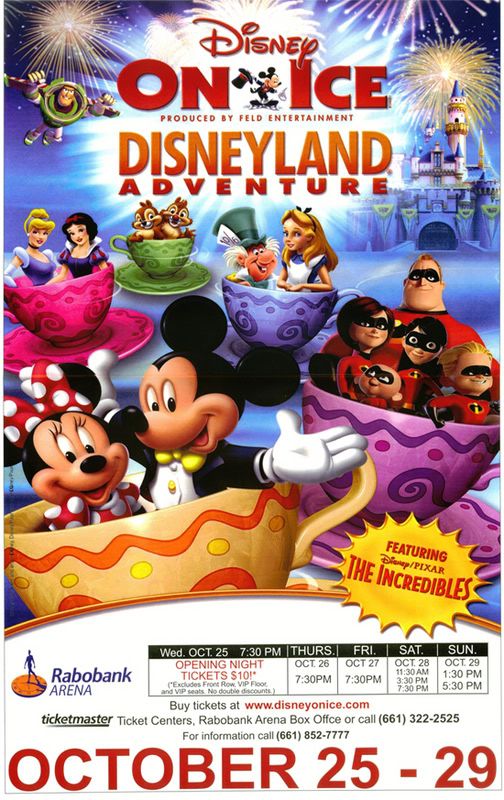 DISNEYLAND ADVENTURE
Needless to say, I'm stoked. Considering I get a couple of free tickets out of this gig, plus pay for doing street team, I'm very excited for this!
I checked the Disney On Ice website for more information, and it seems as thoguh they've worked out a different show for each side of the country. The show being advertised on
DisneyOnIce.com
is called:
Disney presents Pixar's


THE INCREDIBLES


IN A


MAGIC KINGDOM ADVENTURE
Here's what the website says about the show:
An incredibly fun time on ice!
So... who's going to the show? If you're not in Bakersfield, check
DisneyOnIce.com
for more show dates. :ap: