Hello again,
Its been awhile since I posted a bunch of pictures of one of my Disneytrips. To be honest I got a little bored with them, but I figured what the heck, I only have one DL trip left to post anyways (got a couple wdw trips too, but they can wait), so lets post it.
Day 1:
Anyways I returned to the Disneyland Resort in Nov. 2003, 11 years after my last visit. I had flown down that morning and had reached my motel in time to get to DL around 1:30 or so. My parents and sister were going to join me later, so I wanted to get a look around and absorb some magic on my own. I went ahead and did the thing I always do first, rode the train around the park. After the grand circle tour I got off in New Orleans Square. One of the big reasons I was there was for the Haunted Mansion Holiday and it was a walk on. I was blown away with how cool it was and got back on immediately. After that I headed to Critter Country and rode Winnie the Pooh since it was a new ride. The CM working the ride gave me grief over my Spider-Man shirt and I told him, that I had just got there, so give me a chance to buy a DL shirt. I rode in a car to myself and spotted Max, Buff, and Melvin. I got a chocolate topped rice krispy treat at the Pooh shop. At this point I rode rides like POTC, Splash Mountain and Indiana Jones (another ride I had not been on yet).
Anyways I started wandering around the park taking in the sites. I started to wonder where my family was at (they where driving down) and tried to call them. I got no response so I called the hotel and asked them if they had checked in. They couldn't tell me. So I continued taking in sites and rides. At some point I was wandering around Triton's gardens and saw Ariel. I was instantly smitten with the young lady in the clamshells. However, I was too cool to get my picture with a Princess, so I moved on (remember this for later). Around 4 I was wondering where they were at, but had not been able to reach them. So I called my little sister in Seattle and asked her if she had heard from them. She said no, so I told her about HMH and some of the other neat stuff I had seen. I was leaning on the railing in NOS and looking towards Le bat en Rouge. Sure enough here came my Mom, Dad, and big sister. We rode HMH a couple times and did lots of other stuff. But, enough report. Here are some pictures.
Haunted Mansion Holiday.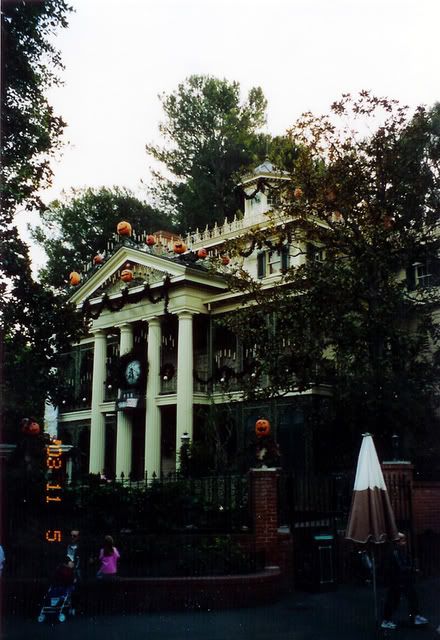 some decorations in NOS.
My Mom, Dad and older Sister in front of the castle. I had to lay on the ground to get this shot.
The Disneyland Christmas Tree at night
Decorated tree in Downtown Disney. I loved the way these looked.