WOW what a weekend! Saturday and Sunday was Gay Days at the parks and Boy was it fun. No time to chit chat let's get right to it.

Saturday was a special day. It was the first day of Gay Day and we planned a special MiceChat meet at the hub at noon much like we would normally do on Sunday. Also Dusty and Mine's ladies were all coming to the parks later in the evening, after finally buying their annual passes, to take their first rides on Haunted Mansion Holiday and Pirates.

Racing down to the trams we were greeted with a mass of humanity.
YIPES!

We stuck it out and got on the tram after two cycles.

Grumpy4 called Dusty and explained that there was a shoot going on at the hub and that the group had to meet right outside the hub. "Sounds Good" we said and made our way in.

The overun Ticket Booths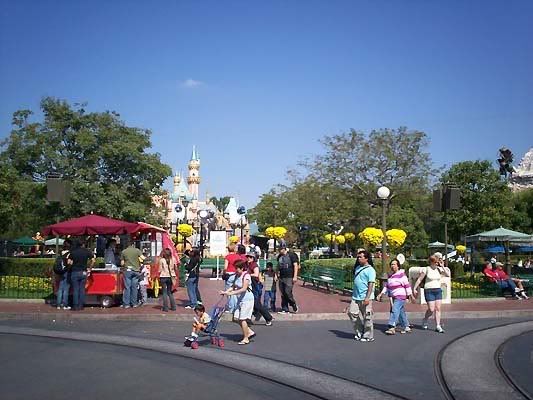 We were greeted, when we made it to the group wiotha special surprise.

RON10036!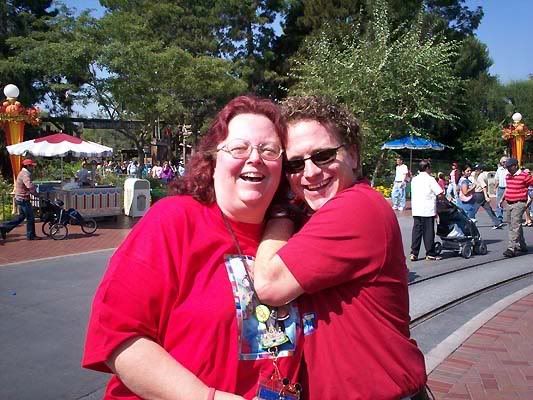 PenguinSoda and Fishbulb
The group.

Disneylad and his guy



DLMom and Fishbulb



RoseRedAngel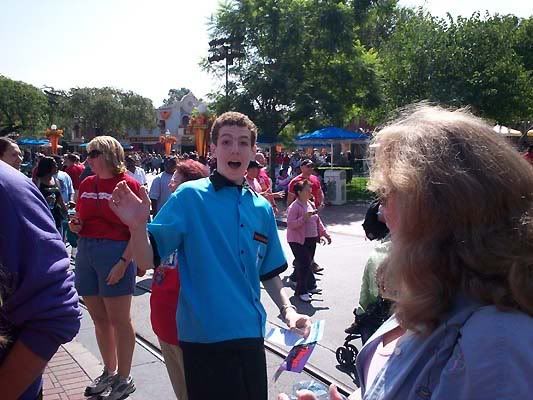 Club33



LuvsLilo, Hector, and Stinkerbell



Chernabog and Dusty



Grumpy4



The outta state crew: AllAglow, Ron10036, Mtngirl, Stinkerbell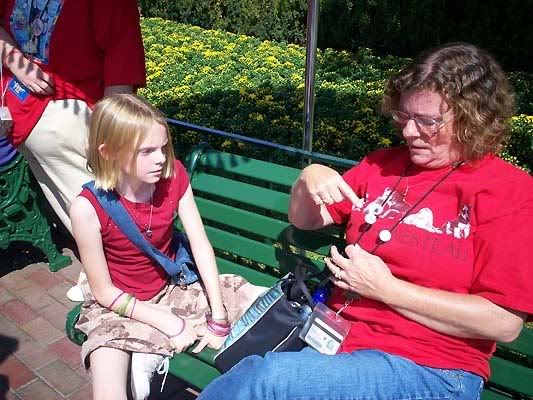 Wolfette and Wolfy
I collected passes and ran off to get FP's for HMH for our ladies later on that night and for the rest of the group. It seemed about 99% of the people in the park were enjoying Pirates or Mansion. SHEESH!

I made it back to the hub and finally my wife, SusieP. Showed up. After spending an afternoon in the blistering sun we decided to take a rest in the Tiki room.

MickeyMax and O-nut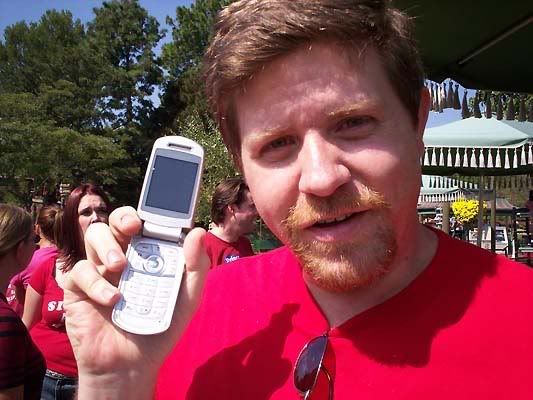 Ron10036 talks to Tui on the phone



Chuck Oberleitner showed up



Dan and Capt.Pheobus took off to go eat at WhiteWater



A FABULOUS castmeber greeted us.



Cherny got sexy with a whip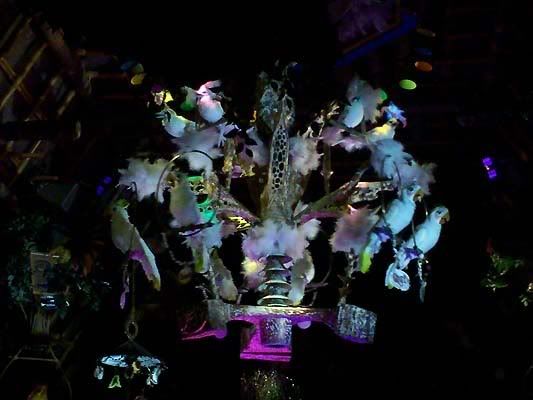 When we came out, of the Tiki room that is, we were met by Kylelicious.
Our group had reservations at Cafe Orleans and they headed over there while I ran across the way to collect FastPasses for Buzz Lightyear for our Ladies later in the evening. Along the way I ran back into Lost Boy and invited him along for lunch.
Our group waited in the Bustling New Orleans Square and Grumpy4 noticed a guy with a particularly interesting hairdo going up to the Disney Gallery.

Randy shows off his hair do. Wild huh?



Ron takes over Disneyland!
Well it was time to eat.

Sunnygirl and Anders stopped by and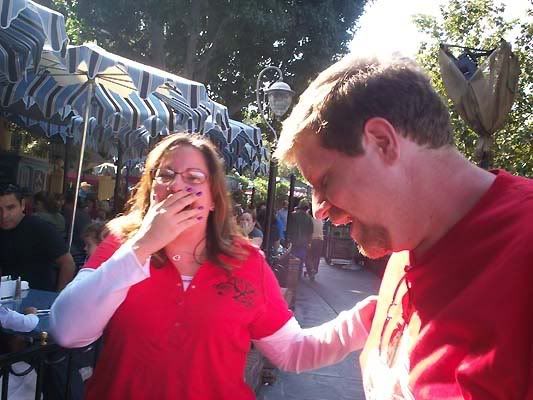 SURPRISE! It's Ron10036



Dustysage, Mtngirl, and Fishy
We all fit in to the new New Orleans Square Cafe and the staff handled us adeptly.

Spectacular streetmosphere
Well it was time to go for a bit as many of the DMCA'ers had to go check into their Hotel rooms. That left LostBoy, Chernabog, DustySage and Myself to our own devices. We decided to go to the one area of the park that no one would be.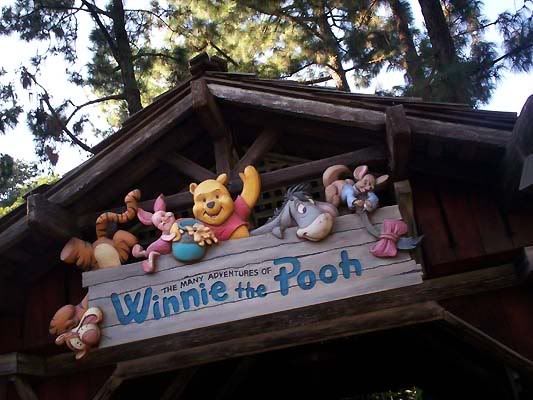 newly planted dichondria sod


Yeah, we rode Pooh. GOD that makes me laugh.

The four of us avoided the masses by taking the other bridge out of Critter Country and went to Coke Corner to meet up with Dan and Capt.Pheobus.

Fowler's Landing



Dusty Paul and Don



Sadako laughs at Dans shirt



Dans' Bear Mario shirt
It was about time to start on over to DCA. There was a Cove bar meet at 6pm and Sadako had generously given us four FastPasses for Tower of Terror. We had just enough time to ride and then dash of to the meet. Plus Our ladies were to be calling at any minute to join up. We hadn't a moment to lose.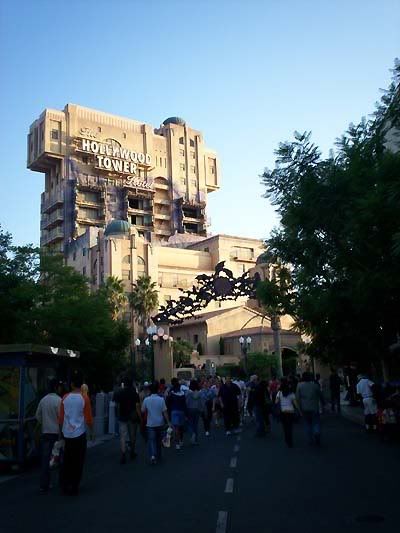 Tower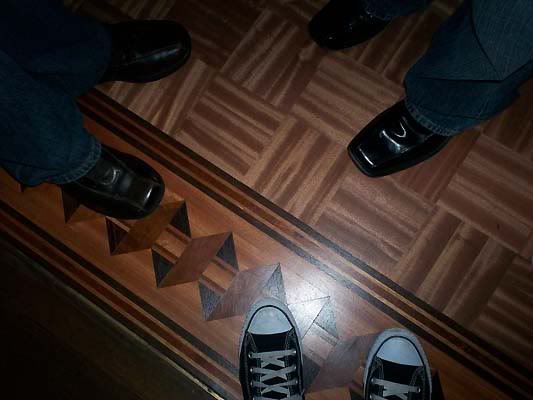 The tower's carpets are now GONE



Buckling in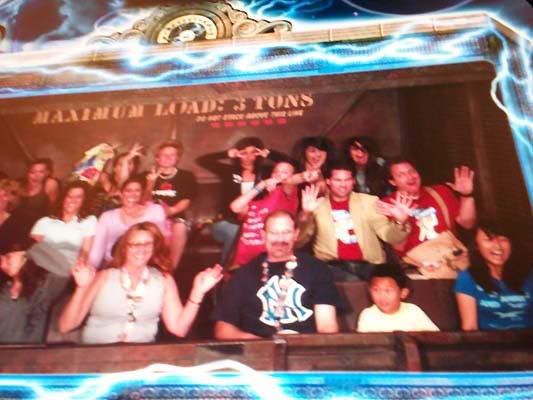 Tower was great, as usual, and we headed off to Cove Bar. Then a familliar face snuck up behind me...
Sam found us!
He's everywhere. Like Santa.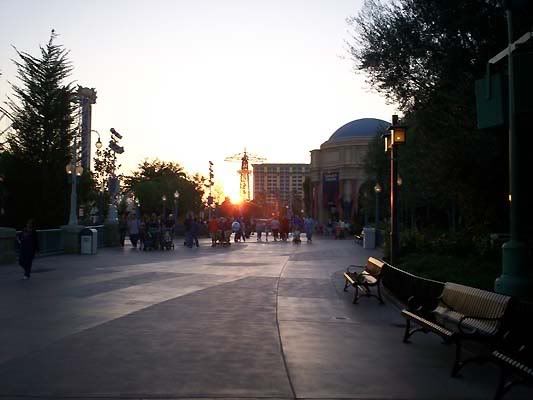 The Cove Bar was Bustling. The following are just random shots of the craziness...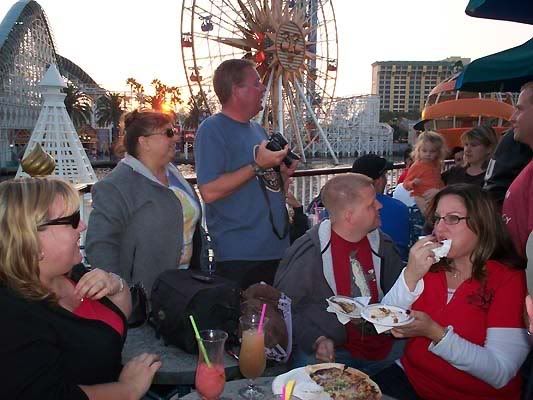 O-nut and the look of sexy



Whatsherface (Sabrina) and JustJohn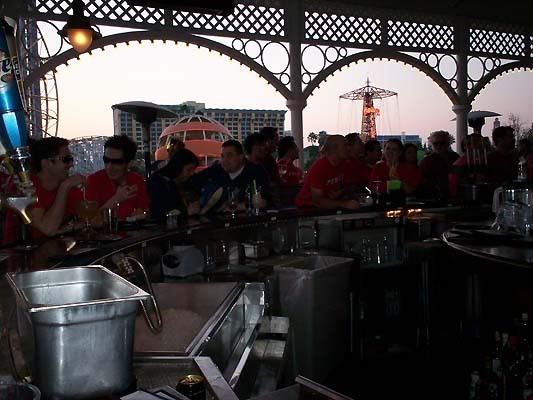 Who knew the bars would be busy on Gay Days?



Aurora and Frogberto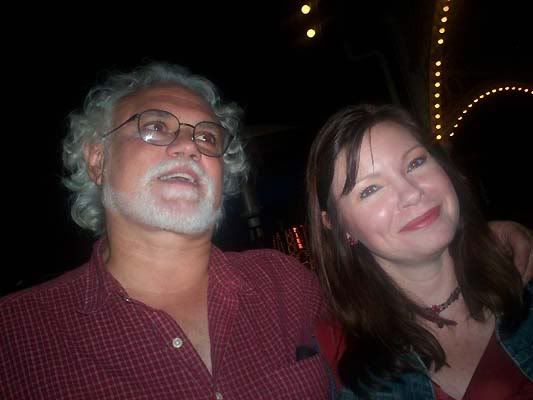 MCow1 and MaryReid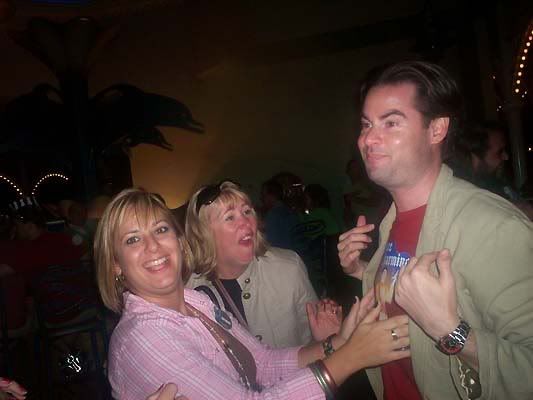 Mamabot havin FUN



Goodbye Pics from MissChristine and Hector
Our Ladies called and said they were on their way into DCA. After meeting up with us, Gaye, Pat and Helen decided to get dinner at the Tratoria and we told them we'd be there in just a minute.

Sam Joined us and we sat down for a quick bite and a celebratory dessert before catching the Fireworks at D-land.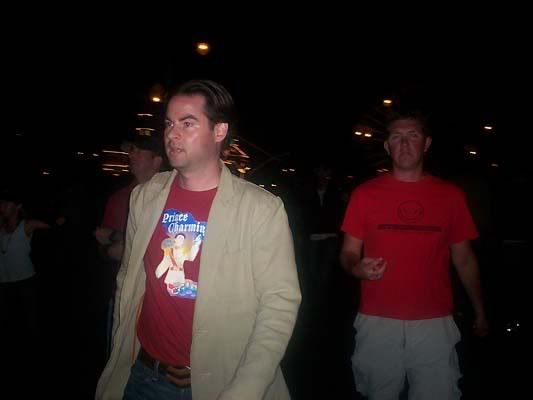 Dustysage and Sam



Spoons!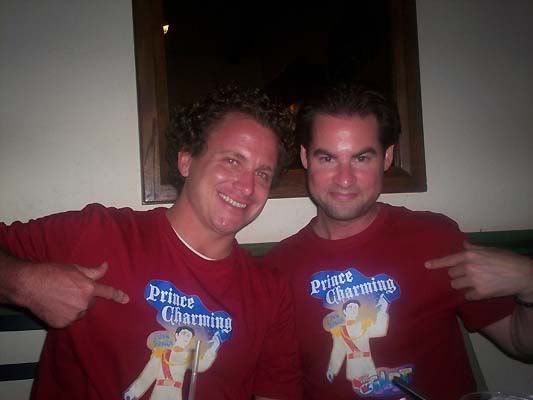 Price Charmings
After dinner we got to Disneyland before the Major rush and, as Dusty and Sam held our spots for Fireworks I took the ladies on Buzz Lightyear. They loved it.

Pat, Helen, Fishbulb, Gaye and Dustysage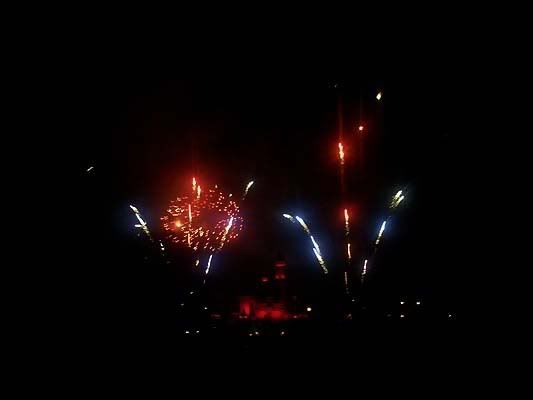 Fireworks ended and we made a b-line for Pirates where Chernabog and Mamabot joined us for a ride to the ends of the Urt.

We then all ran over to Haunted Mansion Holiday for the ladies first ride. They LOVED IT!

Gaye enters the Lobby of Mansion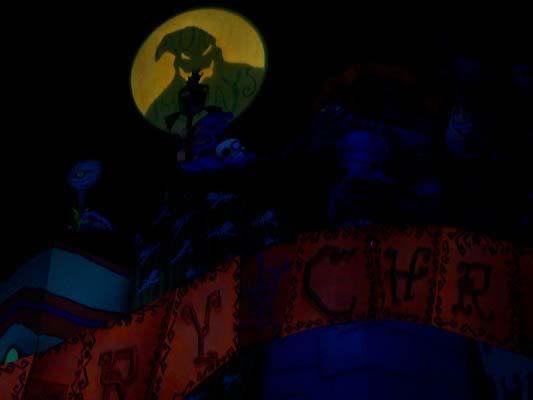 At the exit of the ride the rest of our gruop met up with us and the ladies said goodnight. It was now time for LOST BAR.
Our feet, tired, leaden, we plodded on to the last watering hole of the night.

PixieChick



HakunaMakarla and Fishy



Priness Buttercup joined in too!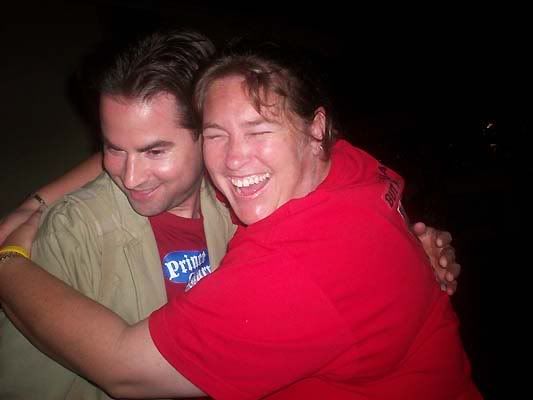 Dustysage and Grumpy4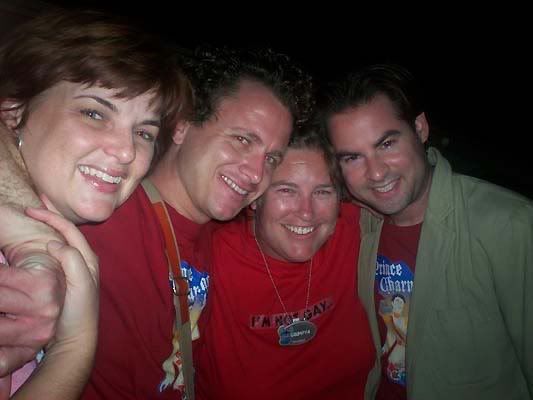 SusieP., Fishbulb, Dustysage and Grumpy4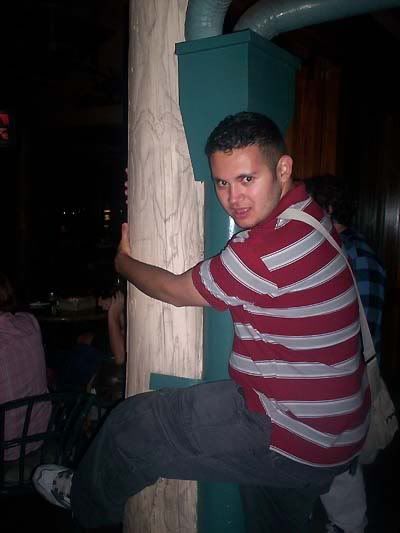 Hector getting a little too, well, you know



TOO MUCH SEXY: PixieChick, Stinkerbell and MissChristine



Scarlion Sunnygirl, Anders and MtnGirl



To the LOST BAR!

WHOOOOF we were beat. We headed out of the resort by 1am we were beat.

But we still had Sunday.

TWO BE CONTINUED