So my friend Marianne was so enthused over her visit to the park last week that she made it a point to come back this week and this time brought along more peeps; Andy, Cayla and Melissa. Not only that, but they decided to see what would happen if they came cosplaying as the Twilight Town gang from Kingdom Hearts II.
We start out the day in line for tickets, and once we finally reached the end of the line Heiner and Seifer... I mean Marianne and Andy decide to do a celebratory high-five and proceed to fail miserably.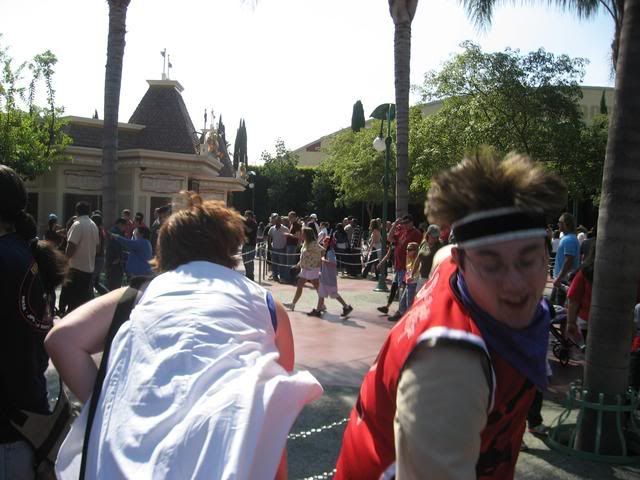 DCA was our first destination, and we noticed it was re-opening day for the Aladdin musical after 5 weeks of the Hyperion Theatre being down for refurb!!!
I am so excited, I can hardly contain myself...
"Andy, why do you have that as your wallpaper?"
At first glance, all I saw was the face... I'll let your mind deal with the details...
THEY'RE BACK!!!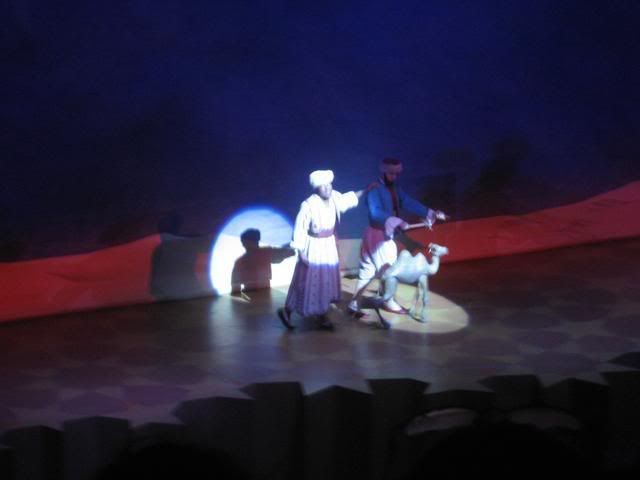 The cave of wonders is as impressive as ever!
I have nothing but :love: for the handicapped performer. Her props steal the show!
THE GENIE IS BACK BABY!!!
It was a great show! The Genie actually incorporated the refurb into his routine. When he came out of the lamp and talks to Aladdin for the first time, he said "Do you know what it's like to be trapped in that lamp for so long and finally get out? It's like being on stage in this amazing show everyone loves and then the theatre goes down for refurbishment for a whole month and suddenly it's back and EVERYONE LOVES YOU!!!". Of course this was followed by much applause and cheering.
Aladdin Show 10/07/06 Finale -
http://www.youtube.com/watch?v=-9lgox1W31w
Aladdin Show 10/07/06 Curtain Call -
http://www.youtube.com/watch?v=xOduQPGx0c0
The Genie certainly makes the show. We were cracking up about a few of his jokes for the rest of the day. Our favorites:
- "Jafar, you're so mean that when you go on MySpace, not even Tom wants to be your friend."
- "If your last name were Peppershaker, you'd be Sultan Peppershaker."
- *after Jafar turns into a snake and calls to the Genie* "Um... shouldn't you be on a plane somewhere?"
Next it was Tower of Terror, as we proceed to freak out the vertigo-filled Marianne.
More Halloween decorations, that have been ripped off ever since.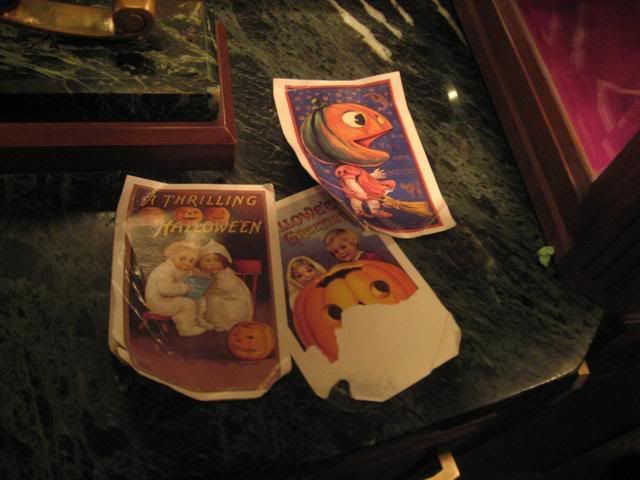 "Don't worry Marriane, about 60% of people survive this ride, so your chances are good!"
I don't think she was amused by our jokes...
inch: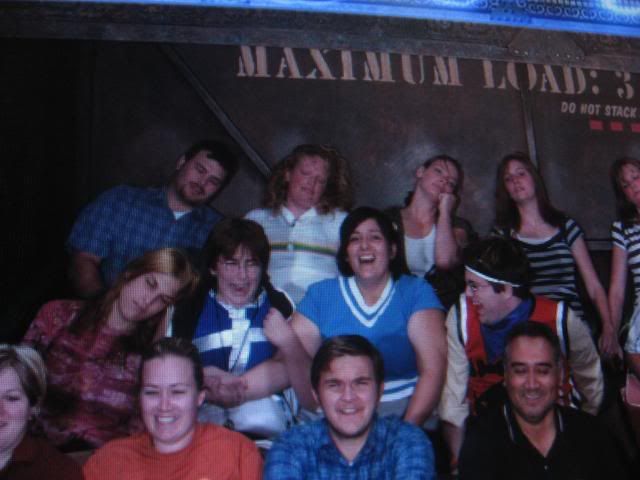 Next on the list was Monsters Inc, as we wait for Melissa to show up.
Andy tries to explain to Cayla the concept of Gay Days in pure Heiner fashion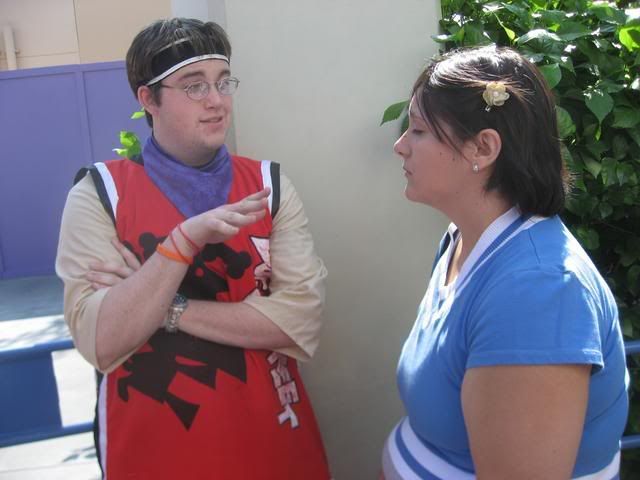 My posse is so badass right now.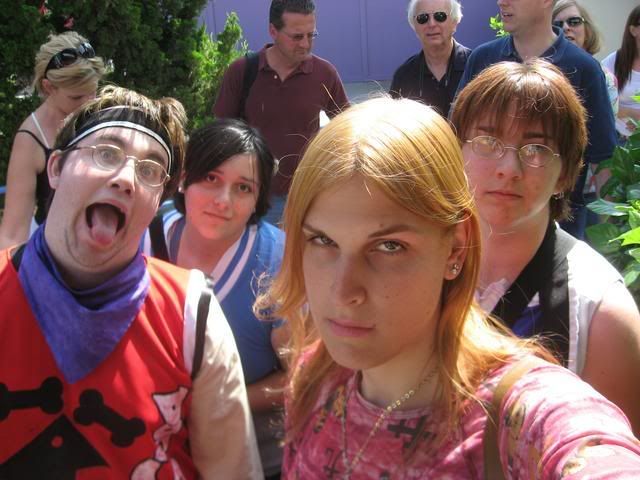 Andy, I don't get it... really... I don't...
Superstar Limo is the best ride EVER!... Huh? This isn't Superstar Limo?
"There are real monsters in there!"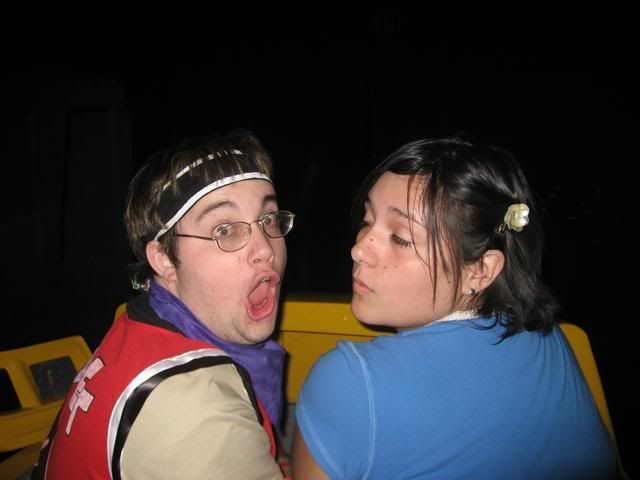 And apparently they went through Traditions too... (notice the 2 finger point)
I guess we'll wait for Melissa outside the Animation building... and never a dull moment, as the Kingdom Heart II freaks proceed to sing and dance along to 'Under the Sea' in japanese. Take a look:
http://www.youtube.com/watch?v=qMyzAdgFY64
Finally Melissa arrived, so we made our way into the Animation building proper, only to find one of the screens isn't working! (Maybe Cinderelly can work it into her busy schedule to fix it)
Ok, Turtle Talk with Crush it is!
And Marianne explains to Melissa about her frightening experience on Tower of Terror -
http://www.youtube.com/watch?v=WMv9NNPDlJI
"Why are we sitting on lillypads?"
As we came out of the Aquatorium, we saw none other that Aurora dancing with Woody along to 'Once Upon a Dream'.
Hail to the Princess Aurora!
Next it was back to Tower of Terror as one of the Dream Squad members was amazingly kind enough to hand us a stack of Fastpasses!
There must have been some problems earlier, because Bill the mechanic was in the boiler room scoping the scene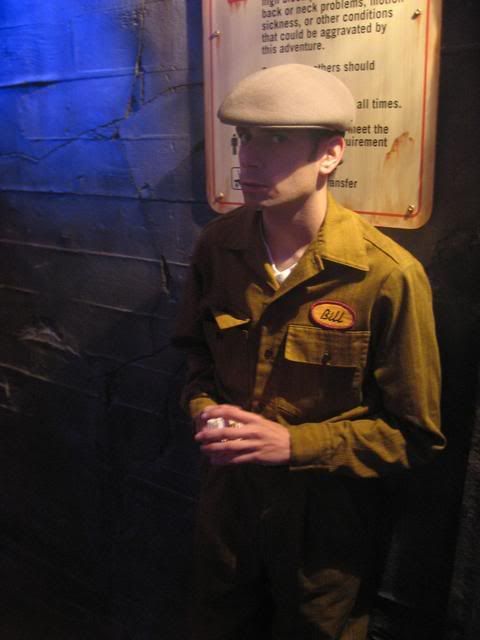 We tried to strike up a conversation with him, but his cadavorous palor betrayed an aura of foreboding -
http://www.youtube.com/watch?v=9v1TJS50AKg
And once again, our acrophobic Marianne joins us in the elevator. This time, I was smart and turned on the camera
-
http://www.youtube.com/watch?v=y8Ux25urx-k
And as we came out of the elevator, I noticed something under the staircase, so I decided to take a picture with flash... but as soon as the flash went off, I ran away screaming like a little girl
We all had a very uplifting experience
As we made our way through the Backlot, we noticed more ghosts from Halloween past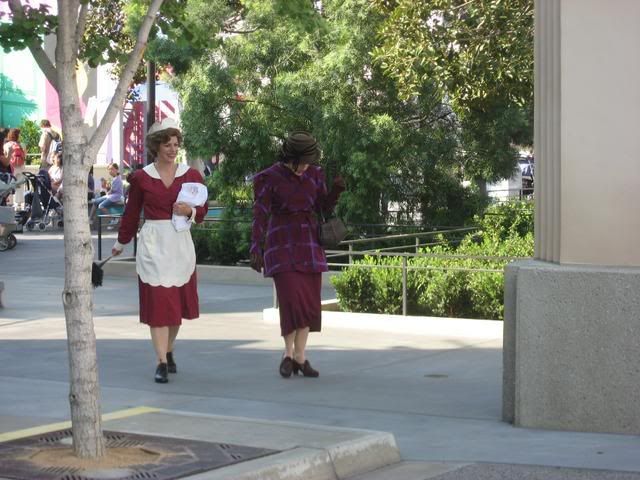 Um... my camera looks weird in 3-D
ME: "Why is there a cockroach sitting next to me."
MARIANNE: "Julie, I think that's a small child!"
ME: "Oh... sorry..."
As we took to the Tortilla factory, we noticed Halloween decorations filled the Wharf
And then we were off to a
VERY
crowded Disneyland. (According to CM reports, the crowds were worse than 4th of July). My crew decided to ride Pirates of the Caribbean as I ran to pick up Fastpasses for Indy and meet up with my other homies ( Dustysage, Fishbulb, LostBoy, CaptPhoebus, Dan and Chernabog )
I :love: Dusty's shirt. It makes me want to sing for some reason
I nearly died when I saw Dan's shirt
After a few minutes, I headed back off to meet up with my crew in Critter Country, but not before stopping to stay hi to the most awesome Tiki Room attendant in Adventureland (Who I'm now convinced needs to come to Rocky with me sometime *wink* *wink* *nudge* *nudge*)
As I passed through New Orleans Square, I made note of what I've apparently been told is proof of the old Pirate Master Gracey storyline for Haunted Mansion (The treasure hideout)
Want true blue proof of the crowds on this fine day? Look at this my friends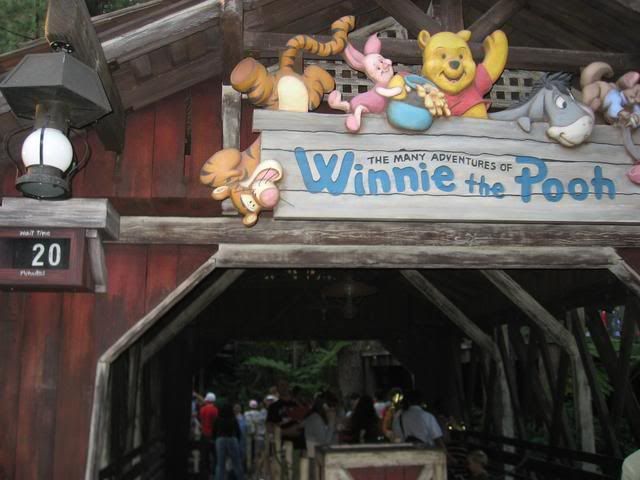 Yes, my posse had the need to get farted on by an elephant. Unfortunately, their wish did not come true in this Magic Kingdom. Watch in amusement -
http://www.youtube.com/watch?v=H3C-Ffl2lVA
After this unfortunate dissapoint, the crew yearned for sustenance, so we took over the River Belle Terrace
And I noticed that the new 'Dreams' logo has taken over the desserts.
After our quick meal, we made our way over to Fantasyland... but not before I took my posse on a pilgramage to pay homage to the Holy Land
And Fantasyland it is! First stop... PINNOCHIO!
Dark rides are my favorite!!!
Although the dark seemed to freak poor Andy out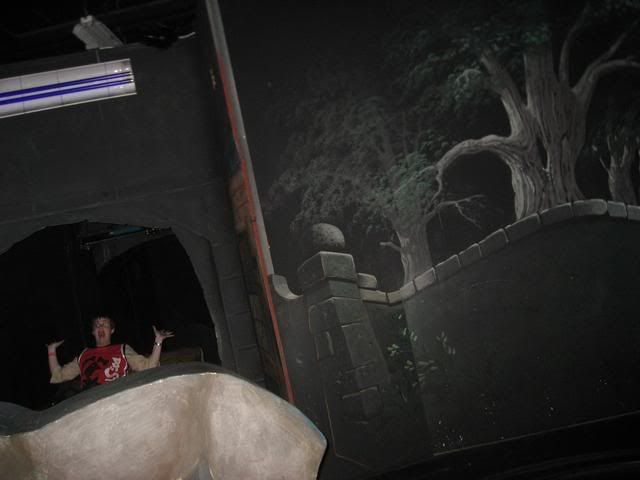 Maybe he was so scared because the Blue Fairy looks really creepy up close...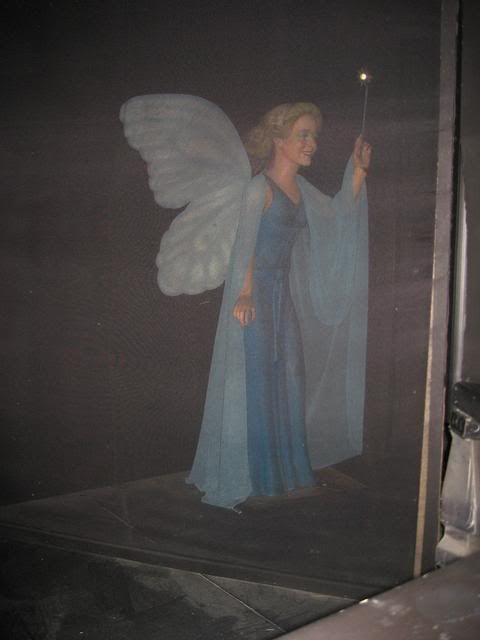 I think the poor boy needs a cigarette
Next stop, Peter Pan's Flight! But not without getting a shot of the crownless castle (and in honor of Gay Days) from behind!
"You guys, it's Peter Pan! I'm so excited!"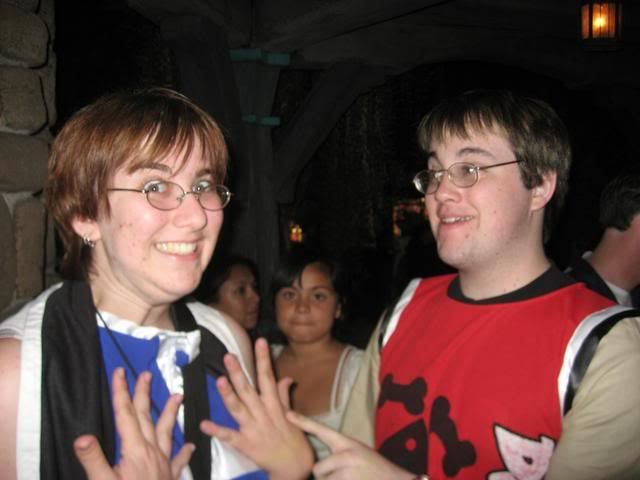 "Straight that way we have the Cove Bar at DCA, where you never have to grow up!"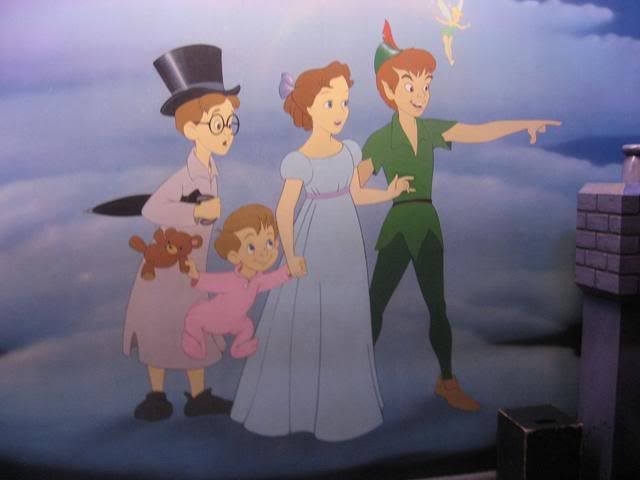 "Um... you didn't tell me there were drops on this ride..."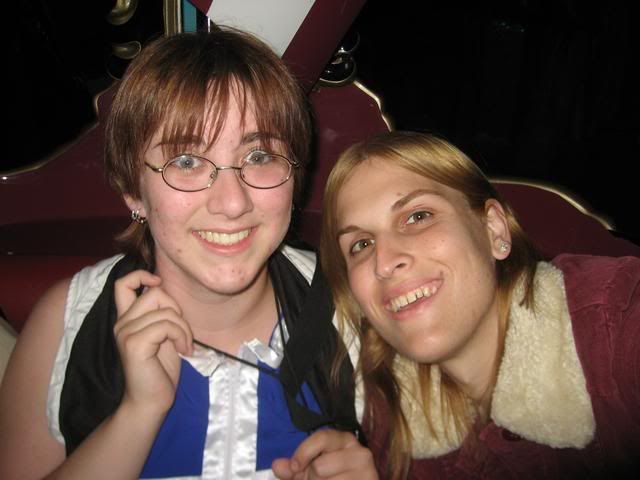 Our little friends don't seem to be doing too well either...
Ok, now it's time to journey in circles on our noble steed, with the aid of modern technology!
"Guys, I think we have a stalker behind us..."
The beauties aboard their horses ( Oh yea, I'm so artsy )
Why hello there
Andy... I'm not even gonna ask...
I wish my prince would fight a dragon to rescue me... *sighs*
Ok, now let's have some more dark ride fun in Snow White! Um... what happened to the golden apple?
Me: "I think we're traveling straight into the 1930's."
Marianne: "How do you know?"
Me: "Um... we're in black and white."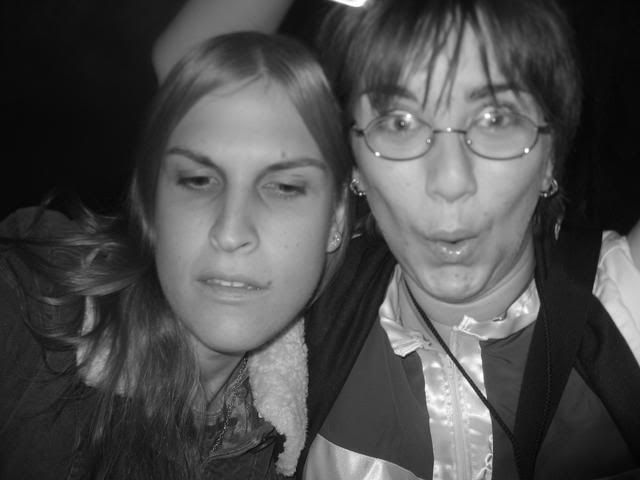 I think this ride is too scary for the youngsters...
The poor things came out cowering in fear
As we made our way over to Space Mountain, I noticed Storybook Land lighthouse has been repainted! (Bye bye bling!
)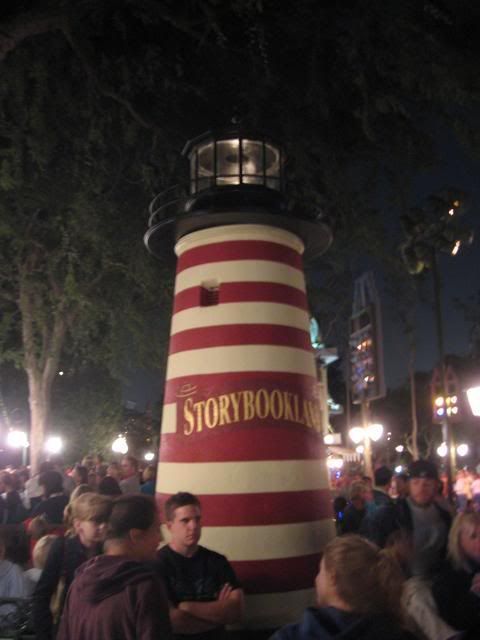 As we entered Space Mountain, the height and lights started getting to Marianne... maybe my sudden shrieking like a little girl was a bad idea as well.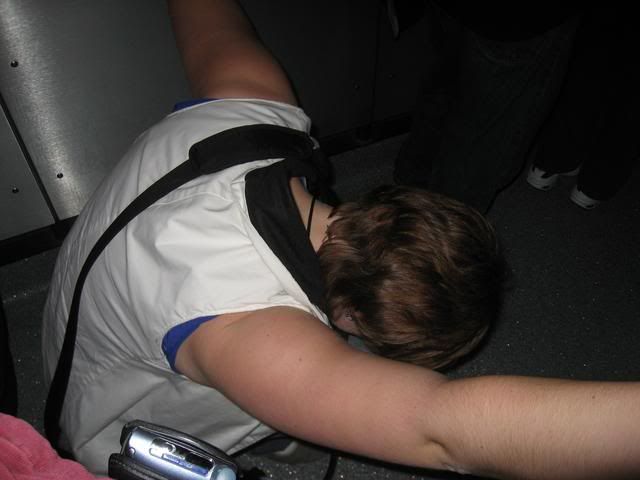 "Do you think man will ever land on Uranus?"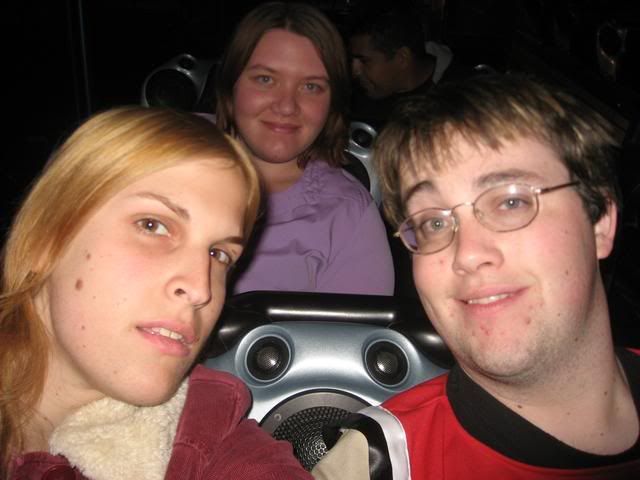 "No, but maybe on Andy's"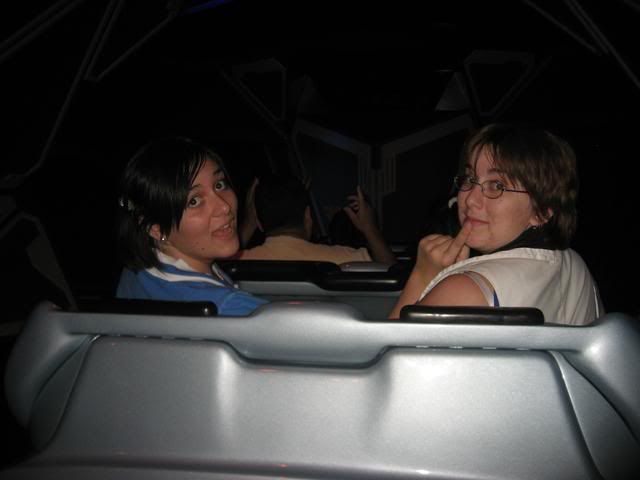 Andy: "I'm Superman!"
Julie: "I'm... Not Amused."
Cayla: "I think my life just flashed before my eyes."
Marianne: "No, that was my video Ipod flying out of the rocket"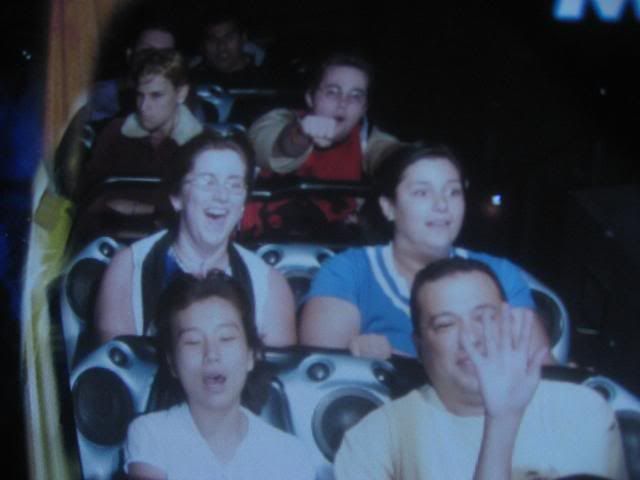 Next we stood and waited for the second Fantasmic! where Marianne proceeded to faint after seeing Peter Pan fight Captain Hook aboard the Sailing Ship Columbia... and as for me... I was just happy to catch a fleeting glimpse of Princess Aurora aboard the Mark Twain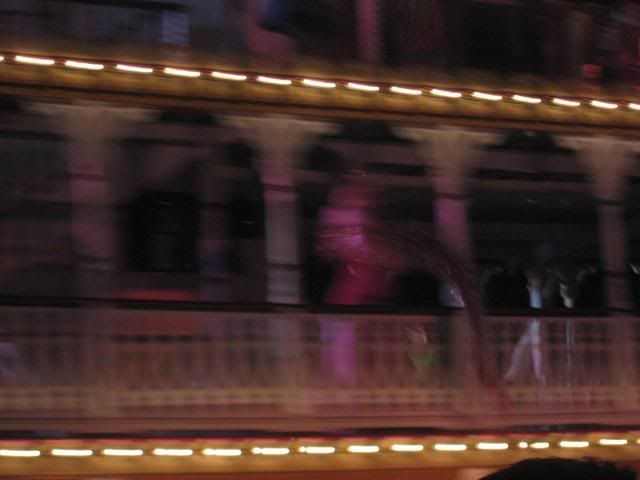 Finally, the much tired crew decided on the last ride of the night... INDY!
"You looked into my eyes! Your path now leads to the gates of doom!"
"Andy, dude, get up, we survived, ok?"
And so the night ended and a very happy crew displayed their new shiny treasure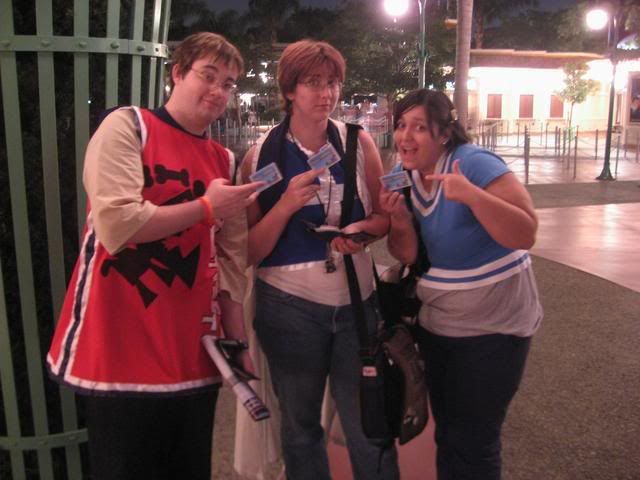 That's 3 recruits in my name for those of you keeping track at home. 2 more and I get me a toaster! W00T! :thumbup: