Another update!
LION KING/TIMON TRAM STOP
The Lion King Tram stop is slowly getting some TLC. All the walls and tarps from a few weeks ago are down, and the area doesn't really look any better. They've added some trees and removed some of the yellow bump mats... but aside from that, its still one of the worst parts of the Resort.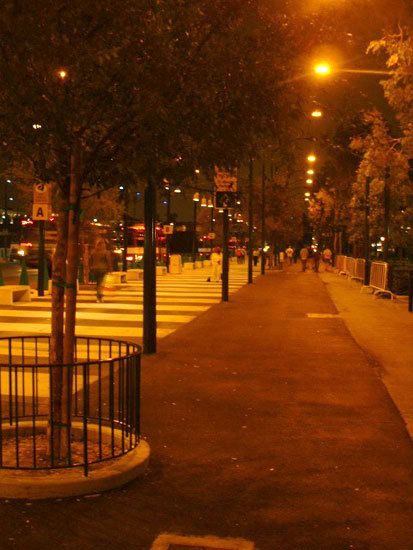 The security tents have lost their 50th plaques: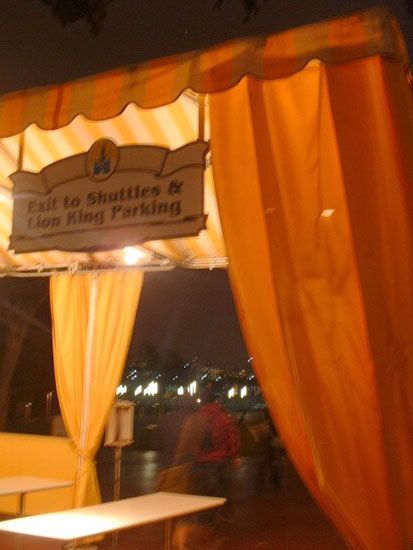 POST-STEAMBOAT WILLY REFURB
The big Steamboat Willy photo collage has been down for a while now, but the refurb walls and big refurb curtain are still up.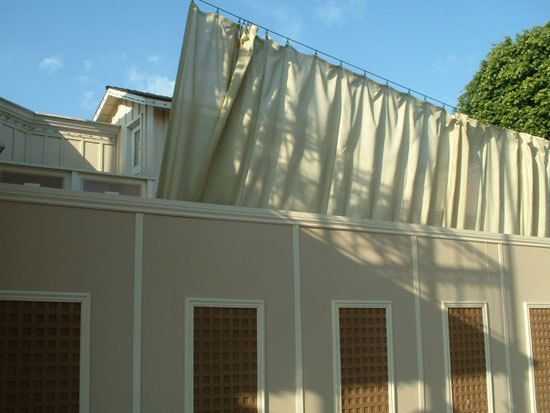 Here's a peek of what's going on behind the wall:
SLEEPING BEAUTY CASTLE - POST 50th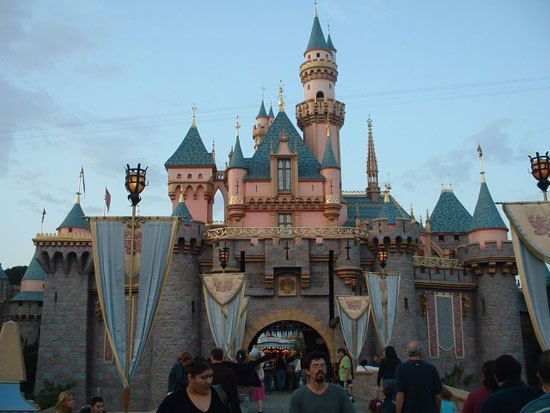 Dark areas, left over from where the 50th banner once was attached (?)
BABYPROOFING TOM SAWYER ISLAND
I don't recall seeing so many saftey nets all over the stage before. Maybe I just never paid enough attention, but really - is this necessary?!
"THE SUN NEVER SETS ON A MARDI GRAS PARTY!"
A new streetmosphere act in New Orleans Square, the
Jambalaya Jazz
band is really great. Throwing out Mardi Gras beads, getting the crowd in on the act, and all led by a really great lead performer. Note the new "Madi Gras" banner added to the Disney Gallery balcony for this act. She said at one point "The sun never sets on a mardi gras party!" - or something to that effect.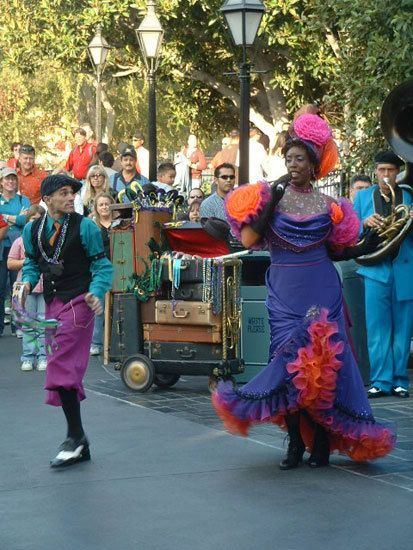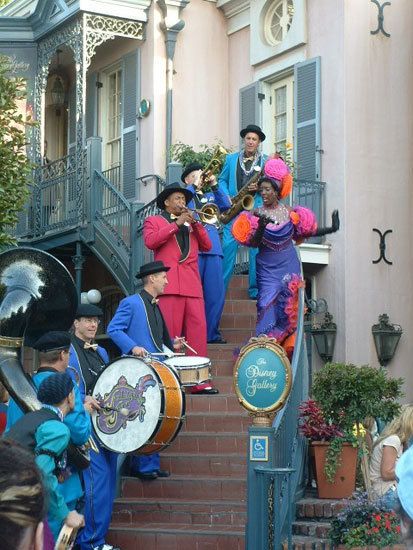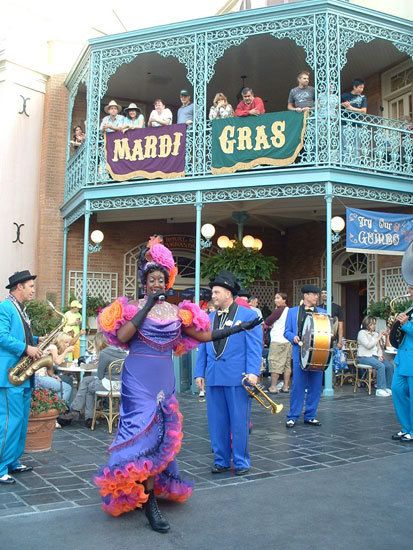 NEW ORLEANS SQUARE HAS A COLD
- And boy is it congested. With the Pirates stage, people lining up for Fantasmic! as early as 6pm, various streetmosphere, ridiculous lines for Haunted Mansion Holiday, extended queue for Pirates, and a huge street-clogging handicap line for Pirates - well, it gets pretty bad. And this new Nightmare Before Christmas merch cart out near the Mansion doesn't help much at all.
TOMORROWLAND TERRACE GETS SOME COLOR
The gleaming-white Tomorrowland Terrace is now getting some color at night, thanks to some purple, pink, yellow, red, and green lights: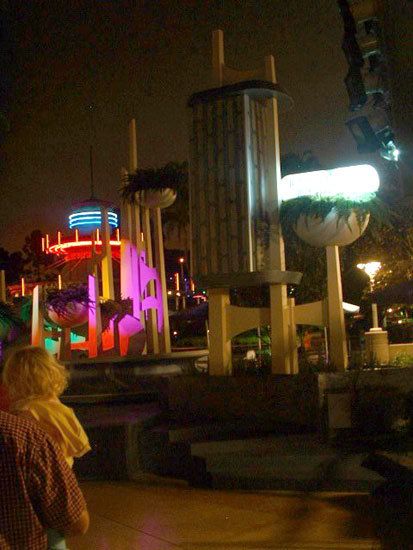 The new Tomorrowland Terrace signs in the stage planters have rotating lights on them as well. Here's a short (and pretty bad) video to give you an idea how it looks:
MONORAIL STATION/NEMO QUEUE WORK
BARBOSSA IS COVERED UP
InnerSpace found me out
and I got too upset over the new nametags and vandalized the new Barbossa mural at Pirates.
Anyway, its all covered up now with a tan-colored tarp stuck up with velcro, but somebody pulled a corner of the tarp down:
A LOOK AT DISNEY VAULT 28
Vault 28 doesnt open till the 11th, but all the construction walls are down, and you can window-shop all you want until the store opens... Here's a look at the new shop: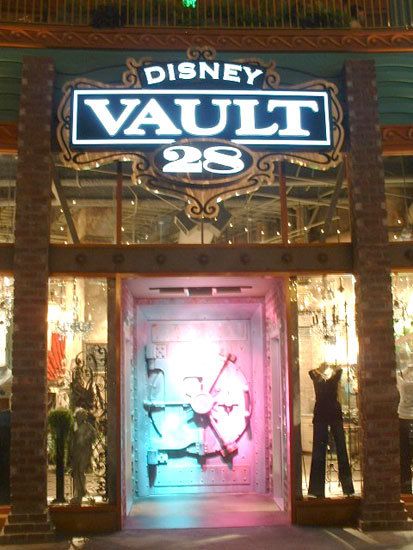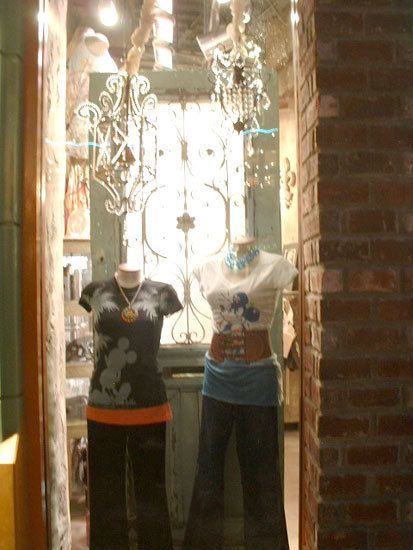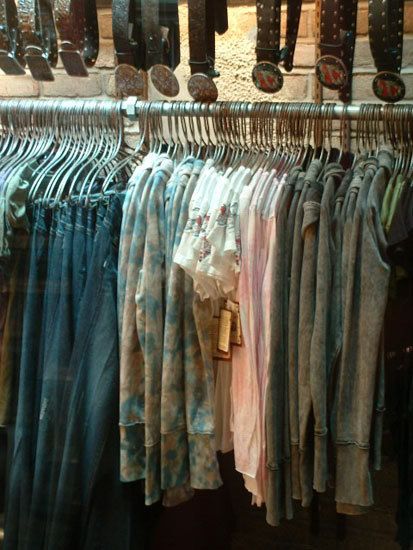 Monroe bags at a Disney store???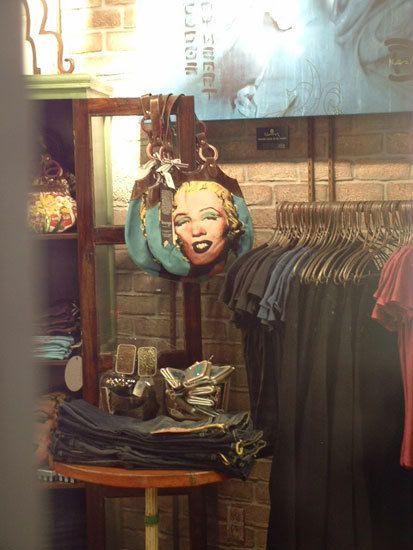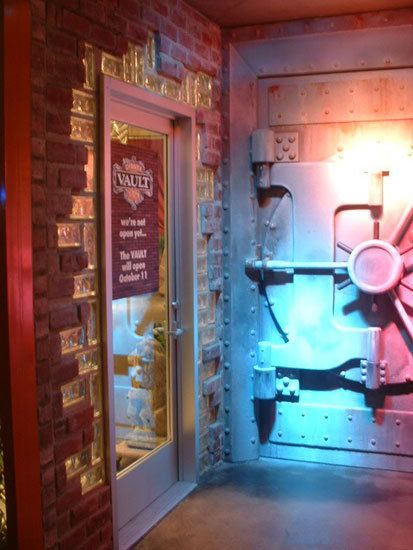 ....Allllrght... that's it for now.