Hi everyone,
Our first part of our day began with Pirates and Haunted Mansion- we walked right on both rides with no waiting, which was fantastic!
We slowly worked our way across the park, hitting Fantasyland after lunch, and getting to the Disney Princess Fantasy Faire around 2:15pm.
I suppose that was the biggest part of our visit because that was the newest, although my favorite part of the day was seeing the Haunted Mansion all decked out for Halloween.
When you enter the Princess Fantasy Faire, you can get a map- but we had to seek one out (one was not handed to us). The map will show you where everything is, which is good because the current signs are useless.
We went immediately to the Princess Royal Walk because it was a line and we hoped it would make sense from there. I was handed a "Park Utilization" survey card that marked our time, which ended up being 50 minutes long (50 very frustratingly boring minutes, as the line moves very slowly).
We got to meet 4 princesses instead of the usual 3, but only because we caught the "changing of the princesses" when Jasmine came to give Minnie some relief. We also met Pocohontas and Aurora.
From there we went to the craft section, which was decorating a crown with stickers, and they also had pictures for the kids to color. My 7-year-old just LOVED the crown. I think it was her favorite part.
Snow White came to do storytelling, and even my mother loved that part. It drew a big crowd.
On the opposite side of the theatre is the merchandise, hair braiding, and face painting. After already spending more than an hour there, I was not in the mood to spend any more after waiting in another line, so we skipped it. A few years ago when my daughter was younger she would have definitely wanted to do it.
We did not get to see a Princess Coronation, and nowhere did I see times posted or a schedule. It was clear this was new, and it's easy to just walk around the area without getting any pointers on what to do or what it's all about.
A big sign with the map imprinted on it, along with directions of how to make the most of your time there, would be very useful!!!
The crowds were very, very light in general at Disneyland, so I can only expect the lines at the Fantasy Faire to be horrendous on a busy day. I hope they improve this attraction because I think it could become quite popular if they do it right. Otherwise, I think people will be turned off by the lines and it won't last...
Photos-
Minnie Statue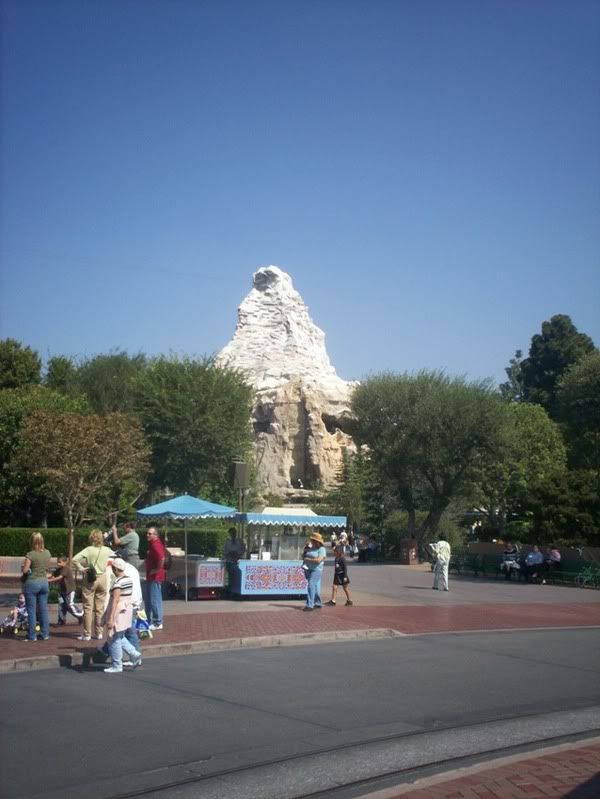 Light Crowds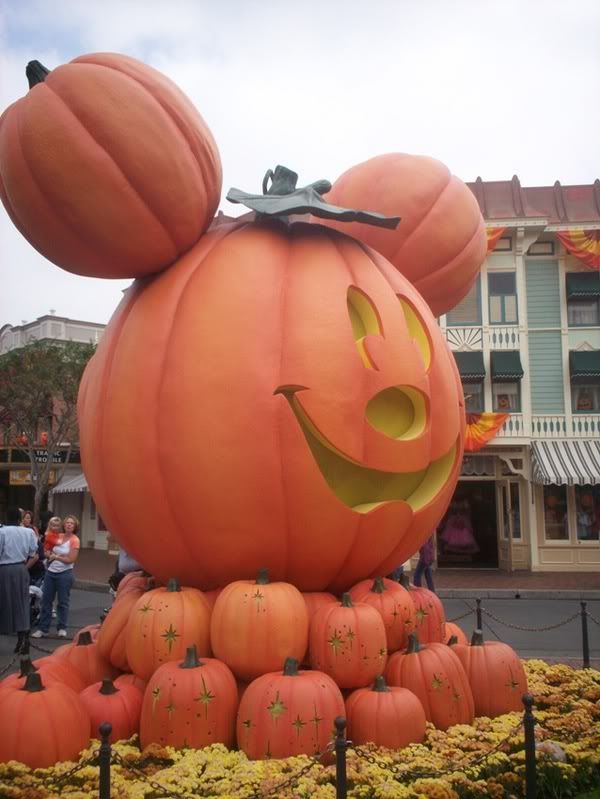 Main Street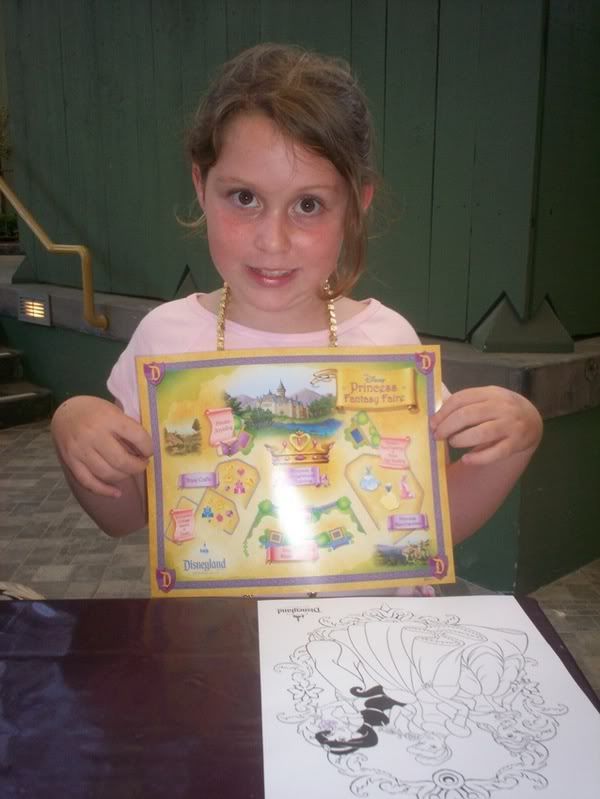 Map for the Princess Fantasy Faire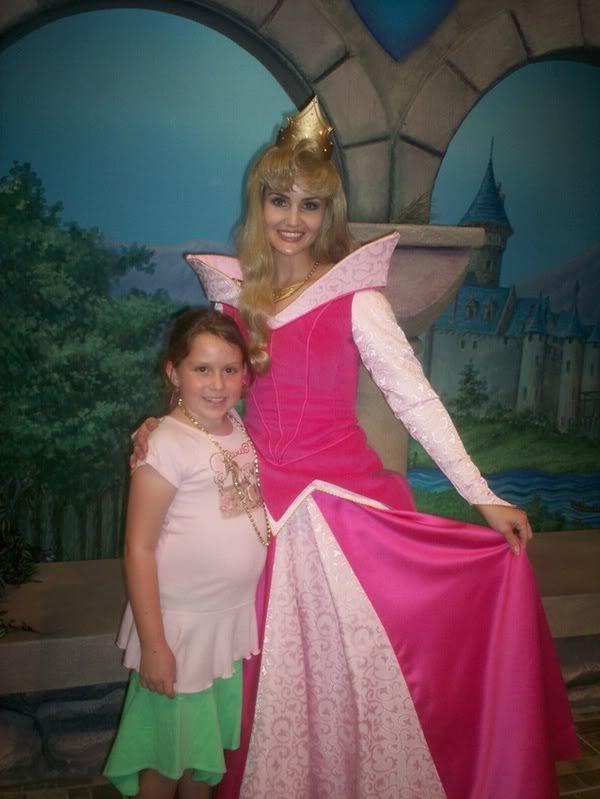 Meeting Princess Aurora in the Fantasy Faire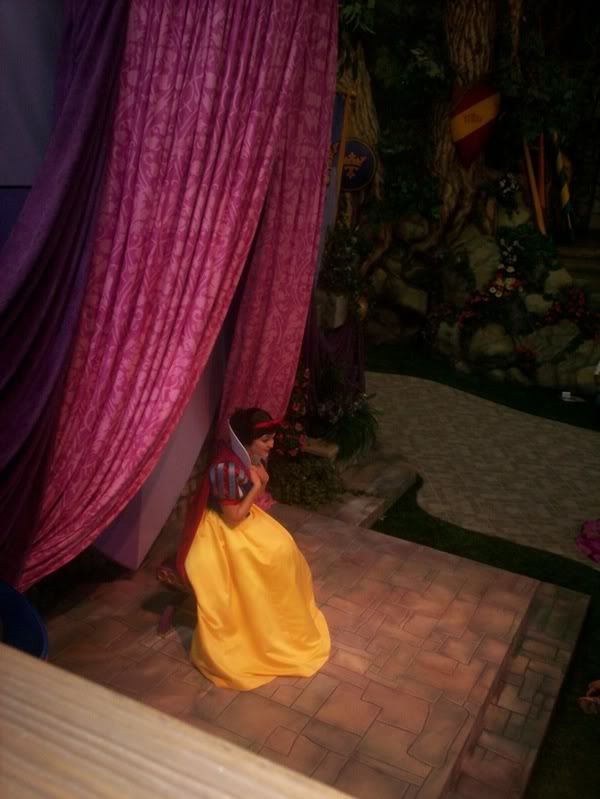 Snow White tells a story in the Fantasy Faire
The stage at the Fantasy Faire
Construction workers on the Matterhorn
Exterior of Monsters, Inc.
Exterior of Haunted Mansion
That's it for now!!! A great day, all in all... We were able to go on all the rides we really wanted to, the crowds were light, the weather was great...
:-)
Wendy