There is a TON of stuff going on at the Resort right now. I got a new digital camera and a 2gb memory card and took it with me to break it in. I took over 300 pictures on my trip, and got down to about 60 for this update - my biggest update yet!
peoplemover1 and I got to the park bright and early hoping to get pleasantly surprised by the Dream Team, but alas, we didn't win anything all day - but we sure spent. I bought a framed and matted print of the Rainbow Caverns attraction poster that they had for sale in the Disney Gallery. It was used in an exhibit and so they were getting rid of it as-is for cheap with a few other prints. It cost me about $120, which is a steal considering the ornate frame and amazing matting would have cost me $240 alone, not to mention the actual print which would have run me an addition $40-60. So I totally got a steal, and now all I have to do is find somewhere to hang it. And against my will, peoplemover1 bought me an early Christmas present before she moves away to Seattle for a few months - the Auctioneer big fig!
So I have 2 big new toys and I'm a happy camper! :ap:
Anyway, there is a TON of stuff going on around the Resort.
Disney Vault 28 opened
, Sub Lagoon and Matterhorn are having a noise competition as work on those two attractions progresses, Midway Mania is underway, and the S.S. rustworthy is behind walls. And don't forget Mickey's Halloween Treat! And speaking of holidays - Christmas has already started to appear at Disneyland... So let's get to it!
WELCOME TO DISNEYLAND!
The Good Neighbor Hotels have gotten their Disneyland pamphlet displays switched from the 50th to the Year of a Million Dreams: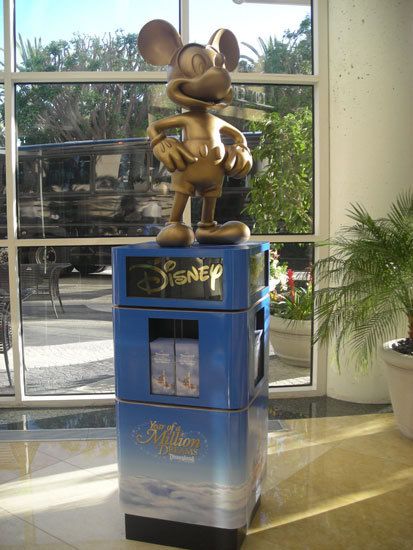 Christmas is coming to Disneyland - the snow machines for the fireworks finale have appeared at the top of the parade lights.
The Frontierland bridge was getting some work done to it early in the day, it was open later on though.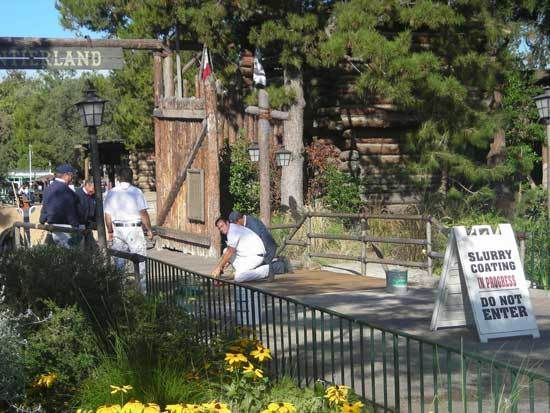 Snow machines have also appeared along the Rivers of America: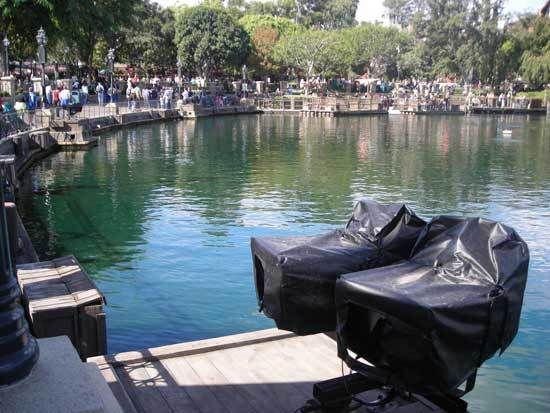 TOMORROWLAND
Another window display at the Star Trader has been changed:
The ceiling of the counterservice area of Tomorrowland Terrace has gotten a new look: it's not painted or replaced, its just been covered with this: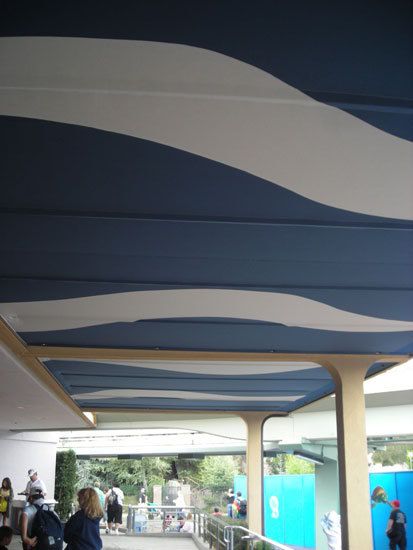 Work was going on over near the Monorail station: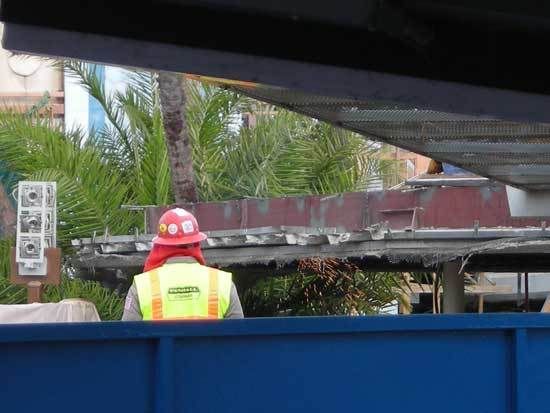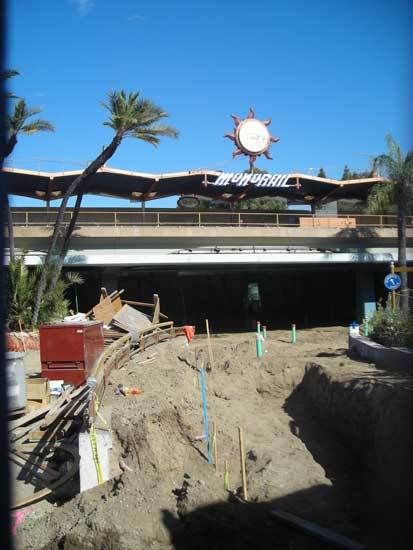 SUBMARINE LAGOON!
Tikis in the Sub Lagoon!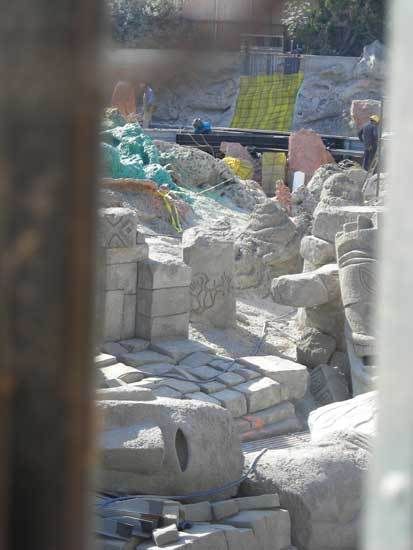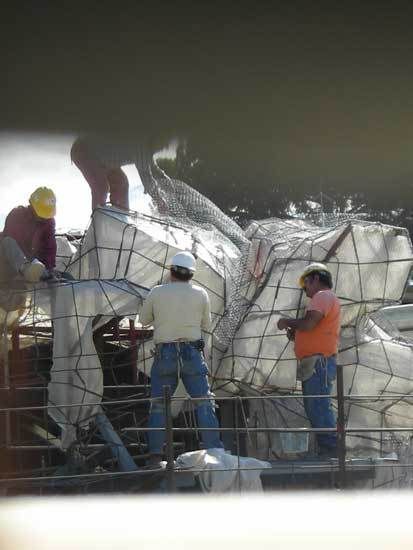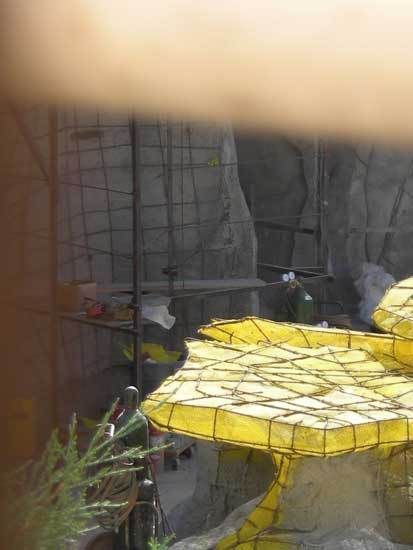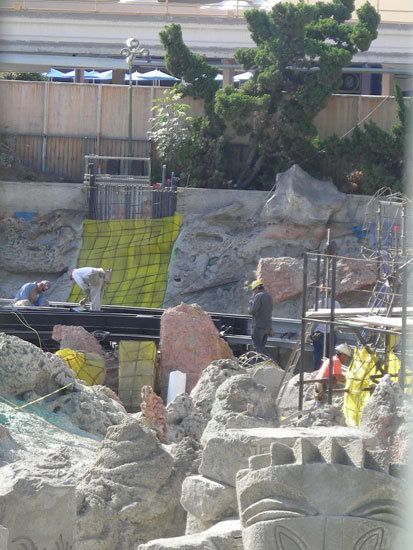 Lighting transformer
Over closer to the old Motorboat Cruise area, there was some work going on last night: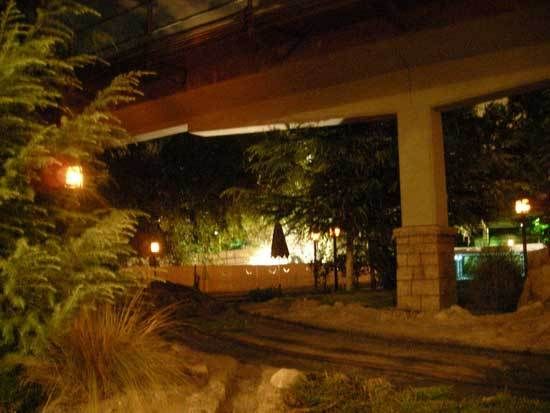 MATTERHORN BOBSLEDS
There were workers crawling all over the Matterhorn all day, the combined noise from the Matterhorn and the Sub Lagoon was intense at times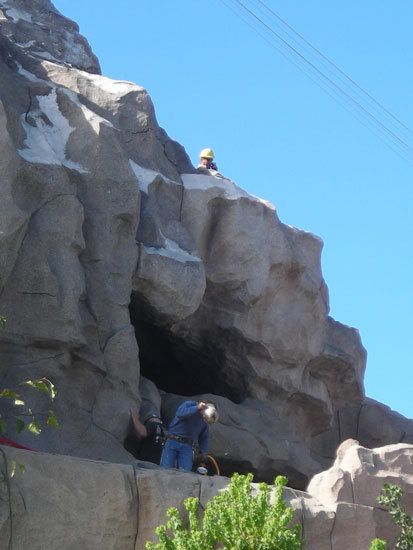 At night, they were working on the Matterhorn: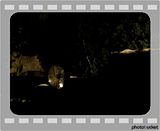 PIECES OF EIGHT
The Pieces of Eight machine is still not working, but its getting attention. The background design for the letter picker has been changed to the skull and crossswords logo from the films: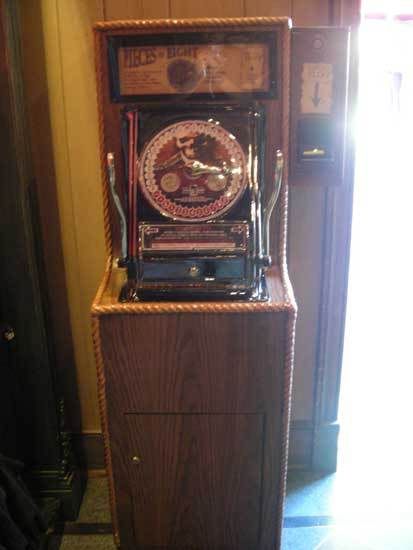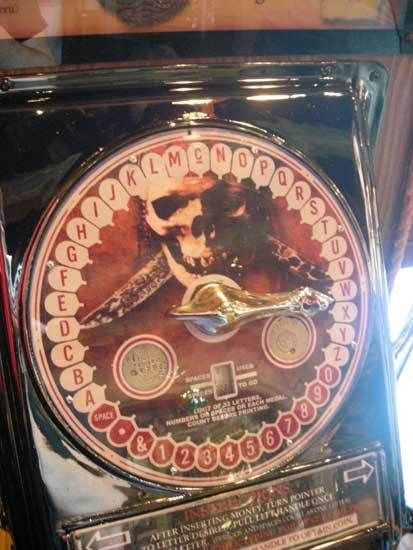 WESTWARD HO CHRISTMAS COMPANY
The Westward Ho Trading Company shop in Frontierland, which used to be a hat shop, is now a Christmas shop. Lots of really nice holiday decorations and whatnot are in the store now: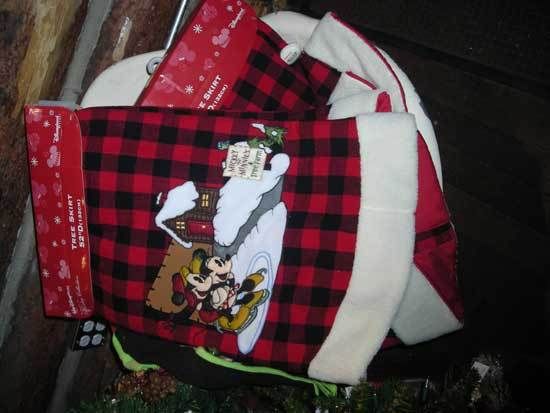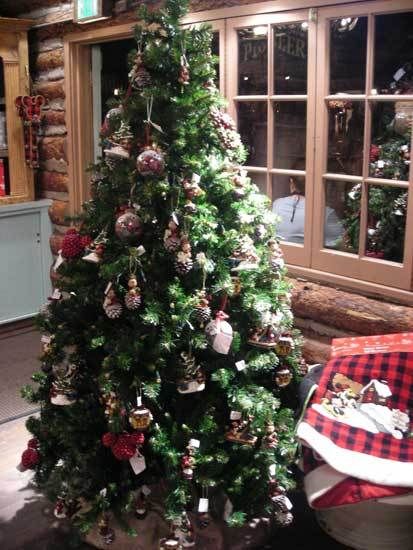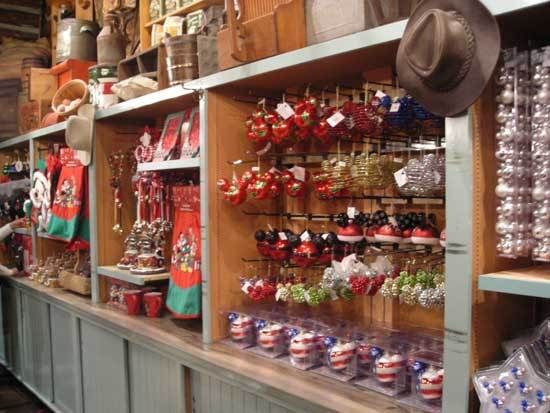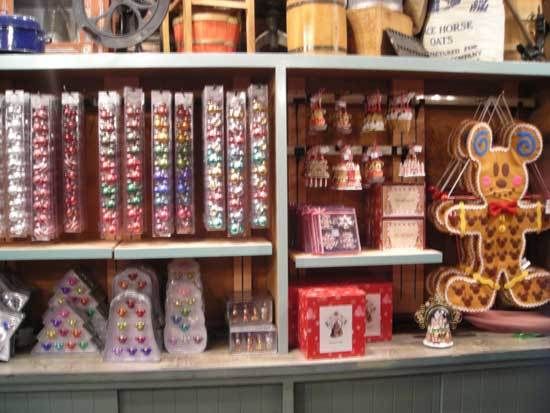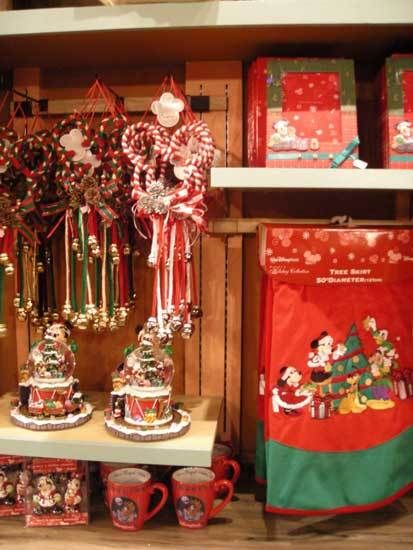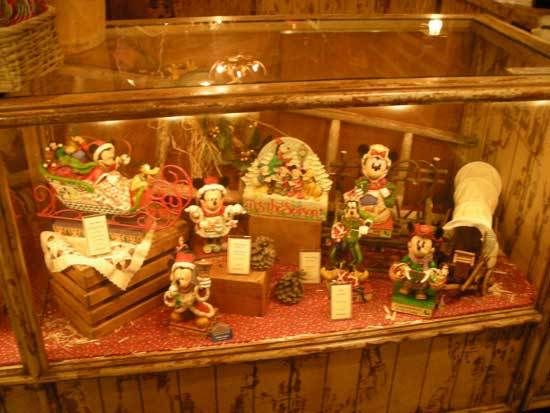 HALLOWEEN TREAT(S)
The Blue Ribbon Bakery is now offering HalloweenTime specialty beverages: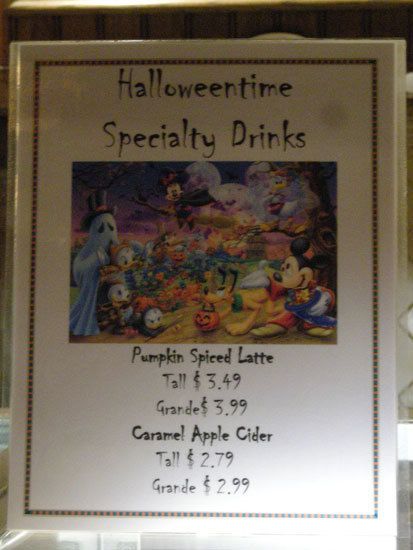 The candy shop in Greetings From California at DCA also has seasonal cookies: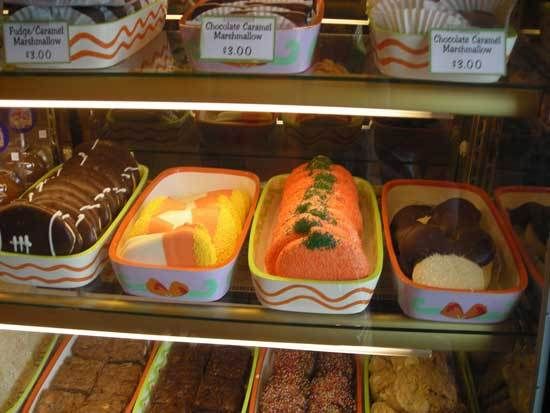 Mickey's Halloween Treat was sold out: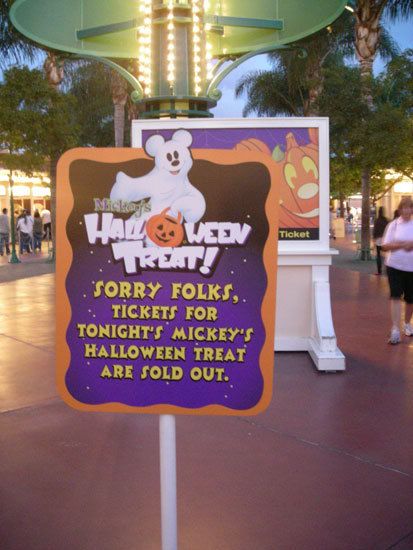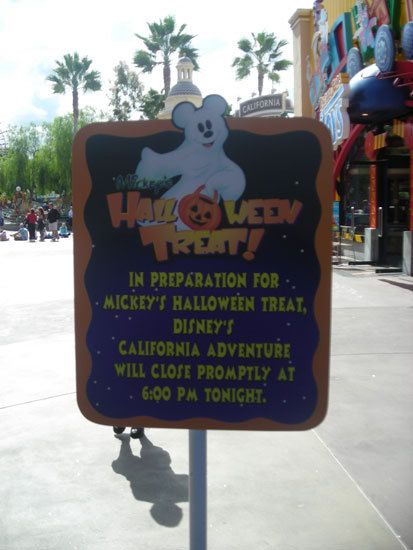 HalloweenTime decorations in the Pacific Wharf: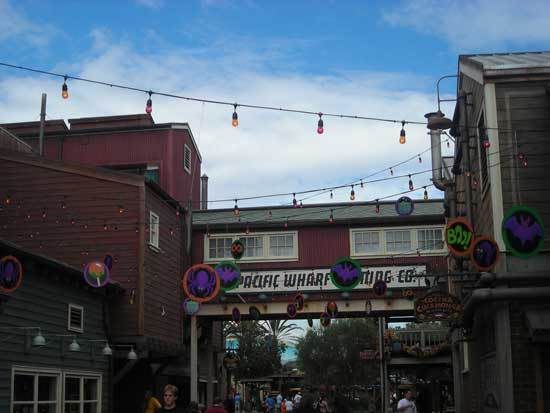 Lighting for Halloween Time: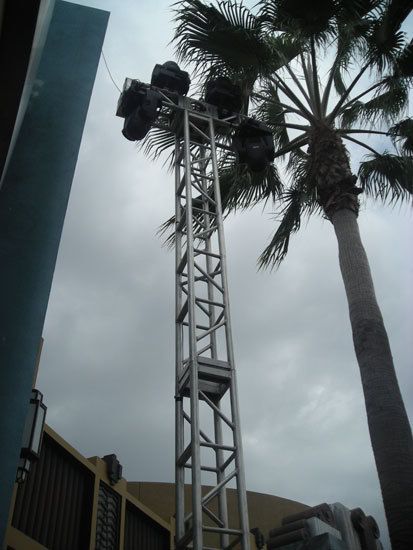 Ghost projections were up on the tile murals at the entrance to DCA for Halloween Treat (VIDEO) :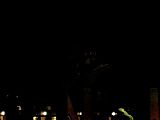 MONSTERS INC WALL
The wall over by Monsters Inc that has been behind construction walls for months now has got something new behind the walls with it... Not sure what it is though: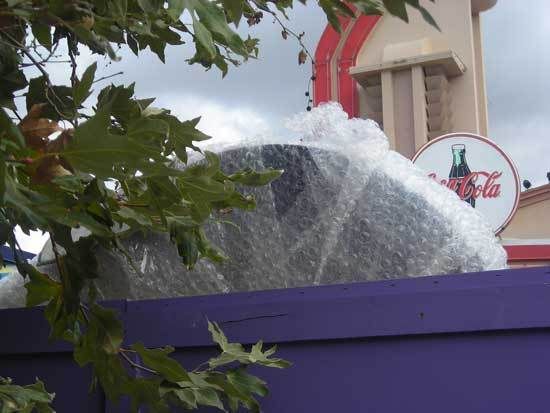 MIDWAY MANIA
Midway Mania progresses slowly...
They've painted the huge construction wall white - it was previously blue: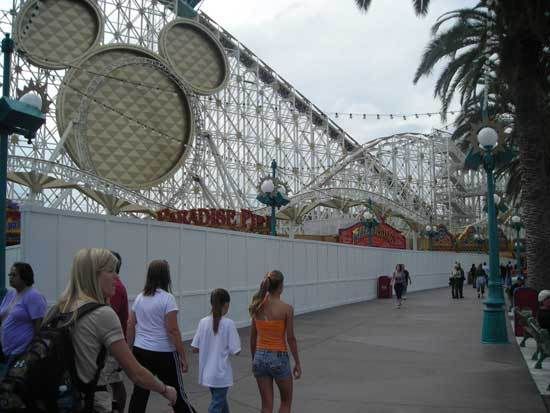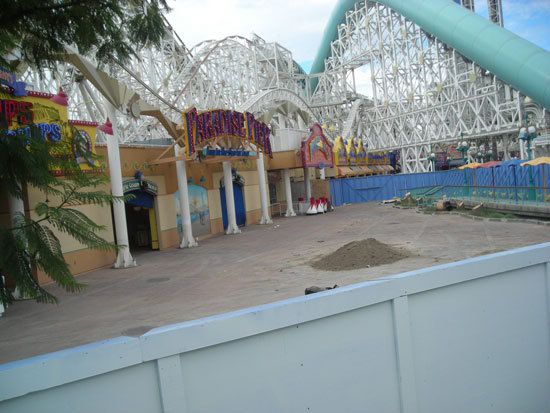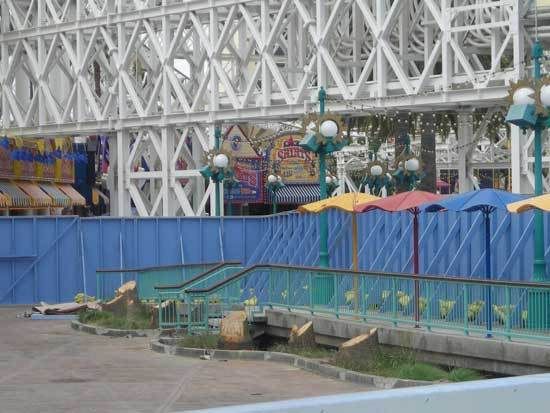 S.S. RUSTWORTHY WORK CONTINUES

Refurb on the S.S. rustworthy continues: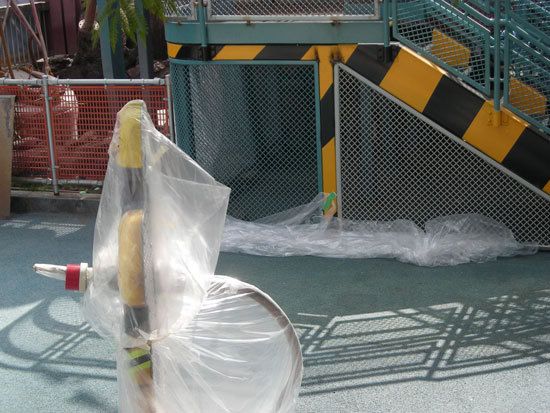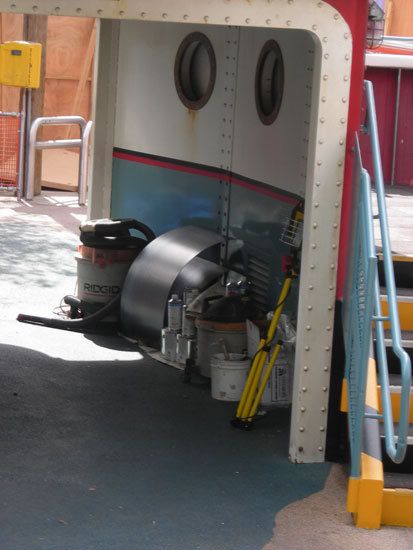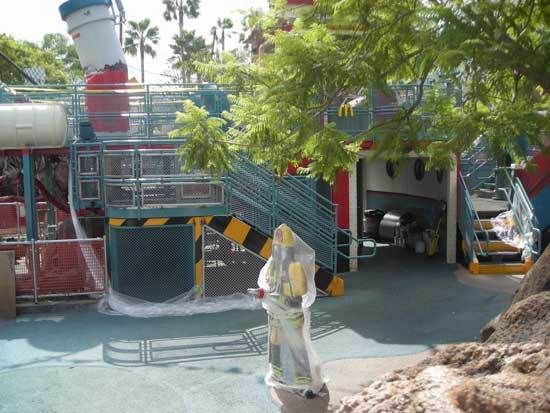 HIGH SCHOOL MUSICAL PEP RALLY AT DCA
The High School Musical Pep Rally is now performing daily at DCA: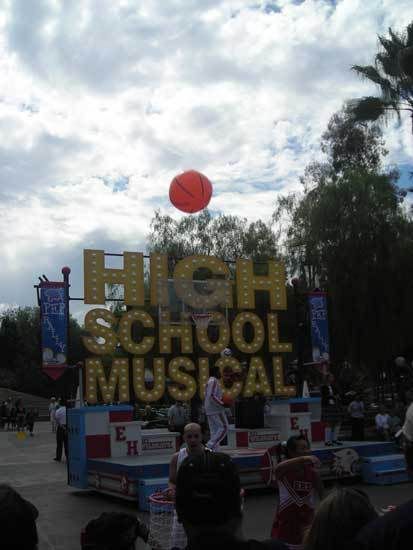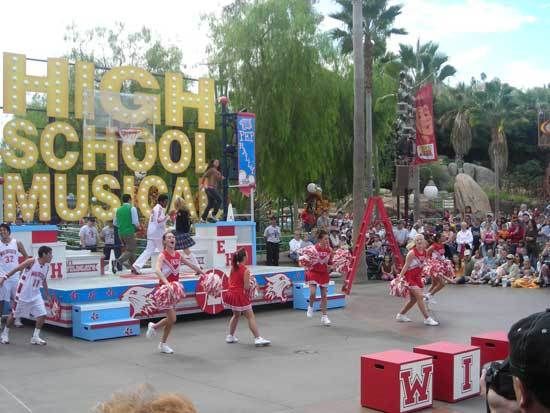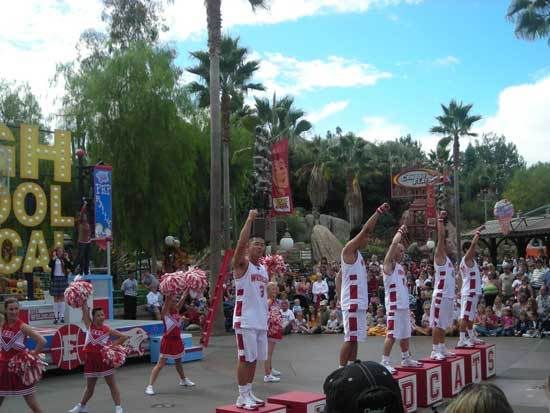 CALIFORNIA SCREAMIN' BREAKDOWN
Screamin' was down mid-afternoon and maitenance crew was working on getting it back up: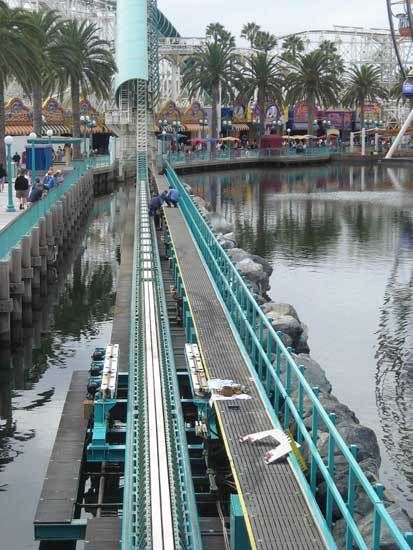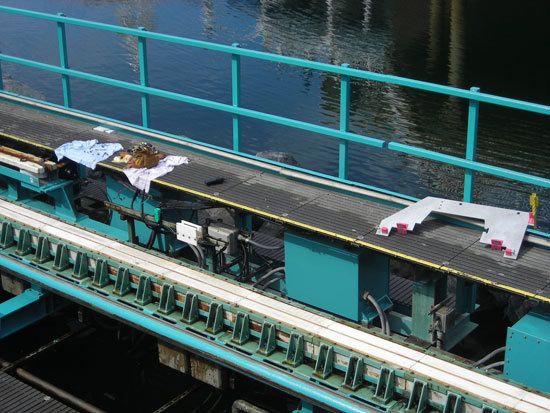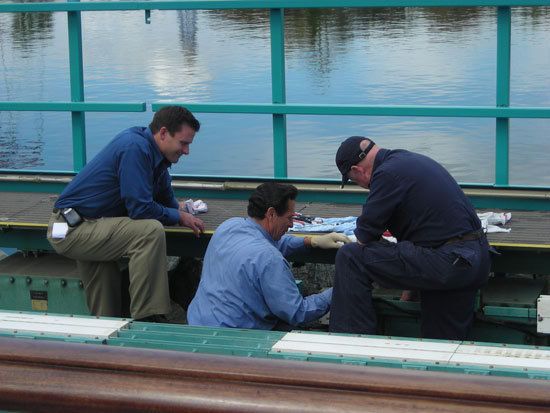 SPLASH MOUNTAIN PHOTO PREVIEW RETURNS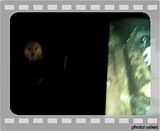 THIS AND THAT
The scroll on the Storybook Land lighthouse is now blue: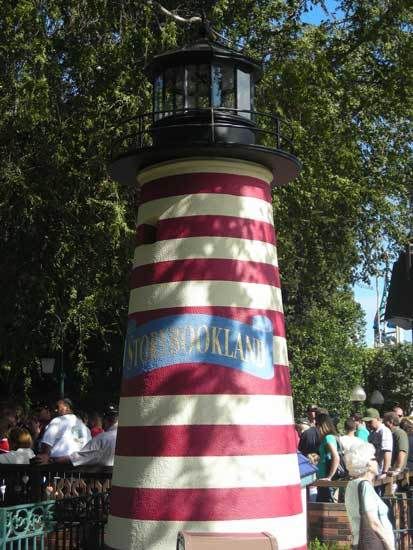 Apparently, a forklift ran into these rocks in Frontierland and they had to be patched up:
Barbossa is back, and his name up now below him. peoplemover1 made an interesting suggestion as to why he doesnt look anything like Geoffry Rush - could it be that Disney didn't secure the rights to Rush's likeness for the attraction? This could explain why the Barbossa animatronic doesn't particularly look at realistic in likeness as the Jack Sparrow animatronics... Hmm..
There are new World of Disney window displays up: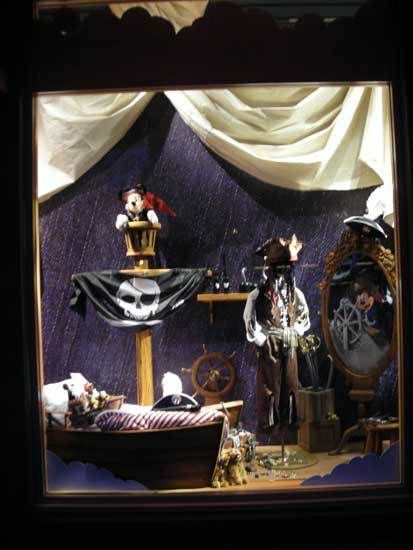 And World of Disney has this poster up in the last room promoting APs: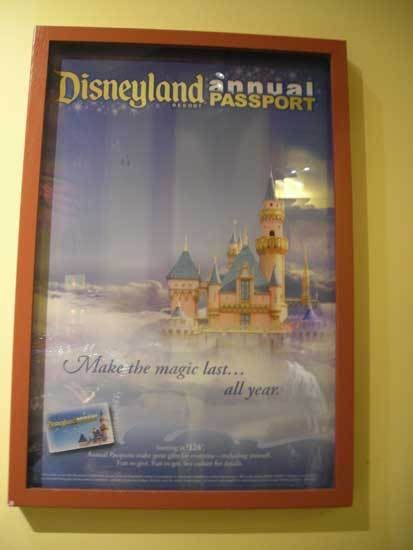 ...Alrighty... thats it for this update