Sorry I haven't made a report in a while. I've been so busy this past week, especially with the interview and all ( You haven't heard my interview? Shame on you! -
Sadako gets Interviewed!
).
Anyway, 10/17 was busy busy busy at the park. So let's start out with a treacherous trek through the streets of Anaheim...
I JUST GOT CUT OFF BY AN IMAGINEER!!!
I always wondered what happened to Magenta after all those years...
As we made our way into the parking structure, for some reason the previous guest had paid with gold dollars... so we decided to buy a few from the attendant. Why you ask?
I bid two gold coins on the redhead!!!
With more friends in tow than one could shake a stick at, this merry band of little estrogen bubbles gravitated towards Space Mountain. I didn't realize it would be so shaky.
SADAKO: "Don't worry you guys, I found my contact!"
AERINPEGADRACK: "I bet Jessica Simpson can't look this good in 0 G's."
JUNGLECRUISEGAL: "I wonder what icicles in space taste like."
Then it was off for a jeep ride in search of Mara's gold... although due to a major backup we ended up just hanging with Dr. Jones... for a good few minutes... take a look -
http://www.youtube.com/watch?v=fjBniRFdP1E
And as we came out, we saw rare wildlife, seemingly walking on hind legs and floating along the river in finely constructed wooden crafts... strange... Keep away from the ones with the microphones though. I hear they're poisonous!
Alas, this short day came to an end and we made our way through Downtown Disney, where another form of pirates tried to steal our loot in the droves. Take a look as we wander through the dangerous Vault 28!
http://www.youtube.com/watch?v=VAaKtEdPe7k
- Part 1
http://www.youtube.com/watch?v=T4jePQzF_Pc
- Part 2
But magic abounded in other parts of this land... the glowing castle becons this princess...
And by the end of the night it seemed the magic had run out in some areas of the land as this mysterious contraption wasn't working.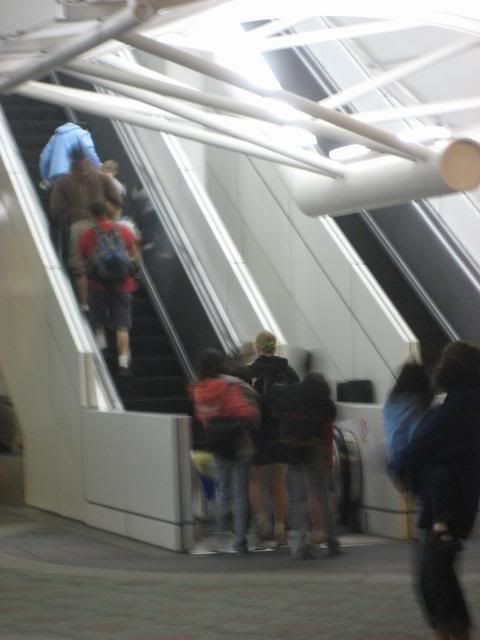 Thank the Shed our wonderful group had been blessed with alternate means of parking.