As part of the new marketing campaign for the DVD release of
Pirates of the Caribbean: Dead Man's Chest
, Disney is launching the
Become a Disney Pirate Sweepstakes
.
It's of course, no purchase necessary, but is offering a couple really cool prizes. The Grand Prize is reminiscent of the Haunted Mansion personalized tombstone auction from a couple years ago:
GRAND PRIZE - BECOME A DISNEY PIRATE:
One Grand Prize Winner and three friends will get to visit Walt Disney Imagineering, where the winner's likeness will be represented in a new piece of Pirate art to be placed in Disneyland's Pirates of the Caribbean attraction, and have lunch with a Disney Imagineer! Then, the winner will get a paid vacation for four to the Disneyland Resort.
Sounds like a great prize huh? Well, the runners-up have some neat prizes too.
FIRST PRIZE - HOME ENTERTAINMENT SYSTEM:
Ten (10) 1st Prize winner will win a 3-2-1 GS Home Entertainment System
...and the prize that I'd really like if I couldn't get the Imagineering tour: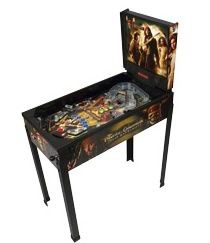 SECOND PRIZE - PIRATES PINBALL:
125 2nd Prize winners will win a Pirates of the Caribbean pinball machine! AWESOME!
And there are a bunch of other runner-up prizes as well! Check 'em out!
To enter-to-win, click here: