Last night I went to Mickey's Halloween Treat at DCA with my 5YO twin daughters, the PEZlings.
I did not go last year but I did go once with my older daughter, PEZette, about 10-11 years ago (when she was the same age as these two).
I had to pick up the nippers after Kindergarten up in the San Fernando Valley, so after being in traffic all the way up & back and then getting gussied up, waiting in line to park, waiting for a tram with space in the last (stroller) car, etc... we got in the gates at around 8:30 - 1 hour after it started with 3 hours left.
There are better pictures out there - done by Aniko and a few other Chatters - of the actual ambience, decorations, and cool lighting effects. My camera does not do well under low light conditions while chasing Kindergarteners.
Some pics before we left: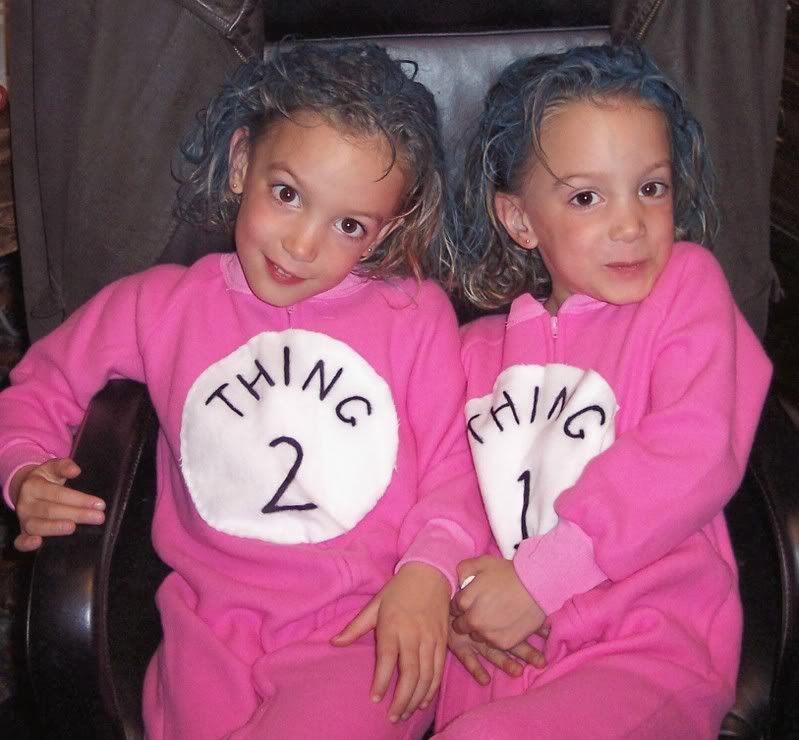 Things!
And more Things!
The Things and I:
Finally inside:
Cool (and very large) decorations: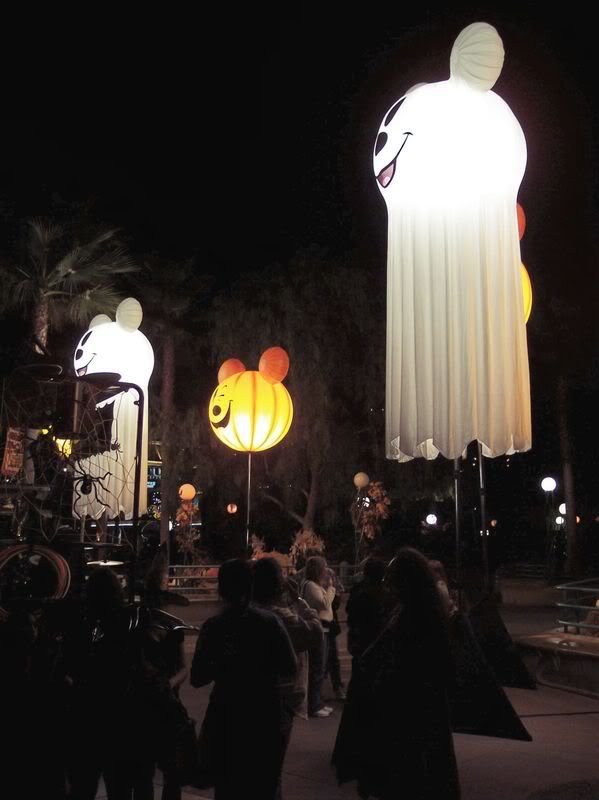 Things get candied up: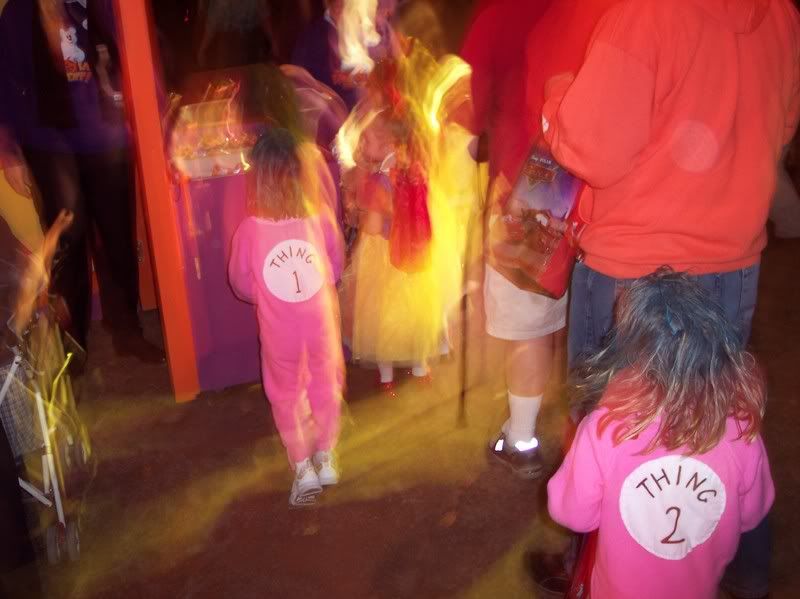 Scarcrows in front of Bug's Land. The picture is not-so-good but I wanted to include it because they were a big hit with the Things and started talking in Seussian verse whenever we came by. Also, the one up top was Billy Hill when E-Ticket, Cuzcotopia, MissChristine and I saw the show on Bat's Day.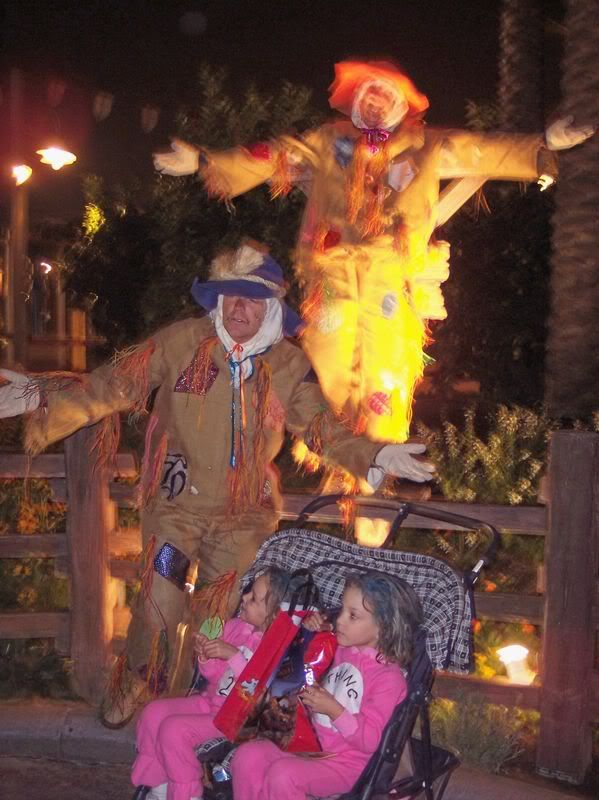 Some cool costumes:
Are not! R 2!
Happy Jack & Sally:
Incredibles!: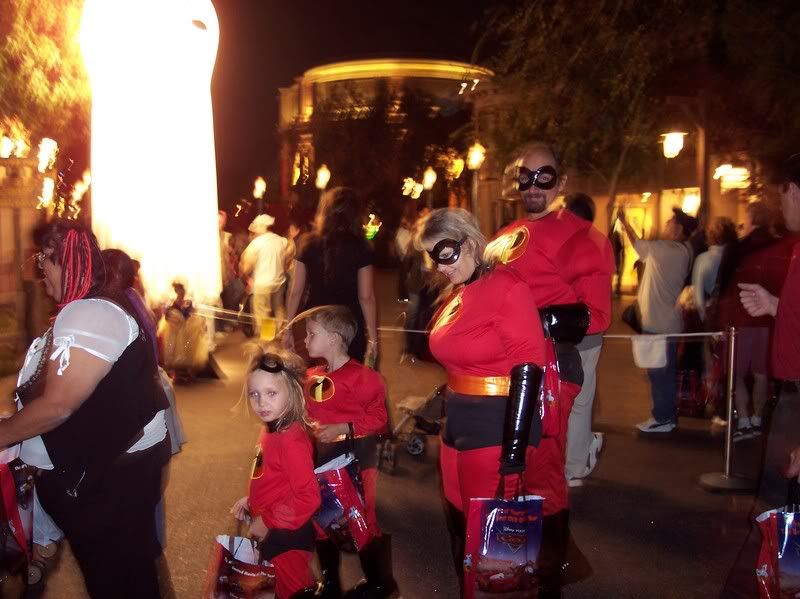 Over at Redwood Trail (lots of candy to be had here):
Here we are at one of the Photo-Op places:
We also saw a place to get a picture with Snow White & Sleeping Beauty next to Ariel's Grotto and Mickey & Minnie were near GRR. They both had at LEAST 30 minute wait times so we kept on truckin' (for all those who remember the 70's).
A couple of shots illustrating why taking pictures on Night setting while walking is probably not the best idea (unless you LIKE seeing light trails and double-vision):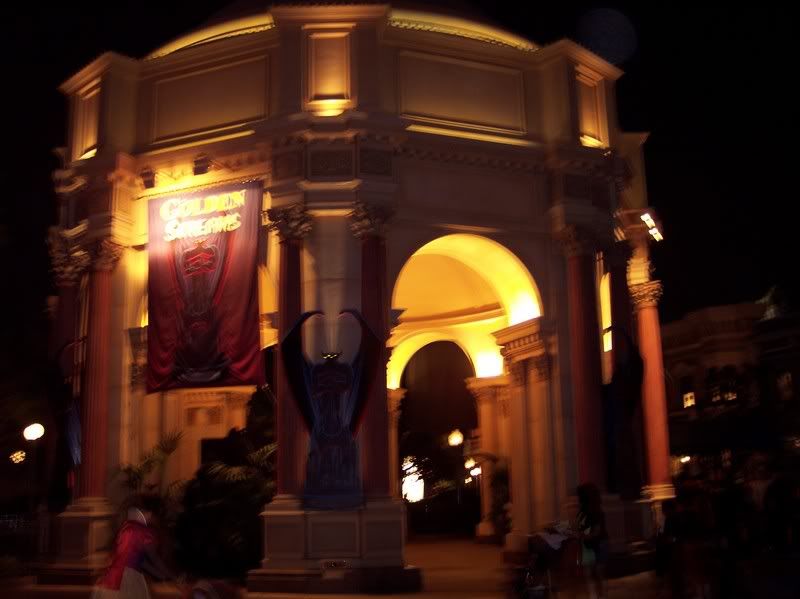 And then who do you think we ran into? The Fabulous Frogberto Family!
Frogberto with Tadpole and Frogbertolita Bonita:
The Things would not go near Rafiki, Timon, or any other non-face character, so I snapped a picture of Frogbertolita and Tadpole with them: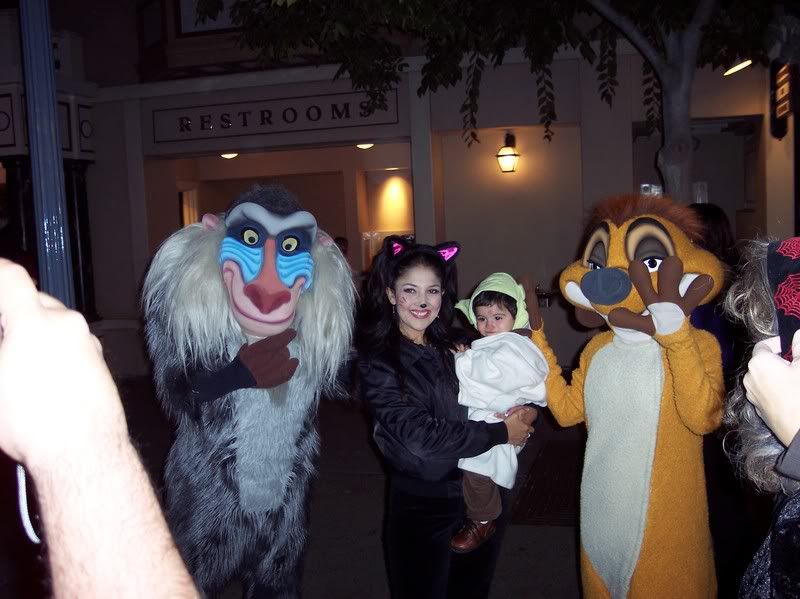 I'm pretty sure that's 'Berto's arm on the left doing the same thing.
Lastly, here is a photo I took from my computer screen at the PhotoPass website. When they snapped our picture, we got a card with a bar code and access number to buy pictures at the park or online. This was discussed in other threads so I knew a little about it. The guy there said that we still need to go through the WDW site because DL is not fully up and running. If we had decided to wait, we could have had our pics taken with Mickey and the Princesses and had them added to our album.
So that's it.
Overall, the Things had a good time and got lots of sugary swag. They got a lot of attention too. People kept yelling "Thing One and Thing Two!" and then they might notice that I was dressed up too. I was called Dr. Seuss by several people.
I had a good idea the place would be lousy with princesses (which the PEZlings wanted to dress up as) and I was pretty much right on. Lots of pirates too! I noticed several adult females dressed up like Maleficent or the Evil Queen from Snow White or other Disney Villain-esses. Unless I kept seeing the same ones??
I did not notice many real "shows" going on but there were a couple of rave-type house music (Disney style) stages that were set up. I almost got the Things to say Hi to Sully near the Monsters Inc. ride - but no luck.
We went on 2 rides: Heimlich's Chew-Chew Train and Tuck & Roll's (incredibly slow) Bumper Cars. Did I mention that the PEZlings are afraid of almost everything? Especially at night...
If I had any advice to give, I would say that two or three Trick-Or-Treat stops are enough to net you enough sweets. Spend the rest of the time doing rides, walking around, or getting in those photo opportunities if you like.
The parting show at 11:15 in front of the Sunshine Plaza is also very cool. Try to get in front, looking toward the fountain.
Overall, a totally neato event and thanks for reading!