Alright! So after a tough work week I had Friday off to take my cousins from Chicago to Disneyland. Alan and Amanda are 7 years old. They are fraternal twins and I had never met them in my life. Their parents wanted a one day break on their vacation so they asked me to take Alan and Amanda to Disneyland. I recruited my our cousin Serena, she's from Taiwan but she's been living with us for the past few yeras while she attends college, to help me out!
We started out the day meetin up with my Uncle Peter (yes, the one who owns Alpine Inn) to sign in my cousins. We met him at the big "C" but ended up taking some pictures of Alan and Amanda at the "A".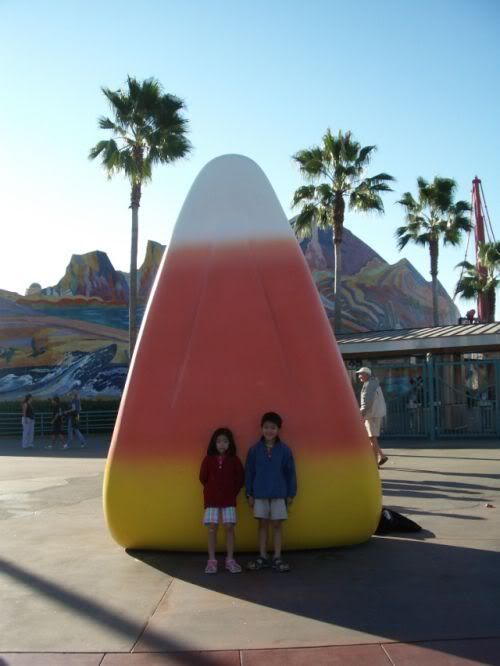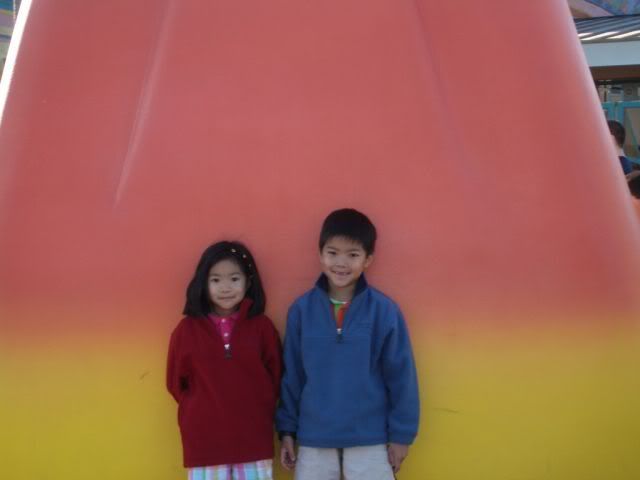 Our first ride of the day was the Jungle Cruise. It was fun. Amanda was really freaked out by the Piranhas! haha! Then on to Indiana Jones. I told them while we were in the cue that I had the power to make the ceiling fall down and they didn't believe me. When we got to the room I pushed the pole and the ceiling started to move and they ran out of the room in front of me cus they thought I was seriously going to make the ceiling crash down! Next I blew their minds when I pulled on the rope! Kids are so innocent and naive sometimes, I love it! After that we went to Pirates but it was having technical difficulties! At 9:45am! We moved over to Haunted Mansion. They've never seen it done as Nightmare Before Christmas so they were excited.
From there we went to Splash Mountain so we could get a little wet and dry off quickly.
Jedi Knight Academy was going to start soon so we headed over to Tomorrowland. We got fastpasses for Space Mountain and went on Astroblasters! Alan and I were in one car and Serena and Amanda were on another.
Jedi Knight Academy was going to start in 20 min so we went to the Buzz Stage to wait for the show. They sat in the front row and waited. The show started with the Jedi trainer doing some tricks and then discussing being a Jedi Knight.
He went around and chose about 20 kids whom he "felt the force very strongly" in. My cousins, being quiet well mannered kids stood and raised their hands the whole time. I told Serena, "They won't get picked, they aren't loud enough." Other kids were screaming and yelling and jumping up and down. Parents had picked up their children and holding them in the air to get chosen and all that. Alas they were not chosen but wanted to watch anyways. It was a really cool show. They practice a few moves and then Darth Vader, 2 Storm Troopers, and Darth Maul come out. Vader tries to get kids to go to the dark side and then the kids get a chance to battle Darth Vader or Darth Maul.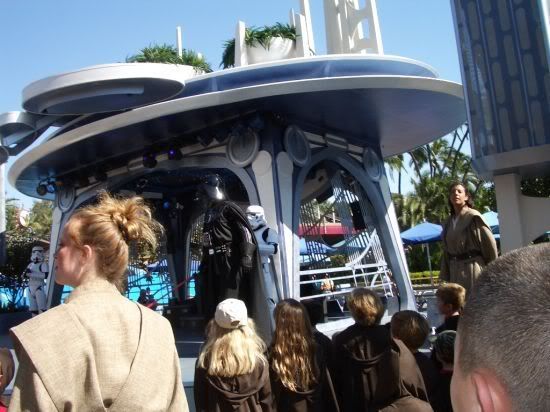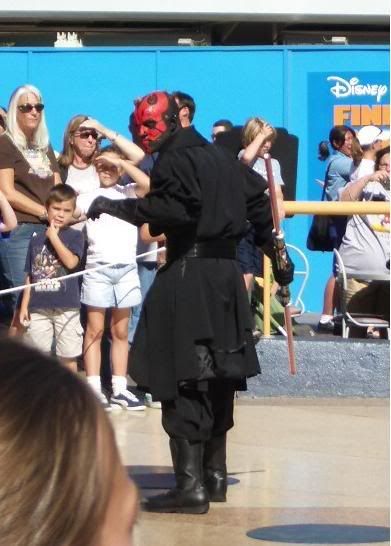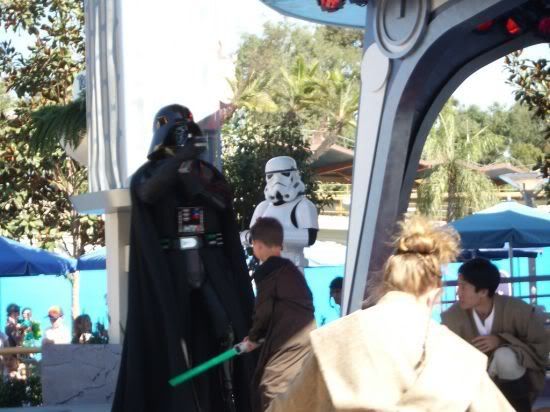 When Vader and Darth Maul realize that they cannot convince the new jedis to change to the dark side they leave and the Jedis are quite proud of themselves!
We decided to have lunch there and the kids decided that they wanted to stick around for a second show. Serena and I told them that if they wanted to be chosen they needed to jump up and down and scream and all that. They said that they would and we waited for the next show. When it was time I picked up Alan and held him up so that the guys would see him and he picked all the kids around Alan and Amanda, but not Alan and Amanda! BOO! We left the show and headed to Princess Fantasy Faire. We got our crowns and decorated them.
It was time to go to California Adventure. The first thing we did was get fast passes for Soarin'. Then we walked town Hollywood Blvd towards Tower of Terror.
It was Serena's first time on the ride and Alan and Amanda had to convince her to go on it! It was way fun and we all loved it. Alan is 51" and Amanda is 46" so she was unable to go on Screamin. Serena didn't want to go either so they stayed out while Alan and I screamed our heads off! We decided to go on Monsters' Inc next.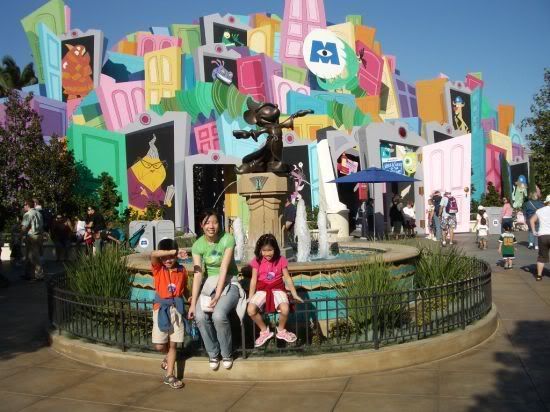 I talked them into going to Turtle Talk. They loved it! I love that show it is just too cute!! We were hungry so we decided to have some ice cream!
Then they got a little silly!
The plan was to go on Grizzlt River Rapids so we would still have time to dry off before the sun went down but the ride wasn't operating! So we went on Soarin' instead. Serena was afraid again but she thought it was cool.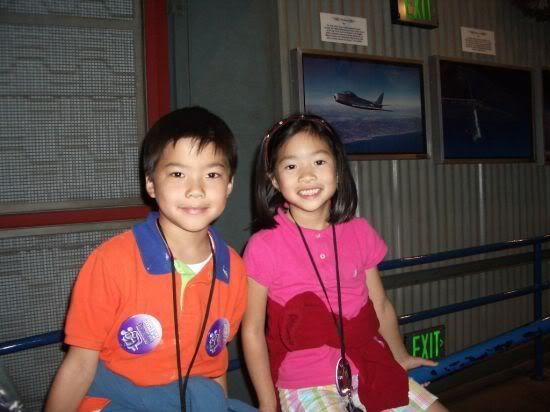 Having done everything that we wanted to do at DCA we went back over to Disneyland. There was a long line to get back in but eventually we made it! PIrates was working again so we went there next. Unfortunately the people in line behind us were making me really annoyed. It was an African American family and the two teenage daughters swored that they were grammy award winners because they kept singing different songs. Loudly, over and over....and they were trying really hard to be good at it and impress people but I was just getting annoyed. We were in a different boat from them....thank God! Then the boat in front of us had someone who kept on taking pictures with flash! ARG!! What's funny is that within the past week I posted in micechat threads that dealt with flash photography on rides and one on annoying people in line! haha!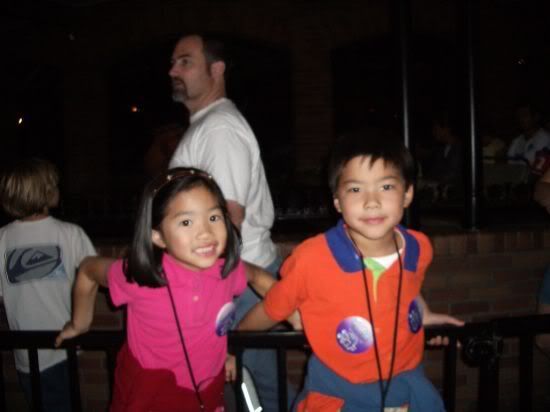 It was time for another fast ride so we went to Big Thunder!! First we got some lemonade though....
We were definitely ready to eat so we stopped at River Belle Terrance for dinner. The line to buy food was longer than any ride line that we had been on that day!! oi! After we had our dinner and rested a bit it was time to use our Space Mtn Fastpass tickets! Actually the time for our return was 12:10pm -1:10pm but we just held on to it until later.
Star Tours was right next door so we went there. It was strange because this older couple behind us kept on asking me questions about the ride and other rides at the park. Yes....when you were born in Anaheim and have lived in OC all your life, and then get an Annual Pass, you know a lot about Disneyland! haha!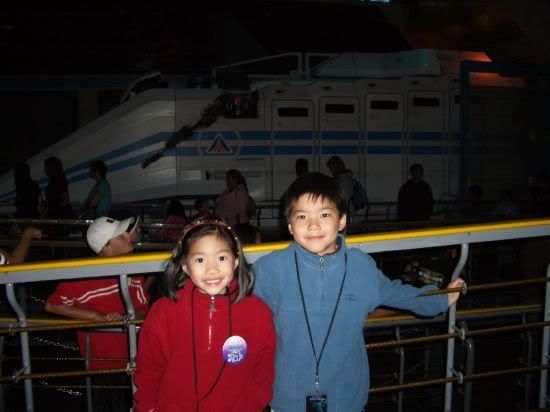 It was almost fireworks time so we found a spot and waited....and waited...then there was the announcement. "Due to strong winds at high altitudes, the fireworks show might be canceled. No decision has been made yet." That ran a few times and then, "Due to strong winds at high altitudes, the fireworks show has been postponed." And finally, "Due to strong winds at high altitudes, the firework show has been canceled." Damn...an hour of waiting for nothing. We decided to call it a night and do a little shopping. We got a few small things and then went to the Mad Hatter's to try on some hats!
It was time to leave the park but we took one last picture before we left at the pumkin. It took forever! This two women from either Vietnam or Cambodia kept on walking and posing in front of the pumpkin as other people tried to take pictures. There was something wrong with their camera so a family would position their kids and be ready and then one of the women would walk in front of them to take a picture. We had to wait for 5 min for them to go away! They did this to a bunch of families that were all waiting for their turn!
At the end of the day we were all exhausted and our legs were very tired!