Charlie:
Recently, Disneynut (David) and I had the opportunity to visit Walt's Apartment in Disneyland. Following that, we were joined by my lovely wife, Tigerlily (Darlene) for a tour of Walt Disney Imagineering in Glendale, as well as visiting several Disney landmarks in Southern California. Here is the story of our most excellent adventure.
David:
Some of you may recall that last December Charlie and I had an opportunity to have breakfast at Walt Disney's private apartment with Disney Legend Ron Dominguez. Although we had a number of complaints about the experience (failure by Disney staff to disclose their ambiguous photo policy and my sleeping inside of DCA while the Grand Californian caught on fire) the overall experience was pleasant. Now, almost a year later, I look back on the experience with a more positive attitude.
Due to our vociferous complaints posted in a public forum and due to the fact that Disney recognized that their photography policy was clearly ambiguous, we were given an opportunity to return to Walt's apartment to have our photographs taken. The photo op turned into a great opportunity to celebrate my birthday as well as spend some time with my friend Charlie and his wife doing a number of things all surrounding Disney. This is our story:
Charlie and Dave's Excellent Adventure
David:
On Friday I set out on the drive from Phoenix to Los Angeles. Yes, I know Disneyland is not in Los Angeles but in Anaheim, however, I consider it all one giant city. Anyway, I went to spend some time with my friend Kevin (who lives somewhere in the giant city) prior to going to Disneyland on Saturday morning.
Charlie:
I set out for Anaheim by myself from Central California around 4pm on Friday afternoon. Darlene had to do a wedding (we're florists) on Saturday, so we made arrangements for her to fly to LA on Saturday. I got into Anaheim around 8:30 pm, checked into my hotel, and promptly headed for the Park. I got there and headed straight for the Plaza Inn where I ordered a chicken dinner and sat outside where I could watch the tired guests pass by at the end of a long day. I also took a really great night shot of Sleeping Beauty's Castle.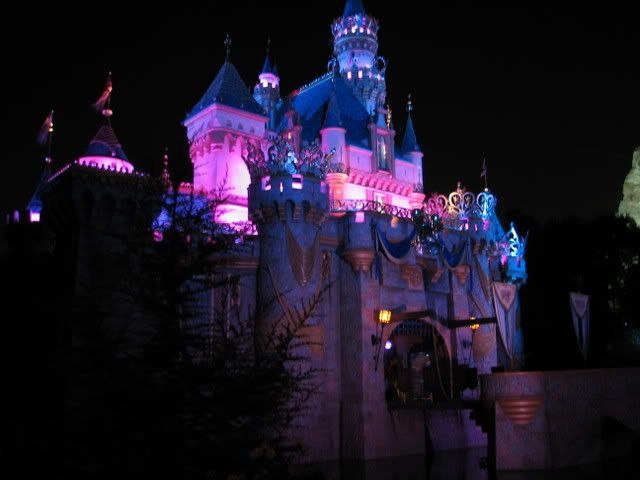 SATURDAY
David:
Staying all the way in Woodland Hills, I had to awake early (4:00 AM) to make it to Disneyland prior to park opening. Traffic was not what I anticipated so I spent my early morning hours driving around Buena Park looking for the filming locations used in Clerks II (now one of my favorite films). I made my way to the park only to find that the parking structure would not open in time for my appointment early in the morning.
After a few frantic phone calls, parking arrangements were made for me at Downtown Disney. I parked and made my way to the plaza area in front of Disneyland. Here I met my friend Charlie and we talked briefly before being escorted into the park by Martha Blanding of Merchandise Event Services.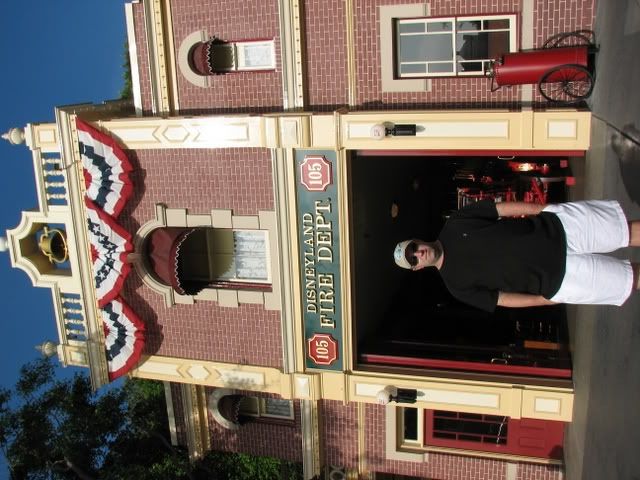 We spent the first part of our day, just prior to park opening, inside of Walt's apartment above the fire station on Main Street. The nice people at Disneyland had their staff photographer ready for a photo session. Charlie and I were intent on a recreation of the only published photograph of Walt inside the apartment (I am unsure which of us would have been Lillian).
Charlie: Well, it sho wasn't gonna be me!
:blink:
David:
Unfortunately, the sunlight coming thru the window at that time of the morning would not allow for such a shot. Let me say that Martha and her staff were more than happy to try and accommodate the request, but the intensity of the sunlight simply would not allow it. Martha was very helpful in finding a great section of the apartment to have the photos taken.
While our group was having individual photographs taken, Martha called me to her side for a few brief words. I greatly appreciated the short conversation we had. Should she read this, the kindness and professional demeanor that was exhibited on our second trip was truly in line with what I have come to expect from Disney and I offer my sincere thanks for her efforts in resolving this situation.
Charlie: Getting to go back into Walt's Apartment for a picture was really great. After visiting Walt's Apartment last December (as part of a "50 Years of Magical Memories" auction experience) all of the people who had participated in the "Breakfast at Walt's Apartment" were disappointed to find out that photography would not be allowed inside the apartment after having been told "bring your cameras".
In the days following our visit I called Mary Murray, Director of Specialized Businesses for the Disneyland Resort. Darlene and I met Mary during the "50 Years of Magical Memeories" event last year. I voiced my concerns about the way the "no photography" issue was handled. She agreed that it could have been handled differently, and offered us the opportunity to come back to Disneyland for a make-up photo session in Walt's Apartment with a Disney photographer. Needless to say, we were extremely pleased to hear that we were going to get our picture inside Walt's Apartment after all.
Mary and Martha worked very hard to try and get us back in during the "Pirates of the Caribbean" merchandise event that Disneyland hosted in July, but unfortunately, the studio was in charge of scheduling the movie premiere which took precedence over the merchandise event. Consequently, by the time that we were told which weekend the merchandise event was going to be on, we had already made other plans. Thankfully, they kept at it and came up with a weekend that was mutually agreeable to all the participants who intended on coming back for a picture in Walt's Apartment.
Major kudos to Martha Blanding and Mary Murray at Disneyland. They are great examples of the Disney spirit at work in Disneyland. Without their dedication to guest satisfaction, we would not be posting these pictures today. Thank you Martha, and thank you Mary!!:bow: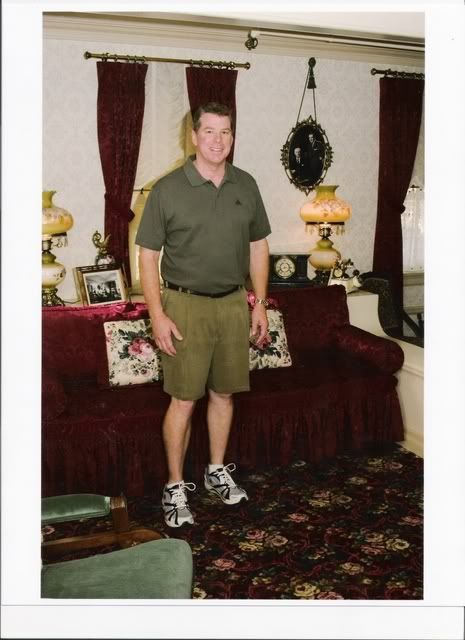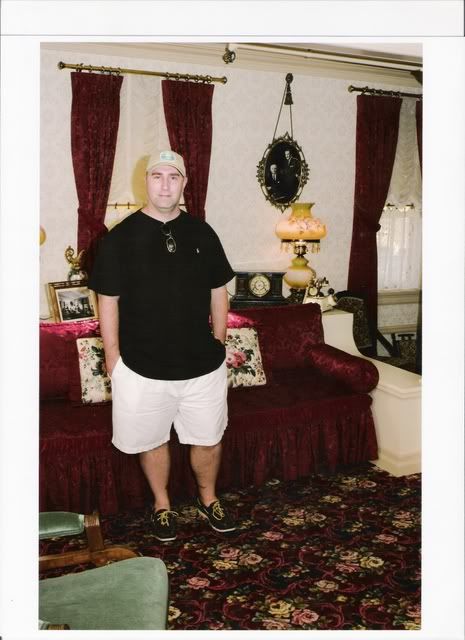 David:
After the photographs were taken, we had a wonderful, albeit brief, tour of the apartment and the remaining furnishings that are original to the apartment. As this was our second visit to the apartment we had a chance to see things in greater detail.
After our visit to the apartment, Charlie and I went straight for breakfast. During breakfast, we both reflected on how things were different with this visit to the apartment and how we both felt we received exactly what was promised. Charlie and I went on the newly revised Pirates of the Caribbean. I can't describe how much I love the new battle sequence with the theme music in the background. The new cannon blasts are great and I am overjoyed at the enhancements.
Charlie: Yeah, I really enjoy the new POTC as well. But I must say that the new Depp figures look so real, that the original Blaine Gibson sculpted pirates look even more exaggerated than they already were. Not quite sure if that was the right call, or if WDI should have sculpted Senor Depp with a bit more of a caricature in order to blend in a little more. Just because you can make something look life-like doesn't mean you always should... especially if it ruins the "suspension of belief" that is created as you go thru the ride. But hey... that's just me!
David:
Charlie was kind enough to buy me a birthday lunch at Blue Bayou. After lunch Charlie and I went over to DCA to eat even more food. I love the vegetarian chili more than life itself and had to show Charlie what the whole world already knew….there is free tortillas for the taking!
Charlie: Goes to show you how much time I spend at DCA! :lol:
But I will say this: That chili was good, and so were the tortillas.
After visiting DCA, we parted ways so I could go back to my room and get ready to pick up Darlene at LAX. I couldn't get a cheap flight from Fresno to John Wayne Airport in Orange County so I flew her into LA instead. I picked her up at 7:30pm and hot-footed it down the 405 to Irvine for an 8:30 reservation at Ruth's Chris Steakhouse. Mmmmm, yummy red meat!!
David:
That evening, after being abandoned by Charlie, I met some other friends at the park. We had a few beers in Downtown Disney and then made our way back to the park where we had great luck in riding a number of attractions.
I love Fantasmic and a trip to Disneyland would not be complete without a viewing of this show. Despite having seen this show over 200 times, I still love it. A wonderful friend of ours who works for the company reserved us a private balcony located high above New Orleans Square so that we could watch Fantasmic. This balcony, much smaller than the one used for the premium viewing is attached to what would have been Walt's private dining room in his apartment, now the Disney Gallery. I love this show so much that we stayed for the second showing of the night. Another Disney friend was kind enough to host us in the Director's area and made sure we were well stocked with food and drink.
I had a long drive back to the valley so it was time to head out. Again, my sincere thanks to the fine people at Disneyland who always take such good care of us!
SUNDAY

David:
Charlie and I had anticipated getting together for my birthday, however, a late invitation to an Oscar party kept me away from the park this day.
Charlie:
You missed out buddy. We had a great day in Disneyland. Darlene and I started out with breakfast at the Carnation Cafe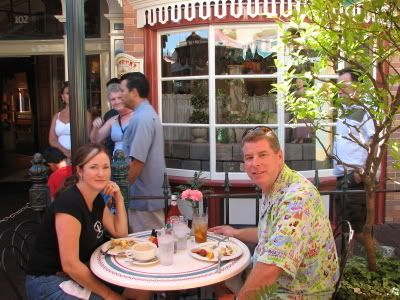 After that we spent most of the day going on as many attractions as we could gathering clues for MiceChats first annual Gumball Rally! We were really bushed by the end of the day, and we still had a big day ahead of us on Monday. So we went back to the room and got some rest.
MONDAY
David:
The day started early once again. Charlie and I thought it would be fun to re-trace the steps of the two men who started the Walt Disney Company. For the first stop of the day, I headed to the Walt Disney Studios lot for a brief visit.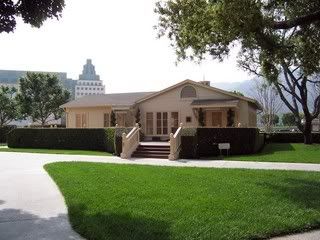 Just across from the Walt Disney Studios is the final resting place for Roy Disney. Even in death, Roy has a great view of his studio. The Walt Disney Studios can be seen in the background in this photo taken from the cemetery (this photo was not taken from the exact location of Roy's grave, but a little farther up the hill).
The Walt Disney Studios from Roy's Gravesite
David:
Walt and Roy are separated by about 5 or 6 miles. Roy's grave is very visible but Walt's is well hidden. Trees and other shrubs have been purposely grown over the plaque that bears the names of the Disney family (Walt, his wife Lillian, his Daughter and her husband).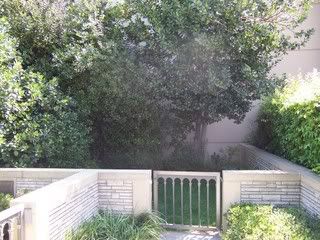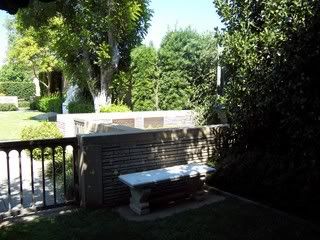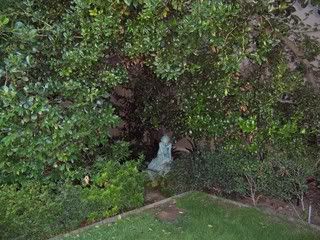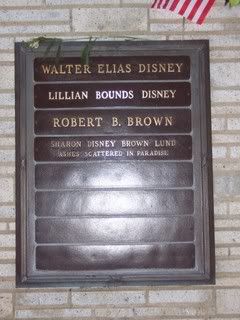 Just down the street from Walt's grave is his favorite lunch spot. The Tam O' Shanter Inn.
Charlie:
While Dave was going off in one direction looking for Disney landmarks, Darlene and I were heading off in another. We headed to Griffith Park to see the final resting place of "Walt's Barn", the workshop that he built for his miniature train," The Carolwood Pacific" which was a 2600 foot railroad that ran around his home in Holmby Hills.
After Lillian Disney died, the property was sold and "Walt's Barn" was in danger of being demolished. Fortunately, Diane Disney Miller called up Michael Broggie,(son of Disney Legend Roger Broggie) who is the chairman of the board of governors of the Carolwood Pacific Historical Society.
With only a few days left before escrow closed on the property, Broggie and others managed to get the barn moved to Griffith Park where it sits as part of the Los Angeles Live Steamers Railroad Museum.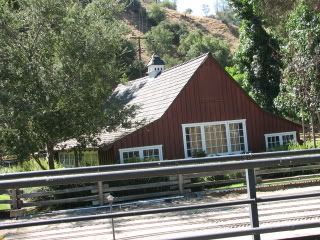 After that we headed the few miles to WDI in Glendale. The way were able to visit Imagineering is an interesting, but lengthy story. So, to make a long story short, I was fortunate enough to have done a favor for an old friend that eventually turned into an invitation to visit Walt Disney Imagineering. It couldn't have happened at a more opportune time! With David and I scheduled to revisit Walt's Apartment already, this was the perfect opportunity to repay David for taking me to Walt's Apartment as his guest last December. Even with all of the amazing Disney experiences that David has had (and he's had many), he had never been to Imagineering, so it was fitting that I was able to take him as my guest on this very special tour.
Walt Disney Imagineering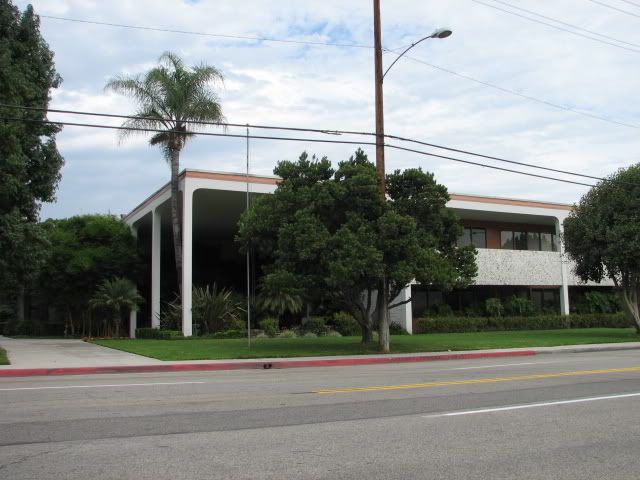 David:
Thanks to Charlie for setting this up. I met up with Charlie and Darlene prior to a tour of Walt Disney Imagineering. After arriving at Imagineering, we waited briefly for our host to come and collect us.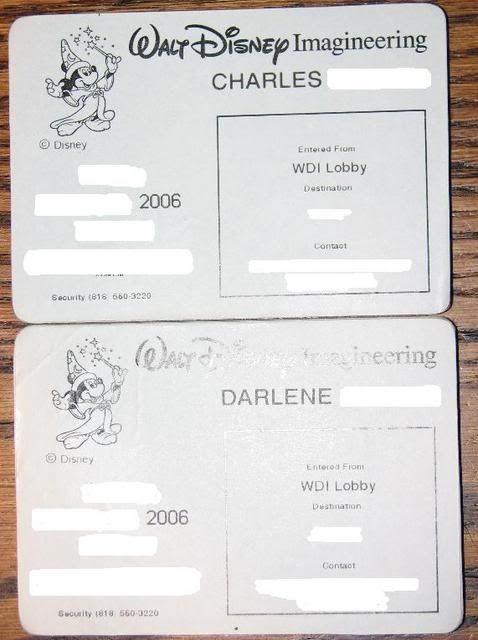 David:
We started at the cafeteria where had a very enjoyable lunch (the chicken enchiladas were the best I ever had). We spent a great deal of time discussing Hong Kong Disneyland and the possibility for further projects in Asia.
After lunch we toured the various spaces and buildings at Imagineering. Without giving away any secrets, there are some wonderful new attractions coming to Anaheim including a major update of one of the more popular attractions. There were a number of other items we saw that have not been publicly announced as of yet. I would love to go into detail, but I promised that I would not reveal the details.
It was nice to see the imaginers in their work environment and to see that they are still really passionate about their work.
Charlie:
Walking thru Imagineering was in a word: AMAZING! There is original art painted on the walls by various Disney artists including Eric Robison, John Hench and others. There also tributes to various Disney legends in the form of quotes, again, painted directly on the walls by other Disney artists. Walking the halls of the same building where Walt Disney and so many legendary Imagineers have worked and created was an absolute thrill. During the entire tour I had a grin on my face that I simply could not wipe away! There certainly is truth to the Imagineering motto, "We Make The Magic".
We started our tour around 12:15pm, shortly after most of the Imagineers had gone to lunch, which allowed us to see Imagineering in a more relaxed atmosphere. Like David said we aren't going to spill any beans, but suffice it to say that Tomorrowland's completion is light years away! I wish that I could say more, but I don't want to get our host in trouble.
We went down this hall, thru that door, around a corner, back out into another hallway, inside a sound stage, out into yet another hallway, thru another door, past various models... it was like being in a whirlwind! There was absolutely no way my mind could comprehend what I was seeing. The closest I could say that it reminded me of was going into Walt's Apartment last December for the first time... I simply couldn't put it all together in my mind as fast as it was unfolding before me.
Then as fast as it started... it was over. We were back at the guards desk near the front of the building. Our host said, "Well, here we are." I turned to him and said, "Would you mind if we went to the gift shop?" "Oh, you'd like to go to the gift shop, heh? Follow me."
We went back thru the commissary, out into the courtyard where we had eaten lunch. To our left was what I hadn't seen at lunch, because my back was to it... "Mickey's of Glendale", Walt Disney Imagineering's own giftshop. We went inside and my jaw dropped. All kinds of giftware emblazoned with the WDI logo.
I was like a kid in a candystore... and so was David. While Darlene chatted with our host, David and I went on a MAJOR shopping spree. I spent WAAAAAAY too much money... but I came home with some great swag and some awesome memories.
After our shopping was over, we went back into the lobby where we took pictures and thanked our host for his hospitality.
We then left WDI and David headed back towards Phoenix and Darlene and I headed back home to Fresno.
All in all, it was truly a most excellent adventure! Thanks to all the fine folks at Disneyland, WDI, my very patient wife Darlene, and to my buddy David for a memorable weekend. It was great!