What's "The Where's Melonballer Game"? Well its basically like Where's Waldo, except with real people, instead of striped cartoon characters.
I was thinking awhile back "How hard would it be to find a random person in Disneyland on a busy Saturday?" and "I wonder if I will meet any Micechatters before the Sunday Meet?" Then I got a wicked idea. What if I made Micechatters look for me? Then I could time them and I would have an answer to my question. I started to make rules and formulate plans.
However, I was not sure if anyone would care. This last weekend I met Peoplemover1 and she thought people would love it. So I am going to do it.
How are you going to find me or recognize me? Well, there are some recent pictures of me in Micechat, you just need to look for them. However, I will give some tips.
How to recognize different types of Melonballers from quite a long way away.
There are many ways to identify the Great Northwestern Melonballer.
He has a Homestarrunner courier bag, which he will be carrying his stuff in. There will likely be Disney pins on the strap.
He likes Blue Jeans
He wears a leather jacket if it is cool.
He will probably have Jessica Rabbit and Tinker Bell pins
He is about 5 feet ten inches tall, has dark hair and a goatee.
He is 30 years old
He will be wearing this shirt.
Ok, now you know what to look for, but how will you find a Disney nerd in Disneyland? That's like finding a 2002 penny in a water feature at a theme park. Well it just so happens that I have left clues all over Micechat about where I am going to be, especially on the 11th. You just need to look for them.
Now for the official rules.
The Rules.
The game starts at 2pm 11/11/06 or when I get to the park, which ever happens 2nd.

The game ends at 1am 11/12/06 or whenever I get to my hotel, whichever come first.

I have to be in Disneyland, DCA, or DTD for it to count. In other words, no camping outside my hotel.

To win you just can't spot me from across the park, you have to actually meet me. A meet necessitates the following.
a) a handshake
b) an exchange of screen names
5. In the case of multiple Micechatters spotting me at the same time, the winner will be whoever "meets me" first.
6. After midnight on the 12th, after the park closes for the 11th If you spot me on Disney Property (like say DTD or in front of the park) it does count. Once I cross Harbour Blvd the game is suspended until I reenter the park on the 12th. (new rule)
The Prizes:
"What do I get for meeting you? Is there a prize?" You bet there is. Its not much, but its something.
First prize: 1 Disney: Music Behind the Magic pin (pictured below). This pin is exclusive to the Experience Music Project's Disney Exhibit in Seattle WA.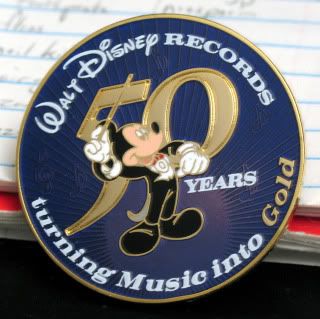 Second prize: 1 churro or 1 dole whip (not float, whip!). This is to be chosen by the winner. Its one or the other, not both.
Third prize: none (Unfortunately, I'm not made of money
)
If the first place winner would rather have the dole whip or churro, instead of the pin, they can chose that ala the Showcase Showdown in the Price is Right. The second place winner would then be eligible for the pin. The second place winner could choose to have the dole whip or churro instead of the pin if they want. If they pass on the pin then it goes into my trade stock and will not be awarded. I will also be posting who won on Micechat after I return home.
"What if no one finds Melonballer before 11:30am on Nov 12th ?" Well then no one wins the prize. It's as simple as that.
Only one prize per family. You must be a Micechatter to win a prize. No screen name, no prize.
"So how hard are you going to make it to find you?" I am not going to hide, but I am going to go about my day. In other words, if I see you coming I will not duck into an attraction, but if I see you I am not going to come up to you. If you call out my screenname I will stop and wait for you however, assuming I am in a spot I can stop. If I am not, I will stop in the first available stop. If you lose me in the crowd I'm sorry. I will wait for a couple (2) minutes before setting out again.
If you have any questions feel free to ask here in this thread. I will answer them as soon as I can. I am the sole referee and judge in this game. Will this game be hard? Maybe, but that is part of the appeal (to me at least). Melonballer is not responsible for any injuries that occur to participants in the game.
Good Luck. I hope this will be fun. If not, I'm sorry for wasting everyone's time. :shy: