It was a beautiful day at the park on Sunday. Though Dusty and I were afraid of another sell out day in Disneyland I insisted we go as new people like MissViolet, Mellonballer, Frecky and BFJen were gonna be there. "We GOTTA GO!" I said. Dustysage, GeminiCricket and myself piled in the car and got to the resort early to make sure we could get in.

We snuck in the side entrance to the parking structure and were sent straight up to Donald.

HURRY! HURRY!



We ended up with a decent spot and headed towards the escalators.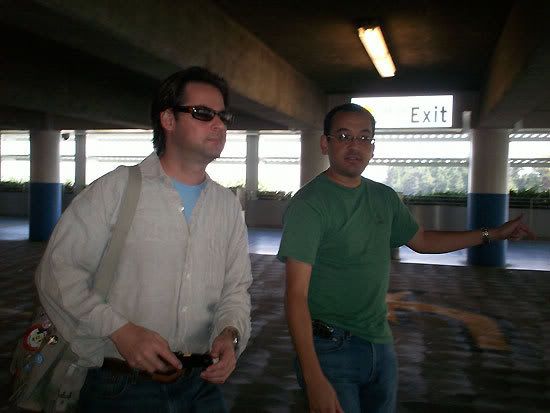 We feared the worst, anticipating hordes of people at the tram stop below but it was surprisingly sparse. COOL!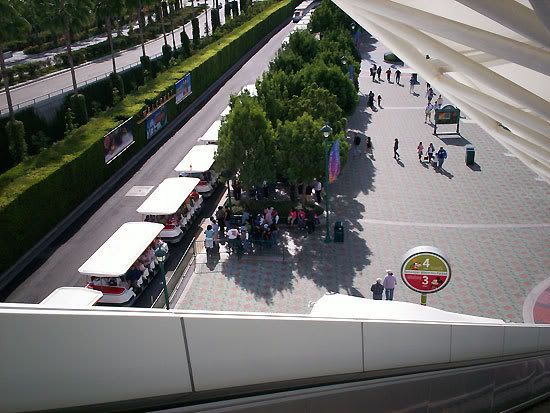 Tram crowds were lite. NICE!
"Okay," I thought, "The security Main Gate lines are going to be murder then."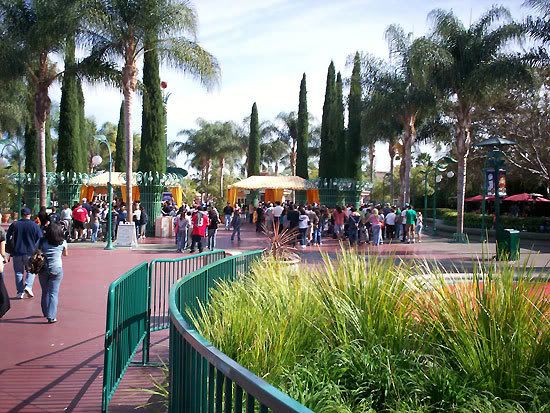 The security lines
We got out at DTD and again, an average line through the security tents that moved quickly. "Well surely the lines will be terrible at the gates." I thought. We got to the Esplanade and were stunned to see no lines at all at 11:00am. I guess it pays to show up early to the meet.

Lines into Disneyland



Lines into DCA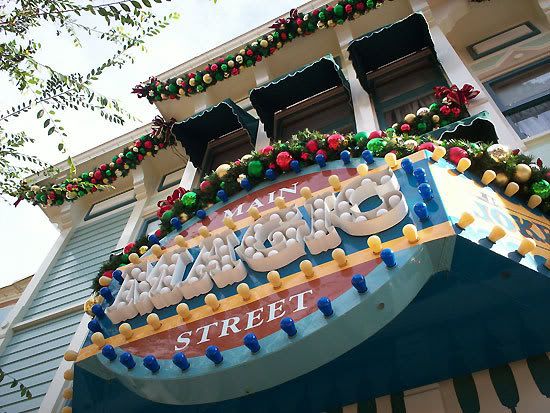 Holiday Magic. For reals!


After making it through the gates and down a less than busy Main Street we headed over to Space Mountain for FP's.

Bottlenecks of the future!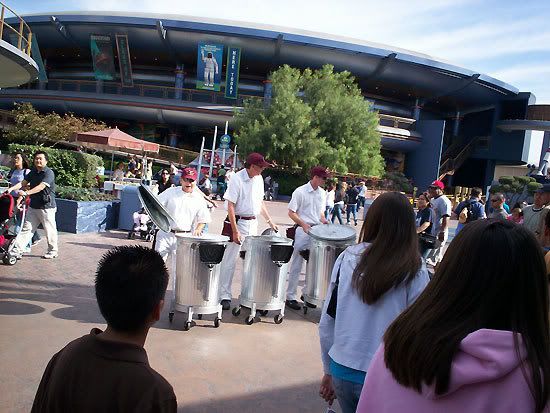 In the future, Entertainment will only perform
the same thing over and over



Oooooh look! No line at HISTA!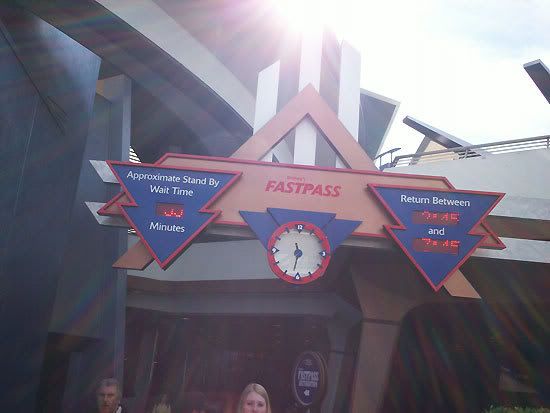 We got an excellent return time, 2:50-3:30 and then decided to kill some time before the meet. "What is it we NEVER do?" I asked. "Autopia," Dusty said, Let's see what the wait is."

The new store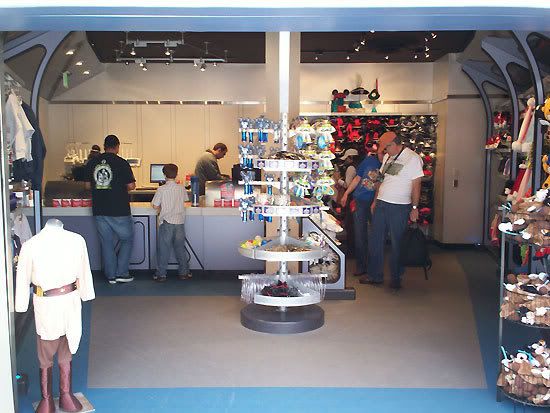 Yeah, that's the entire store
We headed over to Autopia and the wait was a healthy 35 minutes. With only 25 minutes to spare now before the meet we thought it best just to ride the train back to Main Street and be a little early to the hub than a lot late.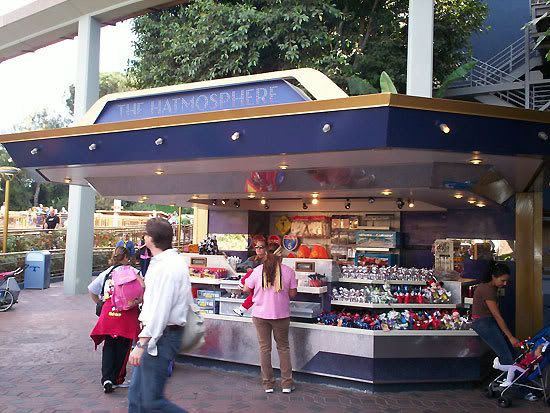 A Hatmosphere with no Hats. Hmmmmm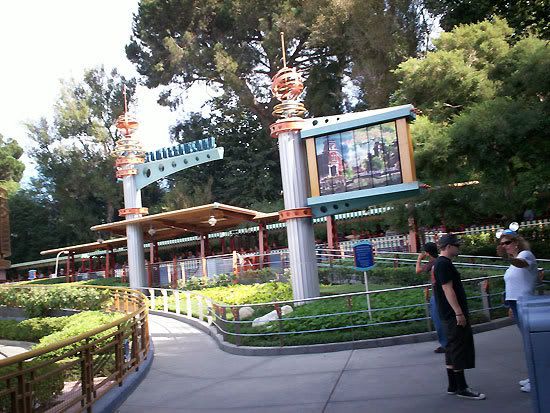 TL Station



I LOVE the Diorama. So Old School!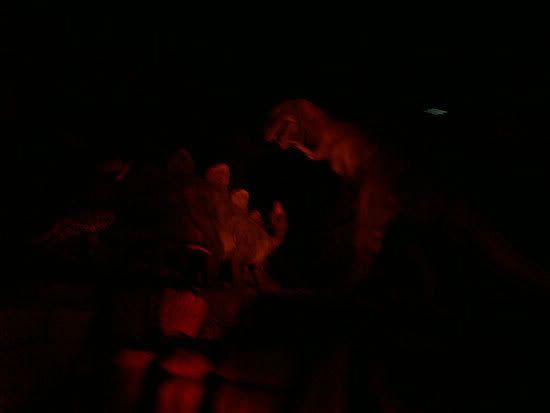 We then strolled, again, up Main Street. As the hub cam into view we saw that even though it was 10 minutes till thee were many MC'ers already there.
THE MEET!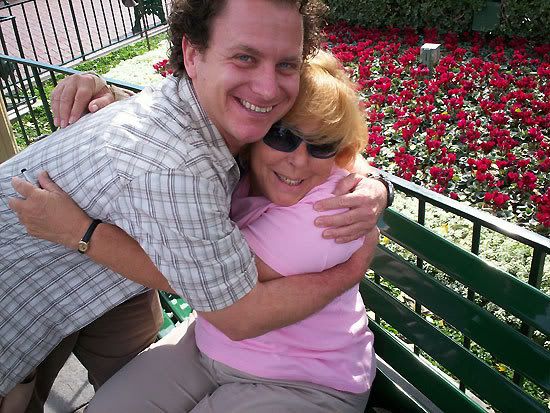 Fishy and Judimouse



MCCow1 and his beautiful Wife



Dustysage meets Missviolet and her husband Dustin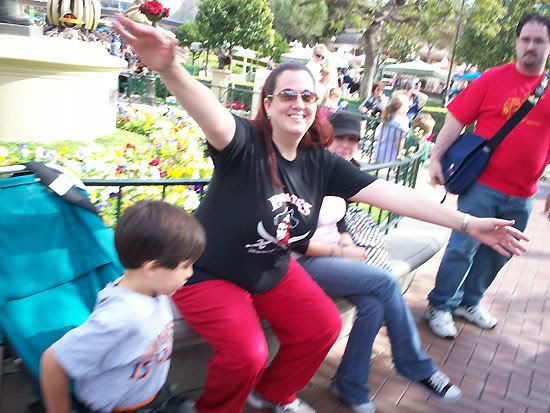 MaxandBellesMom attacks the camera



BFJen Makes it to the hub at noon!



Dustin and Missviolet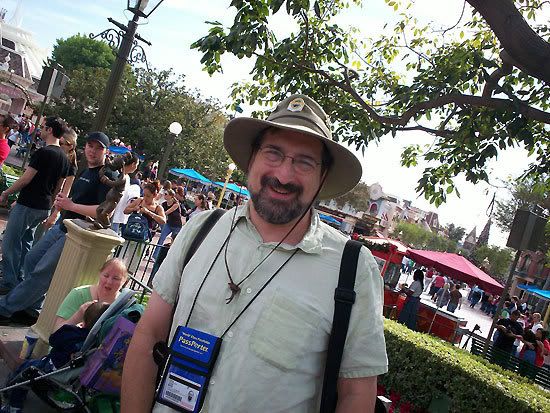 Dave Marx



Missviolet meets Crazylegs on my cellphone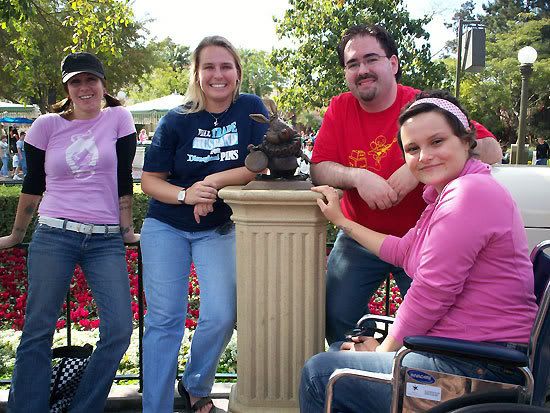 We got to meet these four new faces! BFJen,
Frecky, BFJen,MellonBaller and the lovely MissViolet.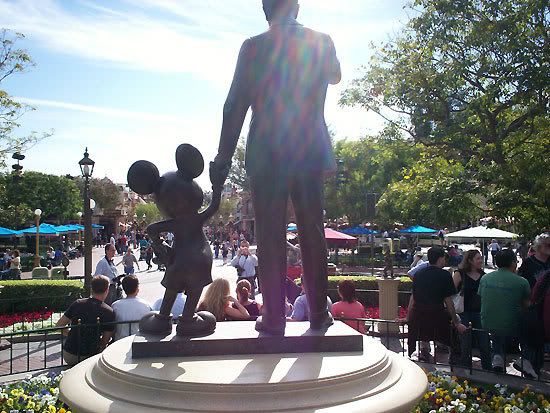 The Converse Crew!



DisneySara did not wear her Cons! HA HA!
Morrigoon showed up and then we all decided to go eat at the Hungry Bear Restaurant.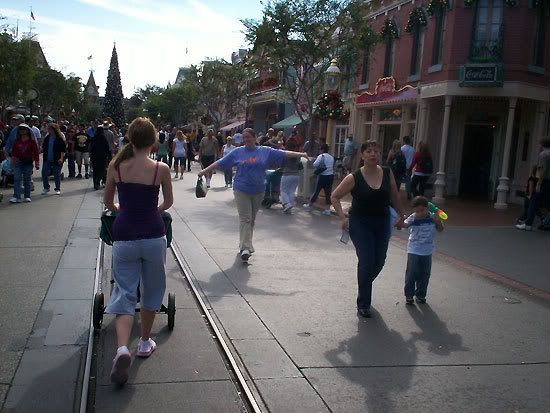 Morrigoon on Main Street



OFF TO LUNCH AT HUNGRY BEAR!



They were filming Battle Royale 3 in Critter Country



RoseRedAngel in line for food



"Fishy?!?! What are you doing?" says Frecky.
MMMMMMMMMM Lunch!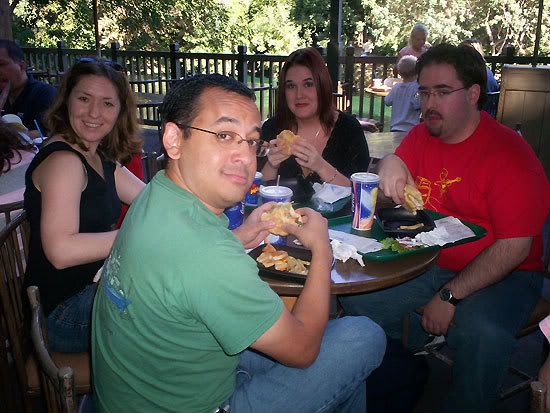 DisneySara, GeminiCricket, RoseRedAngel, and MellonBaller


After everyone was full we all decided to ride Pirates. The line was only slightly longer than average and we could all use a little boat ride. This is my favorite ride in the park. Such a great family ride.

Morrigoon says goodbye to the group for the day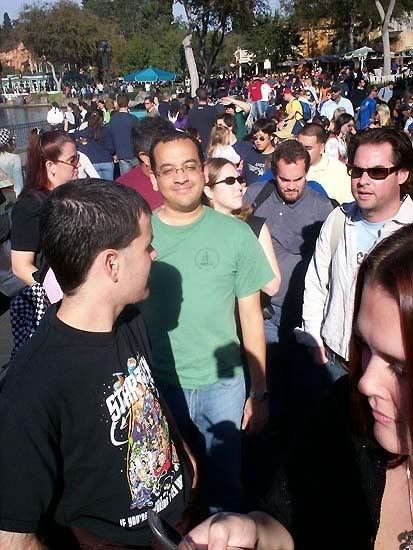 Our group in line for Pirates. What's GC smiling about?



Blue Bayou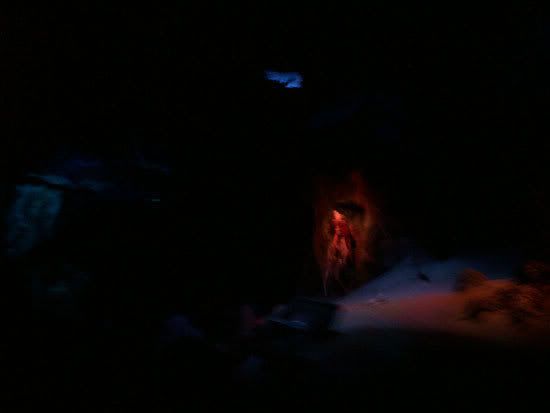 Skeletons kids! Look at the Skeletons!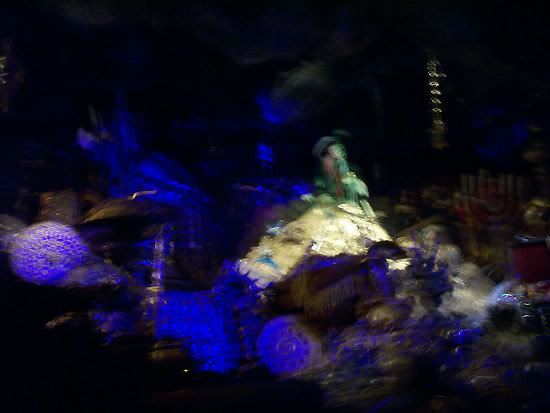 Mellonballer seemd to like it
*
Our relaxing pirate adventure came to an end and we decided we needed more boat time.* The group then decided on It's a Small World Holiday. I was excited too as I didn't even realize it was open yet. As we left from Pirates MonorailMan called me up and said he FINALLY made it to the resort. I told him where we were headed as he got on the parking trams into the park. We traveled to IASWH by way of Big thunder trail. Along the way we stopped to see the reindeer over at Santa's Round-up.

Frontierland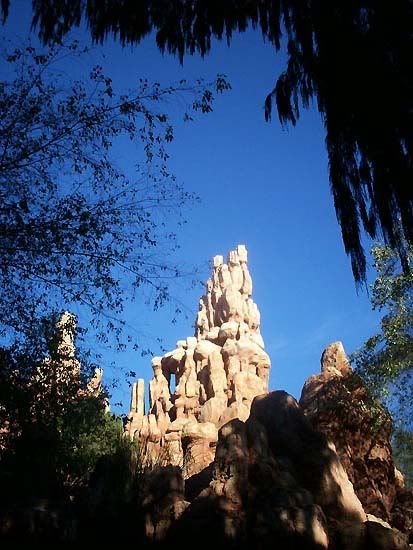 Big Thunder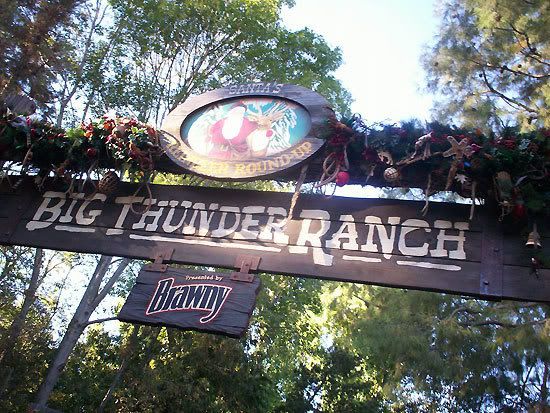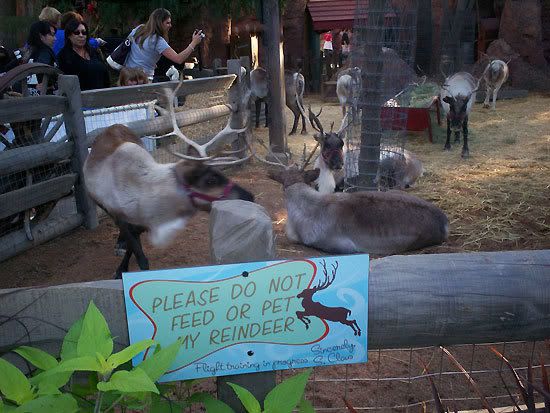 Small world was all bright, shiny and new. Although we were seeing the facade in the daytime, without the pretty Christmas lights on, it was still goregeous.

Our group of now 11 braved past the sea of strollers and screaming kids and got in line.

Ta-da!!!!!
MonorailMan got in touch with me by phone to see where we were in line. He found us.

GeminiCricket and MonorailMan



It's a Small World Holiday

Now 12 in number we climbed aboard our happy little boat for a voyage around the world of HOLIDAYS AROUND THE WORLD minus JustJohn and SimplySabrina who had a terrible thong accident that needed attention.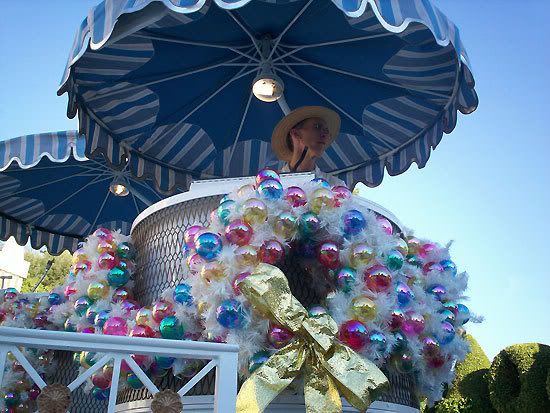 The ride sparkeld and shined.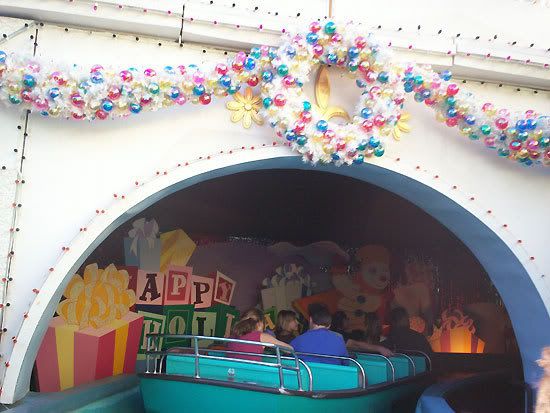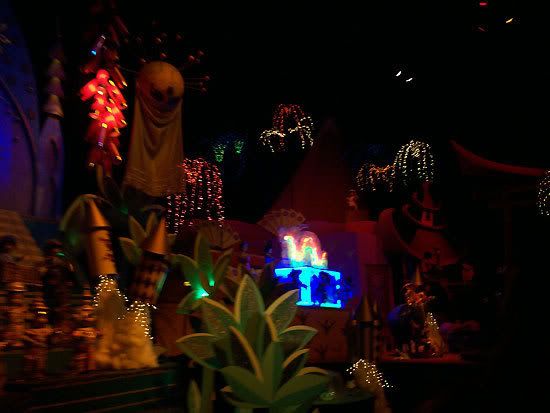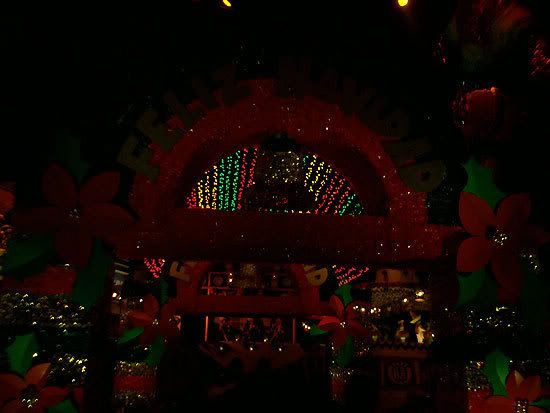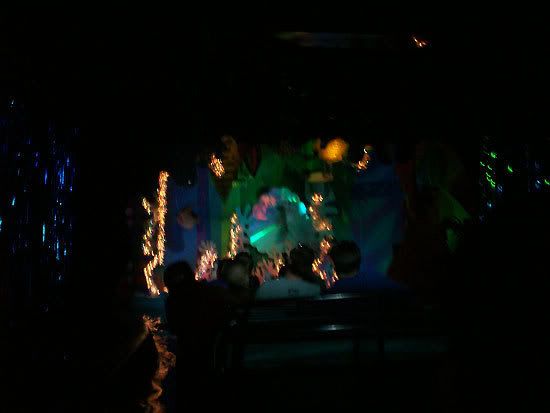 Are those....



BUBBLES!?!?!?!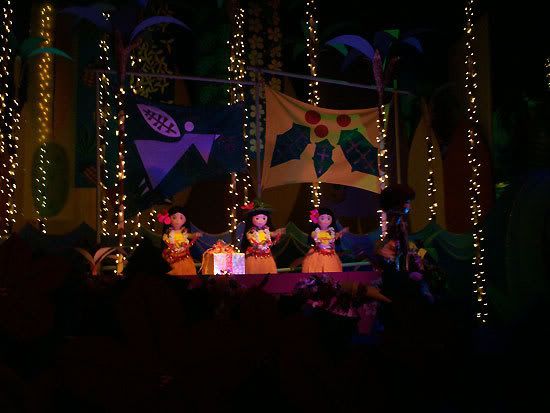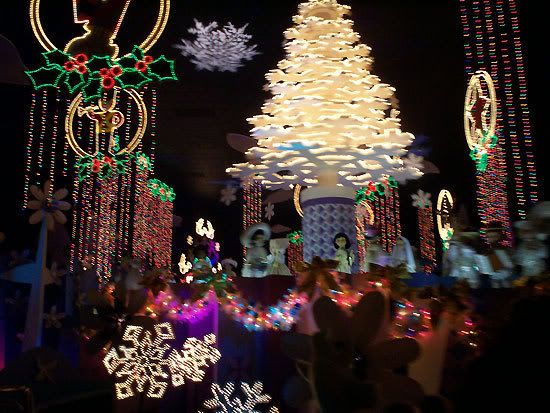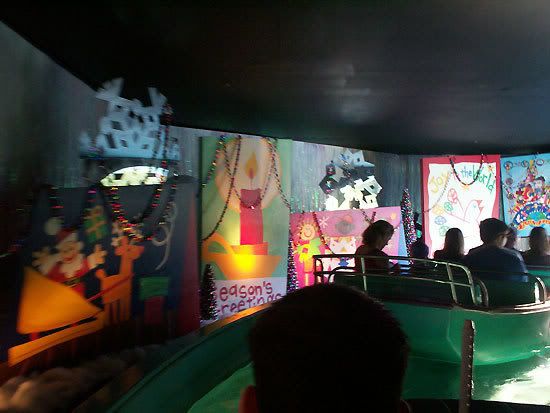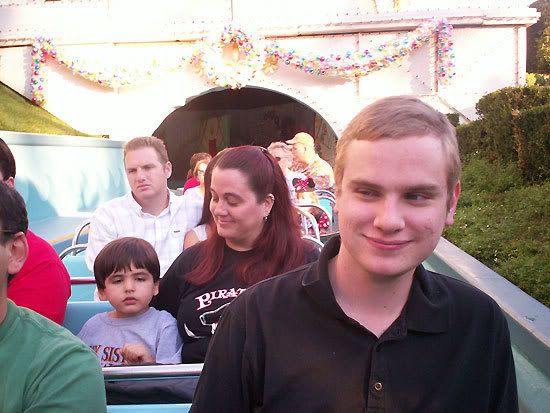 MonorailMan seemd to like it
As we got off JustJohn and SimplySabrina were waiting for us at the exit and we realized that to take advantage of our Space Mountain Fast Passes before we left we would have to hurry and cross the parade route that was threatening to become blocked off at any second!

AAAAAAAAA

We raced down the escape hatch area along the parade route...
past Storybook land Canal boats, and our large group bolted across the parade route moments before walt yelled "WACCCCEM!"

Look! Wall Land! The most magical land of all!
Only 6 of us had FP's for Space and, though they didn't have to, the others including RoseredAngel, SimplySabrina, JustJohn, and SocalJoeyB offered to just wait for us outside and watch our stuff. I LOVE THEM!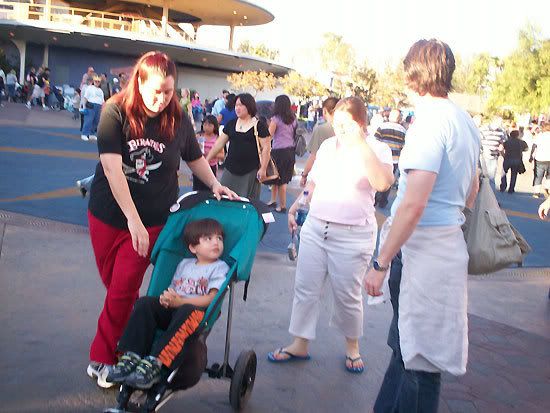 MaxandBelle'sMom, Max, MonorailMan, GeminiCricket, Dustysage and I all headed into Space Mountain. This was a very special trip into Space as it was Max's first trip.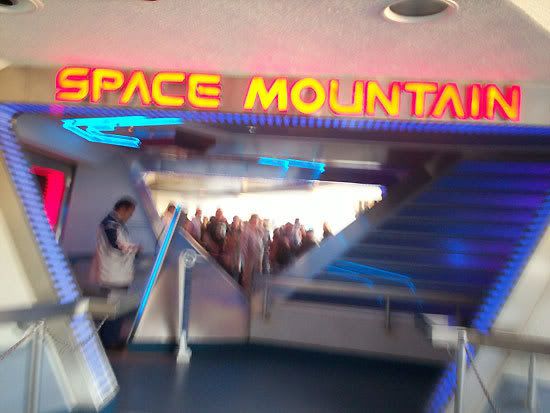 Max, MaxandBellesMom, MonorailMan, GeminiCricket, and Dustysage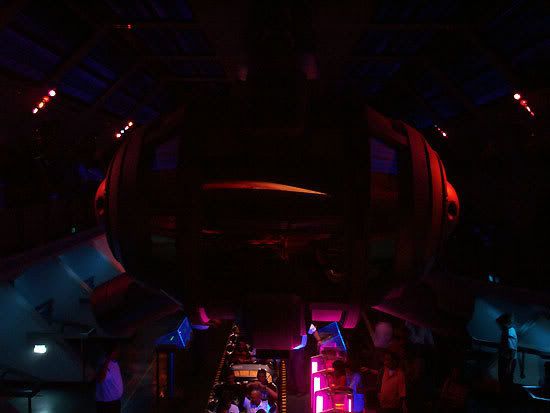 The Spaceship above the Space Mountain loading area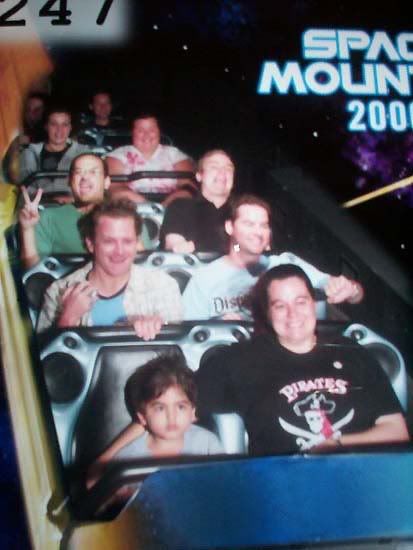 Max seemed to LOVE IT!


Well now it was time to go. We said our goodbyes to the lovely group and GeminiCricket, Dustysage andmyself navigated through the dense crowds of Tomorrowland to get out of the park.

Bye everyone!



What's in them Churros? Really!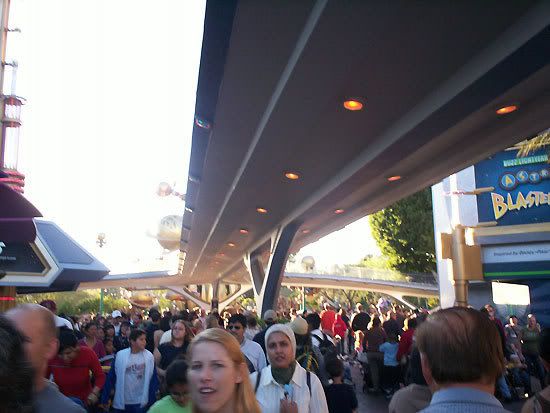 It was so nice to see new friends at the meet. MissViolet is adorable, BFJen is a true sweetheart, MellonBaller is way cool, and Frecky? Well Frecky is just down to Earth and cool as heck. Funny too. We also got to meet Dave and Jennifer Marx who write the PassPorter books. They freely gave out copies of their book and pins for all. They were very sweet.

It was a fun day at the park.


THE END!