Well, I'll get started on this - sorry, it won't be complete until Monday when I get home (while at Disneyland we found out that my hubby's 97 year old grandfather passed away, so we had to detour home by way of Phoenix and Duncan, Arizona). I will add pictures when I get home.
DAY 1
We drove from Idaho Falls to Orem, Utah in a blizzard/hail/sleet/rain storm. That's about it.
DAY 2
We got up around 8 am and took off for Anaheim!!!! As we approached Barstow, CA, we kept seeing signs that I-15 was closed due to construction. We stopped and asked a few truckers if this was true - they said it's open, but about a 6-9 hour slowdown. So, we detoured almost to Bakersfield and then down the 5. We immediately went to Mimi's Cafe for a delicious Chinese Chicken Salad. Our trip was extended by about 2 hours - and we were starving!!
When we came out, the fireworks at Disneyland had started, so we sat and watched.
Off to the Anabella. I go to check in, only to find out that they put our arrival date in wrong in the computer. They were able to get us into another room (a family studio instead of the concierge suite) for the night. We were so hammered, we didn't care! (They did get us in the right room the next day).
DAY 3 - Saturday, November 11th.
Yes, we dared enter Disneyland on Veteran's Day. We were warned about the crowds.
The obligatory A.J. in the "A"
We headed down Main Street happy as could be - even with the crowds. When my 7 year old heard that Aly and AJ were performing, we had to stop! We were told that it would be just a few moments - for about an hour. But, they finally arrived! My kids managed to get up to the rope and Aly and AJ lip synched their little hearts outs. We jumped around and confiscated 2 beach balls as souveniers, and my kids were really wound up about being seen on TV.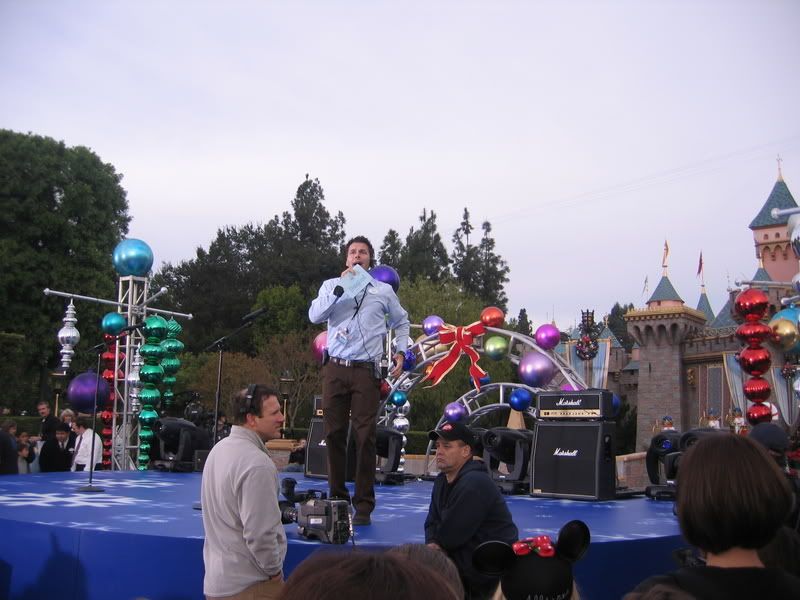 Randy - the "few moments" guy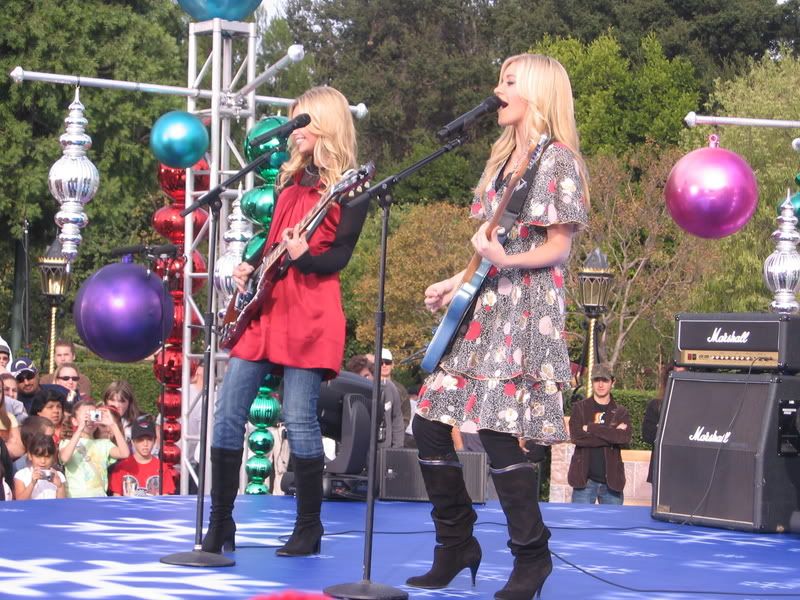 Aly and AJ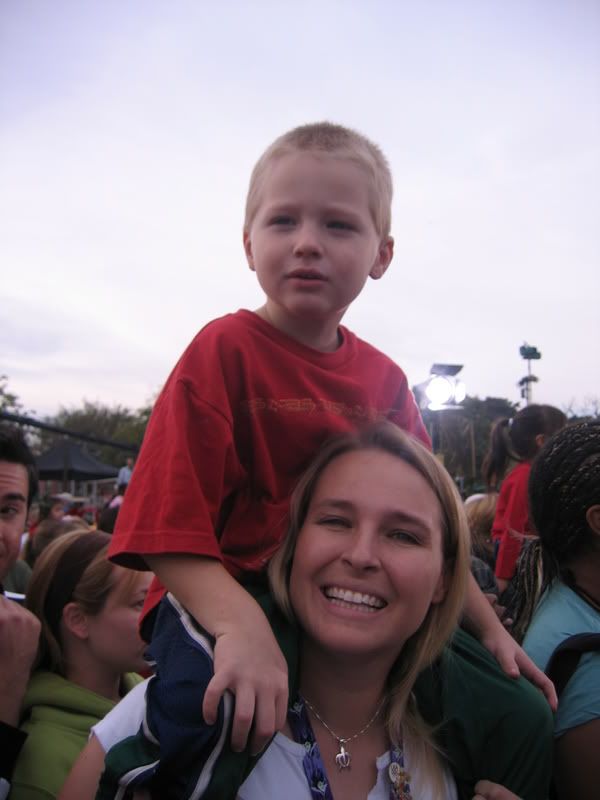 this lastest for about 5 minutes - Tyson then made his way to the front row.
After that, we "did" Tomorrowland - including getting a massive amount of VMK cards. We had already done the quests, so knew all the answers and turned it all in - with 13 people in our group. They were all patient, because when you do all the quests at once, you get 2 "free" fast passes.
Space Mountain was awesome - getting to hear my 5 year old yell out, "Yeah, Baby" during the whole ride was worth the price of admission.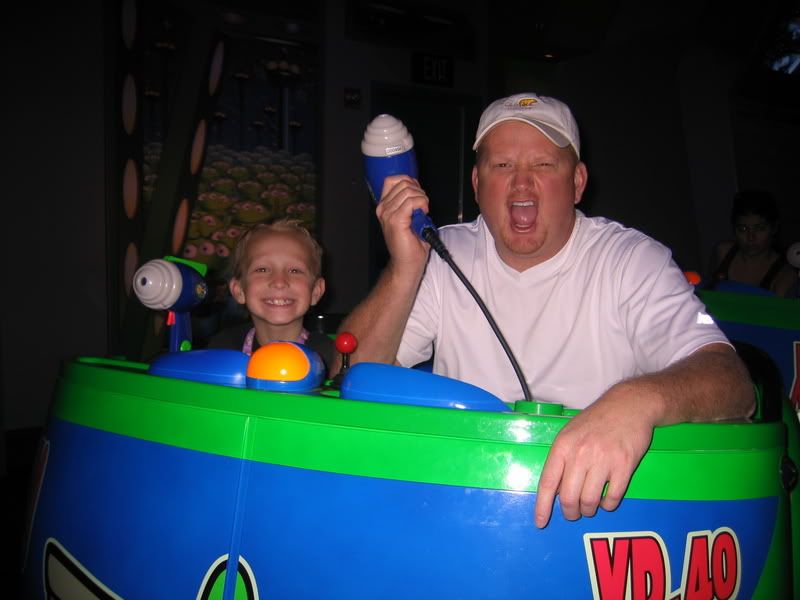 Buzzzzzzzz
We went back to Main Street to purchase 12 corn dogs (yum!) - and tick off one lady in line (she was sure that we bought them all out), and we headed to the Tiki Room! From there we continued around the park.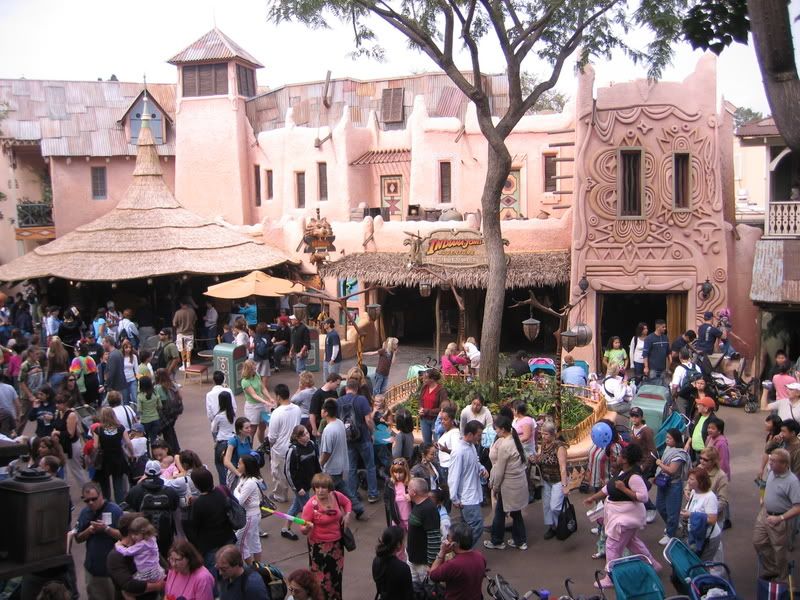 the view from the Jungle Cruise queue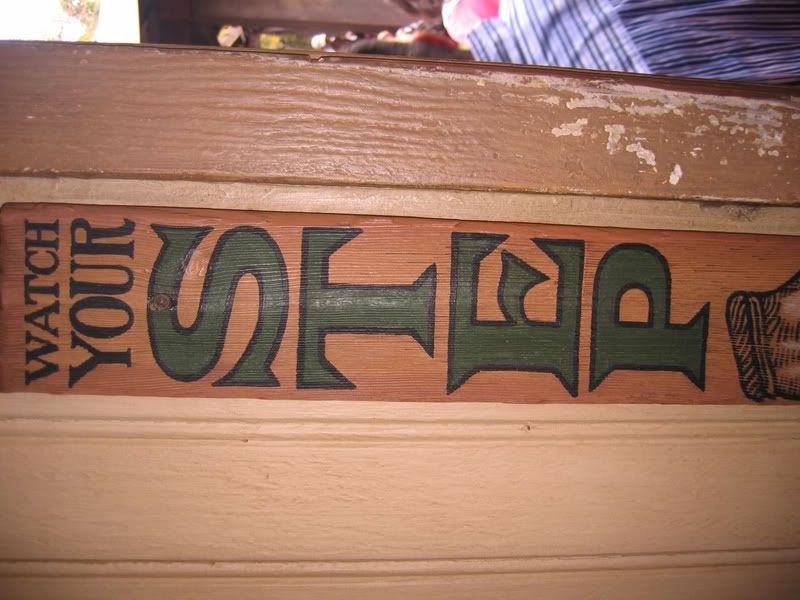 I thought of WatchYerHeadNstep -
I loved the new and improved Pirates of the Caribbean! (we were there for the premiere, but the ride didn't open until the next day and we missed it). Also, HMH was so great! The lines were a little long, but doable. I think we only waited 30 minutes at the most. Plus, some churros and frozen lemonades really help the time pass.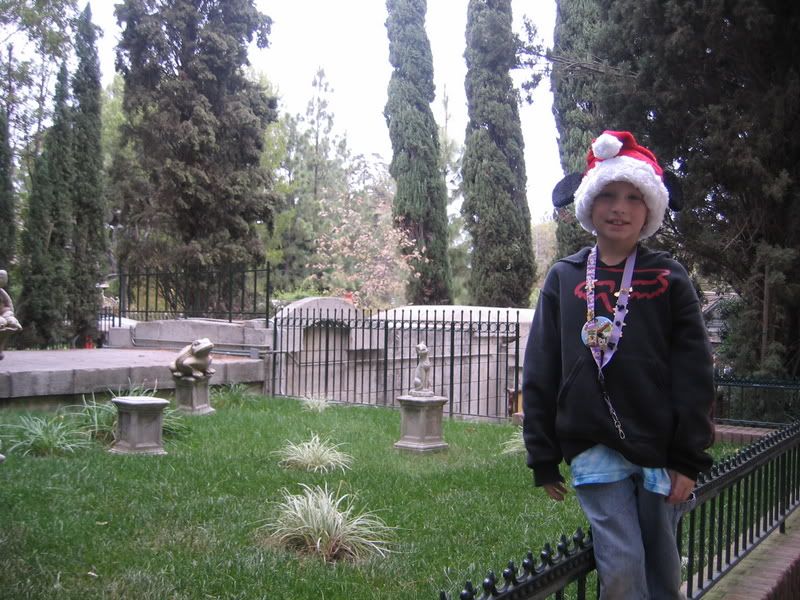 Haunted Mansion Pet Cemetary (around the side)
The worst part of the day was dinner. We went to the Hungry Bear and ended up with a 1 hour and 30 minute wait. So ridiculous! My kids were crying they were so hungry. So, I talked to the "drink girl" and she got me their lunches right away. There was only 1 person working the counter and she was trying to make those stupid funnel cakes too - it took forever! Oh well.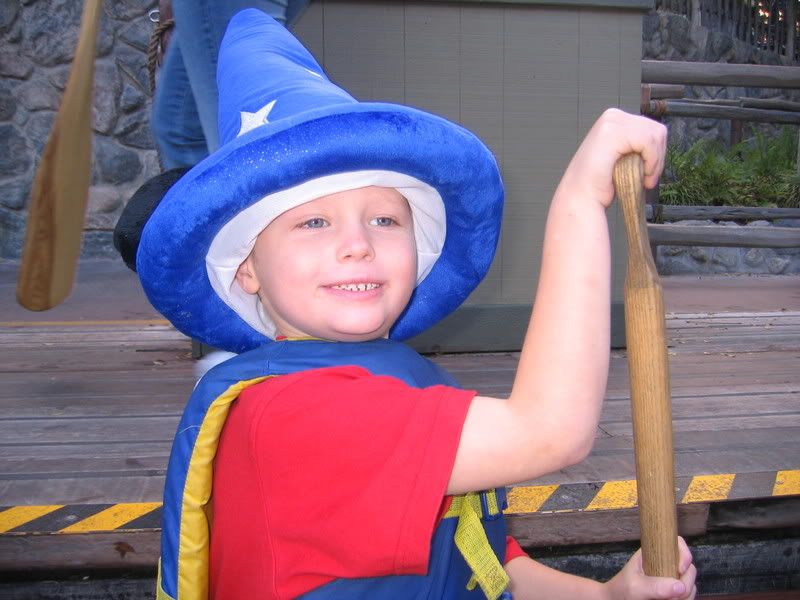 Our first time rowing the canoes. Tyson didn't quite figure it out and ended up drenching the poor guy behind us.
I met up with Hollywood 1939 (aka Jack) and we hung out for a while - he even dared to go on IASW with my family! My kids loved him. And my grandma thought he was a sweet and good looking boy.
Love the hood Jack.
We watched the fireworks from the Plaza Inn and got the "good" snow - not the cold kind from Idaho. During which Jack came back with Clarabella! Oh my gosh - she is the nicest person! We all took off for Space Mountain again. Fun ride - I can't wait to post the cute picture! I still had extra Indy fastpasses - so I handed them off to Jack and Clarabella and we went over to Buzz.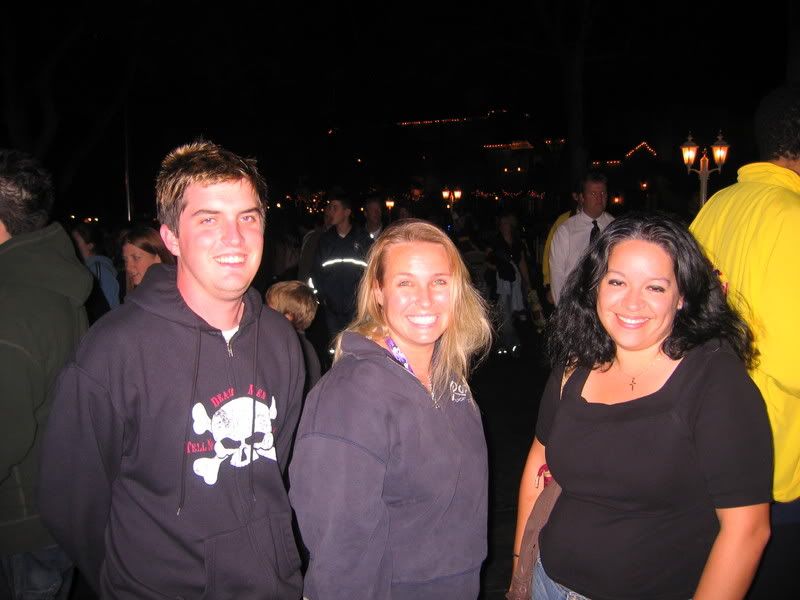 Again, nice hood jack!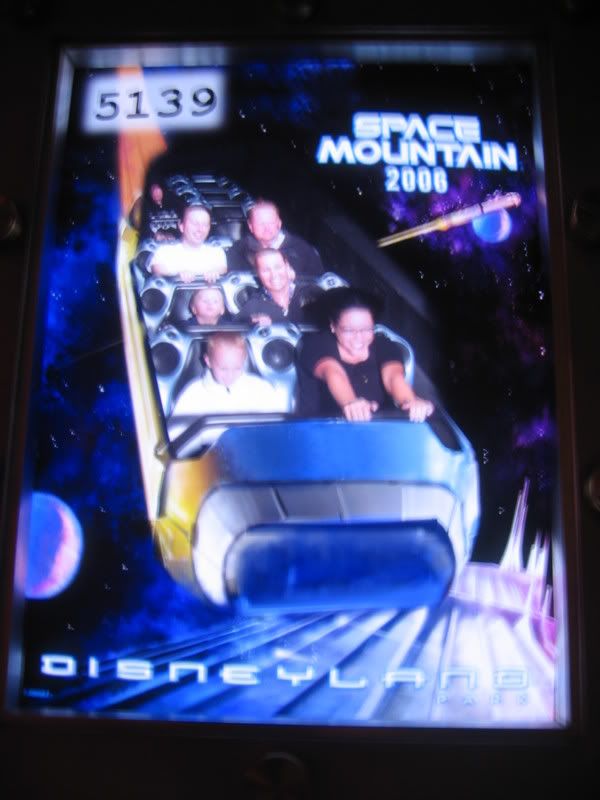 Space Mountain!
That was about it for the first day. I'm sure it will all be more interesting when I get pictures put in - thanks for reading this far!