Talk about an amazing day at Disneyland. With my partner-in-crime, peoplemover1 back from her hiatus in Seattle, we visited Disneyland again for the first time in 3 weeks for peoplemover1, and my first time in two weeks for me. Trust me guys, this is a long time for us!
And thanks again to an amazing MiceChatter, I got to visit Club 33 for the second time, and boy was it as incredible as ever. Getting to meet up with some MiceChatters in the Club is really the best way to do it. Thanks to Pixie Chick, dsnylndmom, Grumpy4, Circarama, Where's Barbie, and many others who were very friendly and made the visit even more magical!
Annnyway, aside from Club 33, it was my first visit since Disneyland officially kicked off the holidays, and of course, the park is very impressive in all it's holiday decor. So let's get to it!
But be warned, with nearly 80 photos, this update is HUGE!
WELCOME TO DISNEYLAND!
Whether you give one or get one, Disney wants you to spend money on APs.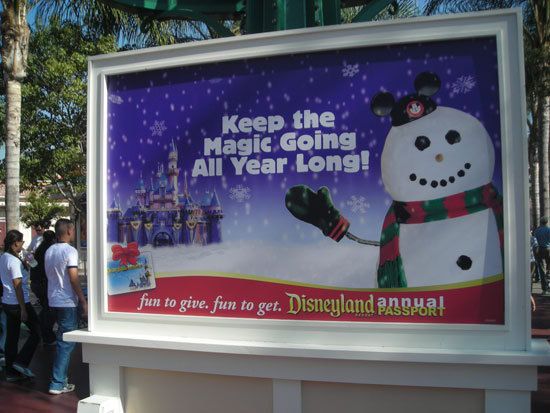 A Spanish-speaking television program, "Hola Californias" was filming in front of Floral Mickey.
And finally, the former Steamboat Willie photo collage is out from under walls and tarps:
CHRISTMASTIME AT DISNEYLAND!
Christmas tree!
A close-up of the tree trimmings: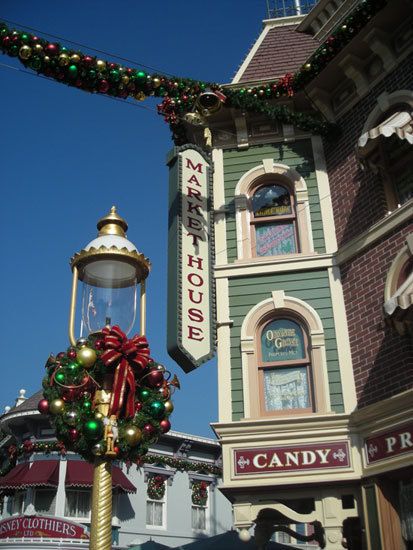 Holiday Castle:
New banners are all over the Castle, including these red ones that.. are just ... well, a bit off..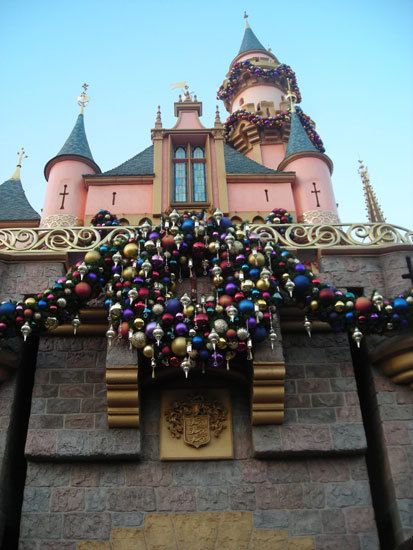 More banners? New banners? What about the old banners leftover from the 50th that should be replaced if they're going to stick with banners?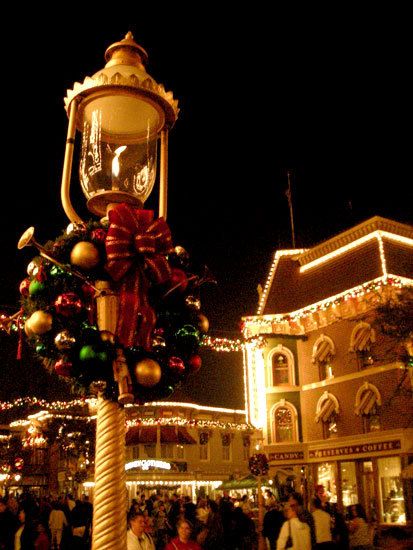 The Plaza Inn has this holiday painting up in it's entryway:
A look at decor and a couple holiday goodies at the Blue Ribbon Bakery: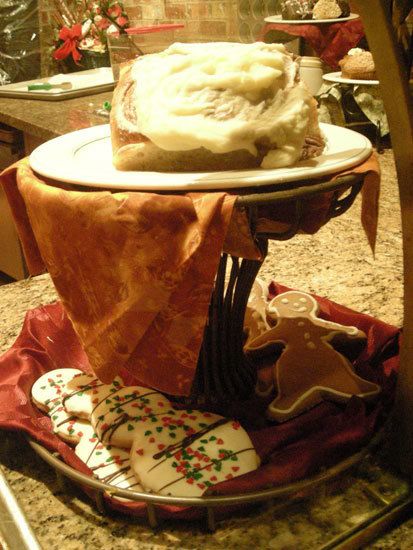 SANTA'S REINDEER ROUNDUP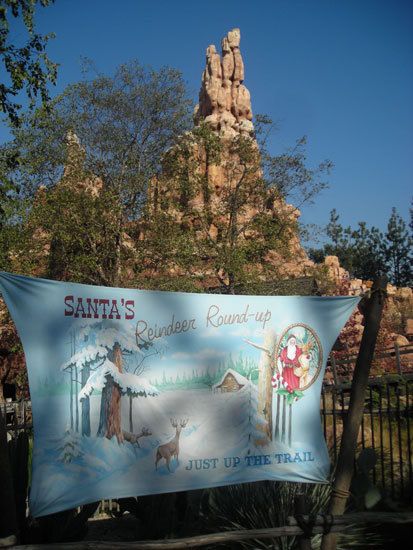 MONORAIL BLUE
Disappointingly, the Monorail statoin simply got paint. No design enhancements, no new logo to replace that TERRIBLE logo they currently have, and actually, they got rid some neon that was there. Unfortunately, the removal of the '98 bronze left the station less impressive than it was before, IMHO.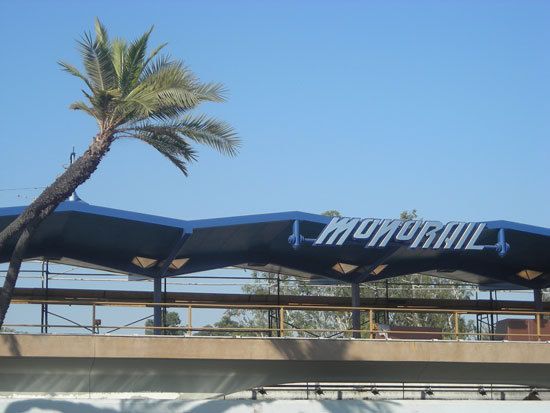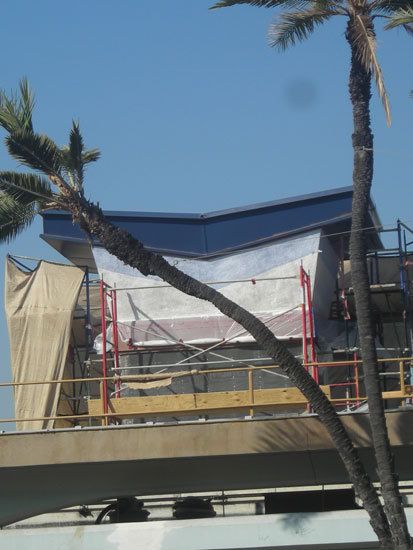 ...And they're building Submarine Voyage rockwork out by the future Sub queue area: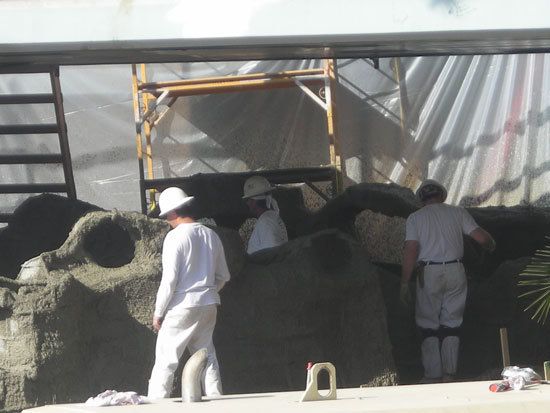 CLUB 33
I'll keep the words to a minimum...
The (in)famous door.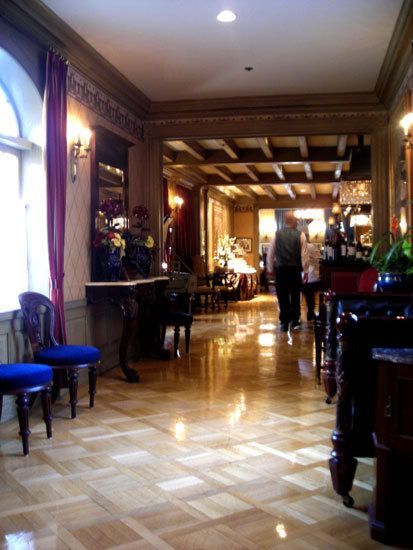 A view from the club: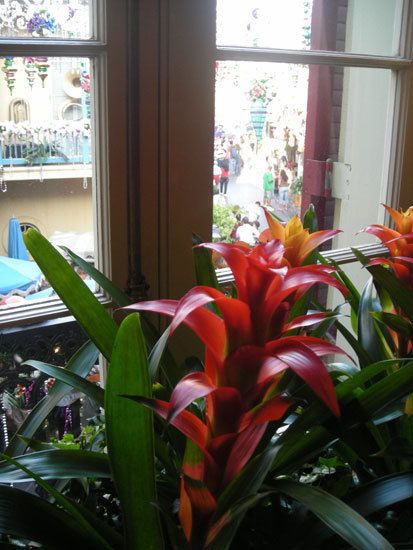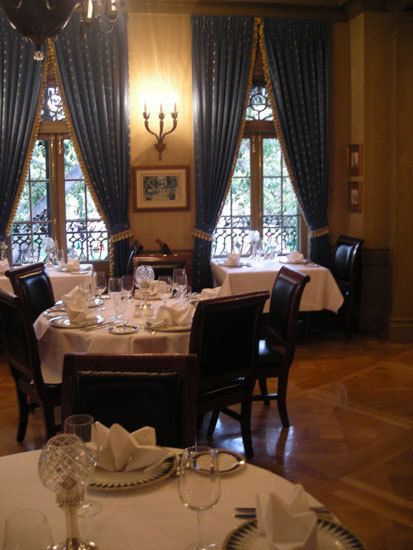 A look at some of the merch available:
...Alright... enough with the Club. The sun was starting to set, and I needed to get over to DCA so see if I could get any shots of Midway Mania work:
MIDWAY MANIA
Goodbye old facade and signage!
DISNEY'S TACKY CHRISTMAS ADVENTURE
The Golden Gate bridge looks good this year. In years past, I recall a wreaths and garlands over nothing but oversized gold ornaments. I'm glad they've ditched that nonsense and gone with the new look. I think it may be one of the only things in DCA's holiday decor offerings that isn't entirely tacky.
I took a bunch of photos of Santa's Beach Blast, but they were night shots and simply didn't turn out. I suppose it's for the best. The whole set-up is incredibly cheap, tacky, and in poor taste. So instead, we'll see the cheap decorations in the Backlot:
...Yikes: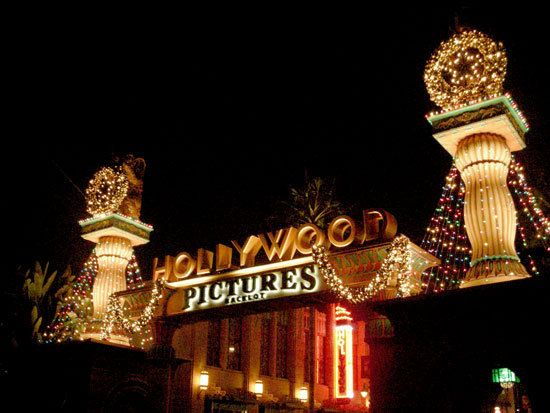 Talk about cheap: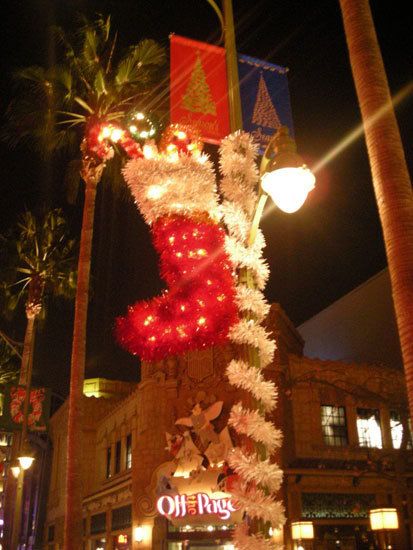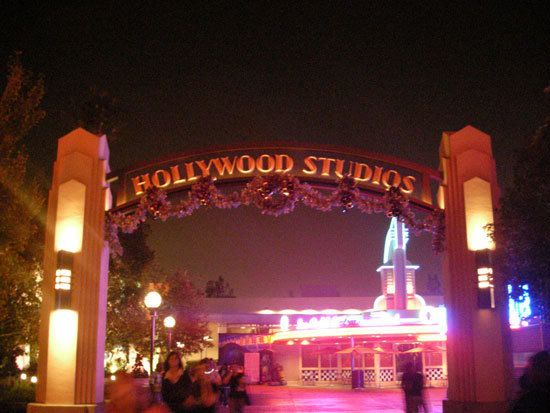 The new Monsters Inc photo op is finally open for business, though, and looks pretty decent. But really, why? Was this really necessary? The area's theme is already a mess... way to muck it up some more!
The Christmas tree at DCA is fully lit now, though. It's a nice tree, but pretty low-profile. What happened to last year's lighting ceremony and Tinkerbell feature?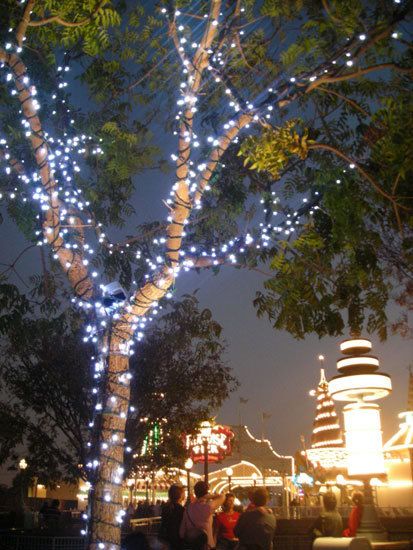 Flik's ...er, Fair is all decked out for the Holidays again: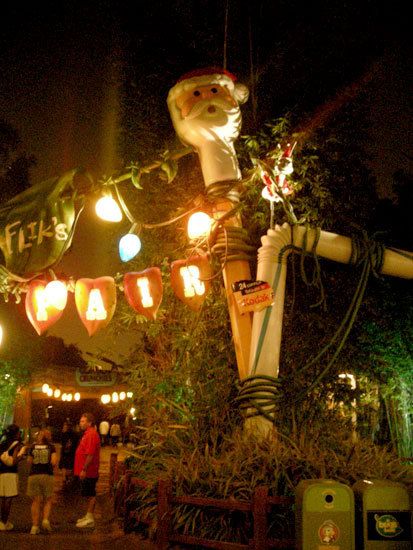 FRANCIS' LADY BUG BOOGIE RETURNS
I had never seen this attraction before it went down for refurb earlier this year. I was expecting something a little more, but all I saw was two turn tables and a need for some barf bags. Let's be honest here, was fixing this thing even worth the trouble?
Anyway, the ride is back open, even though rumors pointed to a January '07 opening at the earliest...
A GRAND CALIFORNIAN CHRISTMAS
The Grand Californian has it's carpet back at the same time it's Christmas tree returns. A bit ironic, considering the tree's lighting was the cause for a fire, which resulted in carpet damage from the fire sprinklers last holiday season... Needless to say, it looks amazing in there.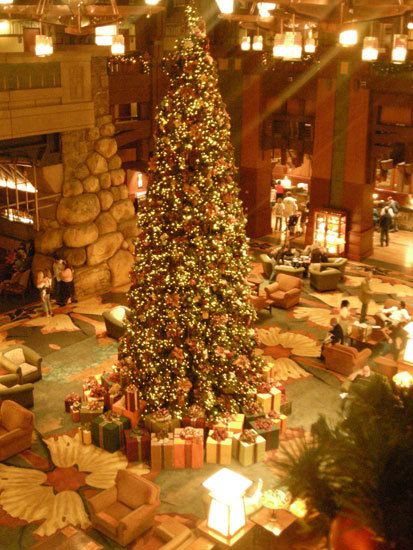 NEW ART & COLLECTIBLES
Looks like some art that they based a couple of the World of Disney window displays off of (or vice versa) is available framed at the Disney Gallery now. It's actually pretty cool: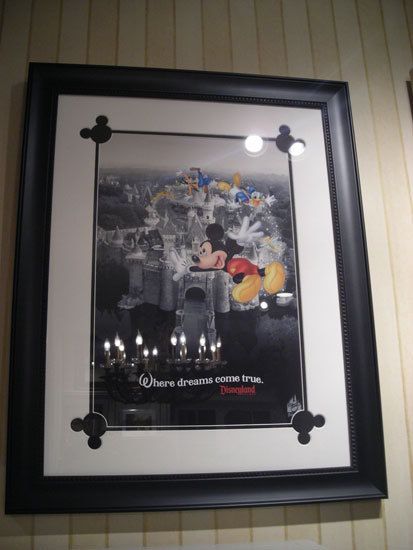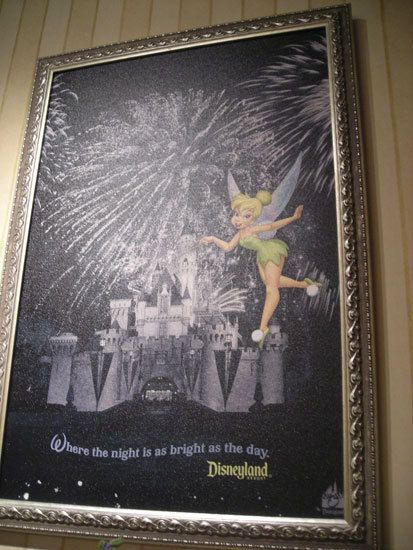 More teacups:
The Disneyland fire engine!
These lidded containers ranged in price from I believe $38-42.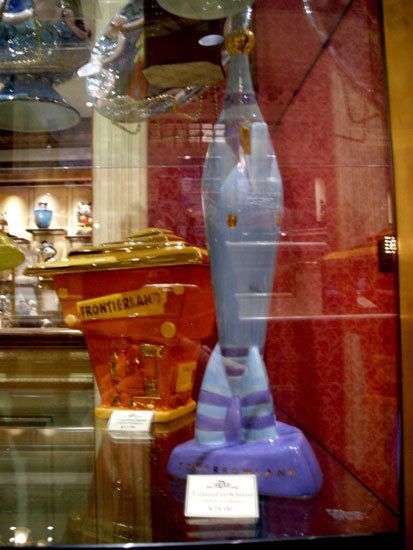 And new limited edition Christopher Radko ornaments are for sale for $44 each...
MY REVIEW OF BELIEVE... IN HOLIDAY MAGIC
I saw
Believe
years ago when it was new and the magical Disneyland "snowfall" finale was the talk of the town. I was a little one back then, so I hardly remember it... but as all young kids do, I know I enjoyed the fireworks.
So Saturday was my first time in a few years since I had seen this show. And boy, was I let down.
Simply put, we've been spoiled. After 18 months of
Remember... Dreams Come True
, I don't think I'm ever going to be able to settle for a fireworks show like Believe ever again. I want a story, or a sequence of events that get my adrenaline pumping, my nostalgia flowing, and my excitement overflowing. Unfortunately, for me,
Believe... In Holiday Magic
shot blanks the entire time.
What is the point of the old woman's introduction? What does she have anything to do with the show? With Julie Andrews, she's helping tell the story of Walt Disney's Disneyland dream. Julie's part can be dropped from the show easily, just like the old woman in Believe. The only problem is that Julie Andrews ties the story of Walt's dream together. The old woman's narrations does nothing of that sort. It's as if she's trying to start a story, and she could very well be, but after her initial introduction is over, the various holiday music takes over, none of it really doing anything but bombarding us with various songs that represent different winter holidays and traditions. In the end, I didn't feel like any of the show even needed to be there. More or less,
Believe
is just a bunch of fireworks half-heartedly tied to thier musical segments.
And that isn't necessarily a bad thing. Fireworks are fireworks, and its always nice to see them lighting up the sky. But boy, am I spoiled with Remember.
In the end, I wouldn't ever take the time to watch
Believe
agian unless I was with people who made a point to see the show on their trip to Disneyland. Otherwise, I'll pass it up without a second thought.
Remember
is beyond words, the show is unlike any other fireworks display I've ever seen, and all of the show elements work together in a perfect blend of music, lighting, special effects, and fireworks to create an incredible show.
Seeing Star Tours' saturn shells going off in
Believe
, a
holiday-themed
fireworks show seemed odd to say the least, not to mention seeing the Haunted Mansion's bride's heart-shaped shells going off immediately after the outer-space themed shells.
The show just seems confused, mixed up, and not really having a point worth caring about. It's basically just saying "Here's a show that shows off our holiday-time political correctness. Enjoy the bright colors."
I didn't develop an emotional connection with any segment of the show, I didn't feel compelled to cheer (like I did the first time I saw
Remember
), and I didn't like the singing.
As for the snowfall after, they might as well give us all washcloths. I'm tired of the soapy bubbles. The gimmick is tired, and I know a lot of you will disagree with me, but I think it's time to give the snow a rest, being sprayed with bubbly foam that you can still hear over the dreadfully obnoxious rendition of "White Christmas" isn't magical anymore.
I promise I'm no scrooge. In fact, winter and Christmas is my favorite time of year. Pass the ham, pass the mashed potatoes & gravy. Pass the pie, fudge, and candycanes. But no thanks on the fireworks.
...Alright... that's all! Hope you enjoyed the update!