First, a little flashback to last Friday, Nov. 11: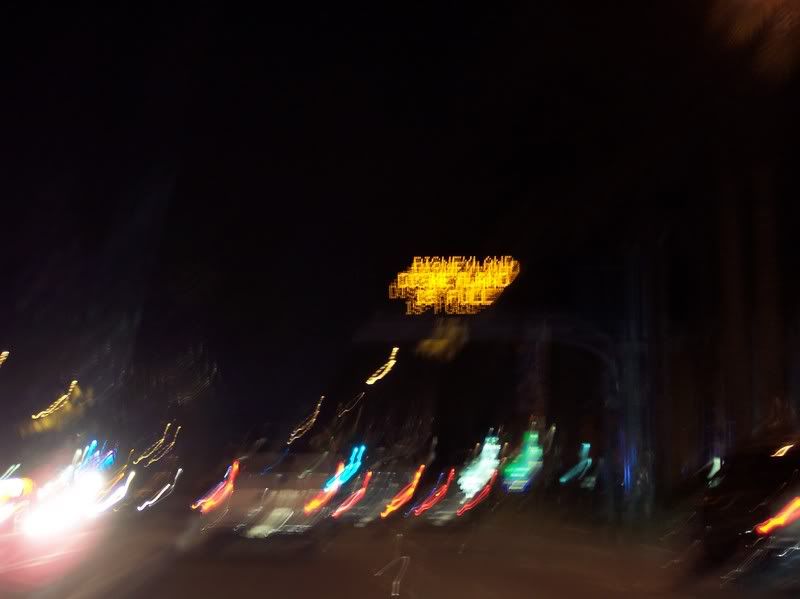 DISNEYLAND IS FULL! Funny. Never seemed to stop them in the past??
At any rate, I really wanted to see the fireworks this weekend, so I got there Saturday morning before the park opened (at 8AM). I had so much stuff to do this weekend and had to be sure I could get back in when it mattered most.
Here is the tree (so big I had to chop off the top - sorry!):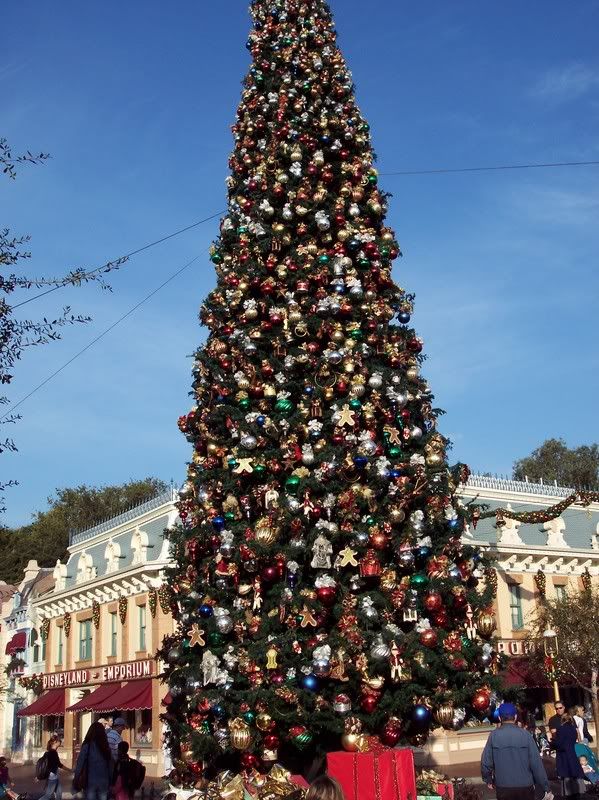 And here is the castle at 8AM:
And now for Disneyland's field guide to commonly found birds!
Pigeons:
Swans:
And of couse ducks: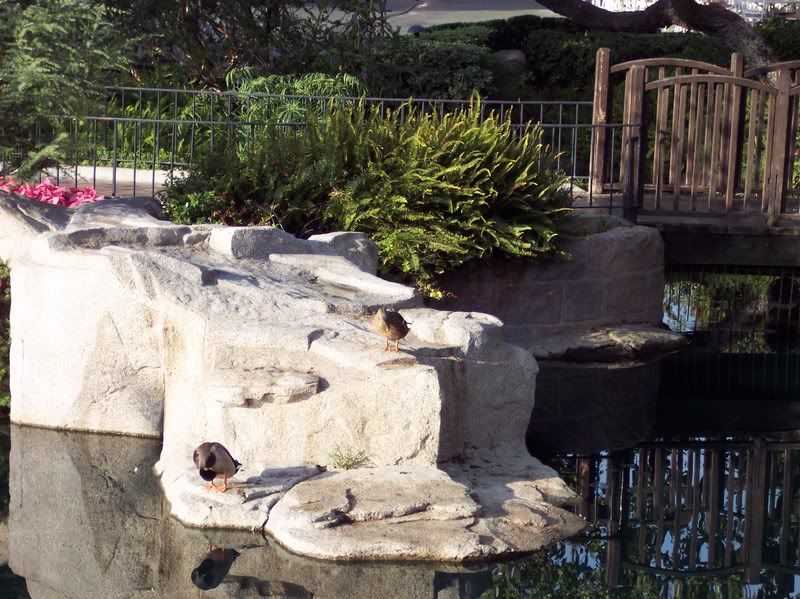 With the ornithological detour at an end, we can get back to our story.
In NOS, I noticed a growing queue by Pirates. But it wasn't for Pirates. It was for the Disney Gallery:
What are all these people waiting for? Oh, that's what:
I was in Disneyland from 8AM to 10 AM and rode Peter Pan, Pirates, Jungle Cruise, and Big Thunder. At a very leisurely pace, I might add. I also picked up FastPasses for Indy, Haunted Mansion, Space Mountain, and Buzz. I then had to get back home and do some yard work that has been piling up for a month or more.
Later that night, I came back to use up the FastPasses. Waiting in line for Indy, who did I meet right behind me but two of the Gumball Rally winners:
It's kind of funny because I ran into the third part of their trio (Aaron, I am sorry I mis-identified you in my previous report) a couple weeks ago at DCA! Brandon and Lindsay here are very funny and crazy crazy (yes I wrote it twice). Brandon assured me he has the prized gumball machine in a place of high esteem, befitting it's regal splendour.
While trying to figure out a good place from which to observe the fireworks, an even more brilliant spectacle flashed before me:
Looks like a Jungle Cruise Gal to me!
The fireworks were great and awesome and I have never tried to do photos of them. Maybe some day I will, but Sadako and Crazy Legs have put up such fine pictures and video that I will happily defer to their expertise.
The following day (Sunday Nov. 19) I spent the first part of the day in Woodland Hills doing tasks not worth mentioning in this (or any) forum. Especially since they prevented me from attending the C.O.W.
I got to DL at around 4PM and felt totally bummed about missing the Meet. But the Happiest Place on Earth does not lack for diversions, so off I went!
I was (sort of) greeted by the Mayor of Disneyland:
Say McCheese! Actually, I went up and said hello to him and congratulated him on his recent re-election.
I wandered over to Big Thunder Mountain to try a few shots using the Night setting on the camera. I like the results: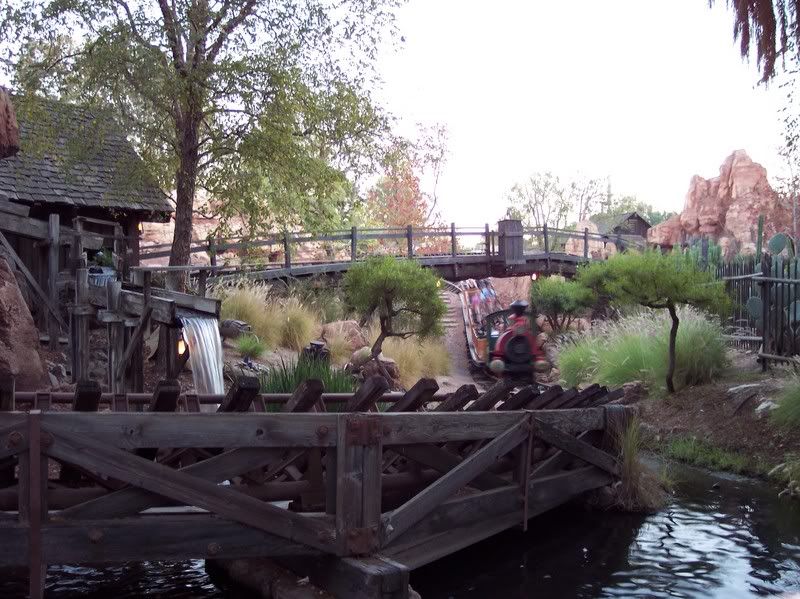 And off to the Round-Up!
I have never been to this before (for whatever reason) so I was curious to see it.
I don't know. That first reindeer was a real heifer:
The Shed!
With some reindeer in the way.
My name is Blitzen. Is my order ready yet?
Something about that reindeer just ain't right:
Seems friendly enough though.
In the waning light, I tried to get a good shot of the castle. This one came out all right:
And look who showed up on my way to HMH: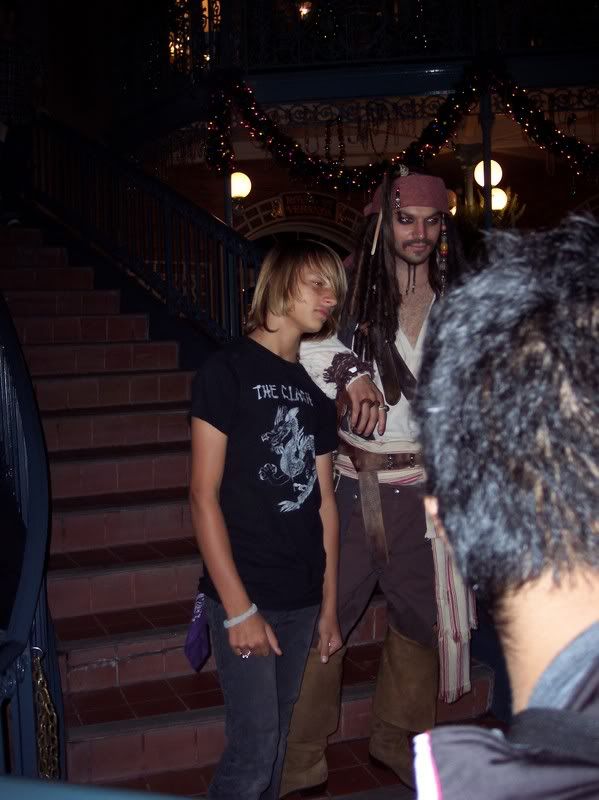 And since the Disney Gallery was getting so much attention the day before, I went in to check it out.
Cool artwork:
And a mini-vacation to mini-DL! Some shots of the Olszewski Main Street:
Remember where you parked!
Look familiar?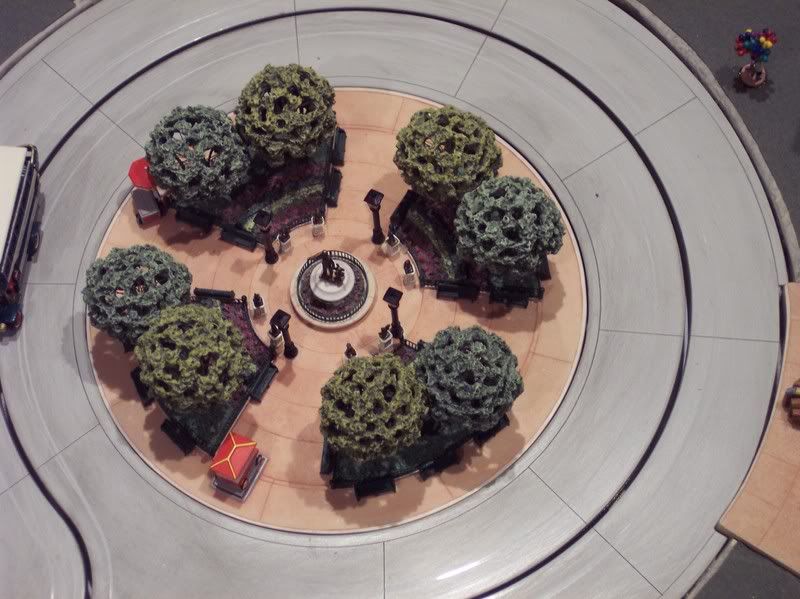 Up up and away!
Behind the counter, they still have a few signed Pirates miniatures:
So lovely and so inappropriate for 5 year old twins!
Killing time while waiting for my Indy FastPass to come due, I noticed the good doctor himself:
GI Jones? I love how they put his picture right there so you really notice how NOT like him the figure looks.
I was on my out to catch the fireworks from the top level of the Mickey and Friends parking structure when I was accosted by a freshly minted Jungle Cruise skipper:
Wait. Is this that deja-vu thing?
Anyway, she directed me to go around the hub counter-clockwise 3 times and then guess which direction I was facing.
I made it to the parking structure and the show is really neat from up there. Not nearly as crowded and you can avoid shoveling snow on your way out. You can also get to your car and beat a hasty retreat when you have to work the next morning!
Which reminds me that I have to work tomorrow as well. Good thing this report is done because so am I. Thanks for joining me.