We went to Candlelight on Saturday for the 5:30 show. Here is my mini report.
Tigerlily and I bought the Napa Rose dining package which turned out to be a very nice meal. After dinner, we were given some very nice wine glasses etched with the Candlight artwork. Sweeeeeet!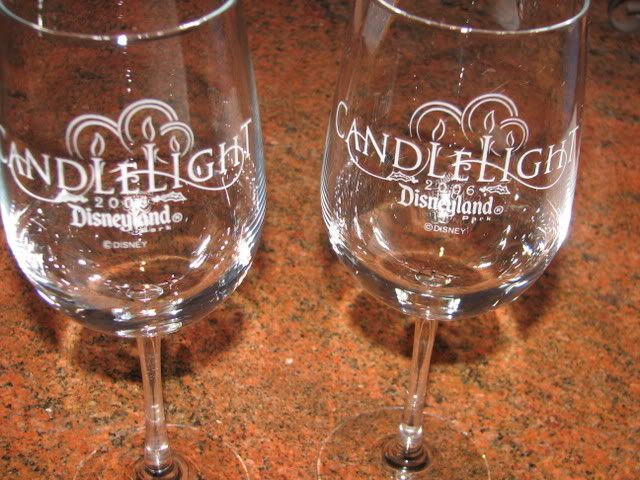 We then walked over to Disneyland, and upon entering, we were directed to a special line for ticket holders. The CM looked at our tickets and said, "Silver seating? Please follow me."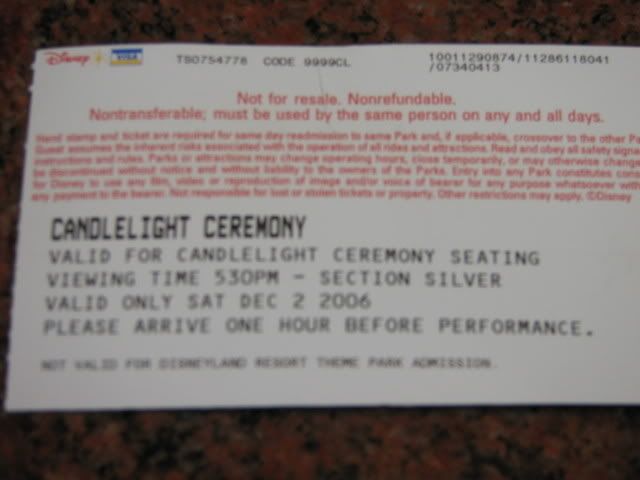 This was our first time to Candlight, and I didn't know what to expect. We go thru the tunnel and came out into Town Square. The CM starts walking us down the front row. She stops right in the middle and say's, "you may sit here if you like, or there are 2 seats together in the 2nd row, and there are a few more further back."
I managed to stammer out that these 2 seats in the FRONT ROW CENTER would be just fine, thank you very much! :yea:
Inside, I was turning cartwheels. Outside I was casually settling into my seat, hoping that somebody wasn't going to walk up and say, "I'm sorry sir, there seems to have been a mistake made, you are sitting waaaaaay over there."
But nobody came along and said that.
I saw Martha Blanding, the manager from Walt Disney Merchandise Event Services. We exchanged pleasantries which was nice. Afterwards, I saw Alice Davis, widow of Disney Legend Marc Davis. Not sure if Alice is a Disney Legend yet, but she should be... and she should also have a window on Main Street.
But I digress...
We enjoyed an amazing performance, Hector Elizondo was great, and can you believe this: I left my camera in a locker because, " I don't want to watch the show thru a viewfinder... and besides it's going to be too hard to see sitting behind all the people from Club 33." Ha-ha, I wish I has known.
Oh well, we had a spectacular time. If you've never been, make the time to go next year. It's definitely worth seeing!!