We arrive on Sunday December 10th at 9:37 A.M. We get to park in Timon parking lot, we love Timon!! They had just opened the lot, so we got first row parking.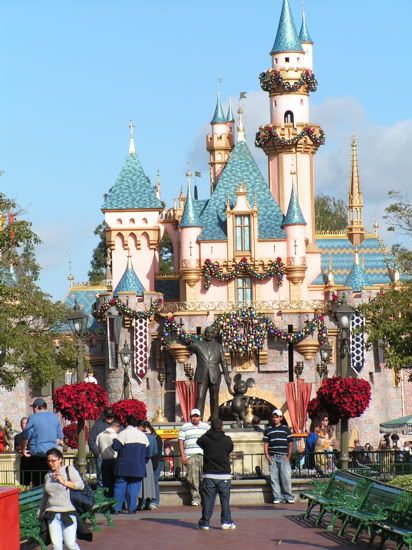 10:04 A.M. we march straight for the December to Remember meet. Castle, ooh pretty.
Blue sky with a smattering of clouds.
Ride Warrior reviews a few items on the agenda.
RadioBarry, Stitch74, JiminyCricketFan, PenguinSoda, and the oldest Gypsie Kid.
Hollywood1939 signs a few autographs, PenguinSoda looks thrilled.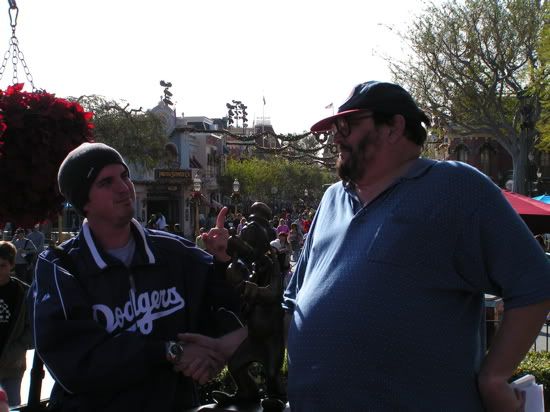 The Angel's fan and the Dodger's fan call a truce. In the mean time, the San Diego fan is taking the photo.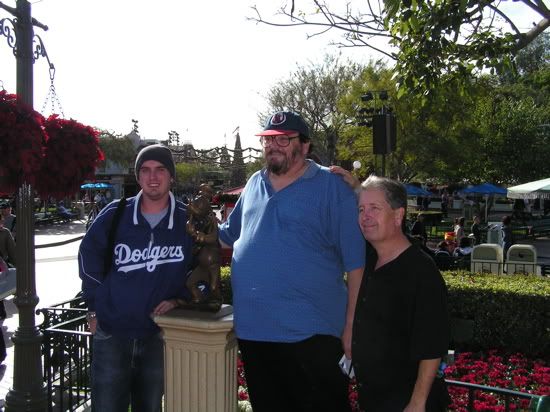 Hollywood1939, Goofy, RadioBarry, and RideWarrior (the Fab Four?)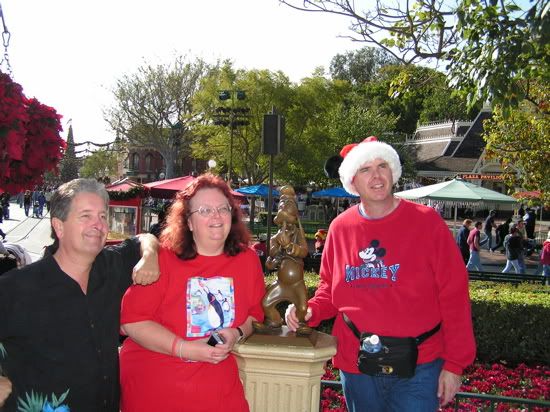 RideWarrior, PenguinSoda, Goofy, and JiminyCricketFan (the new improved Fab Four?)
The group heads on over to IASW, we take a group photo while we're waiting for Claribella and her sister (so sorry I forgot her name).
New improved group photo.
How many in our group? Sixteen?!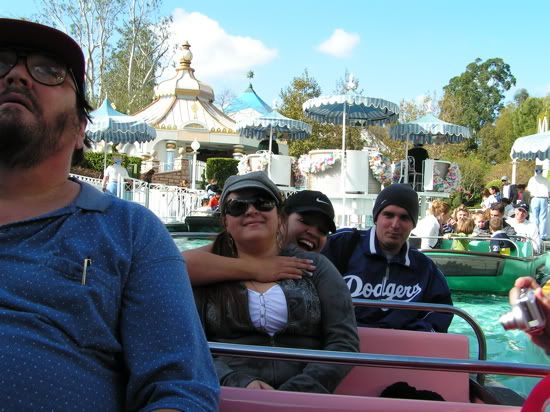 Clarribella holds on for dear life.
Good times.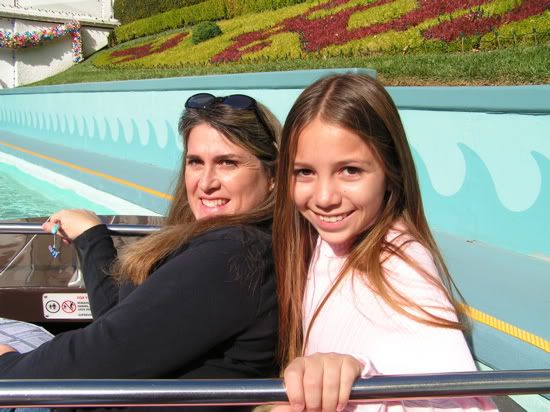 Mother and daughter team from the Band of Gypsies.
Mama and baby gypsie.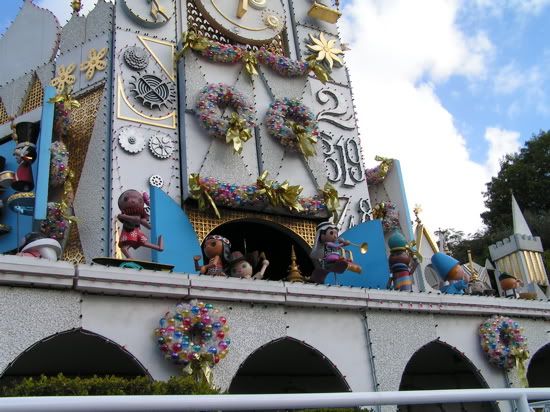 We regroup and add two more, NeverNeverLand and dontbecheekin.
Claribella has a great idea. Or is she just trying to flag down a cab?
We have time to kill before the Jedi Training Academy begins, so we skipped over to Mr Toad's Wild Ride for the kiddies.
The clouds were doing their job of keeping the crowds small.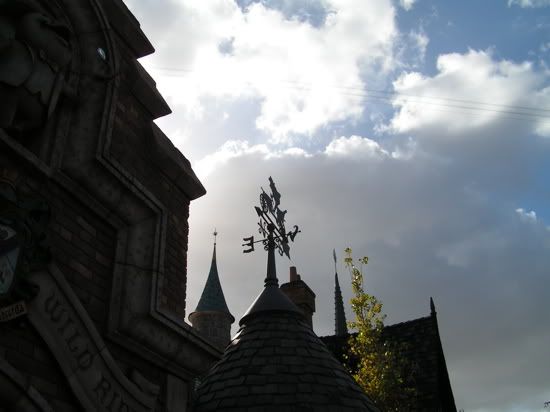 Trying to figure out the safety bar?
Leviathan waves goodbye.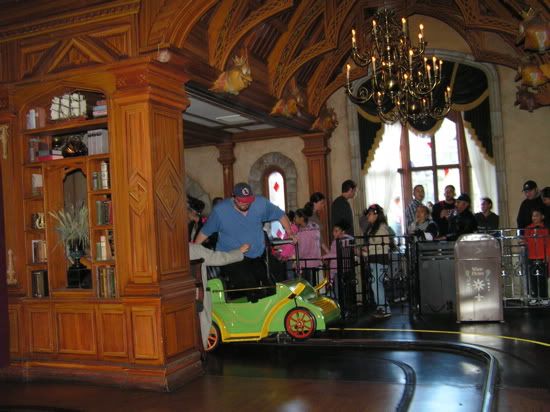 Three lovely ladies with three new lovely hats.
Off to Tomorrowland...
Welcome to the Jedi Training Academy.
Two of the many hopefuls to be selected for training.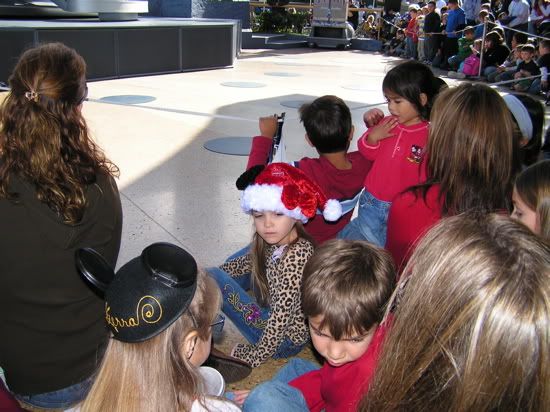 Inching forward trying not to be noticed by the competition.
The instructors make a grand entrance.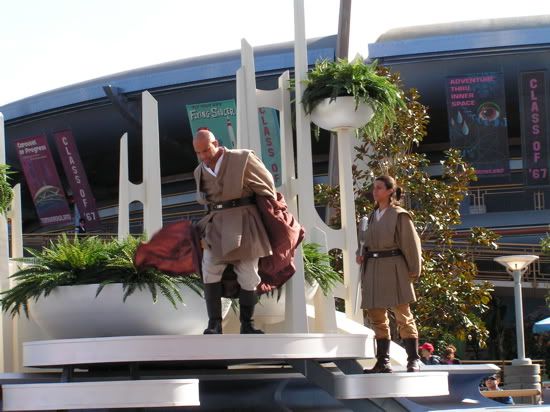 The master Jedi disrobes. I liked his voice, not sure which star system he's from but it had a bit of a british flavour.
"Hey batta batter, swing!"
The first student has been selected. All the hopefuls are screaming and trying to get the instructor's attention.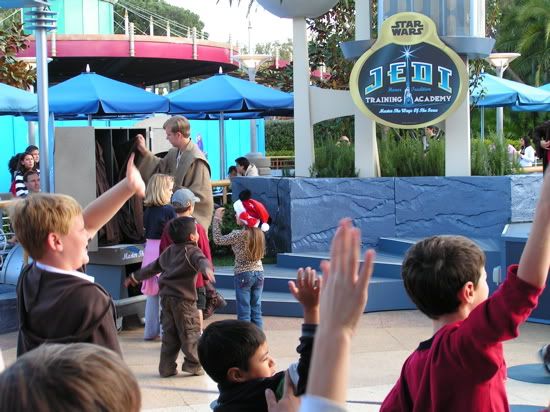 Pick Me, Pick Me...
and Baby Gypsie gets selected in the first round.
Round 2, the older Gypsie is selected as well. The force is strong in our family.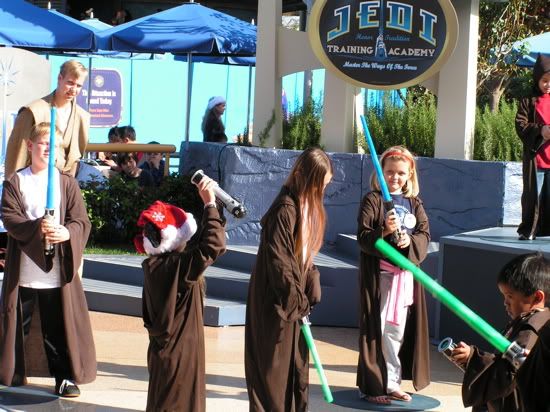 "How do these things work?"
"Um, I'm having technical difficulties over here."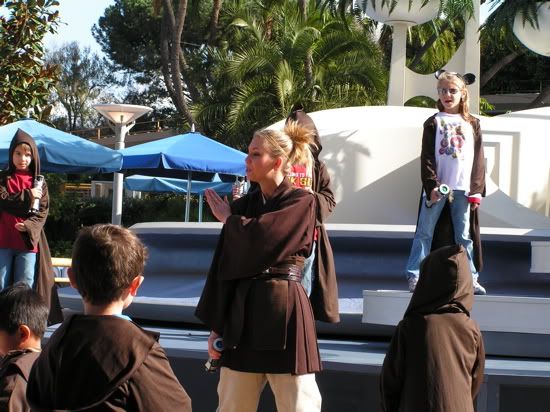 The Junior Instuctor demonstrates how to disarm an opponent, and she literally means dis-arm.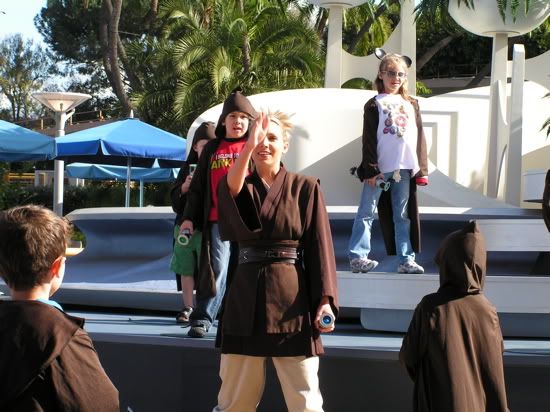 ...and now go straight for the head. ( This is so Disney, not violent at all. )
"None Shall Pass!"
Everyone duck!
Training is disrupted when an uninvited guest shows up.
Darth Vader is attempting to lure our young Padawans over to the darkside.
and he brought back up.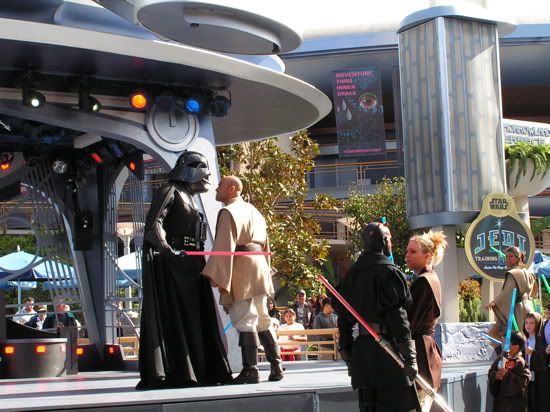 Words are exchanged and things get heated, ala Mickey Mouse and Donald Duck style.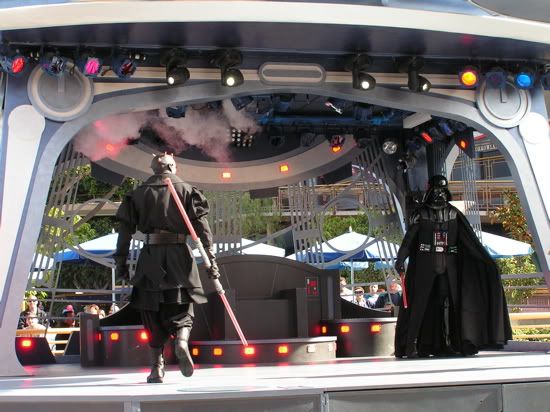 The forces of evil are defeated by our young Padawan students. Not a single child would turn to the dark side.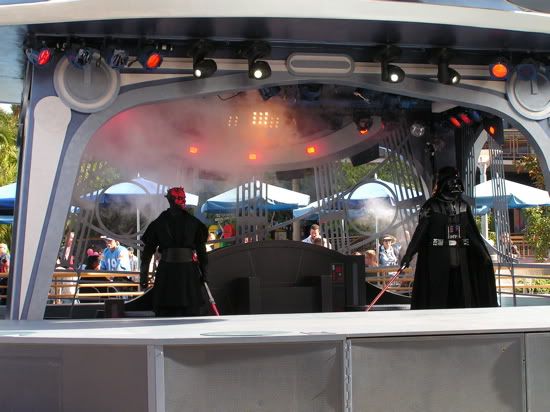 and they returned to the depths from which they came...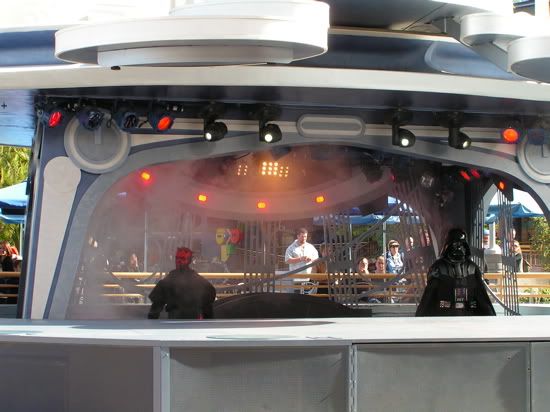 Slowly...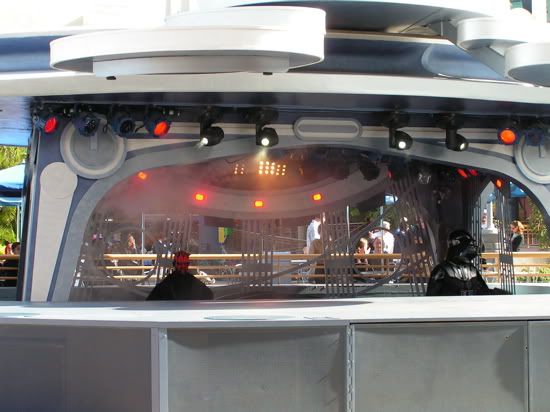 Still returning to the depths...
and they are gone.
It took the stormtroopers a minute, but they figured out it was time for them to leave too.
Ladies and Gentlemen, I present the Jedi Training Academy Class of 2006 (in earth years).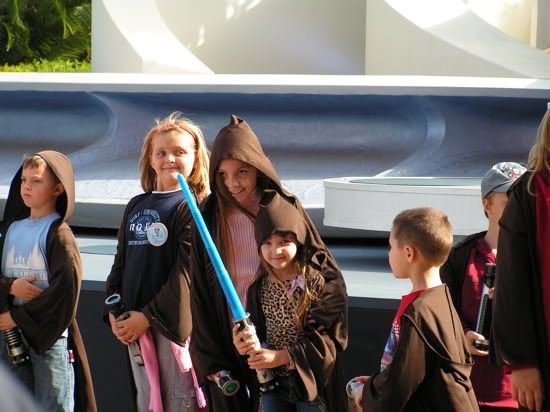 Oh Daddy, Christmas is going to be very good to me this year, isn't it?!
At noon, we ran over to the hub to meet up with the rest of the gang. Greetings were exchanged, and photos were taken. Then we headed over to Santa's Reindeer Roundup to continue our VMK quest.
Pardoned Turkeys.
Santa has really rosie cheeks today. Perhaps too much eggnog? Is that where all the rum has gone?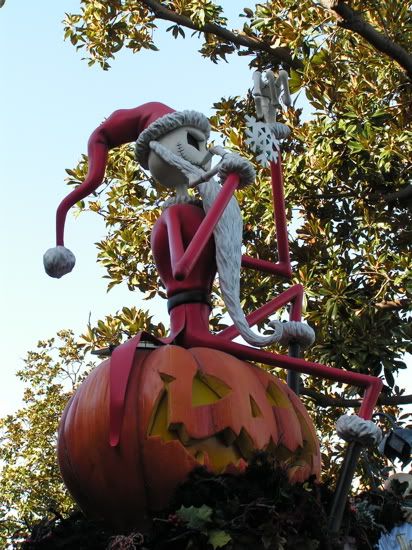 From one santa to the next santa.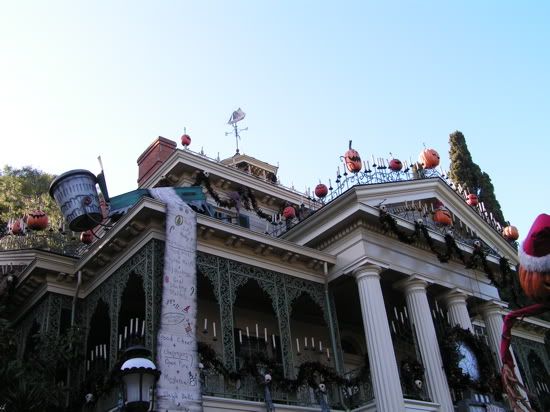 My husband mutters to himself "Haunted Mansion, not Haunted House. Haunted Mansion." He's such a muggle.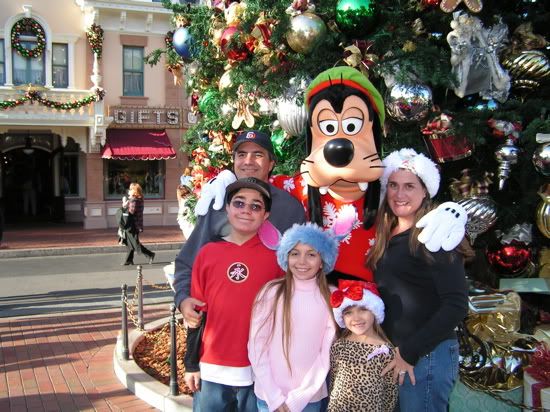 We headed down Main Street to secure a spot for the parade. But had time for a quick photo with Goofy.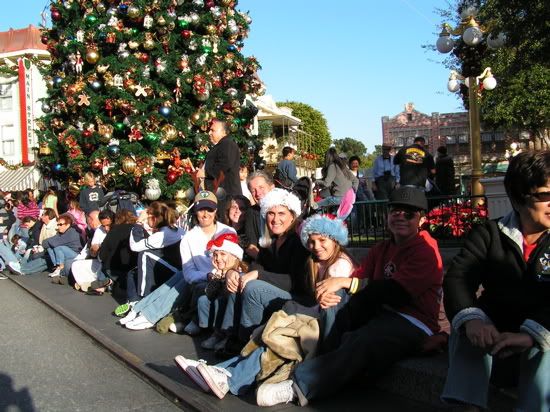 NeverNeverLand, dontbecheekin, and RideWarrior joined up with us for the Christmas Fantasy Parade.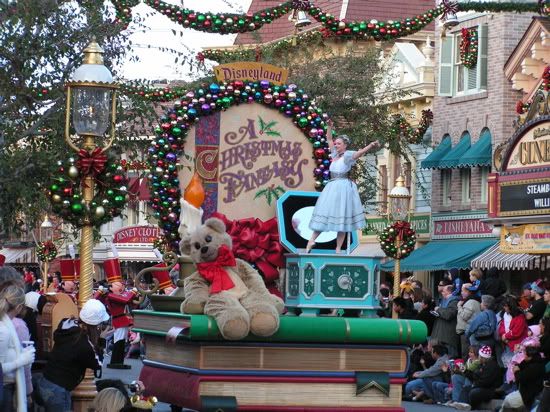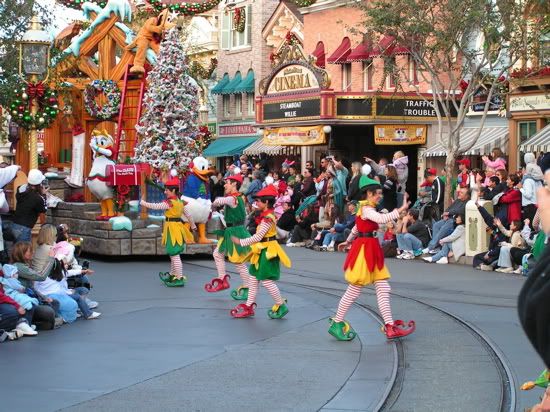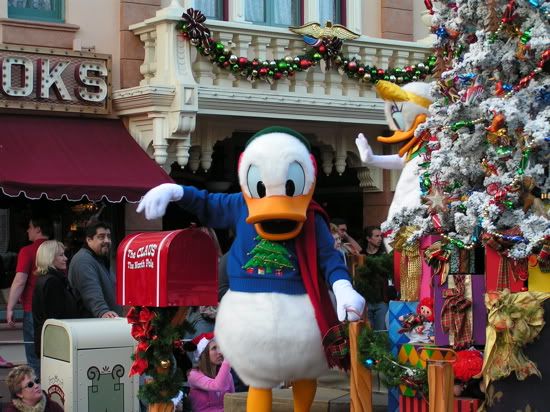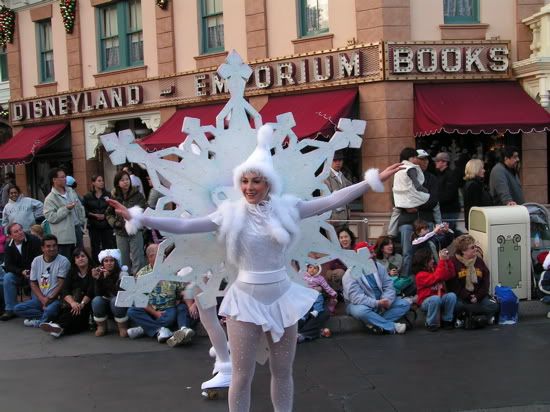 My husband who was born and raised in San Diego, California, whom has never wanted to live in a cold climate, has suddenly discovered a new fondness for snow.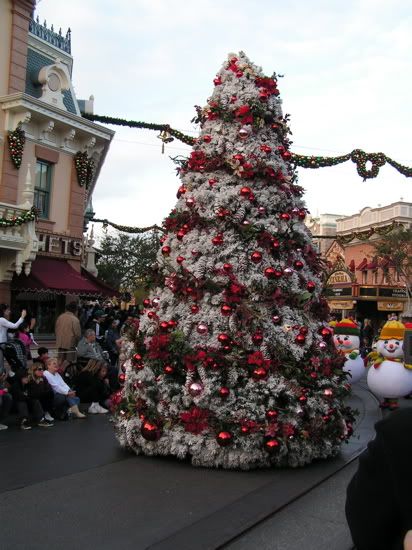 My son comments, "Mom, moving trees are disturbing."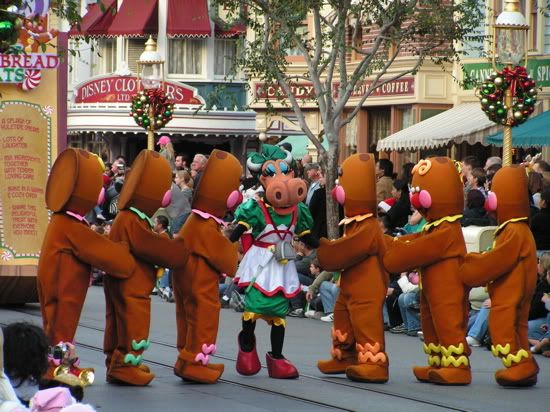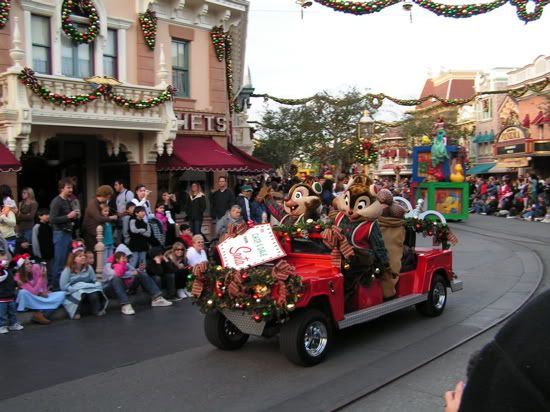 Someone needs a hug.
Killer Reindeer! OMG, talk about disturbing. This thing will haunt my dreams.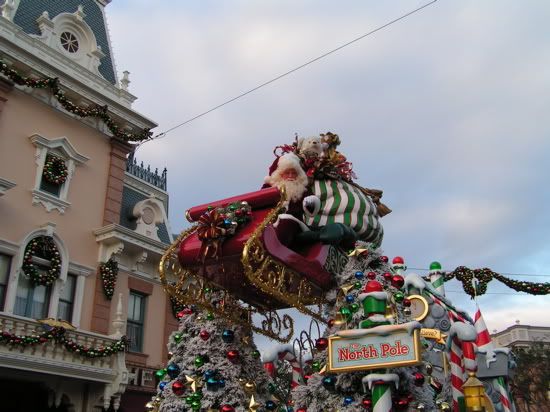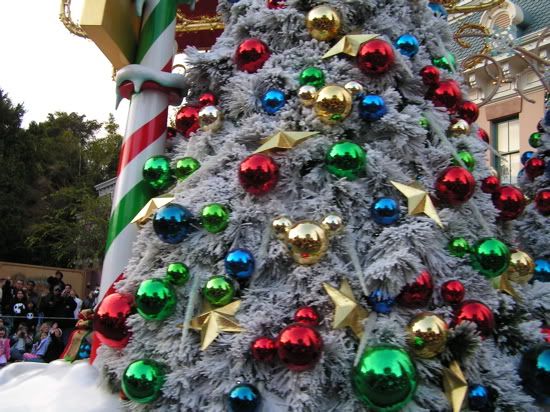 Hidden Mickeys.
and that's the end of the parade.
After this we broke away from the group and decided to use our Space Mountain Fast Passes.
It was so cold that night, that my fingers went numb. So we decided to eat at Rancho del Zocalo, because they have heaters.
On our way to Rancho del Zocalo, we snapped off a few quick pics of the castle.
...and snowman.
After Dinner we still had some time to kill, so we cruised on down to Critter Country where we rode on The Many Adventures of Winnie the Pooh, twice. Splash Mountain had virtually no line what so ever, so we tried to get the kids to ride SM, but even they didn't want to get wet.
Headed over to New Orleans Square, rode Pirates and then checked in at the Blue Bayou.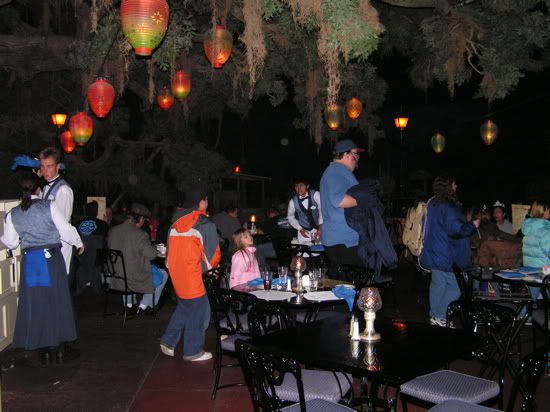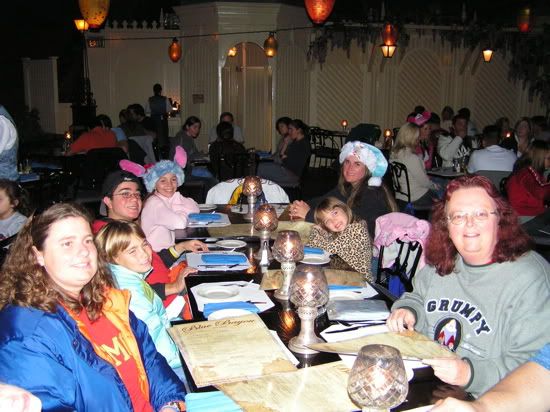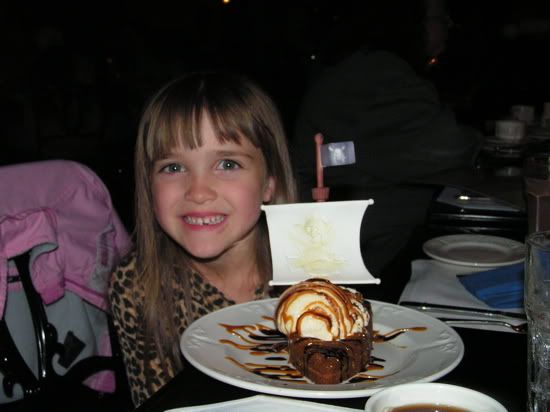 My baby Kracken can't wait to get her tenticles around this Flying Dutchman. After she inhaled the dessert, she fell asleep, leaving me to carry her to Main Street where my husband was waiting. He had left us at the Bayou, because he wanted to grab a few more VMK cards before we left the park.
Our last look at Main Street as we leave the park.
We had a great time meeting everyone. Namely RideWarrior, PenguinSoda, Stitch74, Hollywood1939, Leviatan, RadioBarry, Clarribella, NeverNeverland, Dontbecheekin, and JiminyCricketFan. It was especially nice to see Fishbulb, Dusty Sage, Crazy Leggs, Monorail Man, Morrigoon, MCow1, Chernabog, JudiMouse and all the other great MCers.
and that, as they say, is the end of my tale.