Just so you know before hand, MaiRulzYou, my Mom, Dad, brother, and me all went down to Anaheim from Arizona for our winter break at Disneyland! 6 hour drive here we go!
We had arrived from Arizona only a few hours ago around 8:15 am and decided to sleep most of the day off before actually making our way towards the park so we got some breakfast really quick at an old Coffee Shop on Katella, great people, know them for years! After that, we rushed over to Beach and Ball (funny stuff) to get a room at the Moonlight. We spent the majority of our day... sleeping.
We woke up at about 5:20 pm and got something to eat at Fuddruckers across the freeway (great food and atmosphere to die for) then made our way down to the park at about 7:15. It was really dead around this time so making it in the Parking Structure was no problem what so ever. Parking at the top level was really nice especially with the weather, (black sky with a slight breeze) we also enjoyed the lovely lights off in the distance from DCA, great stuff!
After riding the horrendous tram ride filled with propane and cold air, we walked our way towards the famous turnstiles of Disneyland. With great CM service at the gates and even better at City Hall, we practically rushed our way over to the Matterhorn after being closed our last visit. It was a great refurb with the track being smoother and paint looking great. With Matterhorn out of the way, we went over to Small World and rode it with a great amount of joy and excitement.
It was a great overlay with a lot of time and work spent on an already great attraction, but I also saw a lot of places needing refurbishment. One that REALLY caught my eye was the grand finally scene, the roof actually had holes in the ceiling where it looked like someone ripped out ornaments or something that were originally placed there, you could also see a maintenance ladder below the water canal in plain sight which I thought was odd right after seeing the wholes. Other places of refurb needed included the spots along the walls of where you leave and enter the show building, and the first bell for the Mexican show scene. Otherwise, a great ride!
Small World Itself
My Dad, My Mom, and Me infront of Small World
MaiRulzYou!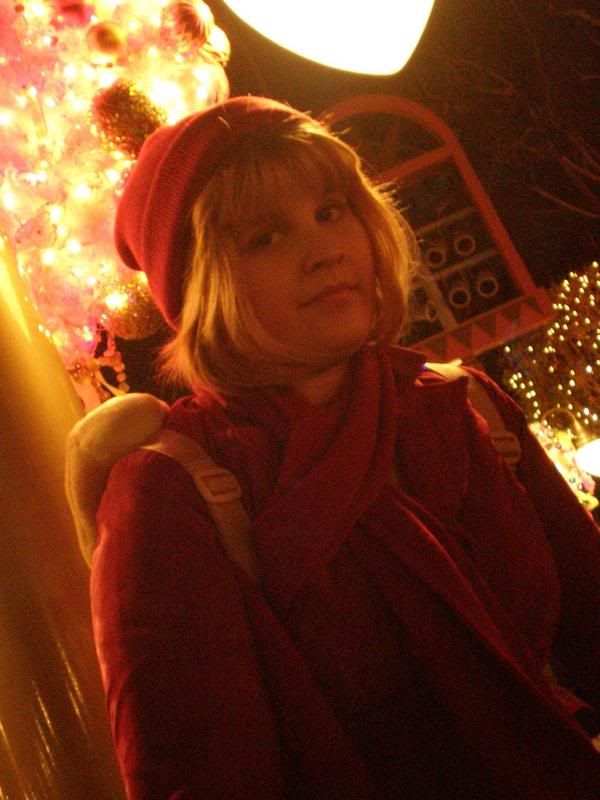 We then made our way to the restrooms at Toon Town (does anybody else think that the funny phones outside aren't just down "Temporarily?") then to Tommorowland to Space Mountain.
WOW! What a great ride! I had met a CM working the fireworks crowds a good while ago when he was working at Buzz. His name was Fred (which has been changed) and he's a great CM with a lot of pride for his job. We met then and talked a lot about what it was like working at the Magic Kingdom and other things of that nature. Before he left to man Buzz again, we exchanged numbers and ended our meeting very well. A few months ago, after our first meeting, I had met him again when he was manning Space Mountain (his dream job) and after, he gave us free instant fast passes!
Me and Fred in the front row!
Fred and Me then parted ways and made our way towards the band Knyght Rider to see what they were all about. Great vocalist I thought and an even better guitarist to make it all better. I loved the Gibson Les Paul Deluxe he was using, a nice goldtop and a great solo made it all the better, plus he had a nice Gibson SG 61' Reissue off to the side which I also enjoyed seeing. After the band, we went over to Small World for some fireworks!
I had never actually seen this Fireworks Show and had heard some good things in-front of Small World in which I was delighted to see some awesome projections on the show building and snow, unfortunately, I kind of enjoyed the 50th fireworks way better, which I remember that they kept the fireworks even for Christmas.
Fireworks Photos!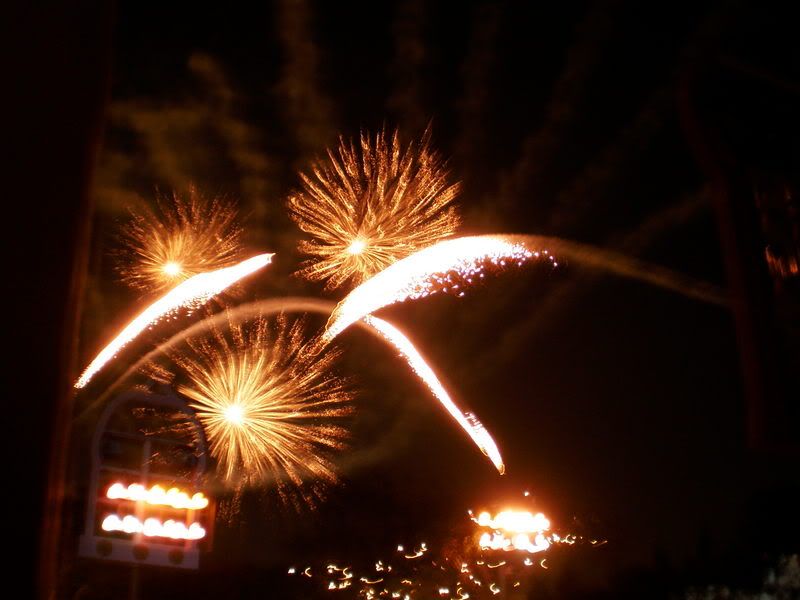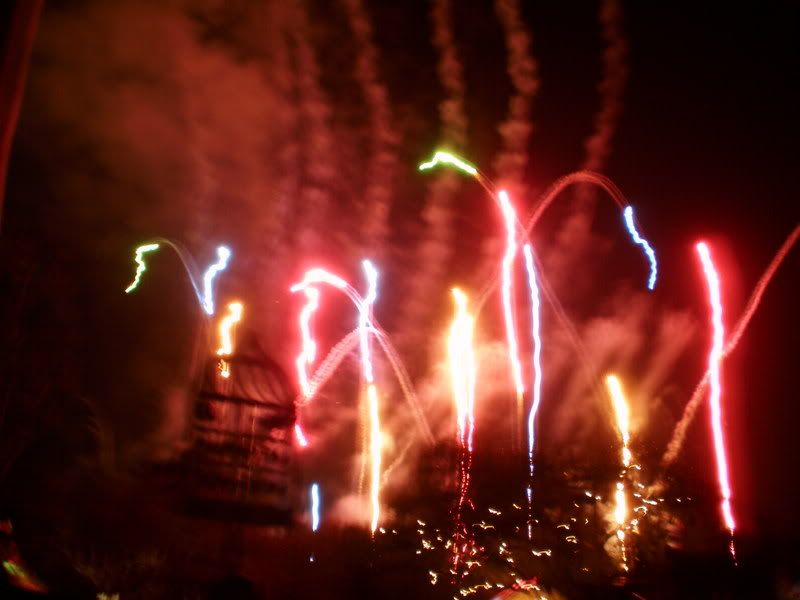 Snow!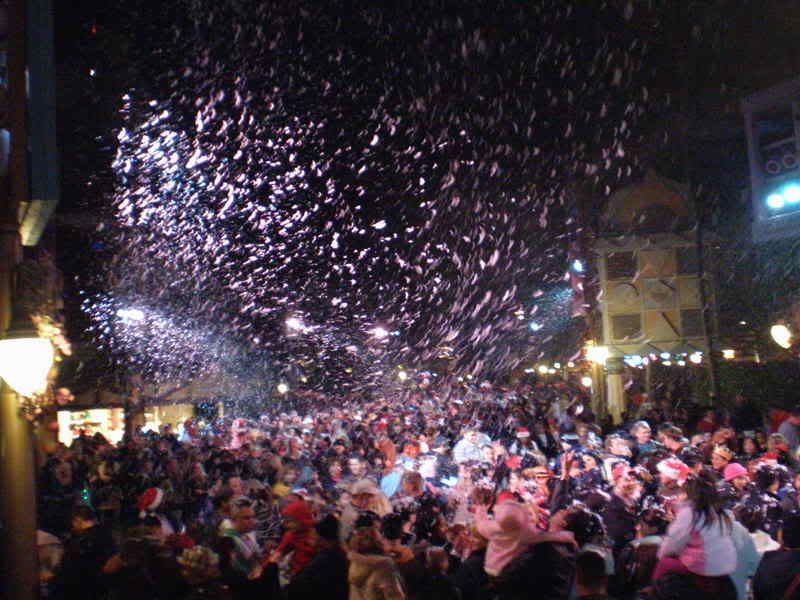 After the Fireworks we rode on some Fantasyland rides and then went on Big Thunder. The Wildest Ride in the wilderness was a great spin, and after which, we got some fries at the McDonalds Wagon (when you actually working at McDonalds, you'd think you'd be sick of it) then rode Pirates, right before Fantasmic ended, always a wonderful experience with the nice additions really taking a place in my heart.
BRAHH!!! RANDOM PARATE!!!! BRAHHH!!!!
This concluded our day at the original Magic Kingdom with us hitting the bathrooms before embarking on a horrendous wait for the Tram to take us back to our van.
Final Outlook: I thought the park was really nicely decorated with Christmas ornaments and the CMs today were really on a role today (with some of them really getting my nerves as well.) I also noticed a bad smell in the shop underneath the castle and a lack of music in the park where I remember some being which kinda deadened my experience just a tad. Overall, I'd have to say it was a lovely day(night) in the park with the best just to come!
(Sorry for the bad vocab and lack of description, I'm just kind of tired...)