Here are some pictures of things I noticed today (1/24/2007):

First the good stuff:

In my last trip report, I had posted a couple of pictures of things needing TLC.

This was one:



I am happy to report that is was fixed. Here's a shot from today (1/24/2007):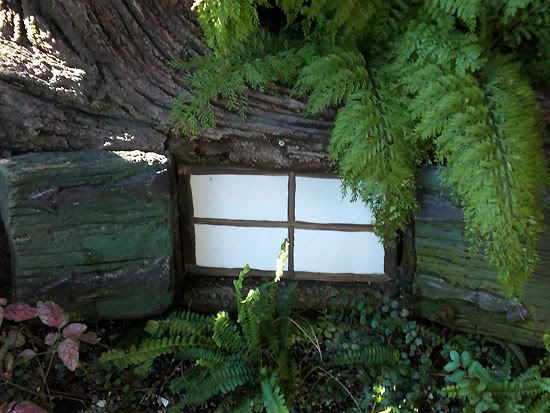 This made this Disney Geek really happy.
I think there are CMs at the park who keep an eye out for stuff like that and it makes me glad.
Now whoever lives in that house won't have to worry about the cold weather getting in...

Again, empty empty empty today.
People should remember when these empty days occur.
It's a great time to visit the park.
Skip some of those busy holiday days next year and visit DL mid-January.



The Dapper Dans were in good voice this morning.
They had a good bit at the end.
After they sang their last song, one of them said, "If you enjoyed us, we're the Dapper Dans and if you didn't we're the Mormon Tabernacle Choir."
I thought that was funny.
:lol:

(No pic but...)
The light poles on Main Street look great. Most of them are done now. They are muy shiny with new paint. Awesome.



So, I'm in love with Mary Poppins. She spent a great deal of time with this little girl.
And the best part about it was the CM was in character. That meant she was a nanny. She told the girl "chin up" and "smile please" like a nanny would.
Nicely done.



Mary also asked the little girl what her favorite part of her movie was. The girl said the Supercalifragilisticexpialidocious part.
Then the CM sang a little bit of the song for her.
Love Disney moments like this.

Another Disney moment occurred in Critter Country when Tigger swiped a man's french fries and pretended to start eating them.
The man was taken aback but eventually played along.
The gathering crowd loved it.



The gold paint is disappearing from the castle.
Here you can kinda see the primer going on the trim.
In person, you can see the squirrels getting the same treatment.
(Heck, I'm no Darkbeer. These shots are as good as it gets for me... Ha ha.)


------------------------

-----------------------
And now, the not so good stuff:



I am not a big fan of the cloud swan things in the moat.
I know there's the Year of a Million Dreams thing going on but the parkwide advertising is going overboard.
I mean, you're already in the park... why do they need to advertise it to people who already paid to get in?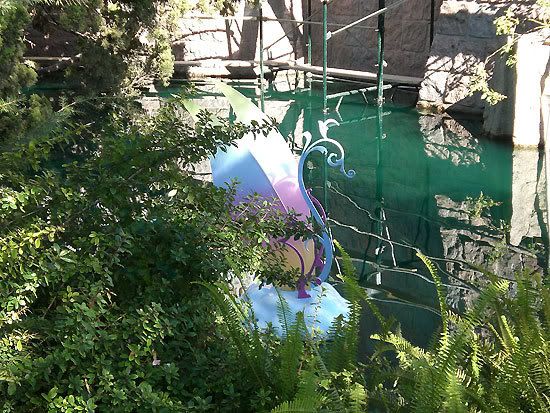 Here's one hiding in the bushes...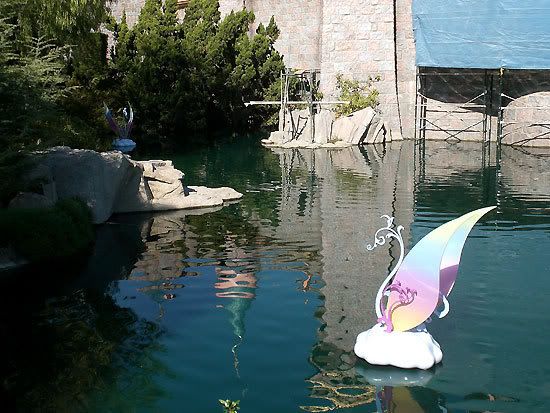 Very ticky tacky...
On top of how yucky they look, they also float.
They are tethered to the bottom of the moat by a chain or something and float around a little bit. Bleh.



What's worse is that the newly painted light poles are now advertising YOAMD, too.
I'm hoping not all of the poles are going to get this treatment.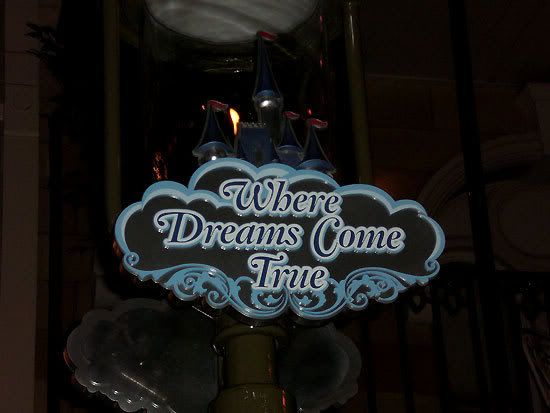 Overkill...



Okay, here's a head-scratcher. Didn't they just put up this neon sign? Now most of it doesn't light up properly... Yikes.



I thought the lights were just warming up, but alas it stayed all caddie wumpus like that all night...



And here's a shot of the "Arcade" which should read "Starcade". I thought that was funny. General You said it was pirates theming gone amuck. Ha ha.


That's about it. Not much to report. I had a great day today.

And by the way, there's still no Disney TLC for Ariel yet.



Arrrgh!