A big thank you goes out to everyone who put all the hard work into this fun anniversary meet. It was truly a blast and one that will not go unappreciated!!!
THANK YOU
ADMIN NOTE
To our entire MiceChat family, thank YOU for being not only the best Disney fans in the known universe, but a fun social group to hang out with as well. If nothing else, MiceChat has slowly become more than just a website. We are now a very social group as well. I'm sure that the Shriners and Optimists would be thrilled to have the enthusiastic hordes show up to their events that we do to ours. You guys ROCK the UNIVERSE!
And to all of the staff of MiceChat, MiceAge, O-Meon, and Yesterland - THANK YOU. You are an amazing and dedicated group of people who truly love Disney and tirelessly devote your free time to sharing that love with others. Most don't realize how you suffer at times to fulfill your commitments, but please know that whether spoken or not, your efforts do not go unnoticed. You ARE appreciated, and you ARE the best team of Disney fans that I could ever hope to be associated with.
And for all you wonderful and thoughtful MiceChatters out there, your thanks in this thread is truly heartwarming. But I think this picture is all the thanks we really need. It is proof that you do care, and you do understand what we are all about: Community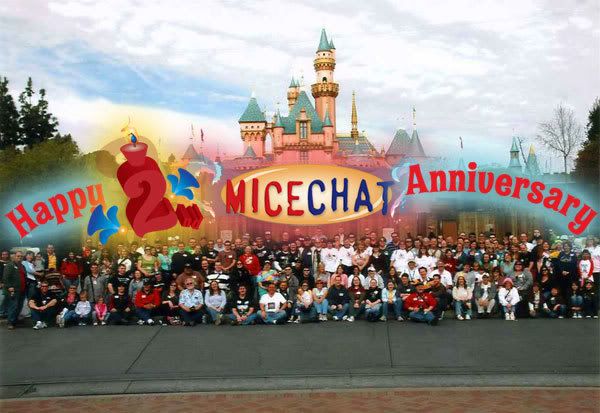 Whether you have been with us since the early days or have just recently found us, whether you live on MiceChat or just visit from time to time, YOU are the reason we are here. Without YOU, we are just another Disney board. The real thanks goes to you!

Thank you from the entire staff of MiceChat.com

Most humbly yours,
The Dusty Sage