What an amazing couple of days. My biggest fear was that I would suffer from name overload. I mean, how many names can a human remember? There were so many people we hadn't met, but, one by one, we met them and talked with them and shared our passion for this little corner of the net. There were so many folks, we didn't begin to meet everyone, but we made a pretty good dent, and the fact is, I don't think we will ever forget any of you. Where does this site get off having so many wonderful people? We are honored and tickled pink to be a part of this moment in time.
Saturday, we arrived at our hotel too early to register, but they gave us a parking permit and a temporary pass for the shuttle. We ended up walking to the park, since our hotel was located just behind the Tower of Terror.
On the way, we saw this great marker in the sidewalk. How would you like to have that puppy to hang above your fireplace?
We entered DCA and stopped off at Greetings from California to see if there were any new pins that caught our eye. We found a couple, of course and while checking out, Rick noticed that a Yesterland DCA ride was represented on the wall.
If you've never seen a Superstar Limo, here you go.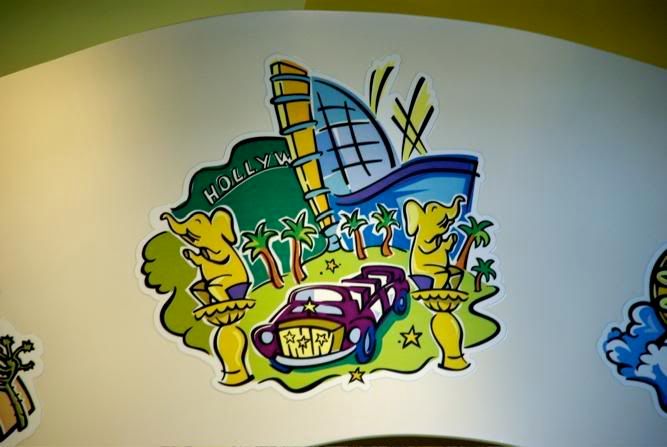 We arrived at the Cove Bar right at 2:30. A few dedicated members beat us there . . . some by quite a time by the looks of it. It was overcast and a few sprinkles fell, but nobody's spirits were dampened by the weather. It was so great to see old friends again and to meet new ones.
Sir Clinksalot and Belle were there. These two are so much fun to be with, we were thrilled to be able to spend some more time with them.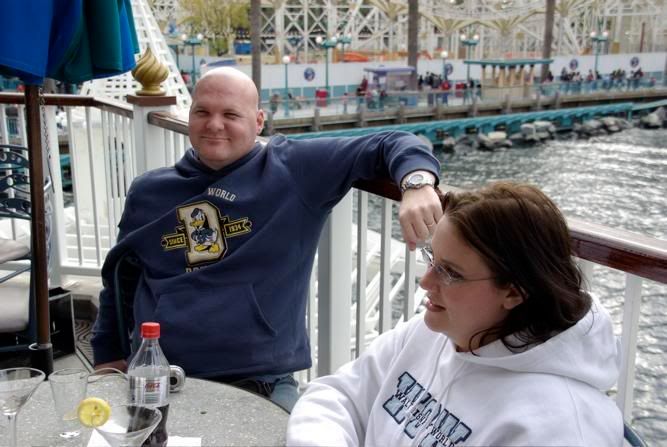 Mamabot, who we haven't seen in ages, looking way hot!
Reggie, XHarryB, Tim and Julia were having a great time.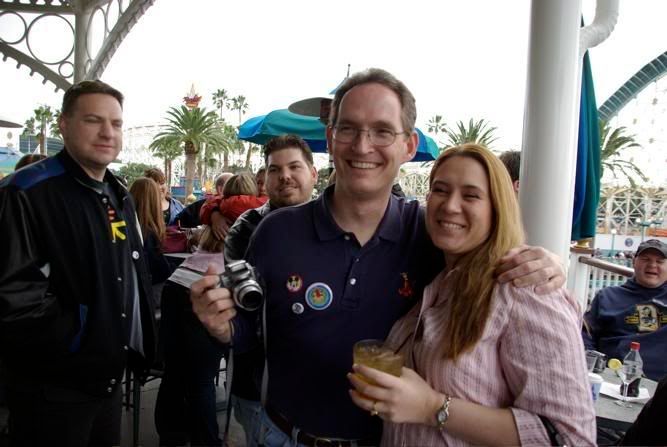 The shy, demure VillainsFan. We always love to see her.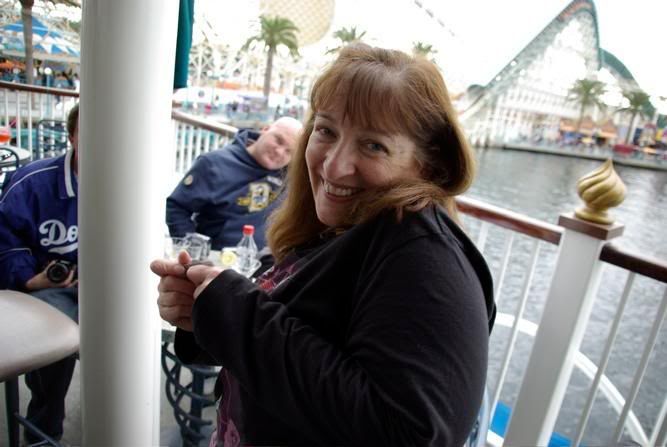 Hollywood1939 and Fishbulb may have had a couple of cocktails.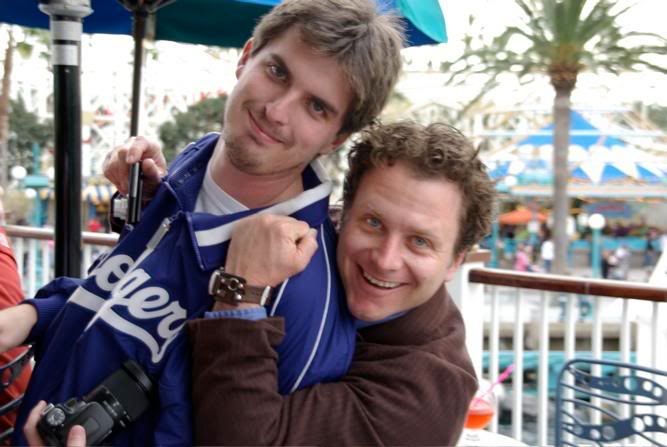 Hollywood, Dusty Sage and Sir Clinksalot.
Our first time meeting IndianaJen . . . what a sweetheart. Fishy shares the love.
There were two others I was thrilled to meet, but I have no photos since when I was around them, all I wanted to do was alternate between hugging them and talking, TwinMom and EarKid are two of the nicest people one could ever hope to meet. They have both been so dear to me on the boards and I was so anxiouis to meet them. Thank you both for making the effort to attend this weekend.
FishBulb demonstrating the proper way to get full value from your cocktail.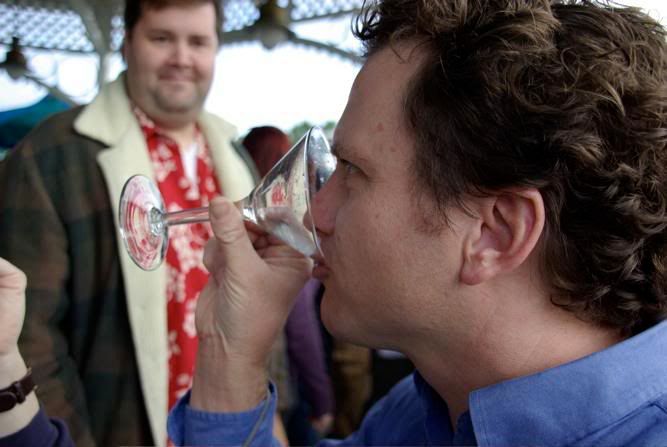 We met VillainsFan and the Clinksalots for dinner at Whitewater Snacks. LuvsLilo and disneytim were at an adjacent table and joined us.
While there was no alcohol involved at dinner, we have to wonder if Gregg still had a glow on. That or being on a two night date with the lovely Belle had him a little giddy. Regardless, somehow, he ended up with a bit of dessert on his nose.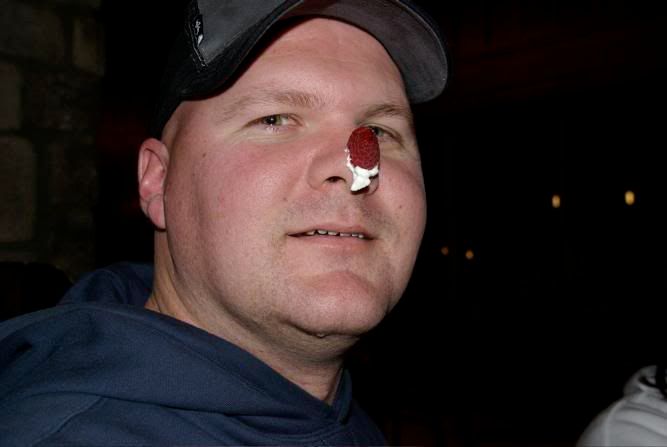 Gregg was the hero of the meal when Whitewater's reputation for taking its time to deliver meals chose Joanne to be the night's victim. After 40 minutes, all of us except Joanne had been served, so Gregg went over and talked to the staff and wrestled an order of steak nachos out of their grip. By way of apology, they delivered the dessert at no charge, some of which ended up on his nose. Regardless of the service, we had a great time. After dinner, we rode Monsters Inc. We had a ride stop just as we got to Roz. She wouldn't shut up. While we were stopped, I think she delivered at least 4 lines to us.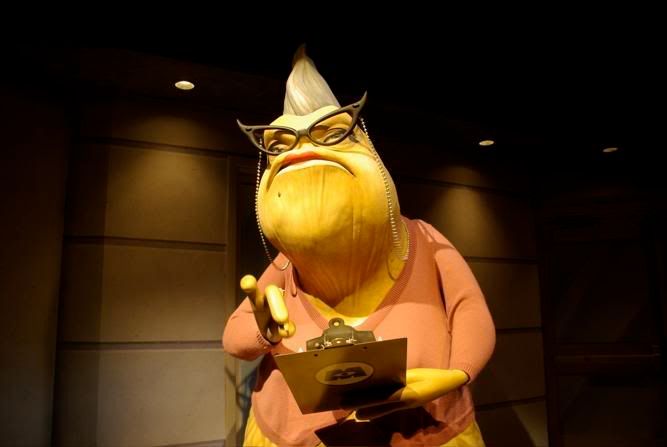 We then headed to Disneyland to join the others to watch the fireworks. Here are some of the hopefuls, waiting for the fireworks which were cancelled because of wind.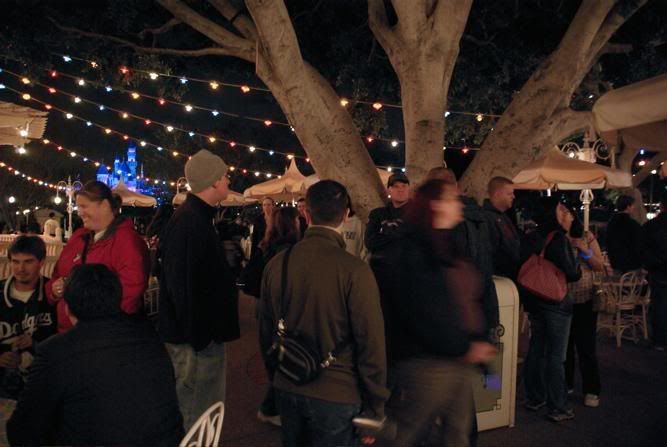 This is as close as we got to bright lights in the sky this night.
We drug ourselves over to Hearthstone Lounge at the Grand Californian. It was packed and, yes, we were pretty much the entire clientele. One drink and it was time to head back to the hotel so we can be up bright and early for the really big day. As if day one wasn't great enough.
We are not early risers and when you add that to living 50 minutes away from the parks, we don't often get there before noon. Today was to be different. We had baked and packaged over 300 cookies to hand out to Chatters as they arrived at the picnic area. Since our hotel was on the other side of the esplanade, we drove over to Mickey and Friends. We were surprised that after driving into the parking structure, they directed us back out of the building to the left and into the Pinnochio lot. A first for us.
Our lonely car in a Disneyland parking lot. Brings back memories of the good old days.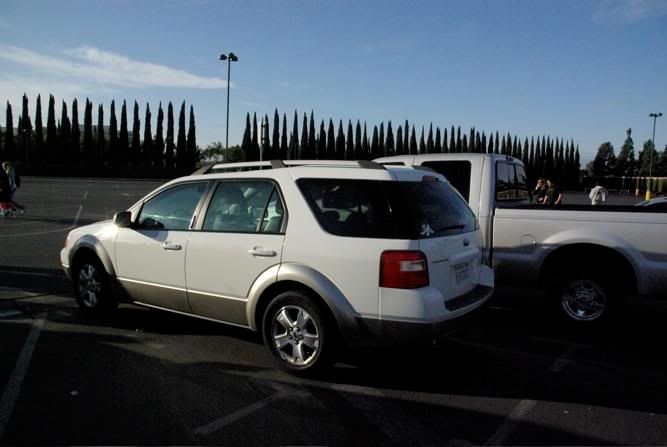 We ran into Hastin who rode the tram with us. We were not the first to arrive at the picnic area, but only a couple of others were there, allowing us a moment to set up the cookies before the crowds arrived.
Rick had made us sweatshirts and long sleeve t-shirts with the anniversary logo on them. He did an amazing job, as usual.
Soon, others began to arrive. Here is Dusty Sage receiving his cookie fix from Rick.
Dusty had name tags for everyone which made getting to know others so easy. Thanks, Dusty!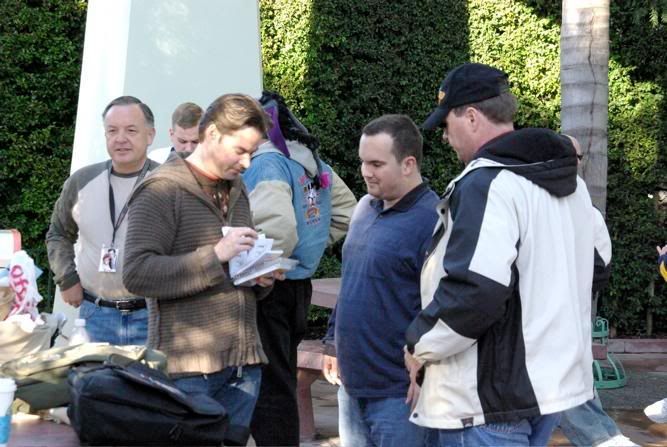 Sir Clink, Belle and Fishy.
Princess Buttercup and her hubby arrived with Valentine Nerds candy for everyone along with a Nerd valentine greeting which she read out loud to each and every person. We love you, Princess Buttercup!
Everyone was so excited and animated. The party had begun, for sure! Sam was happy to enhance this photo opp of Pezz Lightyear.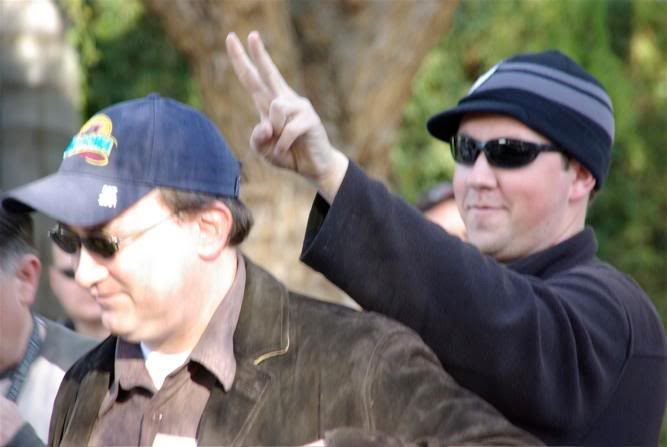 JudiMouse made the rounds.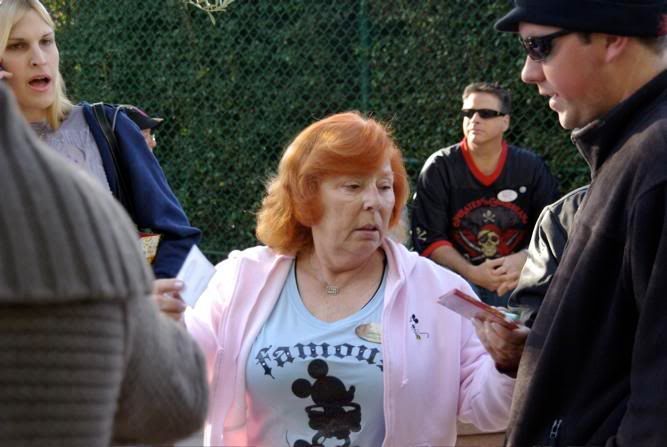 Sir Clinksalot volunteered to get Fastpasses for Space Mountain. AbominableSnowman1 hands his pass over as Fishy and EarKid chat.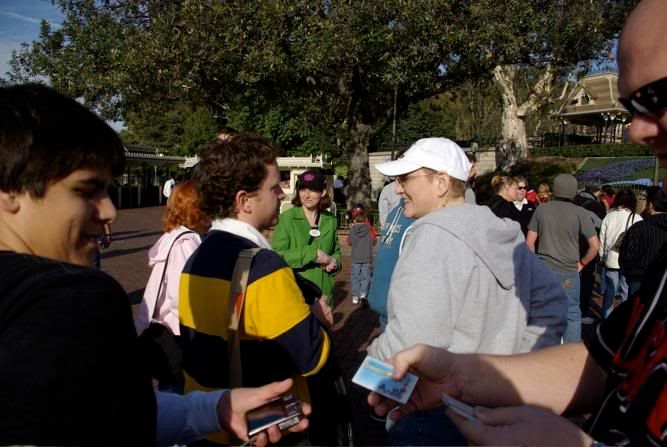 Time for breakfast at the Riverbelle Terrace. Here are two-third's of the Wolfpack.
More munching of pancakes-with-ears going on here than talk. Here's Chernabog putting forth his best effort. The pancakes lost.
Next, we were off for the Grand Circle Train ride around the Disneyland. We had over 3 train cars full of chatters. These would be the first of many CM's we would frighten and delight that day. Along the way, we picked up Morigoon at the Main Street Station, one of countless times we cheered, clapped and made noise during the day.
Back at the New Orleans Square Station, we disembarked.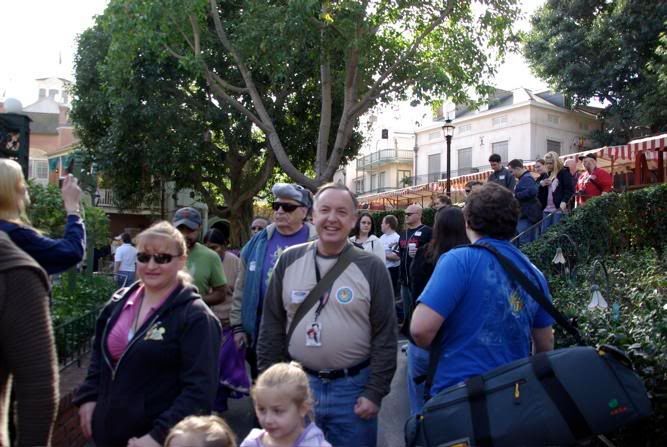 There was some time before meeting everyone for a ride on the Rivers of America on the Mark Twain, so many decided to ride Big Thunder Mountain. Now, I don't look like these folks when I'm on a roller coaster. I'm usually hanging on for dear life. These kids look more like they are sitting on a park bench. Note the camera that Fishy has had surgically implanted on his hand. Never stops clicking, bless his dear heart.
Time to sail on that beautiful paddlewheeler! We pretty much filled the boat. The few civilians onboard with us seemed to have a good time. Our spirits lifted theirs.
Disneykat made a triumphant return to the mother land. We were so happy to meet her for the first time.
Mamabot on the second deck.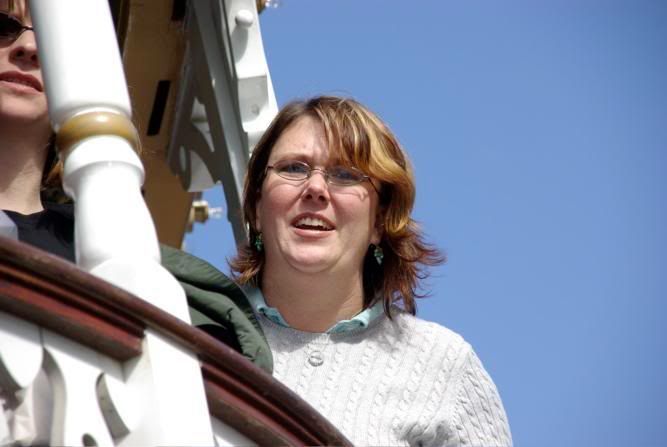 NeverGrowUp and OlympicNut.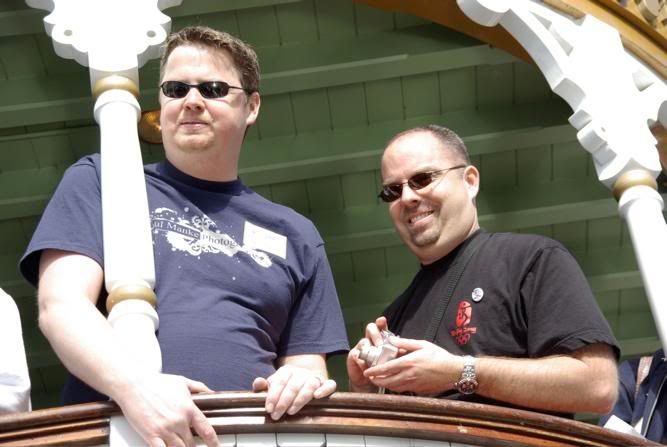 Darkbeer works so hard to document our adventures. We are so lucky to have this dedicated member.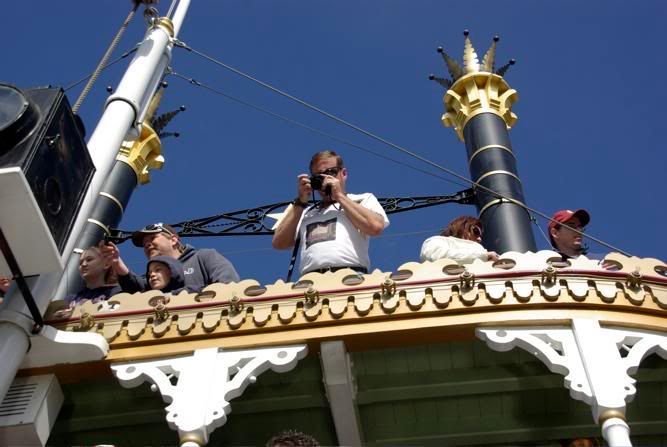 Some of our newest members who we were so pleased to meet the night before, NCADisneyfan and her daughter Thanks to Princess Buttercup for refreshing my memory. They were great fun to be around. If they found us a little nuts, I wouldn't blame them, but they hung in until late at night when we seriously tested the load limits of a Pirate's boat.
As we returned to the dock, we saw some folks who missed the boat. They claimed to have had breakfast together, but we still suspect it was the Cove Bar from the night before that delayed them this morning.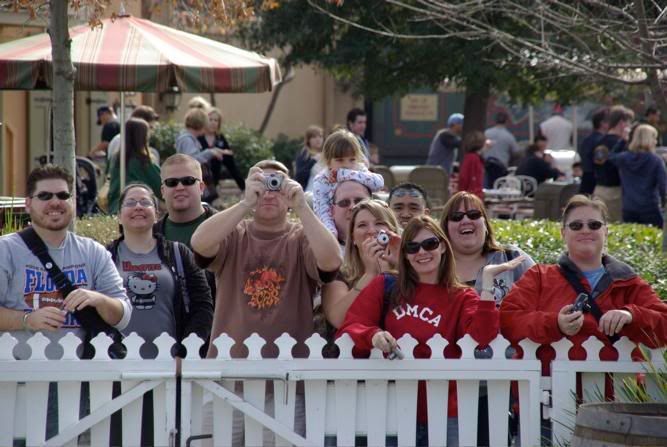 On to the hub for the noon meet. It started like a well attended weekly meet, but before we knew it, the entire hub was MiceChatters. OMG, what fun.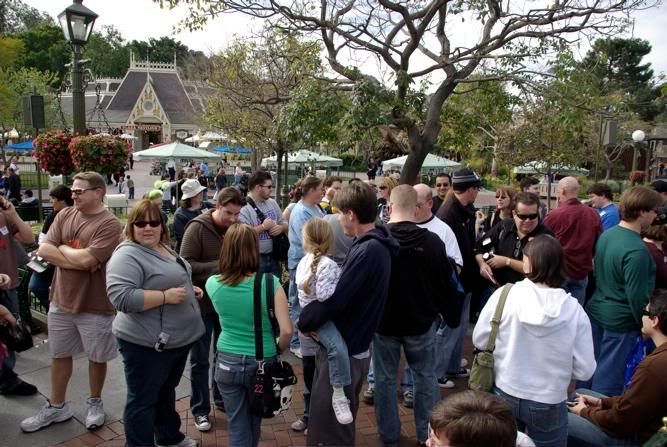 The Disney CM's were wonderful in working out the logistics of taking a picture of 200+ people. They positioned us in front of the castle, strategized, calculated, sprinkled a little pixie dust, and did a magnificent job of producing our picture which you can see in other posts here. Darkbeer was there lending his expertise, too.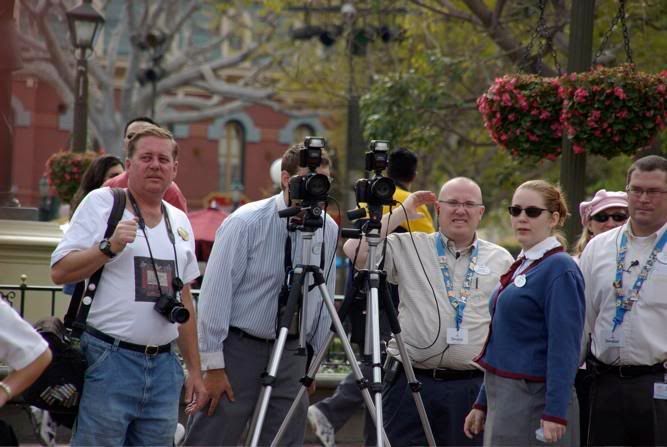 Food sure seems to be a big part of this weekend, but being the troopers we are, we joined several others for lunch at the Plaza Inn. Good conversation, decent comfort food and we were ready to head over to see Billy Hill and the Hillbillies. It was a funny, fast-paced show and the good part is, these guys can really sing when they get going. Princess Buttercup was the recipient of a pass from a snaggle toothed performer. Great fun, and I'm guessing we were one of the more enthusiastic crowds they had this weekend.
Next was the Parade of Dreams, which I decided to skip and Rick headed back to the hotel for a quick nap, so I headed out on my own to do some shopping and people watch.
Walt and Mickey looked lonely after all the MiceChatters left.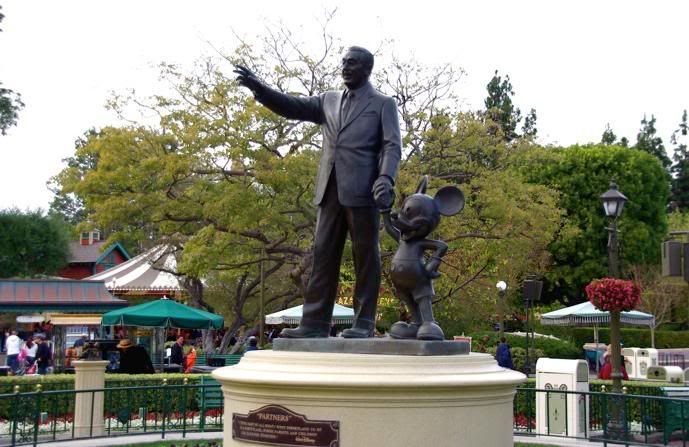 Pluto is always happy to see me. I just seem to have a way with dogs.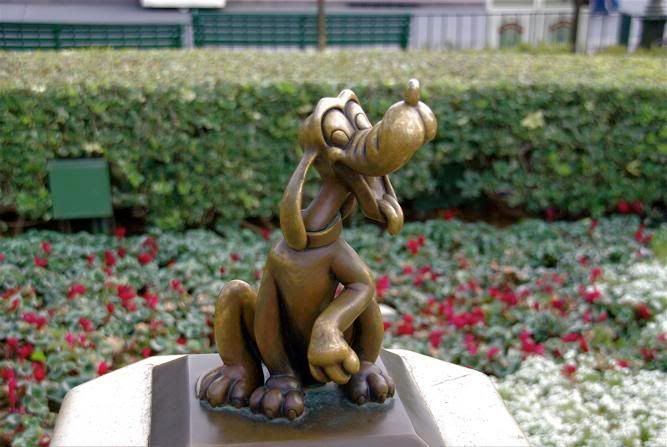 I went over to mourn the loss of the House of the Future for the nth time and while looking at the remains of it's foundation, a group of newbie CMs stopped nearby. I eavesdropped on them for a while while the group leader explained about the Basketball Court in the Matterhorn, facts about the Castle and then he explained how they could still see where the House of the Future once stood. I was tempted to follow them, but thought better of it. I ran into Chuck and Ken from O-meon as I was looking for a coffee fix. Ken was nice enough to buy - thanks, Ken - and we sat in the Carnation Restaurant plaza and chatted. Rick returned from his nap shortly and we proceded to Rancho del Zocalo to meet up with everyone for dinner. Before we knew it, it was time to see "Disneyland, the First 50 Magical Years". CM, Brittany gave an amazing tour of the lobby, then led us into the theater where she introduced the movie. Now, this movie always makes me shed a little tear, but at the end, a male CM thanked us for coming and wished us all a happy second anniversary. I walked out really misty this time. Just outside the theater, Darkbeer got us to line up on the wall to get another group picture. Here's a shot from our position in the group.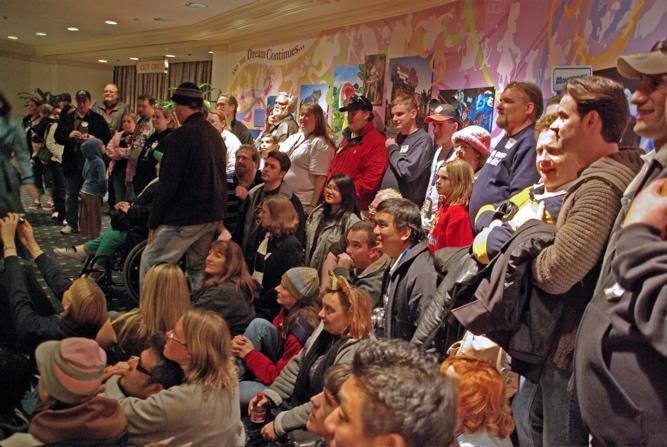 Next up was to ride Pirates. We arrived a little early and as we waited for our entire group to arrive, a CM lead came out front to check us out, along with a Disney Security guy. At the appointed time, we entered the ride and completely filled up the queue.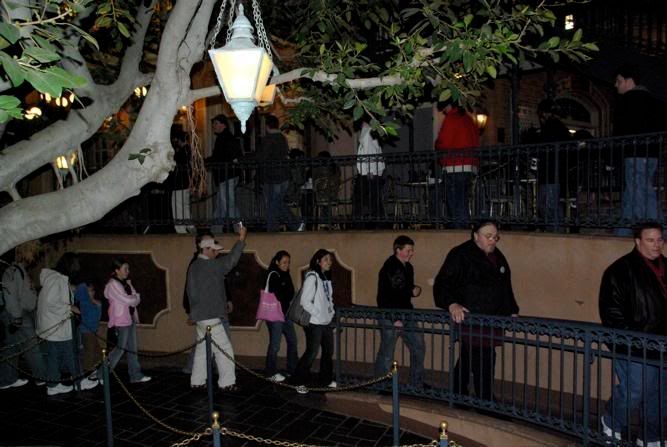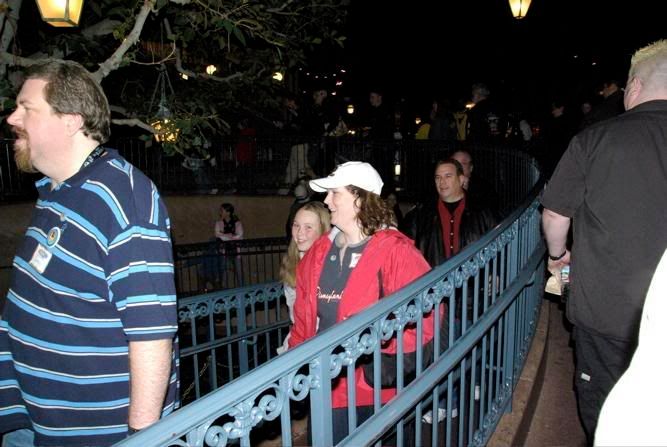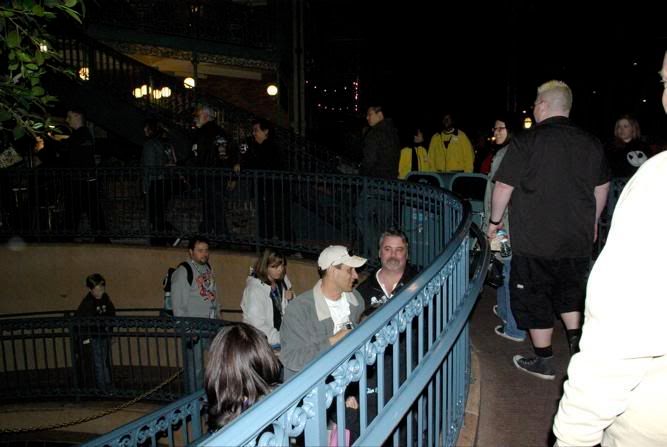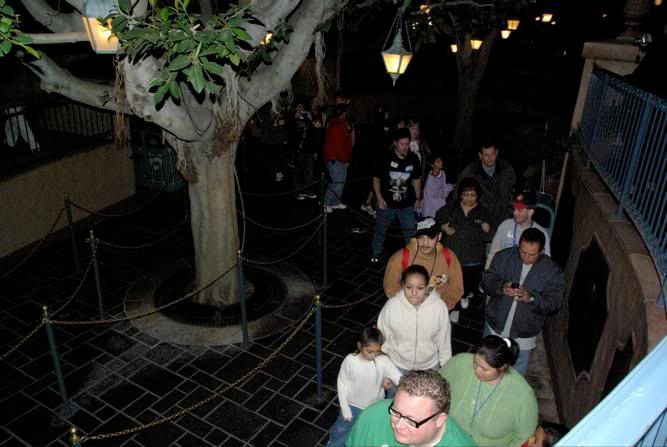 What a kick. The CMs were gracious and joined in the fun. Our boat was dangerously low in the water and many got very, very wet (poor Hector). As we were floating toward the first waterfall, we could hear the guide wheels of our boat groaning. We laughed the entire time.
Pirates Invasion over, we headed to the Haunted Mansion invasion. The CM at the door had us wait for a moment to be sure any non-MiceChat fans got into the room that was just finishing filling up. We then entered the foyer as a group. And our group began to repeat every word in the foyer and the stretching room. The poor CM in the elevator had a look of fear in his eyes. He was probably never so relieved as when those doors opened and we exited. Another ride where we laughed from start to finish.
We had another short break between rides, so, of course, we went to the bakery and got yet more coffee and baked goods. Travel Tim and I waited outside while everyone else rode. Most of them seemed to love the new sound track.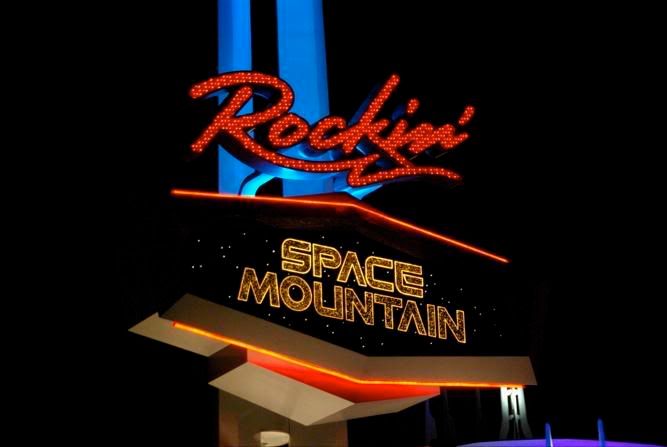 The very last event of our birthday bash was the long, very long walk to the Lost Bar. I'm sure the staff appreciated how we rearranged their cast iron furniture. After one drink and lots of good conversation, we headed out. I was too tired to get up and take more photos after sitting down, so this is the only "Lost" shot.
After retrieving what was left of the cookies from our locker, we were especially happy to see that there was still a tram to take us back to our car.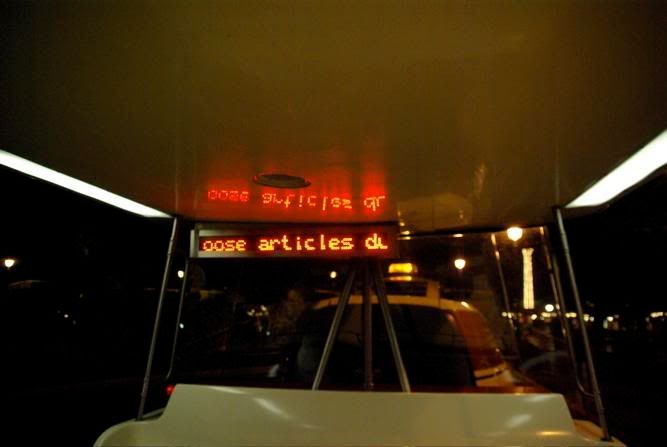 We can't express how much we appreciate all of you who make up MiceChat. We'll just say that we've had more fun in the last year than we have for a long long time, and are thankful for Todd's vision and oversight which set the tone that has attracted some of the dearest hearts we've ever run into. Not the least of which is Norman. Thanks to all of you who work so hard all year to keep MiceChat running. Here's to another wonderful year together!
Rick and Lu