As president of the Procrastinator's Club, I'd like to call this first meeting to order... Where is everybody? Oh yeah, we haven't gotten around to actually scheduling it yet.
As befitting my other title of Most Likely to be Late for His/Her own Funeral, I bring you the following report.
I was lucky enough to be at every one of the C.O.W. Sunday meets this past month and I would like to take this opportunity to make up some ground by getting EVERY one of them into this thread. Or die trying.
Let's start last year, shall we? New Year's Eve (day)!
Remember short-sleeved shirts? (So cold for so long) Gemini Cricket and Bornieo Goes Bananas!
Fishbulb re-energizes on the way to DCA!
Sir Clinksalot and the beautiful Belle. Cool shirt. I think he just shot his beard off soon after this event??
Hub-erriffic!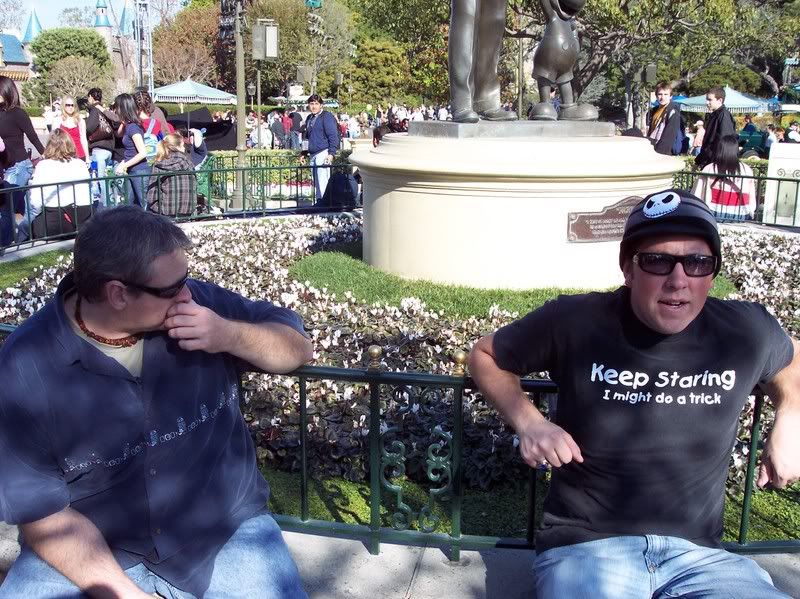 ELF and Sam. ELF is one of the way coolest cats I have ever met and I hope he sees this and PMs me or something. Come back down to SoCal soon!
Morrigoon and akfandisney overwhelmed by the X'Mas parade (as we head over to the Cove Bar.
That's all the pictures I have for that day. The rest must have slipped into another dimension or something...
January 7
This had a huge turn-out, probably due to the excellent reports from NYE.
It was time to say "Buh-bye" to Christmas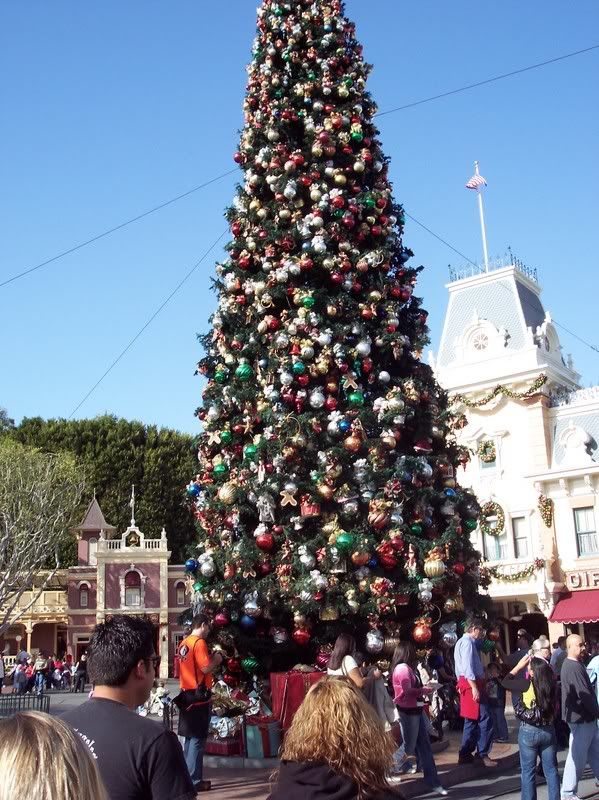 At least I did.
Time to take those lights down, Goofy!
I had a little problem with my camera accessories: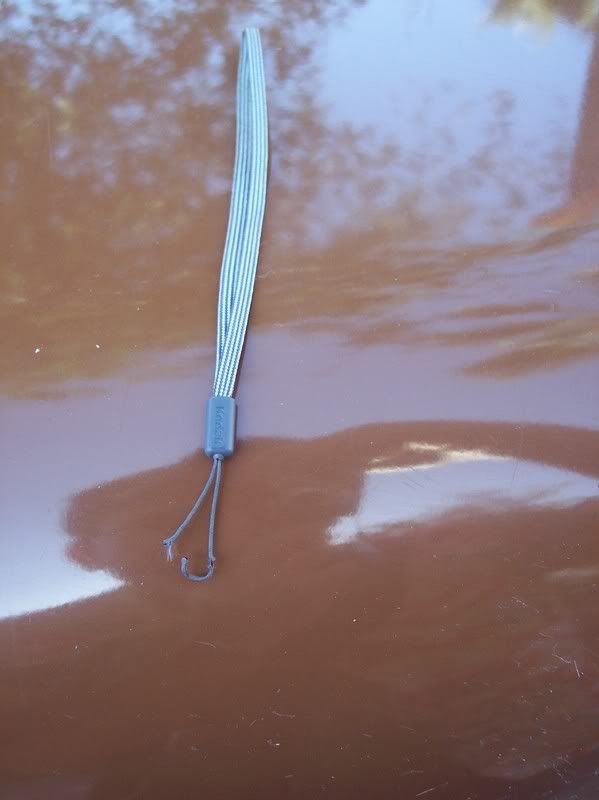 Houston, Wii have a problem.
Never noticed these before: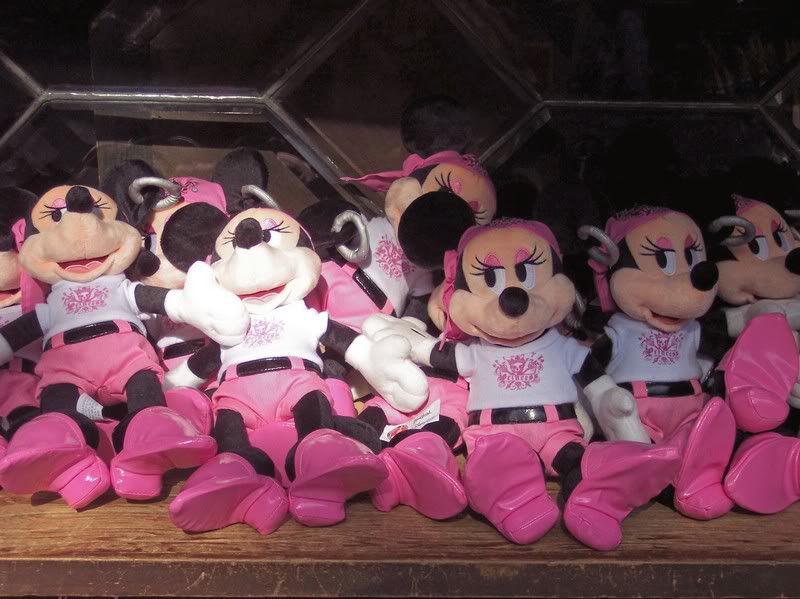 Pirating! Manly, yes, but I like it too!
I ran into Grumpy4 and Frecky and we saw most of Jedi Training. I was trying to get them turn around so I could get their picture and they thought I was asking them to get out of the way. D'OH!
Frecky in her "trying to disappear" stance. Sorry guys!
Time to hit the Hub!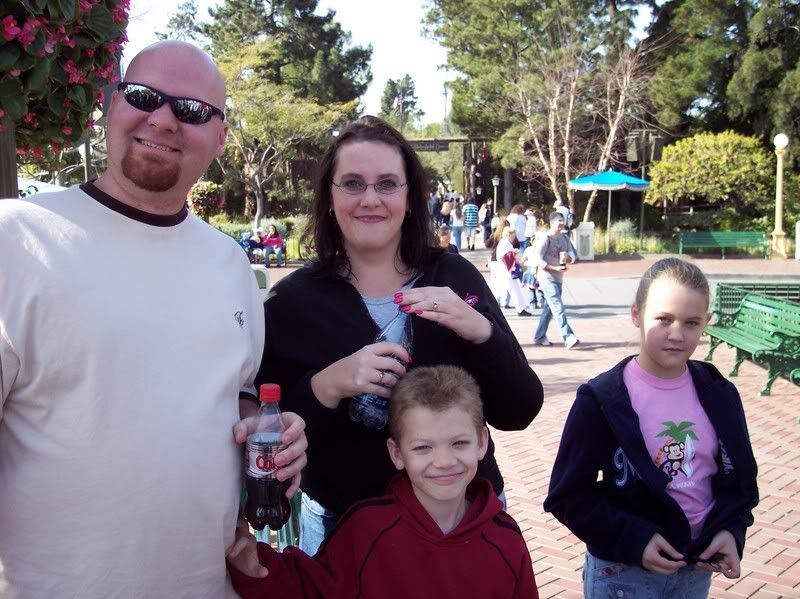 Clinksalots and the Junior Clinkers!
Claribella!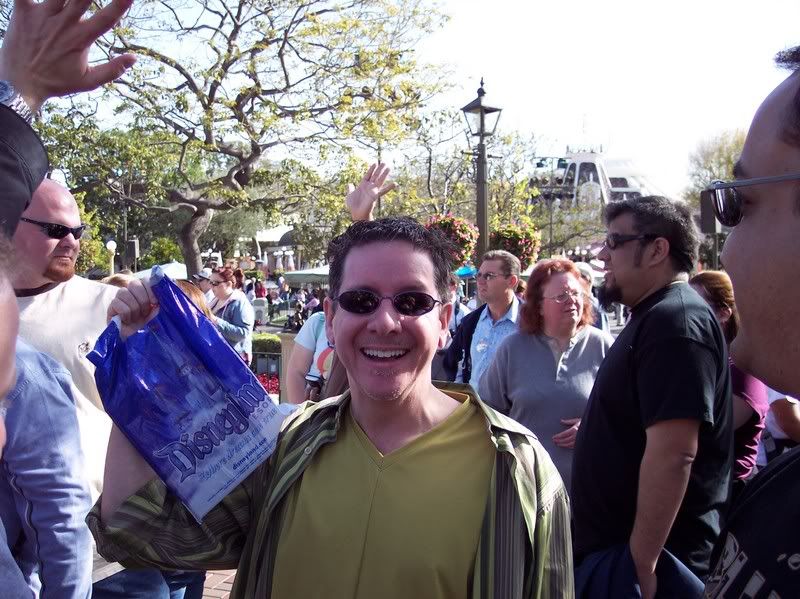 Innerspaceman (and swag)!
(not-so) Hidden Mickey:
And the true DMCA pose:
Band of Gypsies was there as a swan song to their soon-expiring APs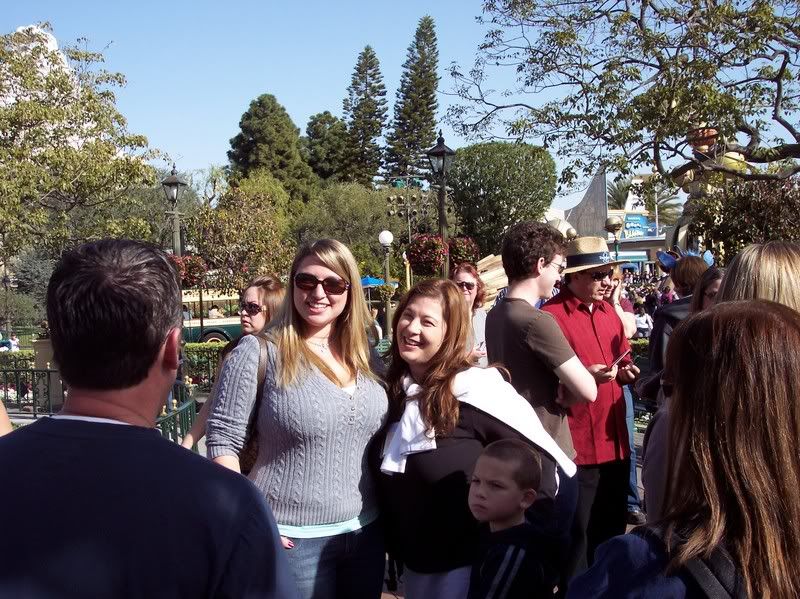 MissChristine and the lovely disneyballerina
Time for lunch!
Send it back!
And then it's time to move: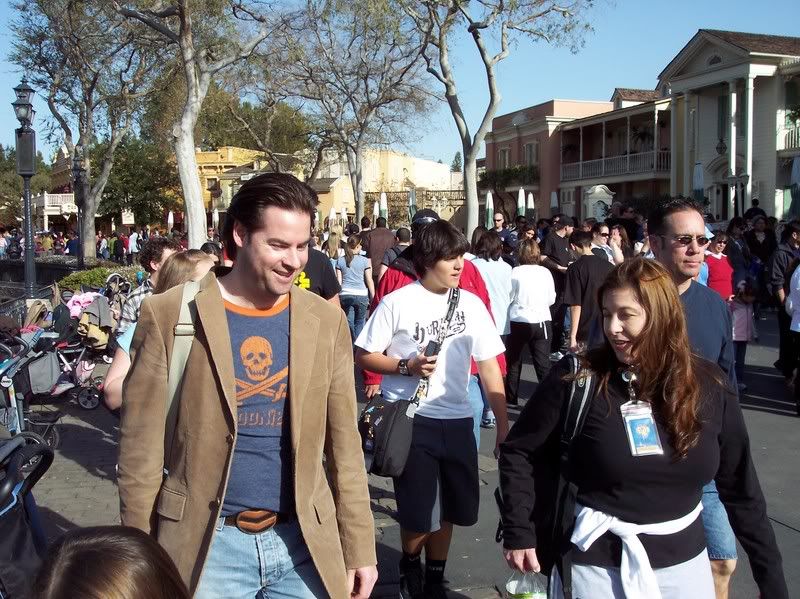 While being documented, of course:
Haunted Mansion Holiday send-off: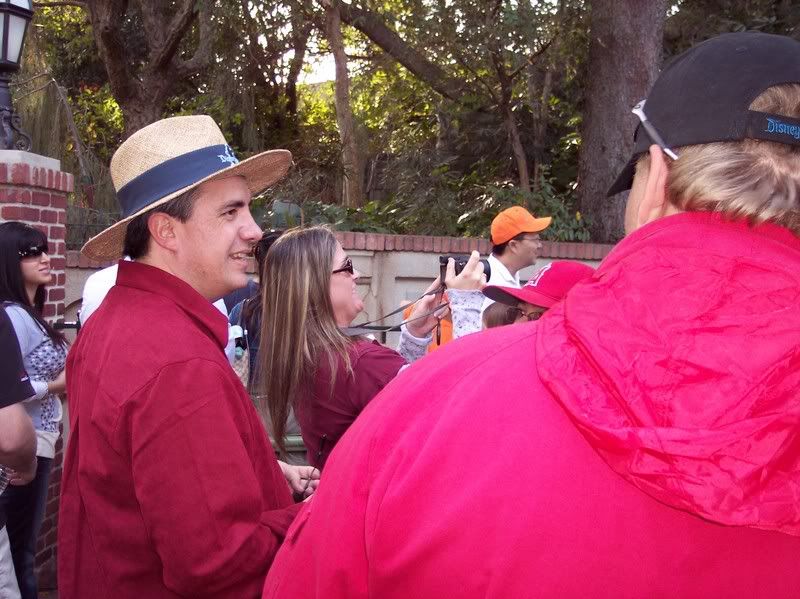 Band of Gypsies taking in some more of the digital sights.
See those pumpkins? Not for long!
Then it was time to Rock Space Mountain!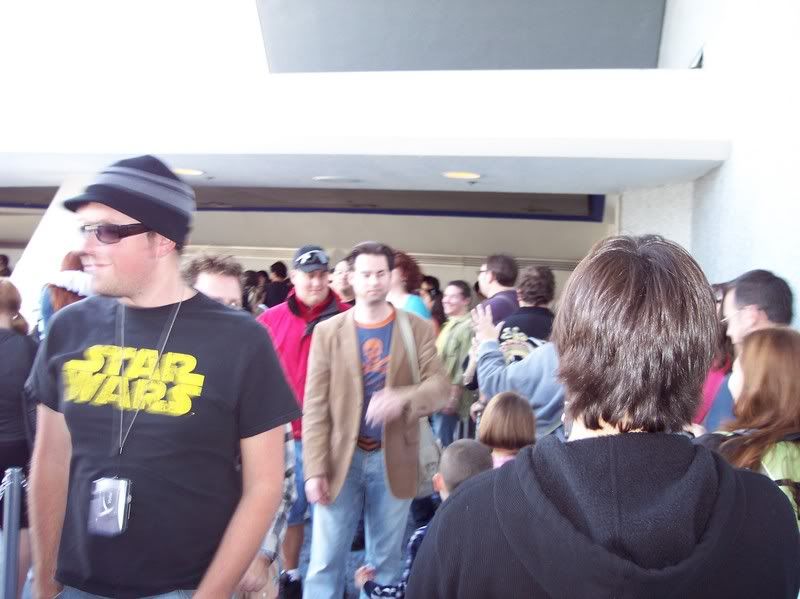 I got to ride with disneyballerina and her troupe.
That's me and Borneio back there in the Hawaiian Shirt Club.
Overall, the reaction was... mixed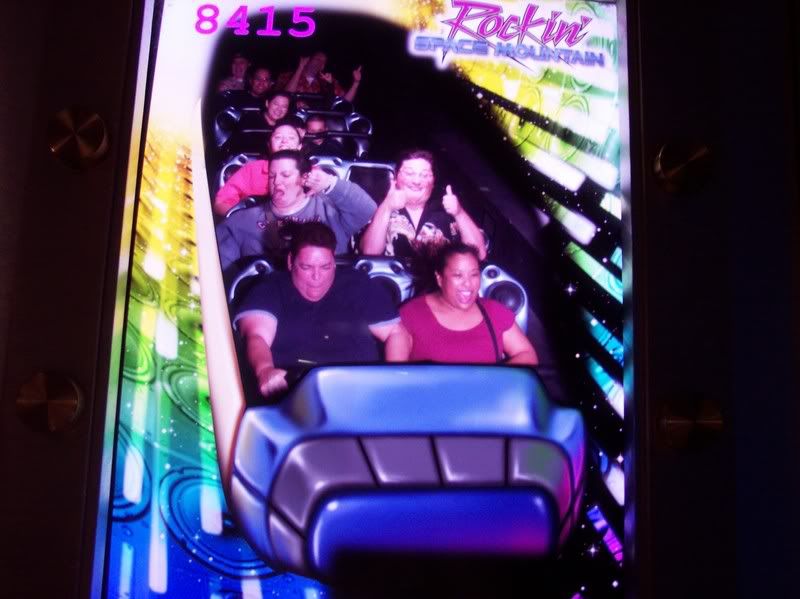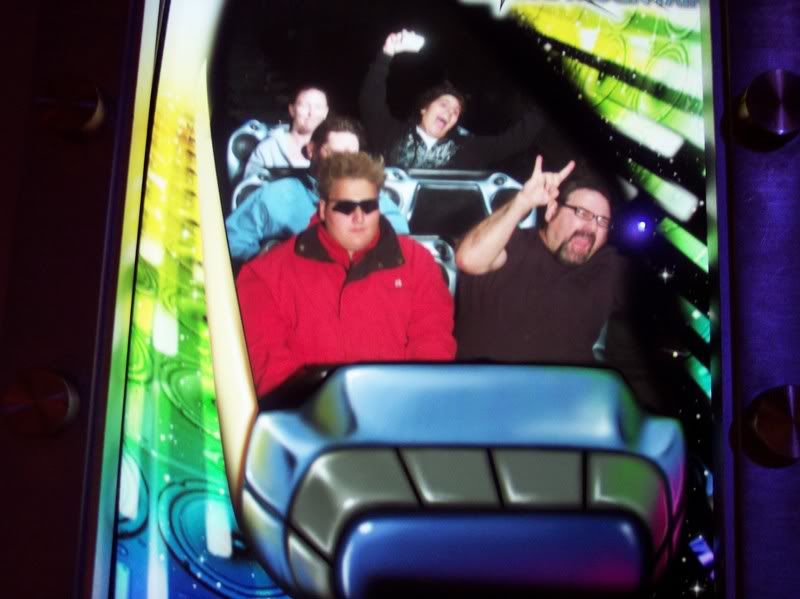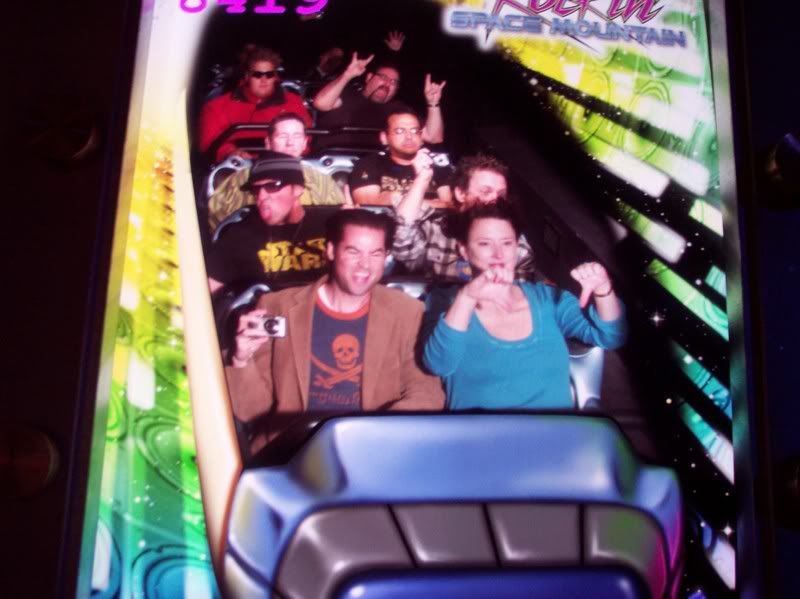 Dusty demanded satisfaction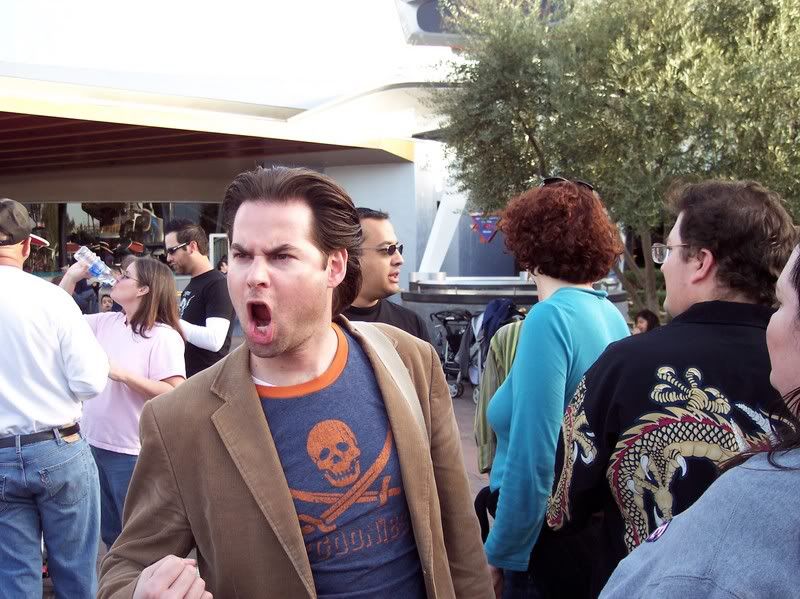 A few of us headed over to Small World where the little "incident" occurred.
The boat was filled with us grown-up types with Borneio, CoasterMatt, and myself in the rear seat. Right after launching, the boat dipped in the back and started taking on water. A quick CM got us all re-arranged and off we went. A little low in the water perhaps but seaworthy.
After the ride, it was free crowns from Princess Fantasy Faire:
They even have stickers with which to decorate the crowns.
I am not saying or showing where all the stickers went.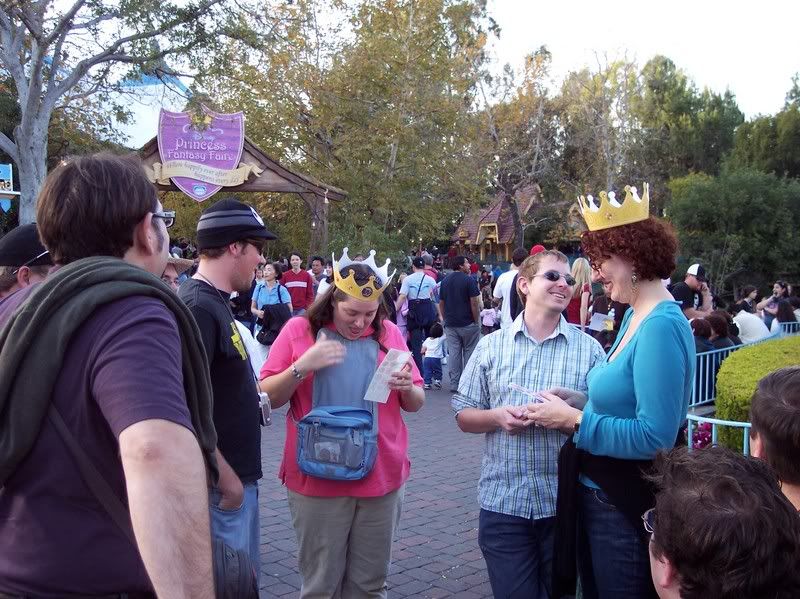 Then I had a call from Band of Gypsies with huge news! The littlest BoG was tall enough to ride Indy at long last! Just don't look too closely at her platform shoes. They had FastPasses to spare, so Sam and I quickly made for Adventureland.
You can't imagine how fun it was for all of us to introduce her to Indy! Here Daddy BoG finds a strange bamboo support:
And here he teaches Baby BoG (no longer a baby *sniff*) the eternal lesson of:
Ignore the sign and pull with all your might!
After the ride, Baby BoG wasn't sure if she was thrilled or just plain scared. So we went again. And she loved it.
Sam had to depart and we went on a few more rides.
Rock that mountain, Band of Gypsies!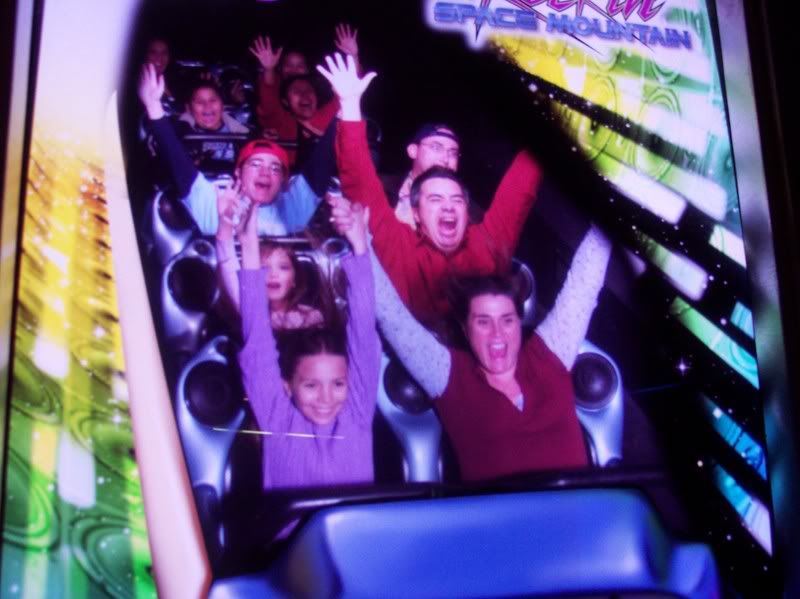 SUCH a cute family!
And then more rides. And more pictures:
To the eternal delight of her husband!
That's it for the first week of January. More to come.
And more after that.
And maybe more?