Tigerlily and I pulled into Anaheim on Friday and promptly went to the Park for a chicken dinner. Wish I could show you pics of it... but I didn't feel like lugging my camera to the Park and besides, you guys know what a chicken dinner looks like.
Took a full-circle trip around Disneyland on the train, and then I got thoroughly pissed at Disney management for closing up every stinkin' place you can get dessert in Disneyland by
9PM,
unless you want to go to Main Street USA. Stupid. Really Stupid. At least leave some ODV open that can supply sugar for the needy.
We eventually headed to Main Street for some ice cream. Tigerlily stood in line while I went to Disneyana and who should be inside the doorway but Crazy Legs, Gemini Cricket, Not Afraid and some other MiceChatters. Still no camera. The Park closed at 10pm, quite a surprise for us. I guess we don't visit in the off-season enough to know any better.
Saturday we started off our day at Steakhouse 55 in the Disneyland Hotel for some Eggs Benedict. Great meal and less expensive than EB at the Carnation Cafe. WOOT!! No Camera=No pics. Not taking a backpack is soooooooooo liberating though!!:thumbup:
We went to DCA and checked out Monsters Inc...
for the first time
!! Shows how much I visit DCA. Great ride. Alot better than Supersatr Lame-o.
We also went on TOT. We then exited DCA after watching some of the High School Musical which was okay.
We went into Disneyland and had corndogs and got FP for Space Mountain later that night. We goofed around looking at the shops and went on Pirates. Then we left around 1PM for a much needed nap, plus we had ressies for Mortons at 6:15PM. WOOT!!
Tigerlily and I walked into Mortons at 6:15 and instantly saw Dustysage looking quite debonair in sweater and sportcoat sitting at the bar with Fishbulb who also looked great. We ordered some drinks and we were soon joined by Tom Chaney and his lovely lady Victoria. I think I'm going to suggest that she sign onto MiceChat with the username LadyVictoria... it's got a nice ring to it!
We got our table and I pulled out a couple of bottles of wine that I brought, and a magical evening got under way. We had a smashing good time with Dusty, Fishy, Tom and Vic, and I hope we get to repeat this sometime... it was the best-est!!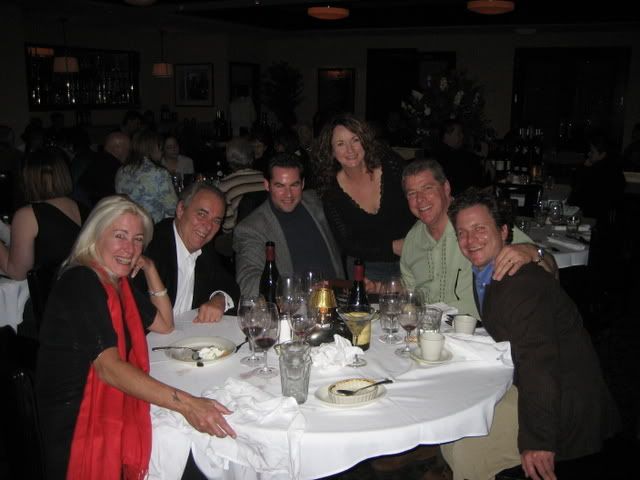 That empty dish in the front used to be full of Creme Brulee before Fishy got to it... Photo courtesy of Tom Chaney.
After dinner we headed to Disneyland, where the fireworks promptly got cancelled. Tigerlily and I went on Rockin' Space Mountain which was fun.
We eventually headed over to the Hearthstone at GCH but laid off the alcohol since we had to get up early the next day.
Sunday morning we arrived at the picnic area and were given chocolate chip cookies by MickeyMaxx and Rixter and they were great.
I didn't bring my camera because I figured that so many people would be taking pictures that day that I wouldn't need too. That was a BIG boo-boo! I really wish I had taken my own pics.
I won't make that mistake again.
We went in the Park and headed for the Carnation Cafe where we had 9:10 ressies and who should be there sitting by herself, just waiting for some company, but JudiMouse. We joined her and had a really nice breakfast with her.
We then met up with the other MiceChatters at the Riverbelle Terrace and headed for the train. After the train ride we went on The Haunted Mansion, instead of Big Thunder Mountain. We like BTM... but only at night. We're strange like that.
After that we met up again with everyone and went on the Mark Twain, then off to the Hub for the Anniversary Meet. It was great to see so many people that I've talked to on-line and become friends with. MiceChat has changed my life. Thanks Dusty!
When the kind folks from Disney were done with our group pic, we went to the Blue Bayou for lunch with Tom Chaney, Victoria, Frogberto, his lovely wife Aurora, and the baby "Tadpole". We had a great lunch together. The food was very good, the service impeccable and the atmosphere as always is magical. It would have been even better with a glass of wine with my meal though, heh-heh.
I had to sponge this pic off Tom Chaney as well... thanks Tom!
After lunch, it was off to the Golden Horseshoe for Billy Hill and the Hillbillies. OMG, it was absolutely hilarious! We had such a good time there, and it was great to be with all of "my people" there.
After the show, we said our goodbyes, and headed back to the Great Central Valley for a dose of reality, dangit!
All in all it was a wonderful weekend! I love getting together with other MiceChatters and this weekend was no acception. My only regret is not taking any pictures and not spending more time with "my people" from MiceChat.
Next time things will be different.