The forecast for the day was: WET.
When I woke up and looked outside: wet.
Do I have any pictures of D-Land wet? No!
Great excuse to throw on the old clod-hoppers, grab the umbrella, and hit the beach, er... Park!
From the Mickey and Friends structure: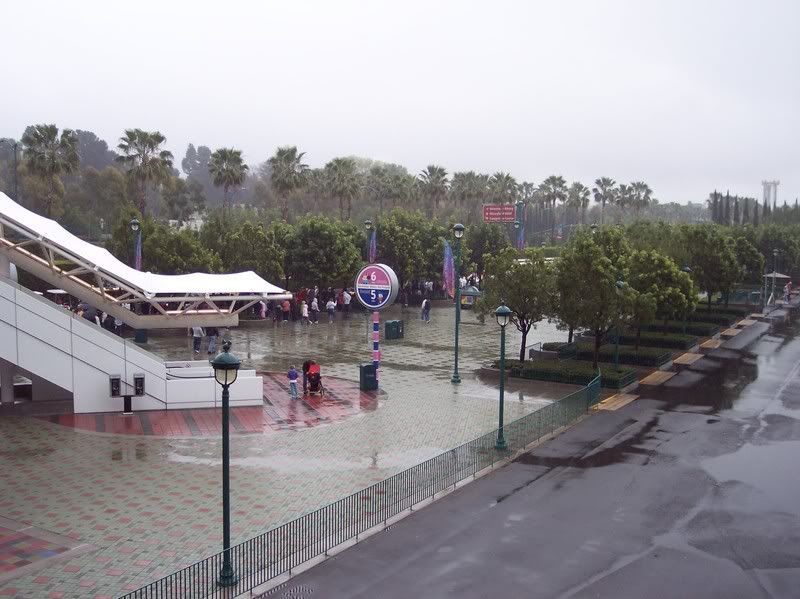 It was still raining pretty good when I got there a little before 10AM
Looking the other way:
More wet!
Guess what you could see from the escalator:
Where Wet... umm...
Year of a Million Wet....
nevermind
Mad dash to the trams:
I love fountains in the rain: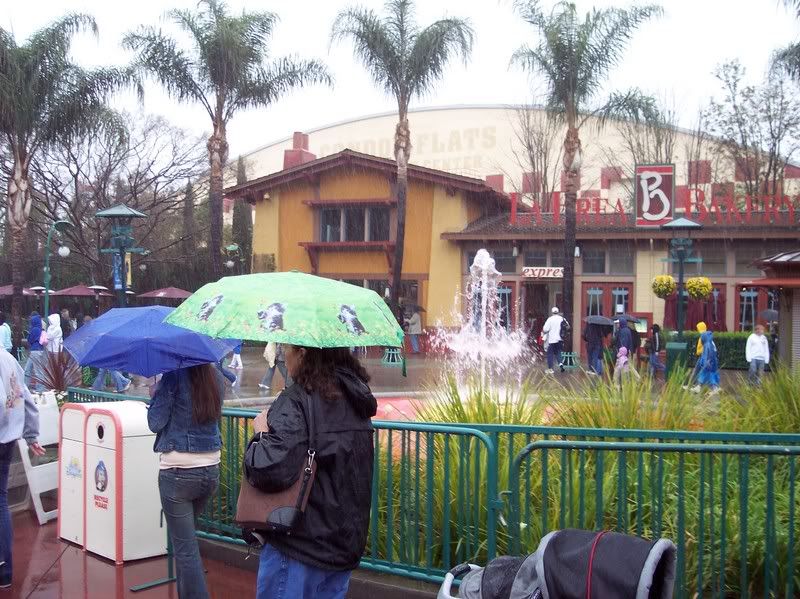 The water mocks us as we pass.
It never rains in California (Adventures that is)
Die-hards (and Washingtonians) file in:
And the even more die-hard Washingtonians stand in front of Mickey for that special shot: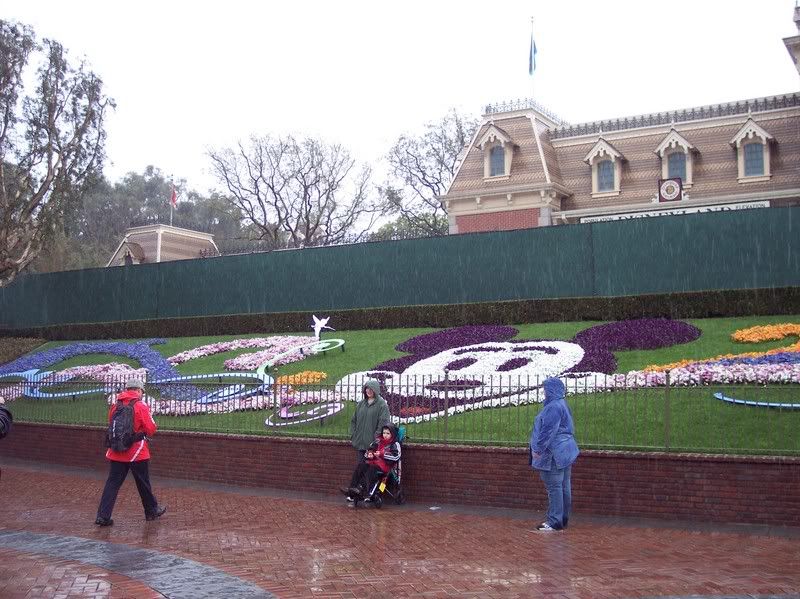 Hey, this is a sunny day for Spokane!
Very popular archway: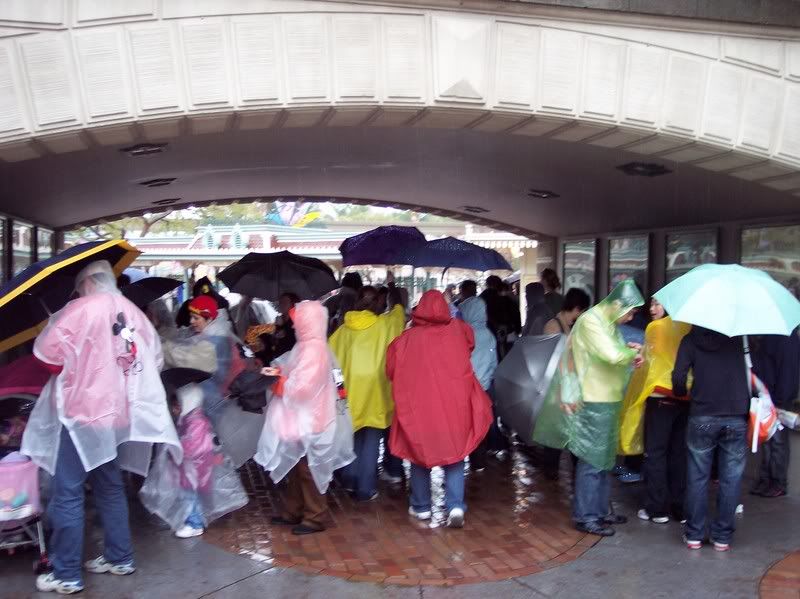 The drivers of the Main St vehicles suit up and keep on rolling: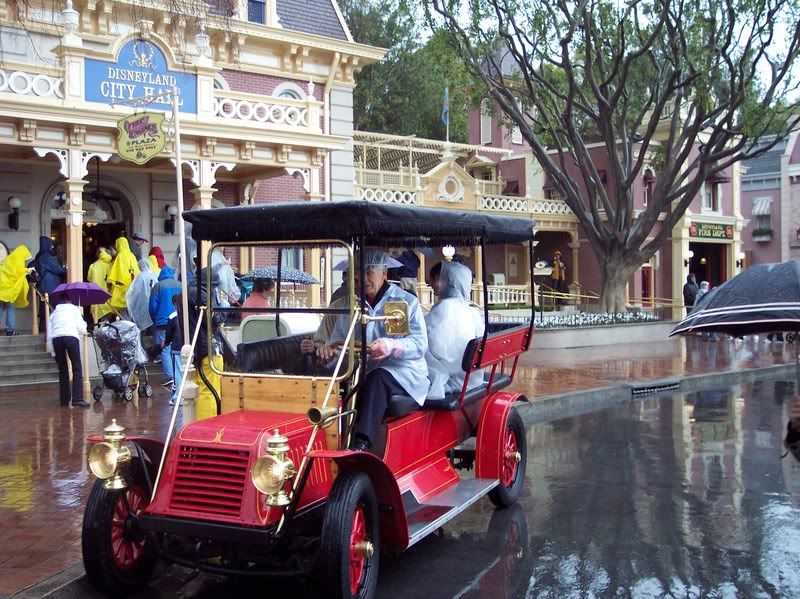 Small rivers:
And a look down Main Street, USA!
The horse didn't seem to notice anything unusual:
You just didn't want to get too close his fur. Whew!
The Hub of Moisture:
Slobbery dog: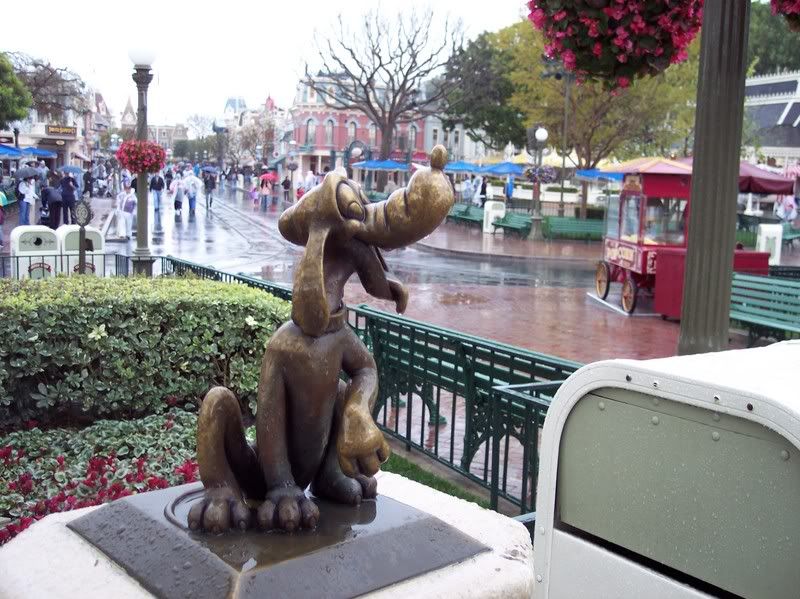 Down boy!
Here is a person trying to use a large, wet marble as an umbrella: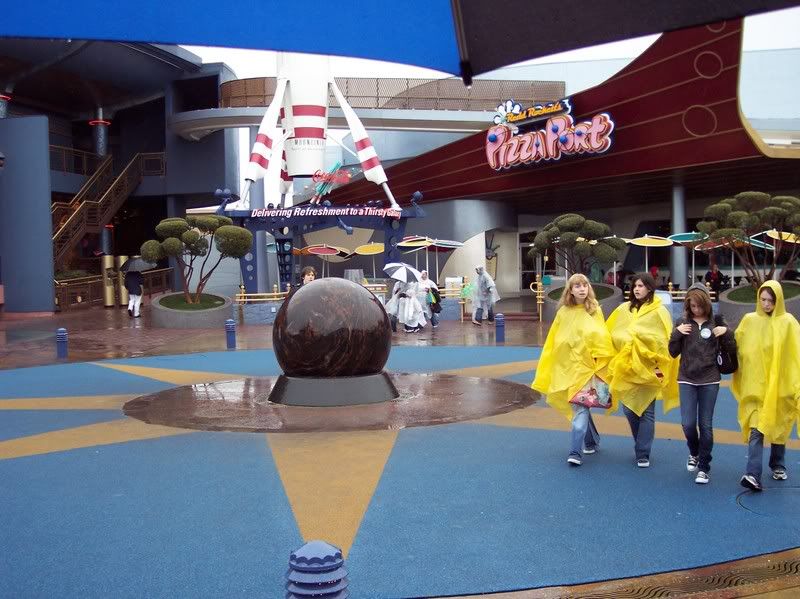 That sub could come in handy right about now:
Or at least a Motor Boat?
It's a Wet World:
After all.
Oh dear!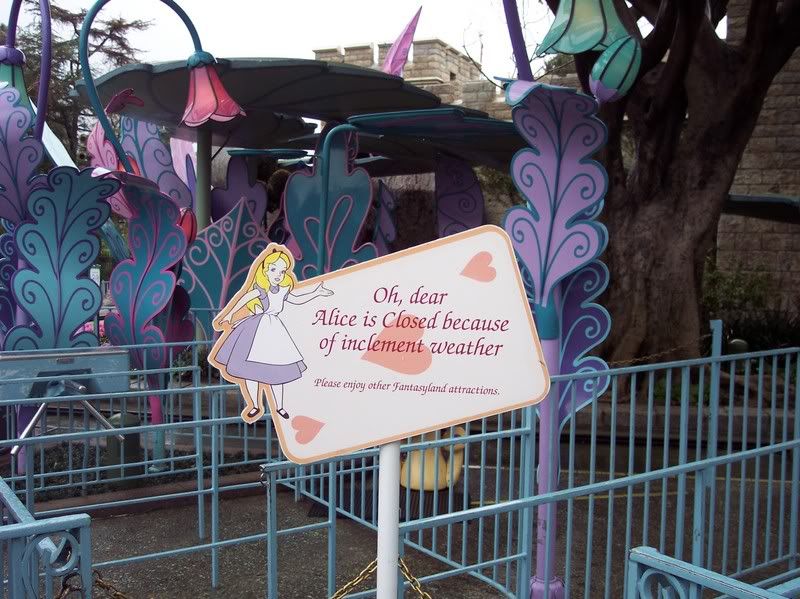 Let's see what other Fantasyland attractions we have.. Teacups?
Nope.
They do look pretty though...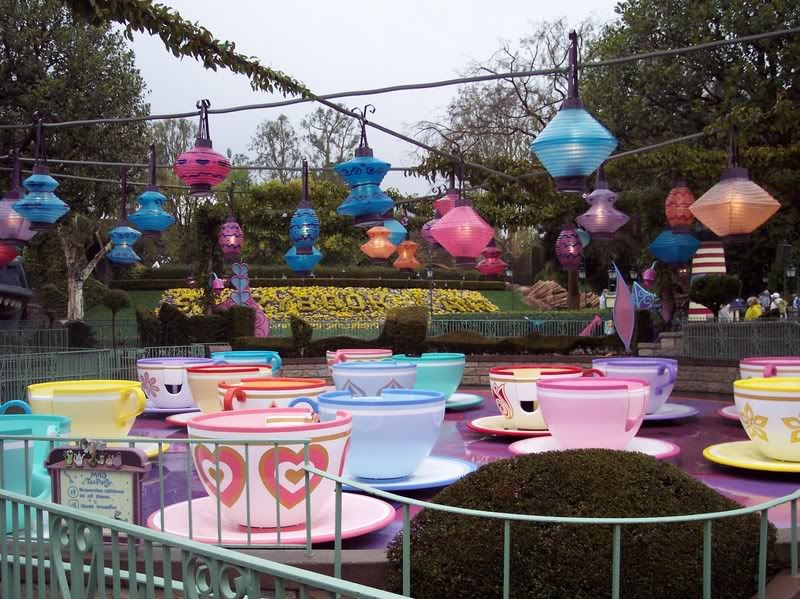 This one even has a barricade and a guard and it doesn't even move!
Nothing to see here. Keep moving.
And nothing keeps the crowds from Peter Pan:
Taking the back way into Frontierland and checking in on my favorite Shed-izens: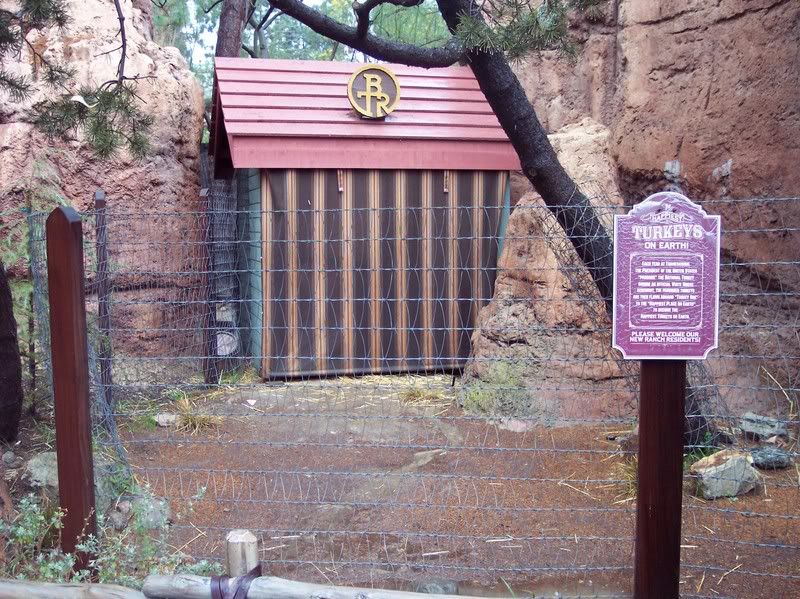 Side note: I heard a story that domestic turkeys are so dumb that when it rains, they look up to see where the water is coming from.... until they drown. So I guess these really are the happiest (and luckiest) turkeys on Earth.
Big Thunder running on empty: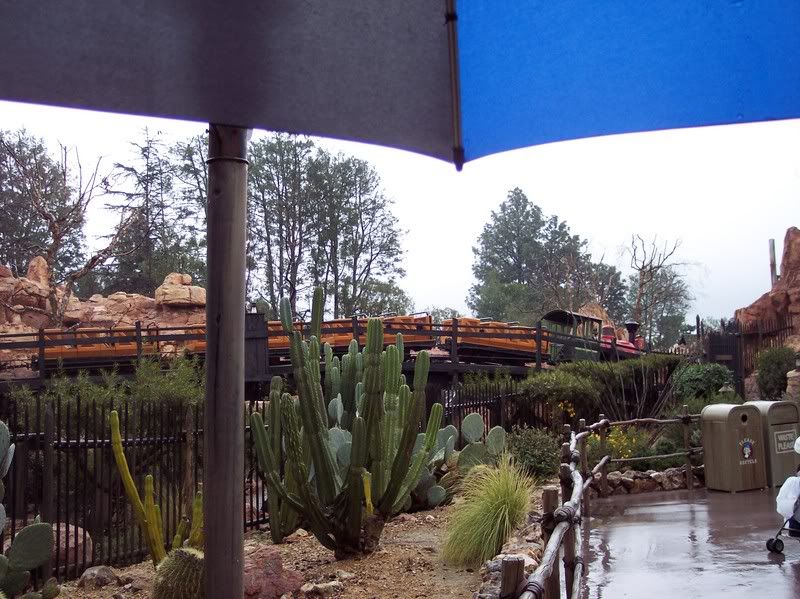 Let's get a gander at the Tom Sawyer Pirate Island:
All the roped-off net things seem to have disappeared.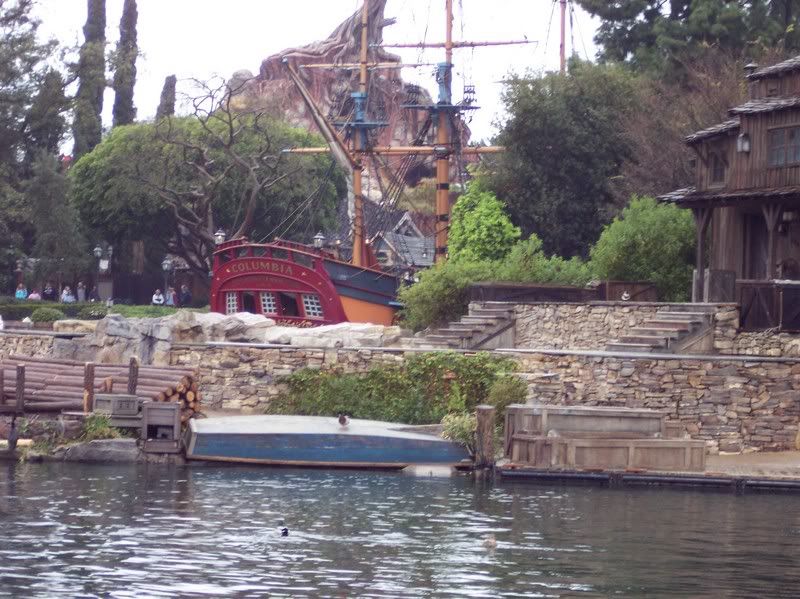 Duck on a boat.
Duck Blanket Bingo
Raft:
Entrance:
What's that sign in the middle there?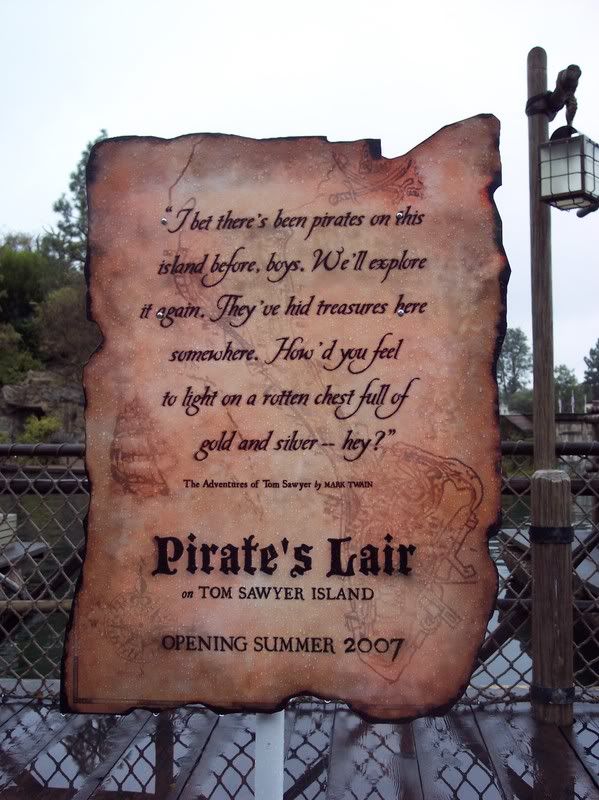 Well that settles that! Pirates ARE in the book! Says so right there!
Mark Twain always meant to expand on the whole pirate thing anyway but just never got around to it because of all that fence painting and river rafting and Injun Joe nonsense!
And then Diane Keaton and her small group walked right past me.
I was holding my camera and everything but I didn't even recognize her in time.
She was wearing a black bowler hat and a black quilted coat thing that went down to her ankles and she wore glasses so there wasn't much to recognize anyway.
Later, a fellow Mice Chatter mentioned how she visits there frequently, even going so far as saying something to the effect of "It's like she LIVES here!"
The irony of such a statement struck me momentarily dumb.
Back to my wanderings - this caught my attention:
It's just a vending cart next to Cafe Orleans but it looks like such a cool old hearse. Is this where they sell the brightly colored parasols? Such a shame to cover up such a perfectly dreary cart.
The water was starting to really come down: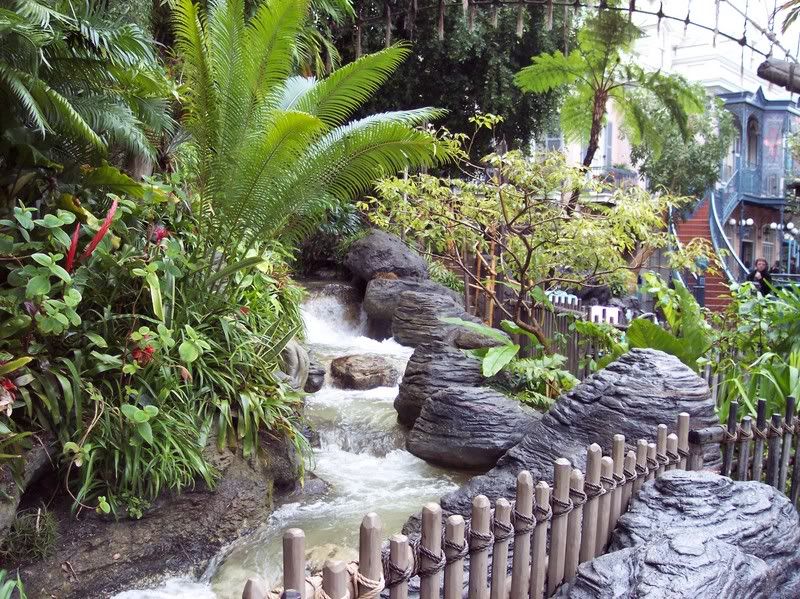 Or it might just be the Tarzan waterfall.
And I had to show this picture just to show that I am not making this up:
The Indy FP was closed - and it says for the whole day!
Approximate Wait Times Are:
Wet
Over by the Plaza Inn, this security CM had some snax for the ducks:
Cheerios! Those ducks need to get heart-smart after all the french fries they eat.
Dreamswans attack!
Maybe they are just protecting this little guy:
They will never tell.
"Hissssssss!"
And these fish are too scared to pop up anymore: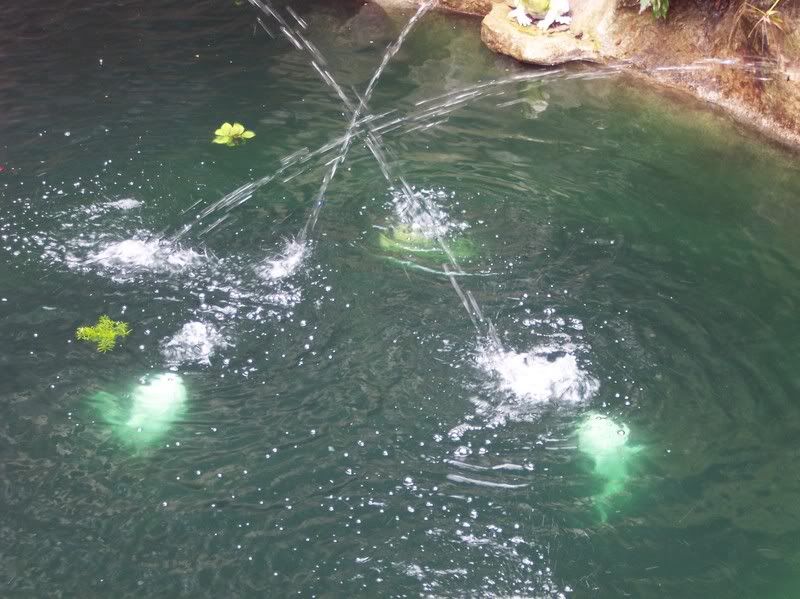 They just stay down there during the Snow White song.
And then there was some kind of commotion inside the castle with a Dream CM, so I checked it out and got this:
My first ever Dream Prize!
I was even lucky enough to make Darkbeer's photo report for the day:
http://darkbeer.smugmug.com/gallery/2460714#129077452
That's me! Mr. Low Level Prize Winner!
And then something else miraculous occurred: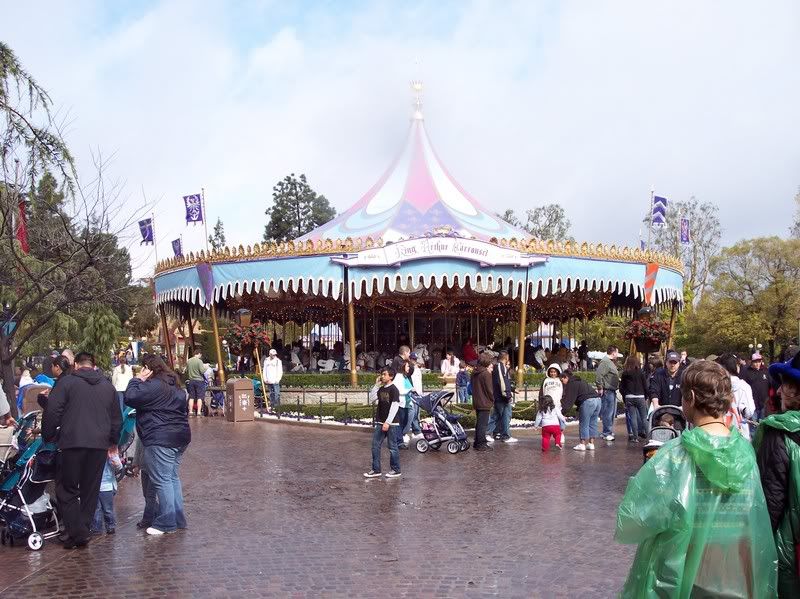 The Wet started to shimmer.
And the air grew warmer.
And then...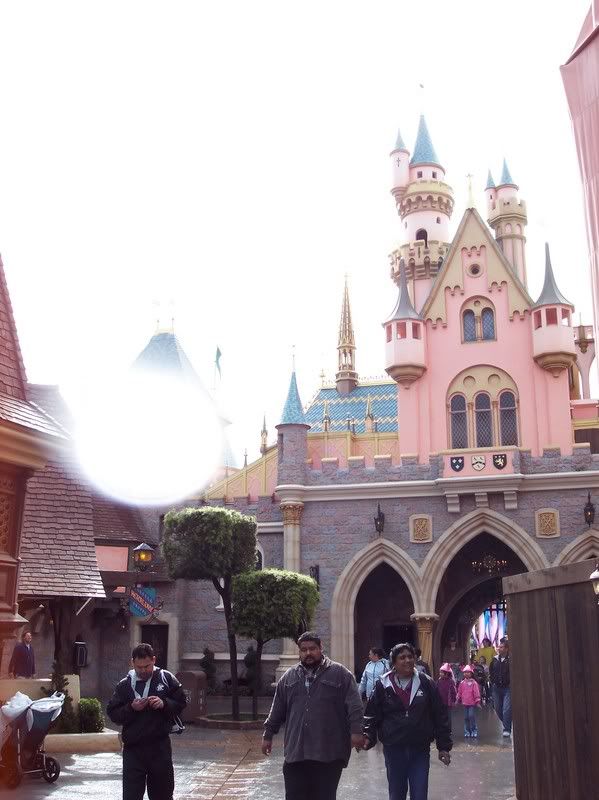 I went blind.
Even more pictures (with actual people you might recognize) coming up soon..