Well, I may never be able to go to Disneyland as a middle class citizen again. I got to go to Disneyland as part of the Walt Disney Travel Company's Earmarked Education Program. Basically, they take travel agents and wine and dine them!
So, I arrived at the Grand Californian on Thursday about 5 hours before classes were supposed to start, and since my room wasn't ready yet, I went to play.
Soarin' here I come!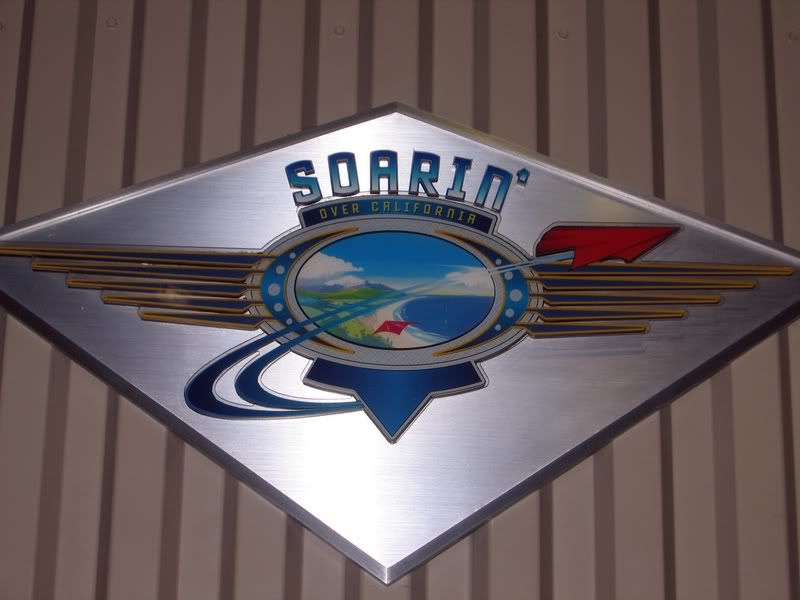 I also got to meet Mrs. Incredible.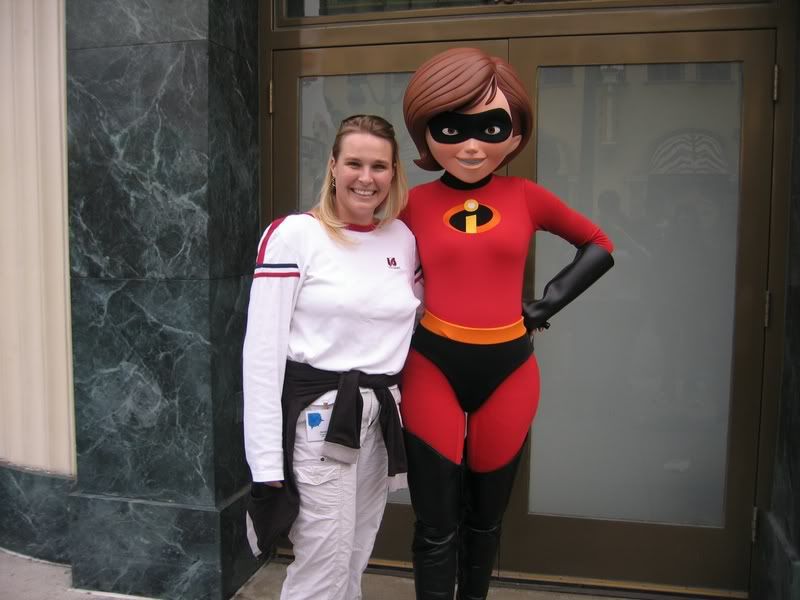 I also did Tower of Terror and Monsters, Inc.
Happy Birthday DCA!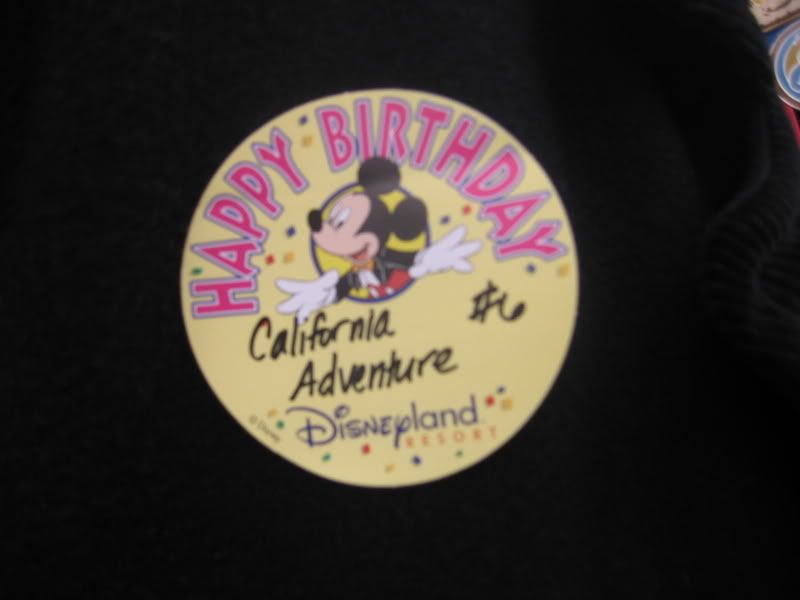 I noticed a few hillbillies have changed their names!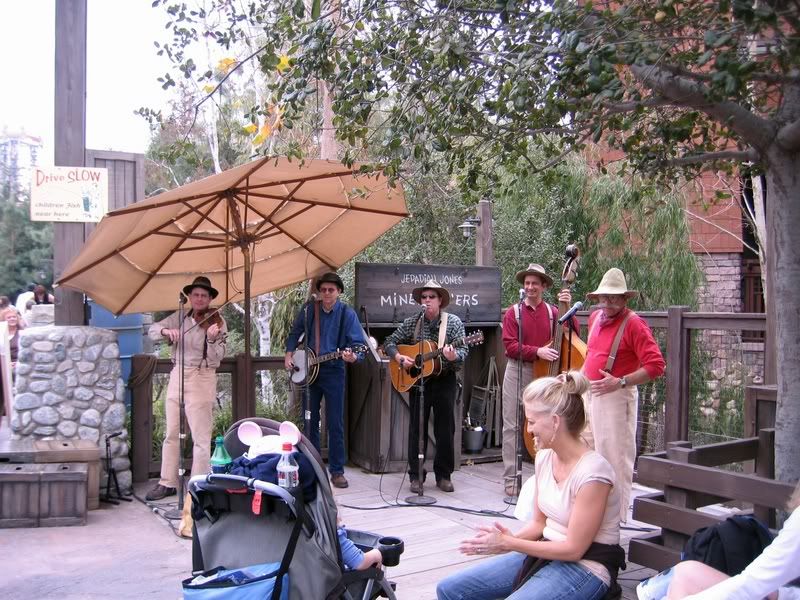 Then decided to go into Disneyland and get a corn dog and ride Rockin' Space Mountain for the first time! Have to say, I loved it.
I roamed around the park and then hopped on the Mark Twain. Captain Richard invited me to ride "upstairs". He was great. He even let me listen to the burning cabin spiel! As we rounded to the indian village, we had a little bit of the magic disappear as a little caterpillar front loader drove right over the top of pride rock. I guess the work continues on!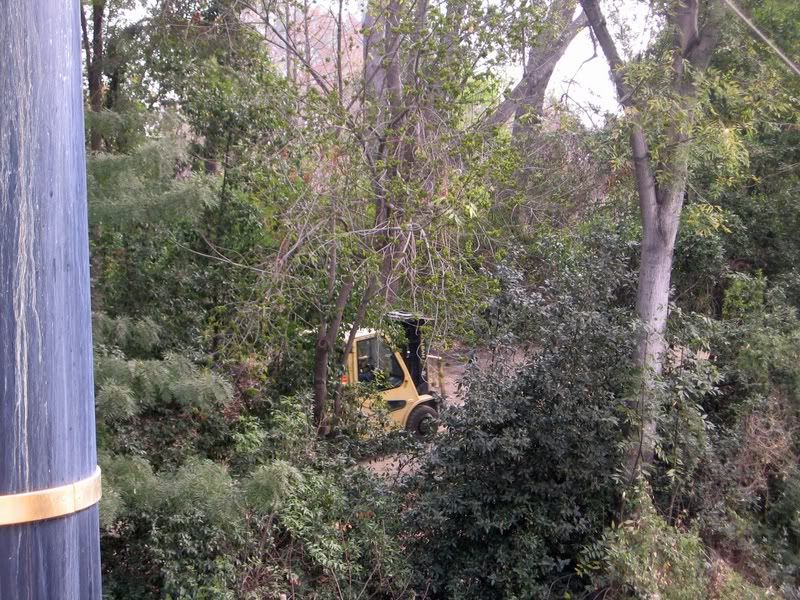 From Hot Lead and Cold Feet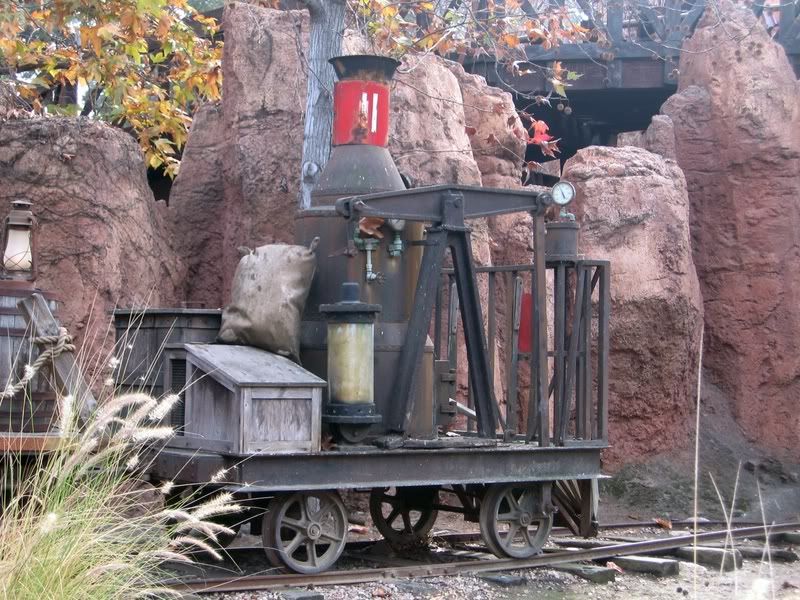 The Tushie Spot!!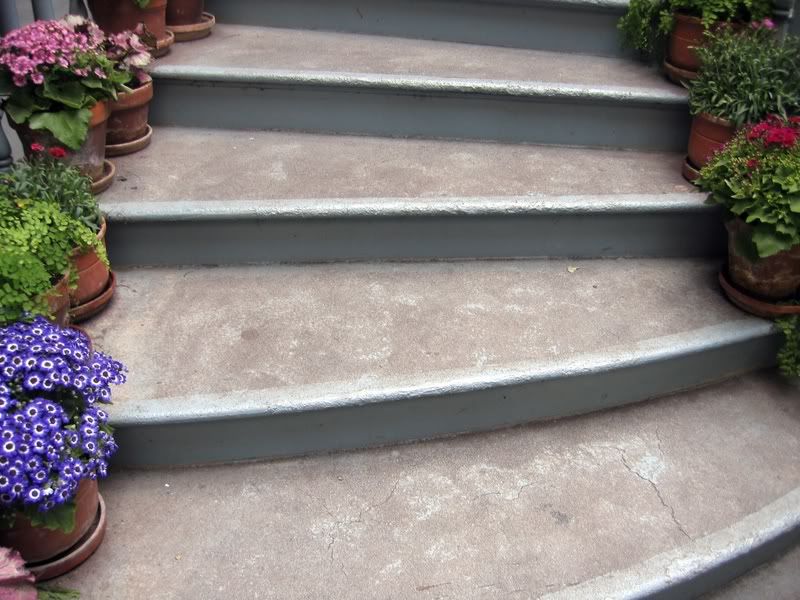 I had to head back to GCH for my first seminar - and I saw the YOAMD prize squad and quickly ran over and got a lanyard!!! Yay!
Our seminar started and we went on tours of GCH the DLH and PPH.
All the wood in the Mandara Spa was imported from Bali
Hidden Mickeys in the carpet at DLH
The WDTC fed us constantly - and it was amazing food. Seafood, pasta bars, desserts, fresh fruit - yum! And if it wasn't a meal time, they were bringing us cookies, popcorn, muffins, pastries - I'm really glad that we walked a lot of I would have gained 30 pounds!
The next morning we went to Huntington Beach to the new Hyatt Regency Resort and Spa - wow - posh. Just another place I'll never be able to afford to go to! Still pretty though.
We then went through a bunch of Good Neighbor hotels - It was nice to see what they all looked like in person! Our last stop was the Marriott Suites - again, more food. An amazing seafood spread.
That afternoon we took a tour of DCA and had premiere seating for Aladdin. I just love that show. I spent the evening with a Disney employee (from the travel company) named Amy - we had a blast! She's just as big a disney geek as me. We went for dinner at Cafe Orleans. I got the seafood crepes - not my favorite. I should have just had the pomme frites and beignets. (which were yummy).
We watched the fireworks, the hill billies and just had a great time. That evening, I was on my own and decided to ride IASW - I just happened to notice some familiar faces a few people behind me - Anders and Sunny! I'm sure I scared them to death - another MiceChat stalker! We rode the ride together and well, we brought it to a halt. The little boat just could handle us and we stopped. Finally another boat bumped us and we crawled along. By the way Sunny, I'll never look at a platypus the same way again!! It was fun - I hope you both enjoyed your date night!
Saturday morning. Early rise for Mickey's Morning Toontown madness and the park early entry. We also toured disneyland a little.
We had an afternoon seminar (they were all about disney packages, disney adventures, upcoming promotions, add-ons - cars, tours, etc, and we met with the sports director). During our seminar, we had a few pirates crash the party. They were pretty funny - and they gave us pirate mickey ears. We were turned loose around 2 p.m. (oh, they fed us a huge lunch again, steak, chicken, salmon, the works).
We were given a scavenger hunt to do - so, Amy and I set off. The hunt was really flawed. The wrong dates given for Space Mountain opening, we were asked how many fountains were in the park - we figured they wanted the nice flowing fountains - but, they forgot pirates and angel courtyard - and didn't count any that were on the rides. But, it was fun correcting everything.
That night we had preferred seating for the parade and premiere seating for fantasmic. Definitely not worth $52, but so much fun. We didn't have to save a seat for hours and we got a dessert box and all the hot chocolate and drinks we wanted. Oh, and a great view.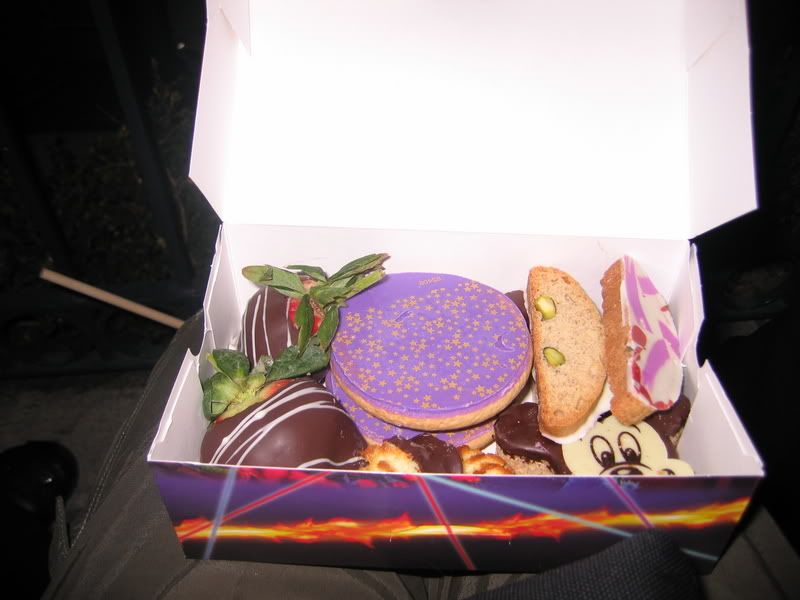 I experienced the fireworks from all three areas (main street, frontierland and it's a small world). All had different experiences, but main street is still the best.
I stayed until closing and the rain had started.
Sunday morning we were taken to Lilo and Stitch's breakfast. Nice, but I liked Goofy's kitchen better - more food choices and more characters.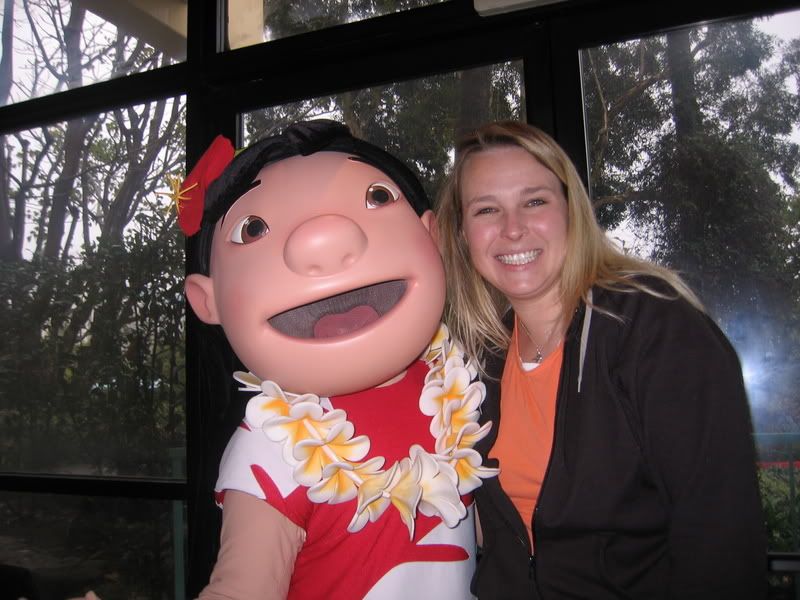 Our last seminar basically consisted of our graduation. Mickey came and gave us our diplomas. And we were sent off with a huge box lunch.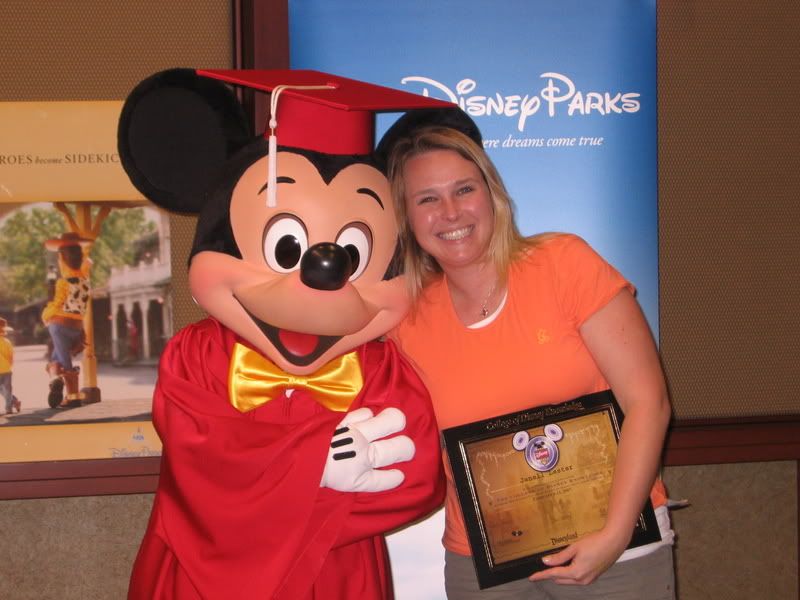 I headed out for the MiceChat meet! Surprisingly enough, I didn't take any pictures! I was too busy handing out valentines. I finally got to meet Crazy Legs, Monorail Man, Almandot, PezzLightyear, Sam, Snow White Raven, Erin, Sadako, NeverNeverLand, Disneyphile, of course JudiMouse, Jack, and quite a few more! What a fun group of people! We went to WhiteWaterSnacks for lunch and then I had to go check out of the GCH and move my luggage to the Fairfield. I wasn't able to hook back up due to a malfunction with CL's phone! Oh well! Next time.
I spent the rest of the day just taking it easy. I learned to draw Goofy in the animation building, met Frozone,
rode California Screamin (didn't like this version - I didn't think the music fit well at all).
This was a really different trip for me and I had never travelled alone! I enjoyed it so much, and will probably do it again!