They are back by popular demand!
The PEZlings rocked both parks yesterday and here is their little trip report (as always, any similarity between this report and the truth is purely coincidental):
It started out like a good day. Daddy gave us new PEZ:
Princess PEZ!
We ate some in the car and to parking in Mickey and down the 'vater and on the Tram. Lemon and grape. Our favorites!
It was busy and daddy held up the camera for this:
People everywhere!
We finally made it in and went to California Venture where we got tickets for Soarin' and then bathroom and then Bug's Land!
We wanted to do the ladybug teacups first. That's our favorite.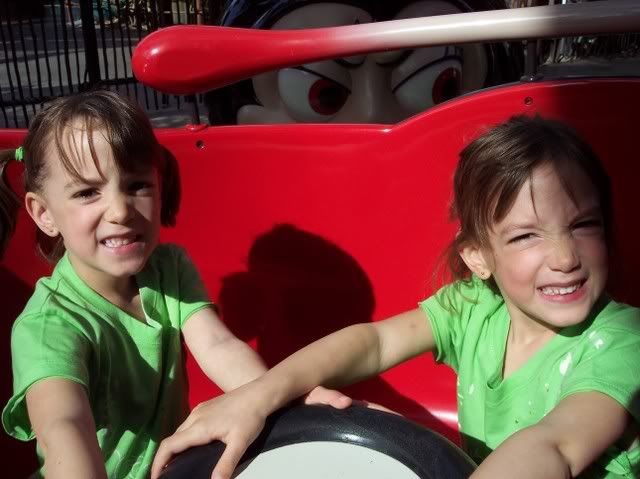 We get ready to turn turn turn!
Well, it starts and we turn. We just hang on!
Weeeeee!
And then we go to the flying ride. It's our favorite.
And we like the happy Sun box!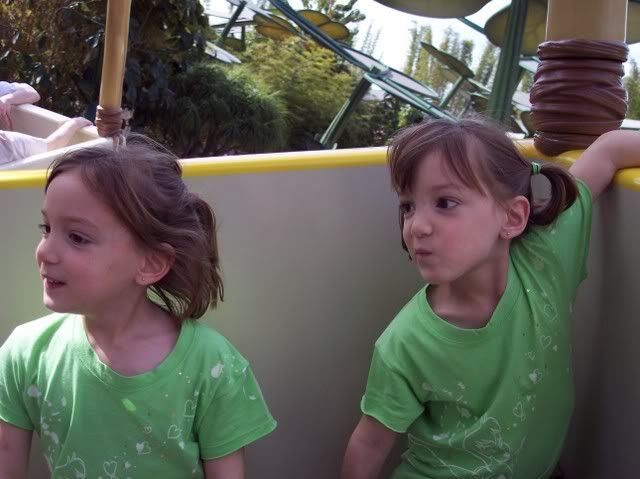 Up up and away!
And then the bug cars. Daddy goes with Thing 2 first and Thing 1 holds the camera and takes their picture:
And then the batteries quit and Thing 2 cries because she can't take a picture of daddy and Thing 1.
So, off to PT Flea! We don't get to seenoevil because she starts later. And we don't understand what this means but daddy says it's a shame.
Daddy gets the camera working again and we look at the water: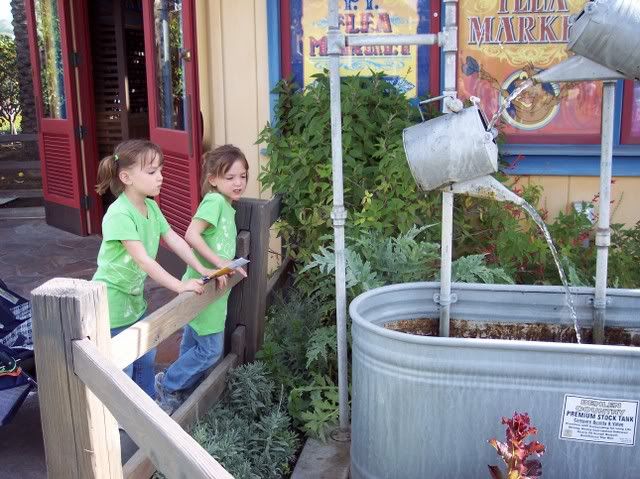 And realize it's time to go to the bathroom again.
We go back for our favorite ride, the caterpillar train!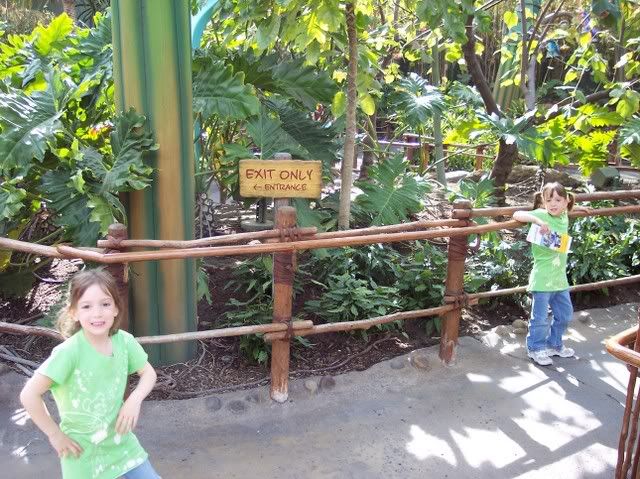 We are almost there but daddy says NO.
So it must be time to bust a move!
Thing 2 in the groove!
Daddy takes our picture: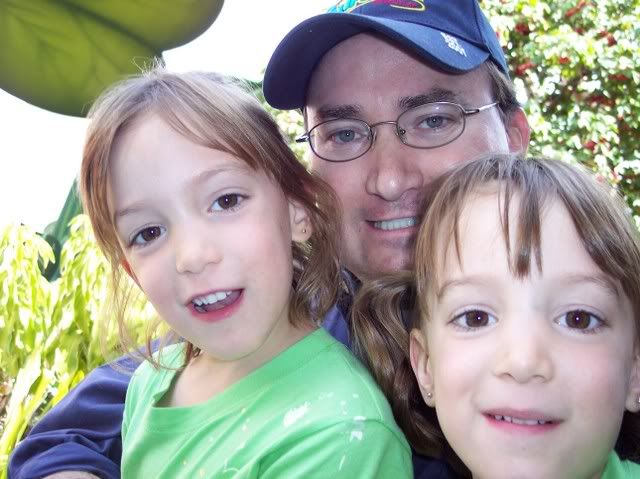 And then Thing 1 takes a few:
Drippy!
Yummy!
Big nummies!
Thing 2:
Then we go over to the first Disneyland and daddy takes mores pictures up in the air: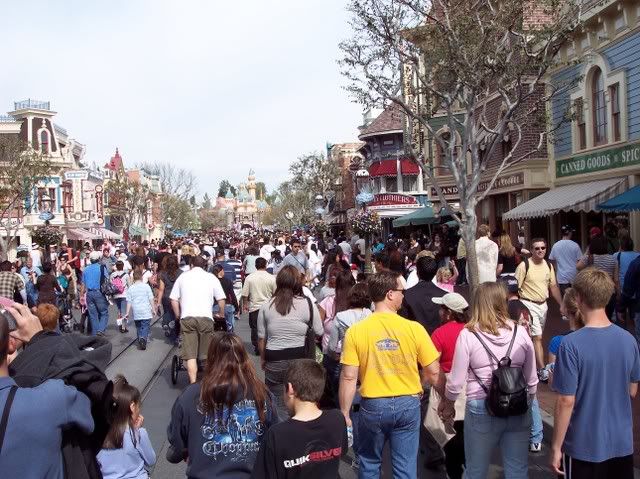 We went to the neat bathroom with the little potties, got tickets for Buzz and heard Star Wars music next door. We went over to check it out.
Lots of kids were crowding up front and practiced yelling real loud. This kid had a little buddy on his hat: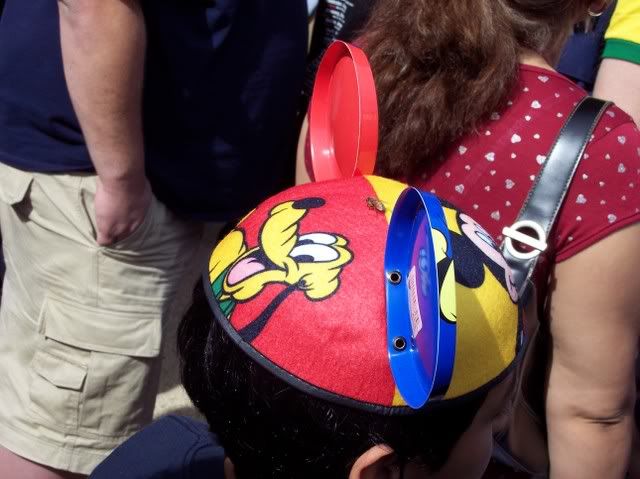 The kid's dad was so smart. He flicked it off... right into a crowd of kids in front of us and landed on another kid's neck. Nobody got stung but that was a big commotion!
The Jedi Master came out and did some cool stuff: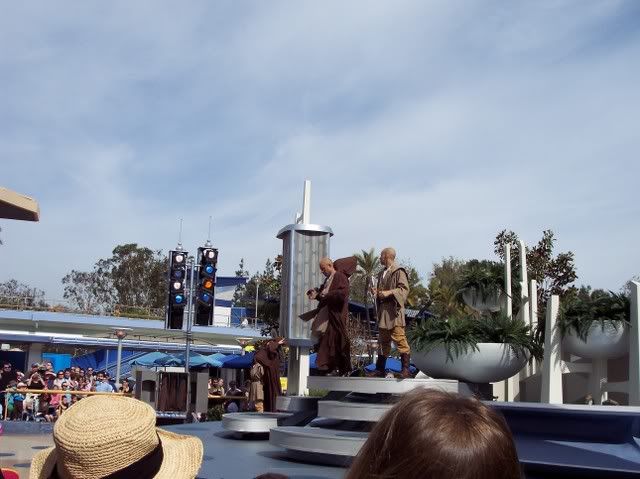 And then he asked for kids to go up there. So we hid in back. We knew these guys were coming:
It was almost noon, so daddy rolled us over to the Hub and we met Fishy and AbominalSnowman1 who took our pichers real fast and kept going to Space Mountain.
At the hub: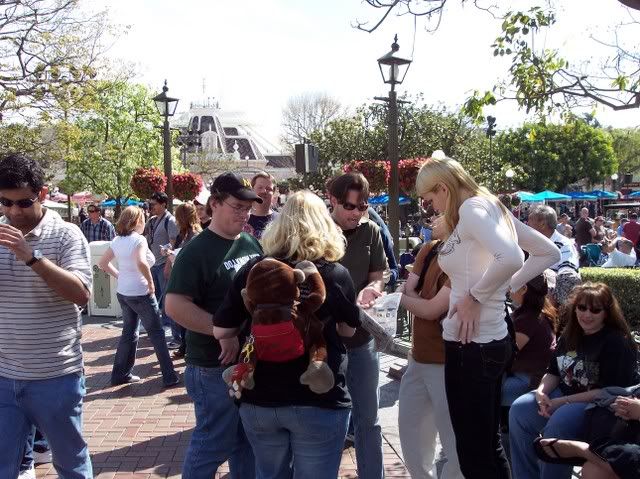 We like her monkeys and Dusty always has something good.
We play PEZ Wars:
Al and Dan have the best names:
We can spell them!
Dusty has a big box of Giant Pocky!
All the giant people get some. And daddy shares with us!
Piratemunkey is very happy about Giant Pocky and so is his wife:
Good time for everybody:
Daddy gives us the camera.
Thing 2 is first:
CHEESE!
And now for Thing 1: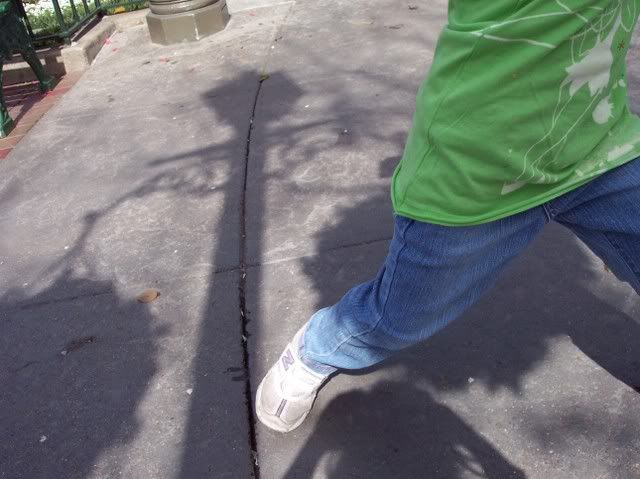 She was just there!
One of Daddy's pretty friends: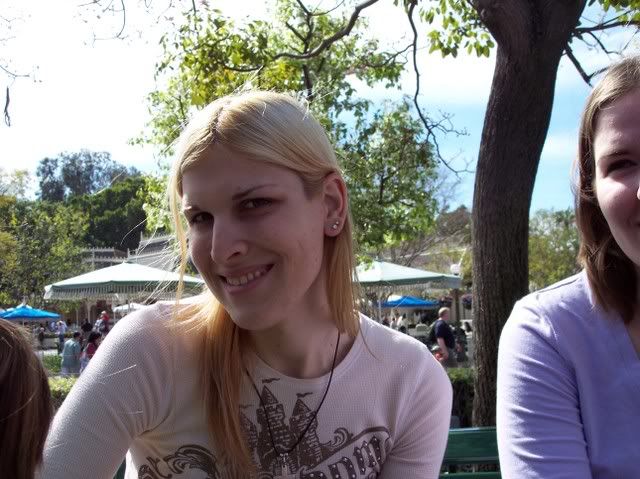 There is Thing 1: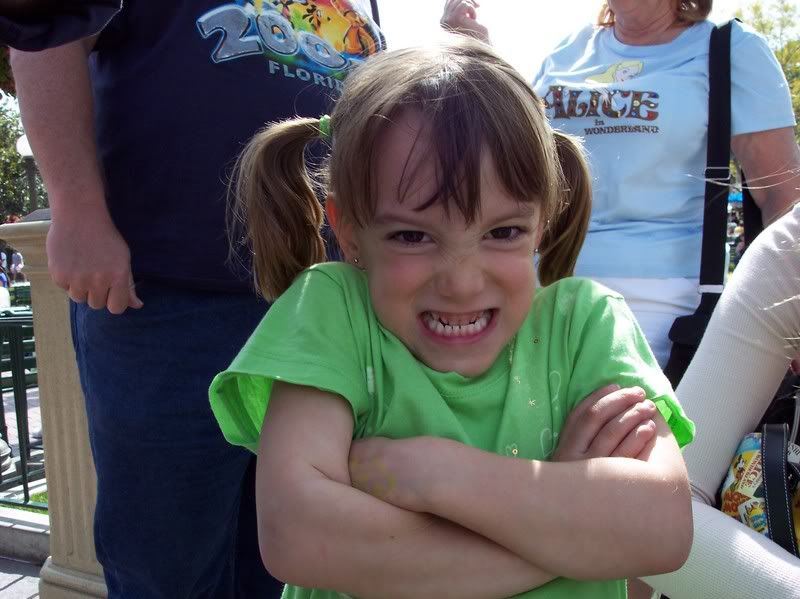 Guess it's her turn now.
Another daddy's friend:
"Do you need ice because daddy says you're hot?"
Our shirt: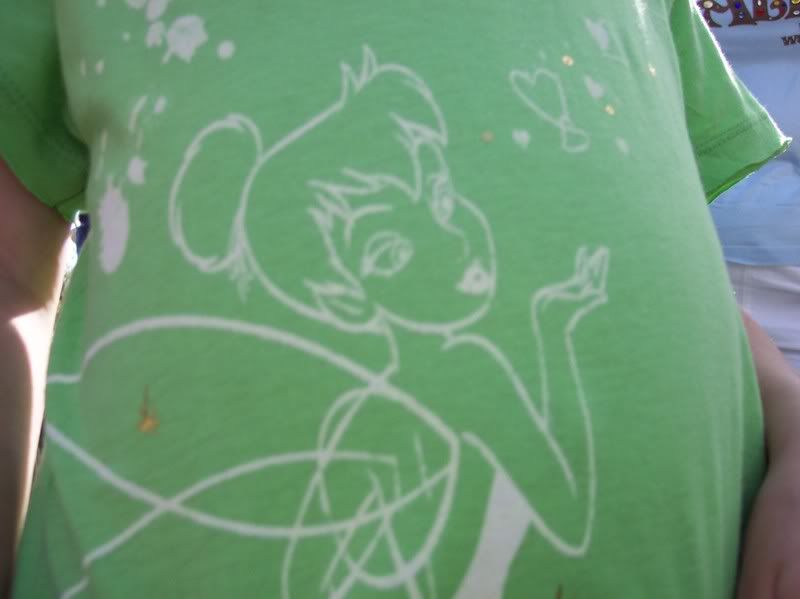 And than it's time to go. We are hungry! We get back in our stroller and away we go! Some pictures on our way to lunch...
Main Street:
Sidewalk:
Through the gates:
Espanod:
Back to California 'Venture!
We pull up our blanket and have our own Jungle Cruise ride:
Squawk!
Here comes that hippo:
We don't have a gun, so I give him a kick!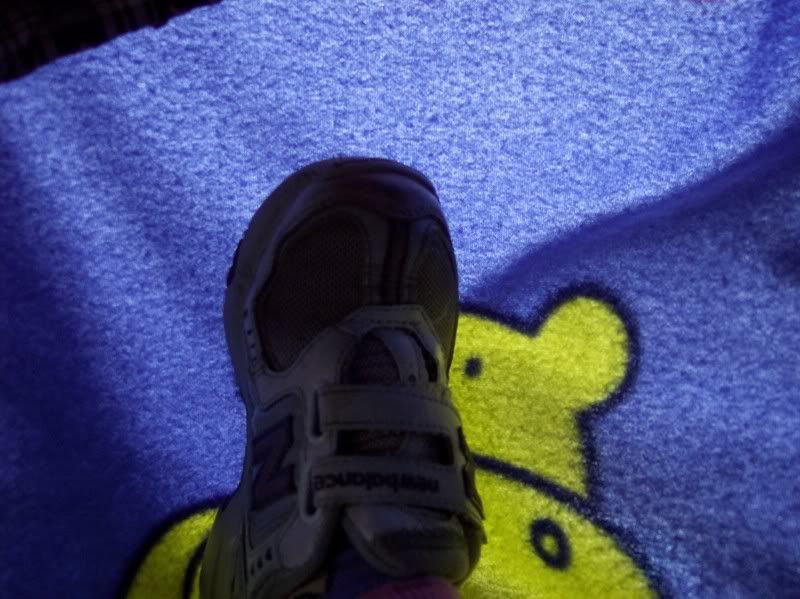 Wiggle your ears at us, willya?
Then the blanket gets pulled back and AAAAHHHHHH!!
Whew! It's only Skipper Dusty! Now we really have to go to the bathroom.
We sure are in California 'Venture:
This is where we go for lunch: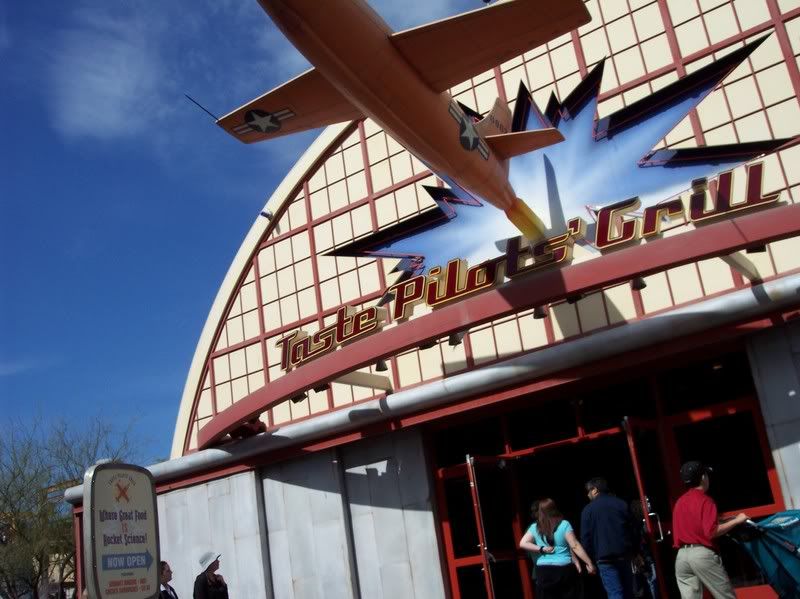 But first, a self-portrait:
"Thing 1 with Pocky-Face"
So we went to the bathroom and ended up far behind the others.
We got our food and walked all over and sat with a couple of daddy's friends in front of the ice cream train. It was good chicken and frenchfies.
We got back in the stroller and Thing 2 went sleepy:
And then we were both sleepy:
We are not sure what happened next but we kept dreaming of letters.
The letters D, M, C, and A mostly.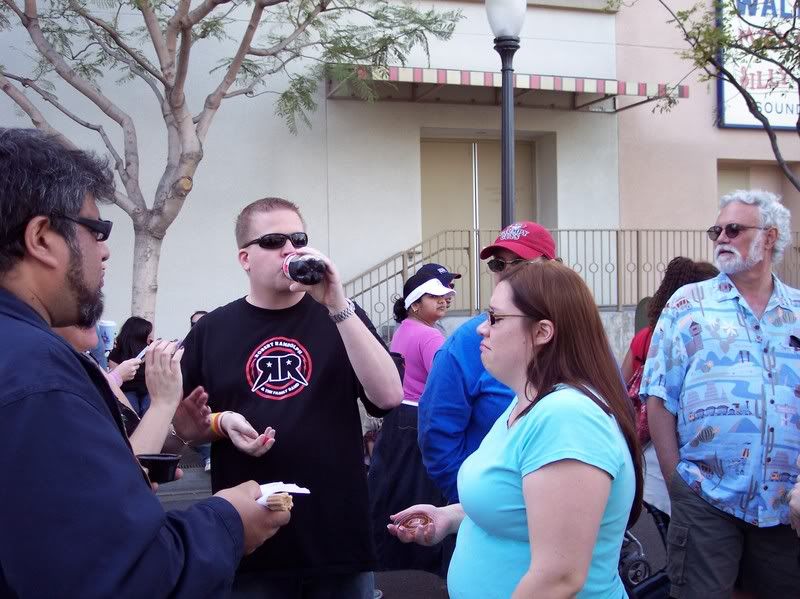 And we had craving for chocolate sauce.
We woke up with all daddy's friends around us and we were going to the Bug movie. We got to wear funny glasses.
We are very mad at daddy because that was the WORST MOVIE EVER!
The spiders came down on our heads and things poked us in the back and we screamed like heck to get us out of there!
It was finally over and the group split up: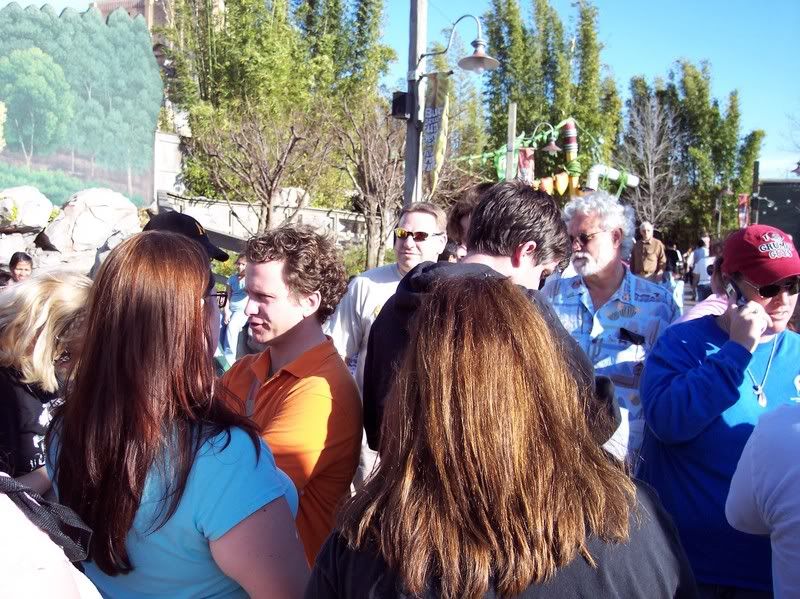 We went back to Soarin' and daddy got a call from his friend snow_white_raven who works at a Disney hotel. She met us in front of Soarin' with a cool surprise.
She had 2 big, signed, pictures of Disney characters with our names on them! Thing 1 got the princesses and Thing 2 got the Fab Five! We have to frame them.
We went on Soarin' (our favorite ride) and then to the bathroom and then back to the other Disneyland.
Thing 2 really wanted to go on the Monorail again and Thing 1 had never went. The line was long but we got to see big crabs and daddy leaned way over to take pictures of pipes:
Whoopie
SWR asked the 'ductor if we could sit in front and he said OK.
So we waited a little more:
It was getting dark and a little cold.
The front car from the outside: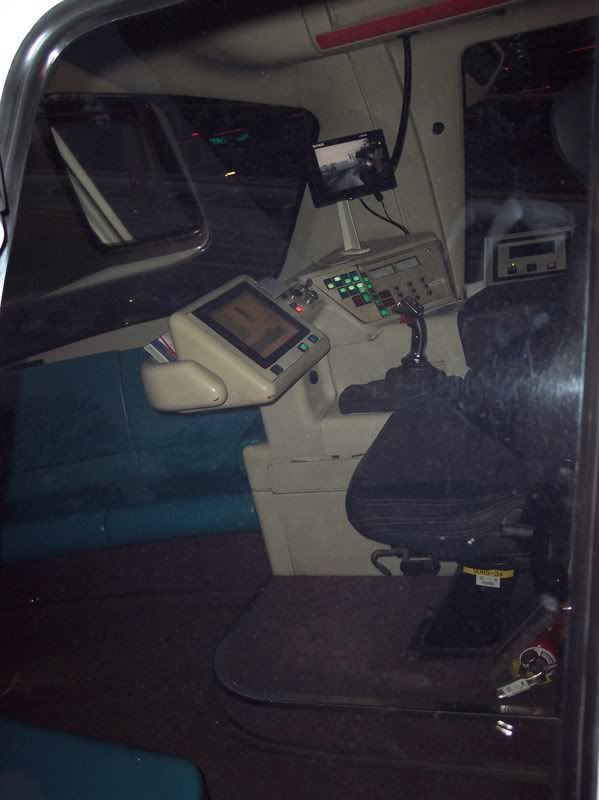 Can we drive?
Purplest Monorail ever!!
We get inside:
Thing 1 is overcome by coolness.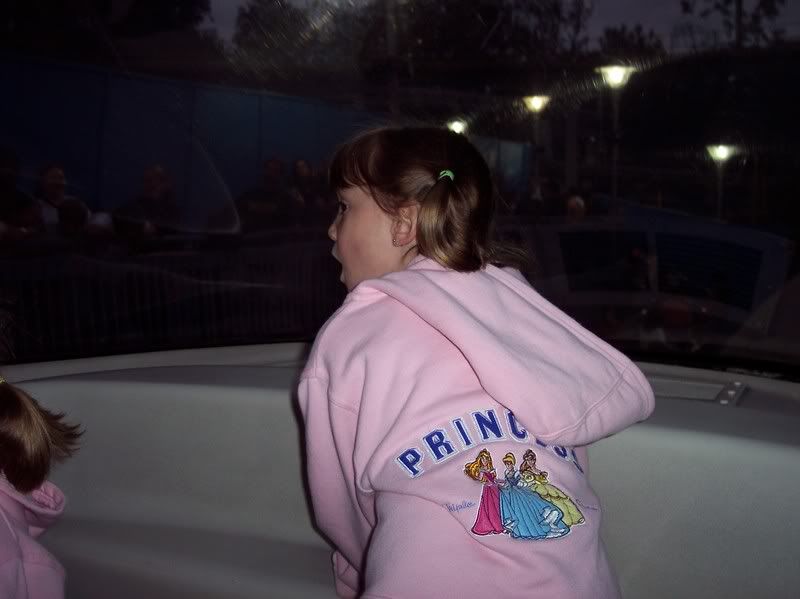 Especially when he blasts the horn at all the people waiting!
We see the "No Disco Dancing" sign and act like good little princesses:
...For now!
When we rode back, we went on Jungle Cruise (for real!) and went up the stairs in the line and met up with people waiting for the Indy ride! That was funny!
The skipper was soo funny and we all laughed at his jokes and SWR got his name to tell City Hall how good he was. Who is City Hall?
Then it was time for dinner and we went to Cafay Orleans. SWR gave them our name while we went to the bathroom and then came back.
Best part of dinner: Pirate Hats!
We may look like little angels, but look out:
Pirate Thing 2 will snatch yer wallet in a winking!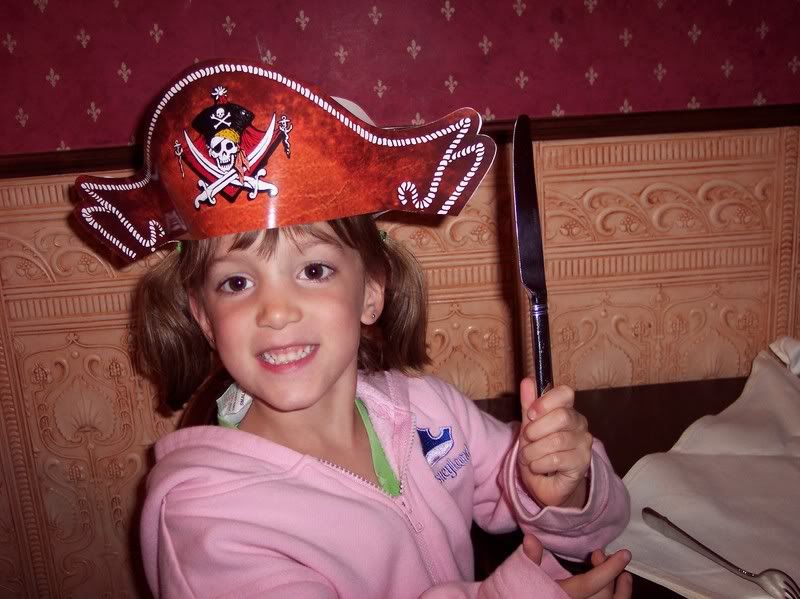 And Pirate Thing 1 will split yer gizzard for a shilling!
snow_white_raven is so gullible, she talks her friend Jake into coming over.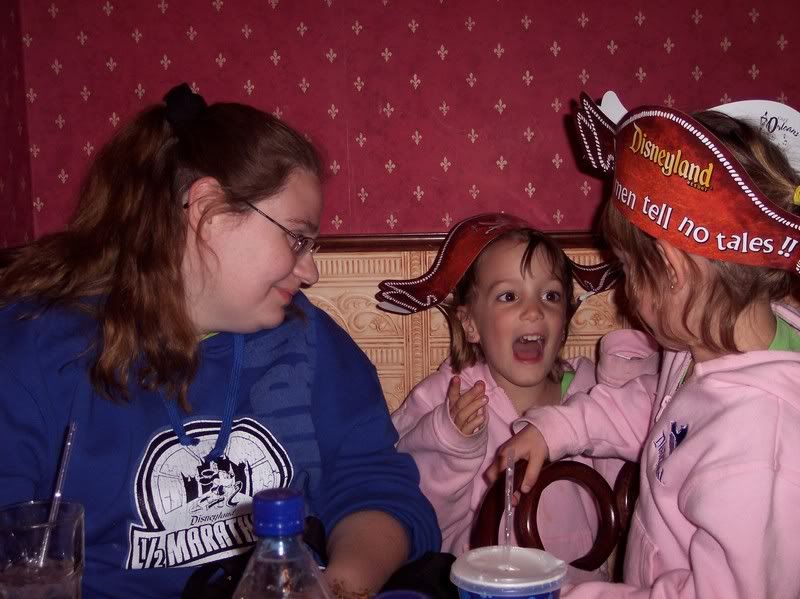 Now we have them!
Jake arrives and say we want to go on Dumbo but it's closed now for fireworks (as if they will happen with all this wind). While we make up our minds, we decide we need to go to the bathroom again and daddy takes us to the Hidden Bathroom! We could tell you where it is but it's a SECRET!
We decide to go on the rocket ride because it's just like Dumbo (almost).
We convince Jake and SWR that we are innocent little children. Hee hee!
As we wait, it sprinkles a little. Then it sprinkles a lot. Then it starts to rain. No fireworks tonight (duh)! People start pouring out of Tomorrowland and every other land and head for the exit. Jake is very happy about this. The Park will be ours!
We go for a flight:
SWR and Thing 2 in the rain.
Then we went to the bathroom and it was time for our Buzz tickets. We did great!
After that, Jake had to leave and we went on Mister Toast Wild Ride for the FIRST TIME! That is now Thing 2's favorite ride. Thing 1 said "too scary".
But we both agree on one ride: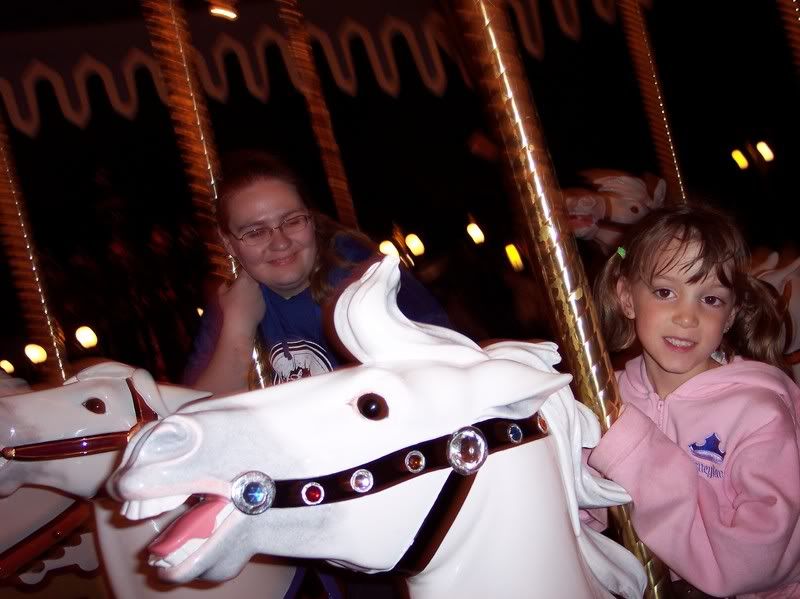 The horsie ride!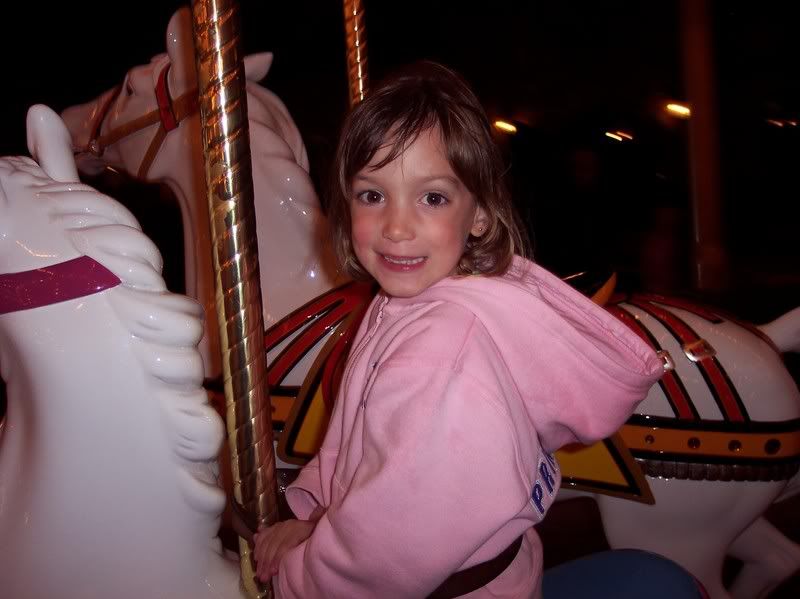 It's our favorite!
Then we went over to Critter Country to go on the Pooh ride.
It was not raining anymore and nobody else was around.
We went on and they asked if we wanted to ride again. We said "OK!" so we did.
And then it ended and they asked if we wanted to go AGAIN. We said "OK".
But we switched seats first.
And after the third time, they asked if we wanted to go AGAIN! Daddy said :No thank you" but we screamed "But daddy, it's our favorite!"
We didn't go again.
We did go by the Tiki Room and saw this cool guy:
Uh oh... Time to go to the bathroom.
We saw the show with 3 other people. That makes 7. Because we had 4 and 3 more makes 7. We counted over and over again until daddy told us we were right and such smart girls and please stop now.
And since the Park was about to close, it was best time to go on our FAVORITE ride: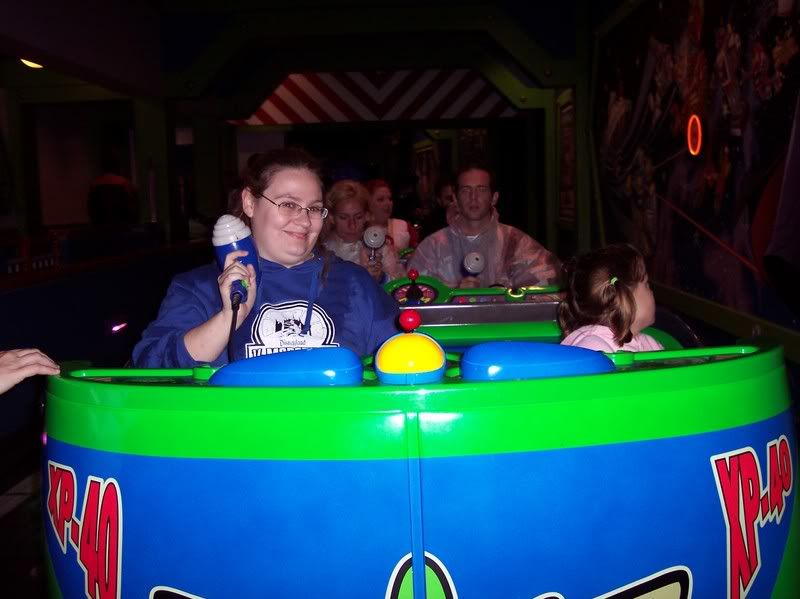 Yay! Buzz!
And then the Park closed and we said goodbye to SWR at City Hall (it's a place!) and got on the tram.
We were so tired, we fell asleep before our favorite ride even started:
The ride home.
THE END