I awoke in my LA county residence at about 9, seeing as it takes me a good two hours to get ready to go anywhere. By just after 11, I was in the car and heading towards Anaheim. Due to what I deem the universe trying to make me miss the meet (aka every stoplight we came in contact with going red on us), I arrived just after noon at the hub only to be greeted by hugs...from Fishy!!! I stood there looking stunning for a bit as I quietly surveyed the group.
I would like to say now that I apologize for forgetting everyone's names, MC sn's or otherwise.
Quite a turnout. And it was still fairly early.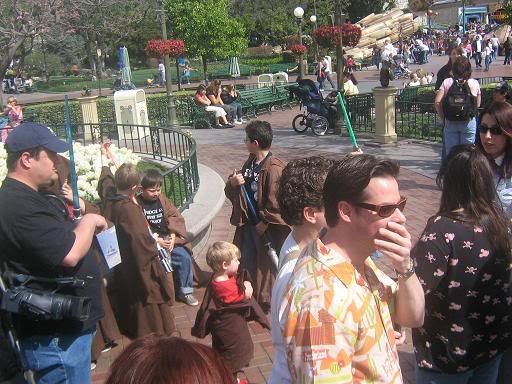 Our Jedia Padawan escort arrived. I didn't know we needed lightsaber protection from the masses, this is some exclusive group I've gotten myself involved in!!
After a few more minutes of waiting for stragglers, I was informed that we were heading over to DCA's Pizza Oom Mow Mow for lunch, because it got a new menu and was usually pretty unoccupied and could therefore accomodate this large of a group.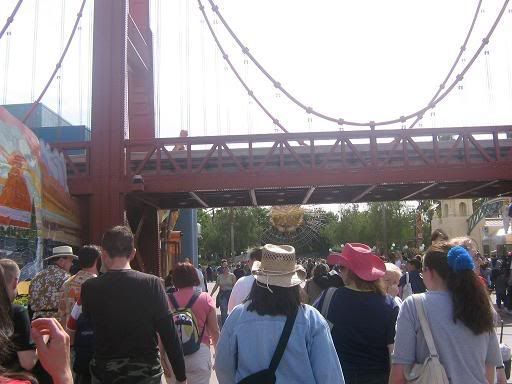 Over in DCA. No cheerleaders in this shot--I ain't no hollaback girl!
The unoccupied Pizza Oom Mow Mow was, in fact, quite occupied. I was told LIES!!!!! (kidding, no one could predict that because it was noon it would be busy since it was an air conditioned buidling)
/lunch. I was popular today because my phone kept ringing, and being the polite person I am, I dashed outside each time to answer it. Five times. T_T...anyway. At about this point WeWantsTheRed'ead and my two non-MC'er friends Bre and Paul showed up.
Us loitering outside, waiting for the next move for the now 20-something count group. With the top of WeWants' head randomly in there.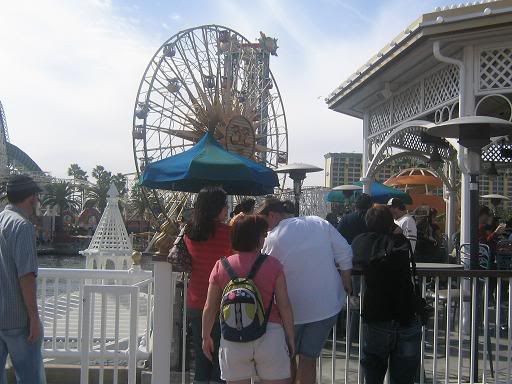 We walked around the construction side of PP, only to end up at the Cove Bar. Surprise surprise. Us being underage, and my and WeWant's sensing Paul's and Bre's discomfort at being with complete and utter strangers, we bid the group farewell as we headed over to...TOWER!!!
The line was actually very long, considering I'm used to being able to wait standby in the middle of the afternoon and get on and off the ride in under 30 minutes.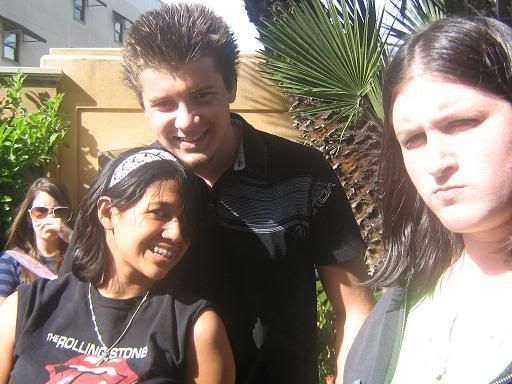 Bre, Paul, and WeWants in line for Tower. After taking, WeWants asked,"Did I look angry enough there? If not we're gonna hafta take that one again."
Paul and Bre, Bre showing off WeWants' awesome Purim-festival-won sunglasses.
I decided not to do a true constant photo-snapping TR, since Bre and Paul weren't used to my Disneyland quirks.
This was Bre's first time on Tower ever, so I pulled a bit of my bellhop imitation and refused to tell her anything about the ride. We were about to be ushered into the uppers library (the left one) when I noticed our grouper was one of my favorite bellhops: Shaun, aka Igor! I bid him hello and he took half a second to remember me ("Checking in again, I see?") before we dashed over to to library. I took up the Tower expert persona that I get with ToT Newbies and I pointed out all the Twilight Zone references I could before the show started.
Bre was shaking by the time we got into the boiler room corridor, but me and WeWants weren't phased and pulled our regular schtick:
(entire thing said far too loudly for all to hear)
Me: Look! That sign says it's been 13 days without an accident!
WeWants: Looks like we're about due for another one, now aren't we?
(both cackle like crazy people)
My favorite poem. Not just because I found it on the ride, either.
Bre refused to go on again, even though the rest of us were up for it. Poor girl, she got off shaking...which might have been becuase of my "Just make sure you wear your seatbelt, if you don't you could die on the ride" safety warning. Which is true, actually.
I do believe she was about to cry in that picture. But at least she did it once, that's all I ask.
This is a bit lengthy, so more to come en unos pequeno momentos...