The PEZlings were once again let out of their box yesterday to run riot over the Land of Disney. They were not allowed, however, to take pictures and write up their own TR because my camera strap broke for a final time. And they were so busy having fun fun FUN with the Band_Of_Gypsies' terrific (and energetic!) youngest daughter.
So, if you showed up looking for a PEZling Trip Report, turn back now. But you will miss the baby ducks...
First off: Safety!
Don't make me release the hounds!
Maybe these will be the new bag checking personnel? Just don't expect to be bringing in any contraband bacon!
And all that security didn't prevent the likes of these from getting in:
It's the Clinkerbelle Clan!
More fun than a bag of squirrels!
Sir Clinksalot and Squire Clinksalot try to get peeksies at the Sub Lagoon:
Notice anything missing? Like all those cool Nemo characters on the refurb walls? Gone. Bruce, Crush, Marlin, Dory. All gone. Just a vast ocean of blue wall. Color me blue too.
We bade farewell to the Clinks on their way to Small World as we were heading to BTMRR to meet up with B_O_G.
We got there at around 9AM and the Park was already bustling.
Here is the Fantasyland crowd waiting for Dumbo:
Junior dog patrol:
Happiest (single) Turkey on Earth:
Looking kinda fat, ain't he? Guess the Shed wasn't big enough for the two of 'em.
You can see the baby goats flee for their lives behind him.
Theres a hole in the wall, gang!
It's mine!
We round the bend to find the Band_Of_Gypsies after too long an absence the DL:
Immediate bonding over stroller duties:
Our group split with some going to ride BTMRR and the Things leading me and B_O_G mom and youngest to the Pooh Ride! Yay!
Hardly a line for Haunted Mansion or Pirates. Could we get the Things to go on? In a word: NO. And that's enough of that story.
Jungle Cruise, on the other hand, was a big thumbs up!
Intrepid guides:
Ya wanna go THAT way.
And who is our lucky skipper?
Why, it's Brittany!
After her morning coffee too!
The girls take their places a'fore:
And look out:
DAIN-JA!
Steve Irwin: RIP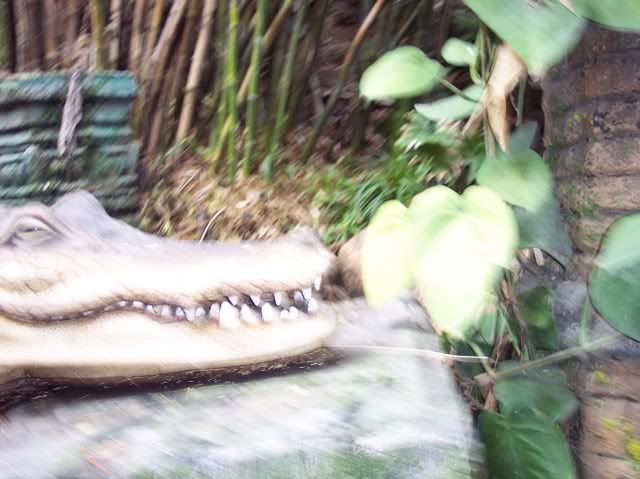 Crikey!
How the elephant got his trunk?
And the punchline is:
His mother-in law! Oh man. That one just kills me...
African plains: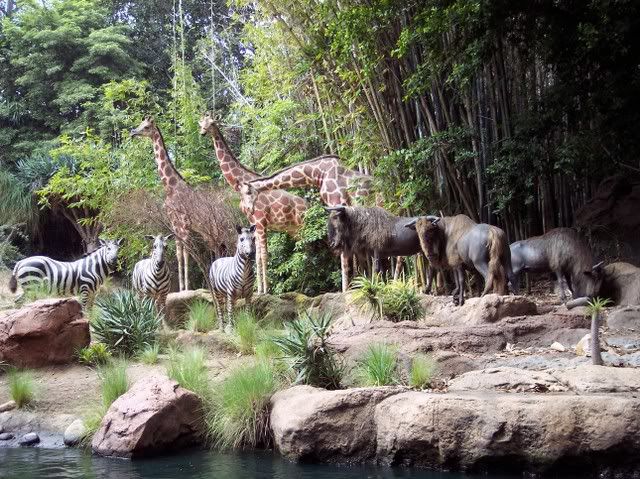 The ones on the right? Must be Gnu...
Sleepy zebra:
Always gets his point across...
in the end.
Hungry hungry hippos:
Yes, Brittany actually made reference to that and we loved it!
Brit takes a shot at the one in the tree:
Ans then tries to interpret the native dancing:
Nope. At least she tried.
The back side of Brittany (and water):
And no, I didn't forget:
BABY DUCKS!
There's a dozen from the looks of it. Mom must have gotten hold of an empty egg container?
Too bad they headed straight to piranha territory. Not pretty...
And here we are at the end:
Great trip Brittany! Glad to know you got to go again. And again...
Adventureland Bazaar - bizarre: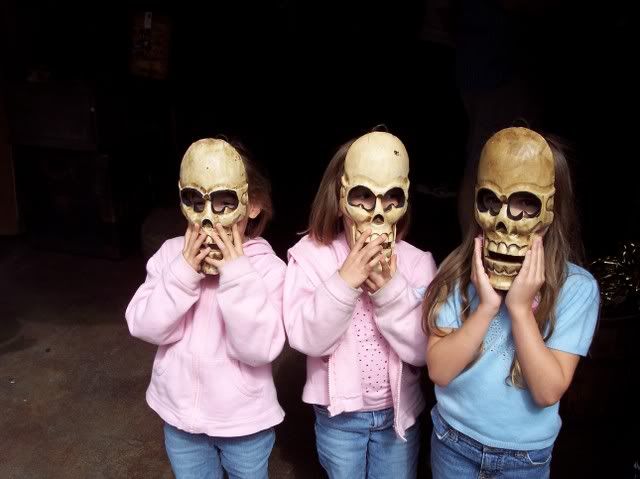 The Ghost-Riderettes?
And then to Buzz where we saw O'Nut and VF in line (but not barfownz?)
Afterward, the Hub:
Quite a group, including Fab Five in the middle there.
Thing 1 shows off her Sadako PEZ:
Al loves him some popcorn:
And there's DeeOhGeesMom, Crazy Legs, and Judimouse!
MiceChatter formerly known as SoCalJoeyB: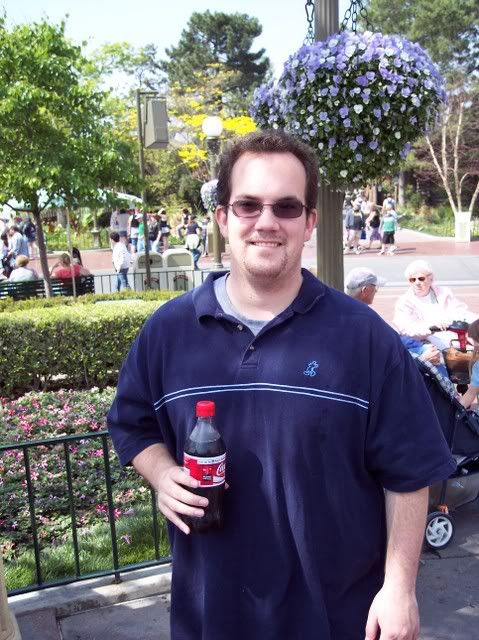 Still can't get your new name down! Aaarrggh!
There's Cabin Boy Barfownz with Cap'n PirateMunkee:
AHOY!
The very lovely akfandisney with the tall gentleman whose name escapes me. Please let me know because he is a gem of a person:
Group shot featuring OlympicNut and Crazy Legs:
Here is the Fab Five:
Plus one. B_O_G older daughter is in there as well.
PEZ Sadako with Goofy by request of Thing 1:
And a rescue mission for Thing 2's Belle:
PEZ down! PEZ down! Call in reinforcements!
Here are DontBeCheekin (on her birthday!) and NeverNeverLand:
Dream FastPasses for the ladies!
And the demure VillainsFan shows off a very un-villainish shirt:
The PEZling Beauty Salon opens for business:
And then it's off to Zocalo!
Our party was able to sit together:
Which was pretty amazing in itself!
And finding something they will eat: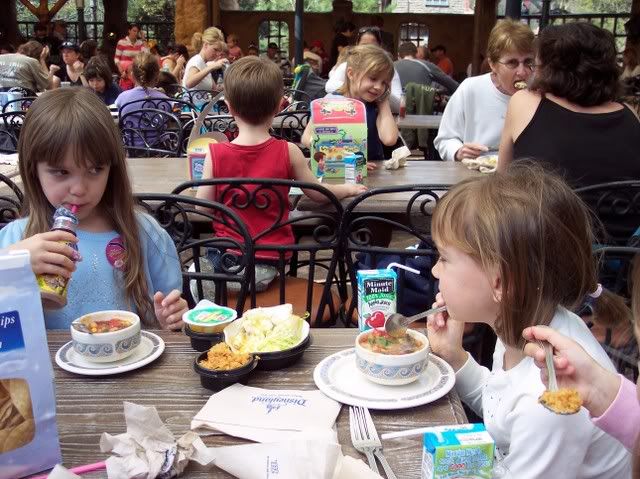 Nothing short of a miracle!
Then it was off to Adventureland:
Along with everyone else in the world.
We waited for the Aladdin Storytime show to start and went to the Tiki Room. Well, everyone else in our group did and the 3 youngsters and I opted for Dole Whip.
Tiki Waiting area:
That Pele is a hothead!
The girls swore this was Aladdin's magic carpet:
Must have been a rough night?
Aladdin Storytime show is really great for the young'uns:
Whimsy!
My kids are in there somewhere:
Thing 1 has a mini-umbrella she scored at the Dole Whip bar.
Great show and photo-op afterward:
They should have the storyteller, Kazoo, out there as well. He is the real star of the show!
After this, we had to hot-foot it over to DCA and use our FP's that Daddy B_O_G got for us earlier in the day. The Things had to get back in their box (and get to school the next day) so we had to bid a sad farewell to the wonderful Band_Of_Gypsies and hopefully meet up again soon. At Disneyland - or beyond!