This is my first ever trip report so please be kind. My girlfriend (Goofypiratesgirl) and I drove down to the DLR for the weekend. Here goes...
Crowd's light at the trams when you get there at noon. Pirates like to sleep in.
Paid homage to my parents' 25th Anniversary stone. My brothers, my gf and I got it for them.
Trains are back! Those two boxcar-looking ones look new to me.
Dapper Dans doing their thing.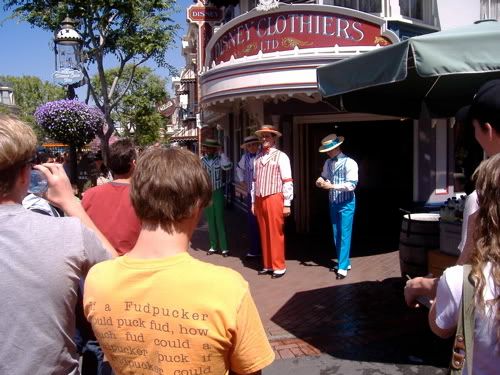 After grabbing Fastpasses for Space Mountain (at 10:45pm!) we ran over to the Monorail to check up on my Subs. The Scout was all opened up. Note the white plastic body weight simulators stacked up in the foreground and one of the guest load ramps tilted up in the middle of the dock.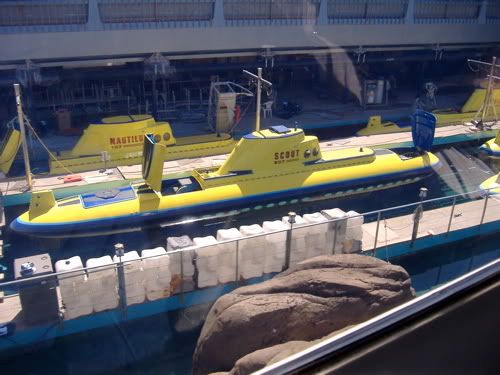 Picture #3,786,908,567 of the buoy on Micechat but the first picture of it for me!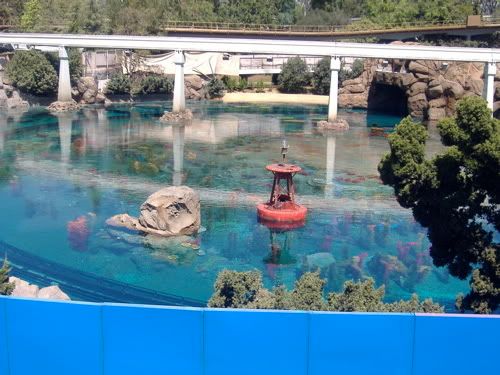 Then a quick run over to DCA for the 1:50pm Aladdin. Saw Sully and a cast member hating his job. It was pretty warm but at least he was in the shade.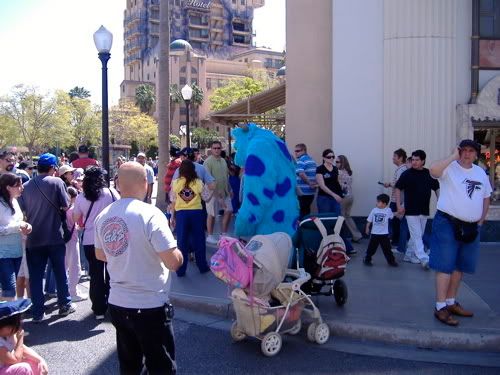 Weren't these shelves covered with old props a long time ago? They've pretty much all disappeared but whatever they used to stick them to the shelves is still there. Hooray theming!
Find Mickey!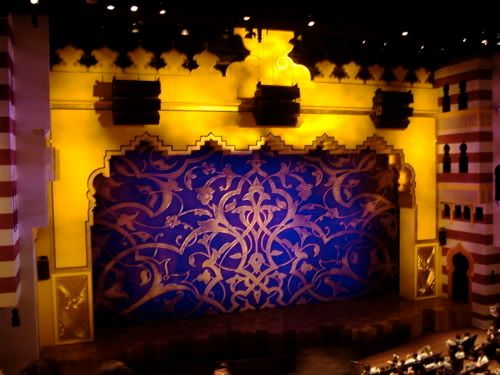 Quick Aladdin review:
They must had gotten a new genie lately because he was the best I've ever seen here. Even better than the usual weekend guy. He ad-libbed almost twice as much. At one point during the "Sultan Peppershaker" routine he just stopped talking for a looong time. Finally the crowd started cheering like crazy and he turned to Jafar and said "I have no idea what they're cheering about." We were rolling. He even breakdanced as the curtain closed. On the downside though the usual weekend Jafar wasn't there and this one wasn't the best. As usual Aladdin was kind of a nonentity but Jasmine had a great singing voice. I'm sure this has been discussed before but a couple older women sitting next to me complained after the show that the "lady in the electric wheelchair" was just distracting and Disney being politically correct. I wasn't really sure what to say. Anybody else want to share their feelings? This probably belongs in a separate thread.
AAAnyway here's Goofy apparently on vacation.
There's still about a half dozen PoC 2 windows across the DLR which all still look cool but I think they need a little touch up into At Worlds End. Still trying to sell DVDs I guess.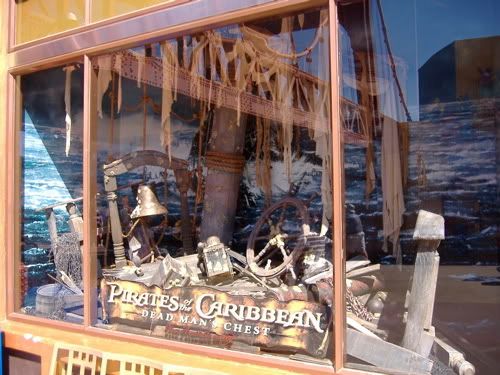 Back on Main Street I saw this guy and chased him all the way around the Ice Cream Parlor to get a decent pic of his amazing shirt.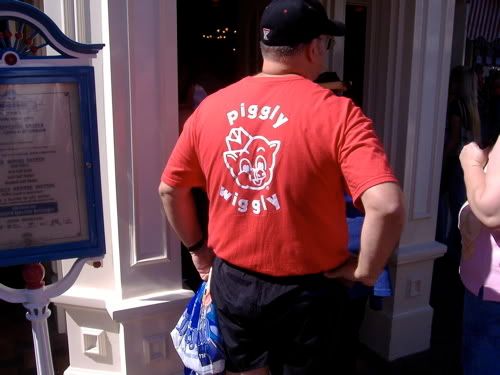 Burt and Mary Poppins. The DLR face characters are great.
Above the Jungle Cruise queue. Look right in the middle of the pic and you'll see a familiar drummer from the Tiki Room.
We stopped to people watch at the RoA and spotted this canoe. That's right ladies BOTH cast members are female! Talk about girl power...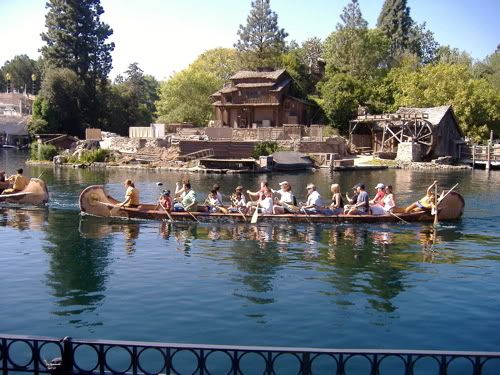 These girls stood there texting on their phones for at least 15 minutes straight. How can you do that when you're a mere 50 feet from PoC??? Get in a line at least!
Strollers eagerly anticipating Pirates Lair!! Plus the girls are still holding up that lamp post. Probably waiting for replies to their texts.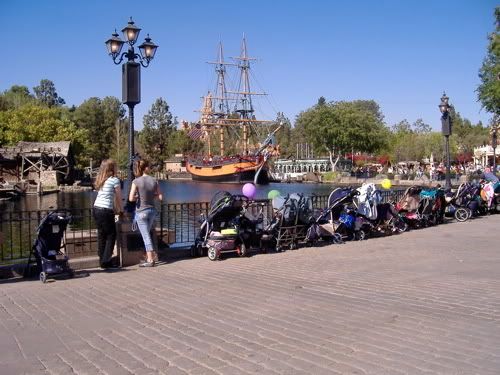 Gotta be something new going in there. Interesting rebar box and stacked logs.
Finally time for the GROAT (Greatest Ride of All Time)!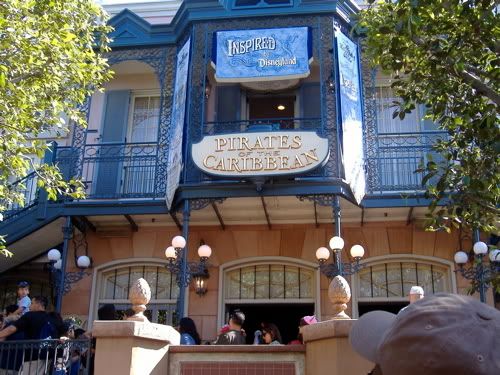 Happy 10th Anniversary to the 30th Anniversary plaque! Note the real tile in the background...
...and now the painted tiles that still look a LOT like real ones especially from a distance. Until recently these were just solid brown.
Tarzan's Scaffoldinghouse. Kudos for at least using mostly green bars. Is it wrong to taunt the Imagineers there by yelling "Timberrrrr!" yet?
Solid run through PoC though the upramp was backed up all the way to the burning town. While we're in the burning town has anyone noticed that in one of the burning windows on the right it looks like a menorah is tipped over? Anyway on to the newly scarier HM.
Work continues on the Mark Twain...
Not Brigham Young's hearse really needs a moving casket like the one at Knotts. Though the Reservations sign isn't bad.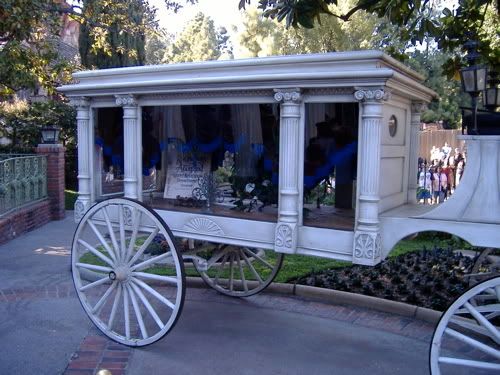 The blank slabs are just begging to be Photoshopped.
HM was good and I think the new green face on the wall in the seance room is an even creepier addition than the new bride. The ride stopped when we were right in front of the spider web at the ballroom scene. A CM must have bumped the wrong button because the house lights came on momentarily but went back off before I could fire up the camera. The ghosts still look creepy even with the lights on. After HM my gf was craving popcorn and I was craving cheap memorabilia so we got both!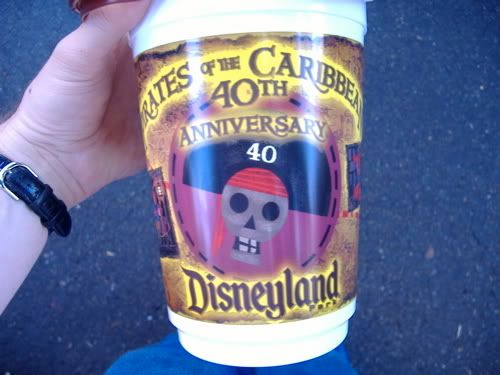 All three countries owned New Orleans so they all get shout-outs.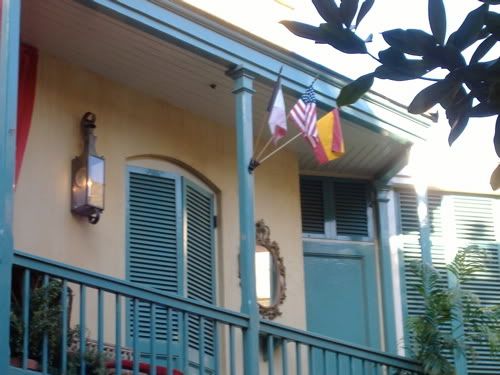 Has this building ever been used for anything besides tapping out telegraph that's just a little too loud? If not then bravo to Disney for spending money on an unused building just for the sake of theming.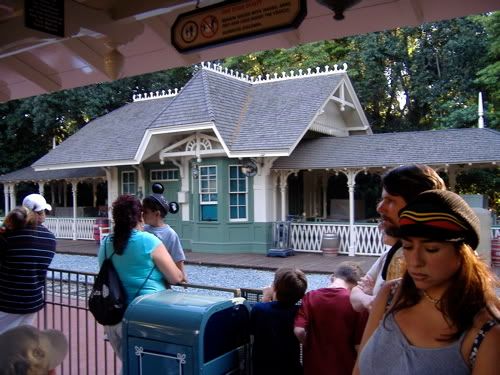 Took the train over to TL and noticed some (I think new) lit up caverns in a tunnel along the way. Nice touches. Then it was time to blast some Astros.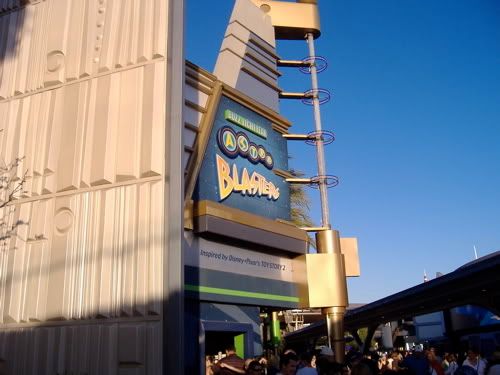 Still haven't decided if this queue is cool or cheap...
...this helps though. Buzz looks like he sayin "I swear the fish was thiiis big!"
After hitting the secret spot on Zurg (that sounds wrong somehow) we checked out the latest in droids with webbed feet.
As we got towards the front of the line at Star Tours a CM called for us to come to the front since there were two of us and sent us to a starspeeder (or whatever they're called). That was nice except that the speeder was already loaded and the CM on board had already given the seatbelt spiel. We had to stand awkwardly behind him until he moved and then everyone who was already seated stared at us as we found our seats and he gave just us the seat belt lecture all over again. If that's the one free "Dream" I get from this promotion then I feel ripped off.
After leaving the awkwardness and seeing a lady run out of our speeder to toss her cookies in a trash can we decided to grab some yum-yums before the MSEP so off we went to Pizza Oom Mow Mow where I saw a sign for a place my parents used to take me back in the day.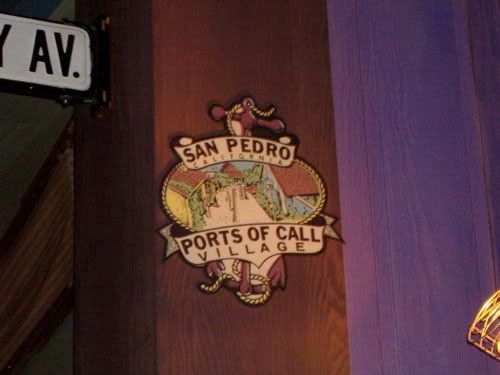 While waiting for the parade I thought to myself "Self, DCA's been open for 6 years now and I still haven't been on the Golden Zephyr. I can't decide if I want to or not. Will I get bored? Will I get sick? Some things we'll never know."
Parade time! Goofy's stealing my dream job.
Really if I had like an hour and a few strings of white Christmas lights I could totally fix that for them. Wouldn't take much to write MAIN STREET over the Disney's part. Finally a realistic solution to fixing DCA.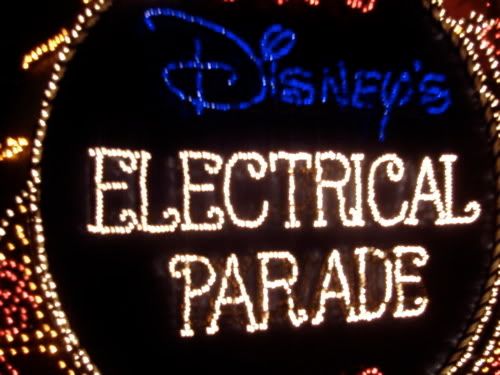 STORY TIME! Okay, the Ugly Stepsister in pink throws herself against the railing, shaking the rail pretty hard...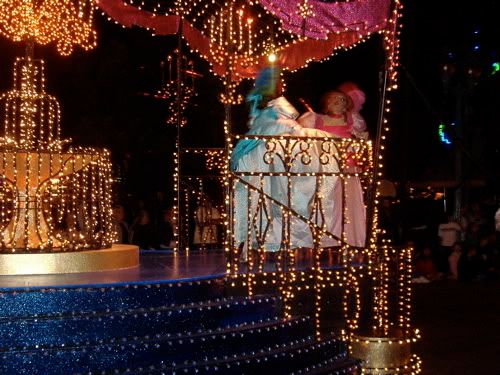 ...jarring loose a plastic reflector which sadly falls off the float and lands here...
...but wait! A certain Goofypirate snatched it up at the first possible instant! It now resides here (take THAT Circarama and your silly fighting lobsters!).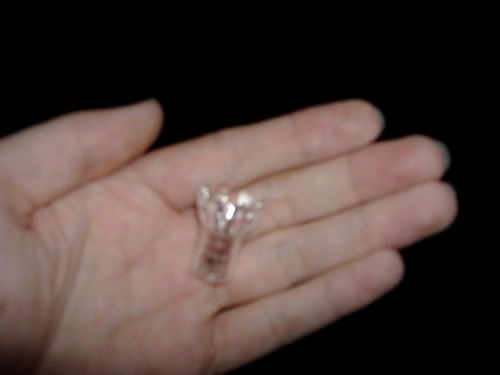 This guy was cast perfectly. He looked like at any moment he could jump off the ship, grab a couple purses and sail off to Tortuga by his onesy.
This "Lion King" always looks like he's missed a few Ridalyn doses. He's so loud and hyper and I can't even figure out if he's from a Disney movie or not.
Moderately creepy Dumbo. There's a reason you don't see this feller around the park.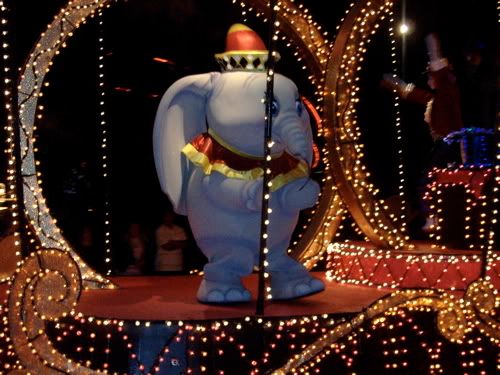 Further proof that you don't need to base all parade floats directly off of Disney movies in order to have a great parade.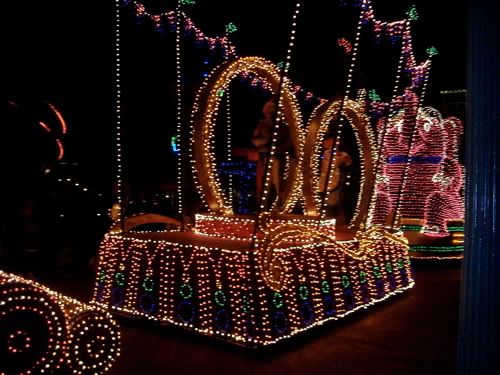 This one's for all the guys and gals at Vandenberg Air Force Base.
Amazing parade as always. SOMEday we'll see it on Main Street again. I guarantee it. Back at The Original we cashed in our Fastpasses on Indy. Has anybody else noticed that between the scary-loud big snake and the dark rat tunnel you go under the bridge and above you on a scrim there's a huge projection of an angry cursed skullface? Maybe it just took me all these years to notice it.
Then we went to cash in at SM but it was down for at least a half an hour. We like the Rockin' stuff but it was already after 11pm so we decided to quick hit the Matterhorn. Then we emptied out the locker while a confused girl was trying to feed her code printout back into the rental machine I guess so she could open her locker. Back to my favorite level at the parking structure.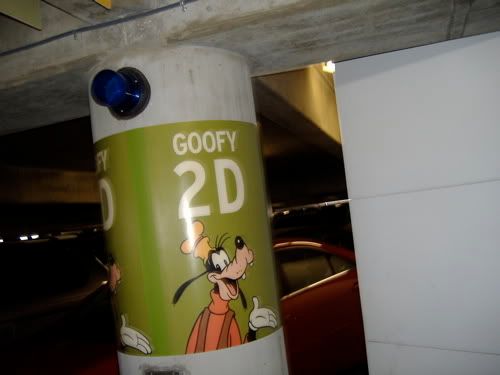 The next morning! Well 11:30am is technically morning.
No love for Pirates 3 yet?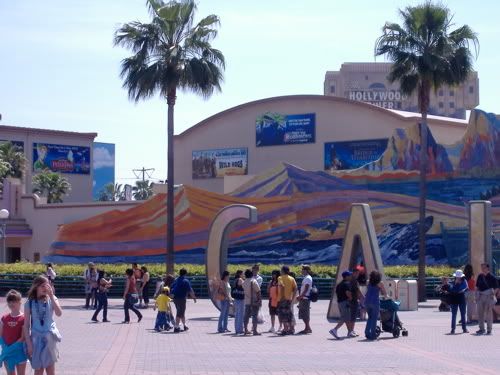 I almost wish they would have left one ticket booth alone when they repainted the others just so you could better see how nice they look now.
Without the flowers blooming Mickey looks a little Halloweentime.
These survey CMs were everywhere this weekend but none would talk to me. One was really close to me and when she saw me PAP she looked at the CM next to her and said "No." I guess we're blacklisted. Boy if I was wearing a Micechat nametag she may have taken a cyanide pill or lit herself on fire right there under orders from Jay Rasulo to avoid having me in their survey. Lucky for her.
The Lilly Belle was around all day taunting us. At least you can pretend Club 33 isn't there. She was chasing me everywhere.
Four words: Sweetest Trombone Gig Ever. I want their job right now. I don't think I've ever seen a different conductor by the way. I'm pretty sure he's the next generation AA. First Lucky the Dino, then the Mobile Muppet Lab, now the Ageless Conductor.
I guess as a member of Micechat I'm required to show some flowers in my Trip Report. The white ones were cool trumpety looking things.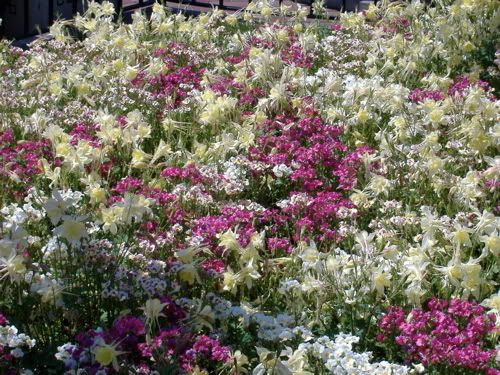 Just a few guys from the custodial staff heading off to work. Right.
Oooooohhh Ahhhhhhh! What is it?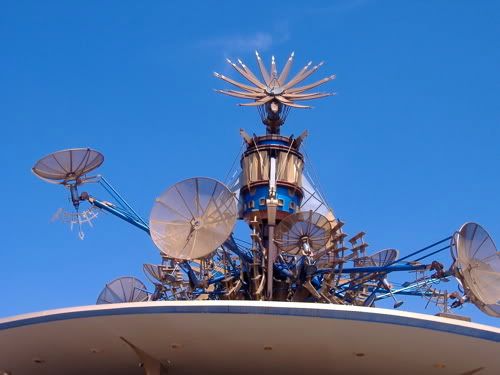 Something was definitely going on at Nemo a little after noon. One guy was unloading a cart that had a huge professional videocamera case on it and a bunch of suits were going in and out of the door too. Another CM was unloading a cart that had a few cases of bottled water on it while this CM pulled the barricade back and gave me a very un-Walt look. Possibly a press event or filming a commercial? Goofypiratesgirl had the bright idea of hopping on the Monorail to get a better look but when we walked to the line a CM informed me that the ride was down for a few minutes. Smelling something fishy (pun definitely intended) I pressed him and he told me that they were blowing up a monorail on the track "Mythbusters style" and it would just be a little bit for them to clean up the mess (Josh was a funny CM). After agreeing with him that that would look awesome he admitted that they were actually taking a Monorail off the line and that Monorail service would be one way only after it started back up. Ah HA! Shuttle mode!! I have no clue what they were doing at Nemo but they certainly made some effort at hiding it.
So we decided to quick run over to PoC since this was going to be an abbreviated day at the resort. This pirate was lost though. All the way over by the Matterhorn even.
This has got to be the most awkward table to eat at in the entire park and possibly all of Southern California. The only way it'd be worse is if the "Mine" seagulls were hovering over them too.
After PoC we realized we could just squeeze in another run of Aladdin before we had to leave so we ran past all the old characters that they dust off to give the newbies a whirl in. I can't remember the name of that character in the distance on the right but that's one big beaver, eh?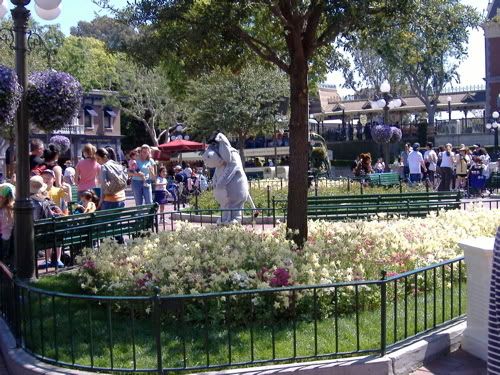 You know what happens to people who run to DCA, they end up in the balcony...
You know you're up high when the spotlight guy says "hey can you lean down just a little?" This showing of Aladdin was more like the regular weekend version with the normally excellent Jafar and Genie. Even Iago made himself noticeable. Kudos to the Genie for using the same funny American Idol Sanjaya joke that the previous Genie used and also for inserting a crack about Aprils Fools Day. No two shows here are ever alike.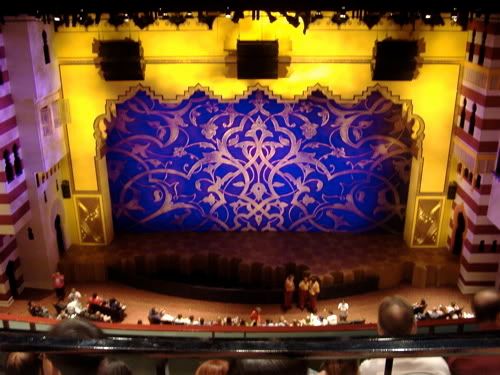 Shouldn't there be something up there? Anyone?
"Okay everyone who's burning the last day of your 2fer tickets please raise your hand!"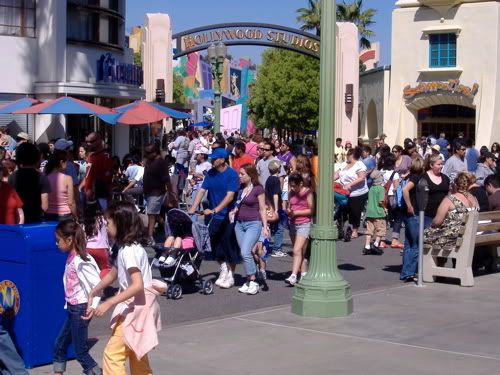 "You're really cute kid but I've gotta pee like Hidalgo."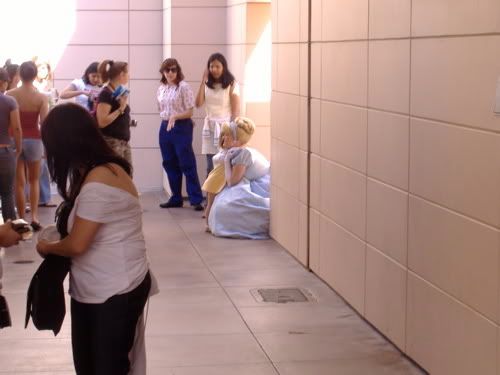 This sign makes me want to turn back around, set up a tent, and wait it out.
Pretty drive home.
THE END
Thanks for your patience!