I was able to make it out to the Sunday Meet (no foolin!) and hang out with some terrific folks. As you probably already know, there were Chatters from all over the globe spending a lovely day at the Happiest Place on Earth.

I spent most of the time with Skywaygrl, my good friend (and Gumball nemesis!) from NorCal. This is the first time since the 2nd Anniversary shindig she was down here from the town of Hercules. As an interesting side-note: the last time she was here, the glowing Exit stamp said HERCULES. On Sunday? HERCULES! The universe plays strange tricks on us - April Fools or not!

But I digress...
The park was not terribly busy as we arrived:


Not too bad says I - Davy Jones! OK, I have been on that ride a few times too many.

Skywaygrl and I arrived separately and immediately lost contact in a typical comedy of errors. We kept going to where the other person WAS but wasn't there anymore because they were where the other one was but left to meet... You get it.

But I did find the irrepressible Purple Dove:


We are in Tomorrowland by now trying to get FP's for Space Mtn. - which was down.

A little ways away, we run into a couple of Mice Chat Friendlies: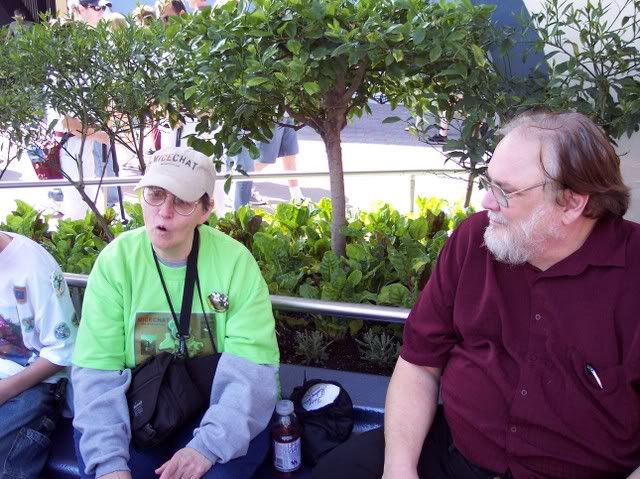 Barbara Ann and RadioBarry!

PenguinSoda and her lovely daughter:


Crocs v. Cons! A family feud! This time, it's personal...

And more friendly faces arrived:


Lost Boy and TikiRoomLiz! Lost Boy had a couple of DVDs he made with Roller Coaster Tycoon and my head is still spinning at how incredibly cool they are!

After meeting up with Skywaygrl again (yes, I will have pictures of her too, I swear), she, Purple Dove, and I go to Fantasyland to hit the rides using her magical wheelchair powers. In the Out door! We hit Peter Pan and Mr. Toad first and ran into a couple of MC Celebri-Tees:


Skywaygrl hugs Grumpy4 and Miss Christine.

Then we went to Storybook Land!

The last thing a burrito sees: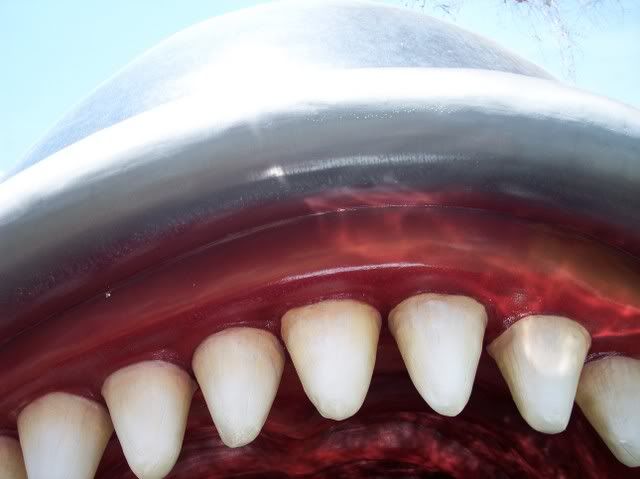 Purple Dove considers a career in dental hygiene:



Alice's rest:



A tale of two castles:



A picture of SkywayGrl, at long last:



Trainspotting:



There's another one:

Hey, I'm getting good at this!

Some nice peaks:


That last one looks like a real hike!

Waiting for Alice, we notice the Monorail standing still:



Until a huge hand comes and gives it a push:


Nicely done!

And then it was Meet Time!

DisneyBallerina showed up from NorCal to the surprise and delight of everyone! Some of us were too surprised/delighted to take her picture at first!

Well, here is her dorsal side with CanYouHearMeNowSnowman1 in the foreground:



RadioBarry is there to give Fishbulb's hairdo that extra ooomph:



Flower Power: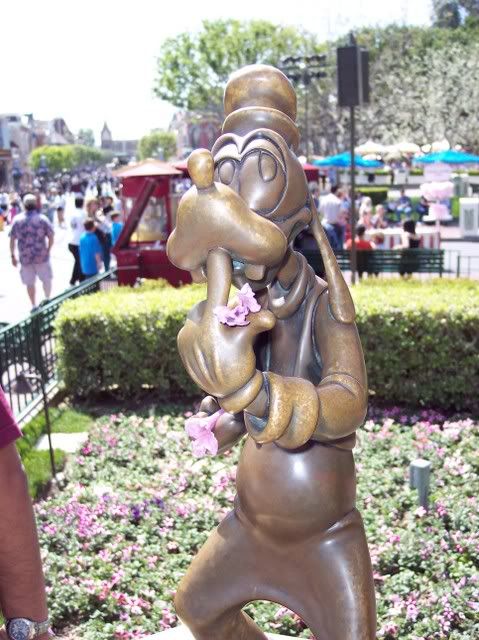 This is an interesting picture: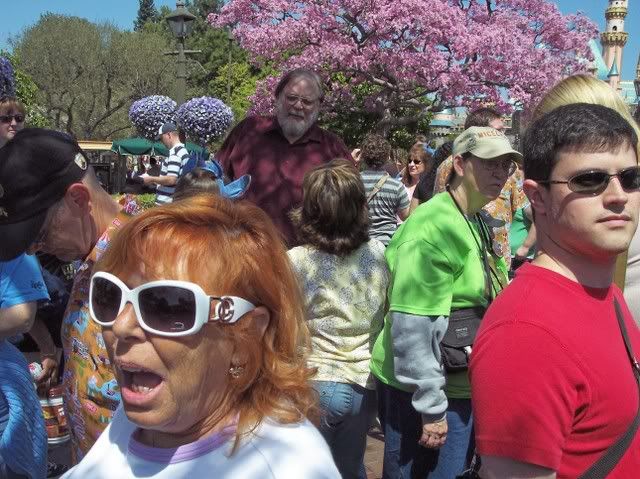 If you look closely, you can see body parts of about 30 different Mice Chatters. Judimose and Almandot are gimmes. See how you do! (I am only at 13)

The lovely Nephystes makes an appearance from her Rocky Mountain hideout:



Matt Hamand and Coheteboy:



Here is happy couple Princess626 and PirateMunkee:



Now PirateMunkee is also the Cap'n of the Pirates Pub!
Here he is showing off one of his greatest creations:


PenguinSoda's shirt! how cool is that?
And Pengy has a slight case of mouse ears going on as well...

The one, the only: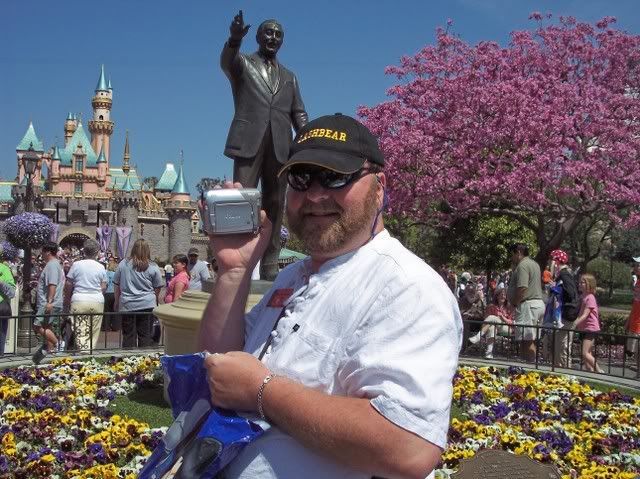 LASHBEAR! Bringer of good times, funny pronunciations, and Vegemite!

His and LashStoat's official swearing in:


With 90% less swearing!

First time for Ginarella and her daughter:


Loveliness times two!

And then over to the castle for the group shot!

If you see this coming your way: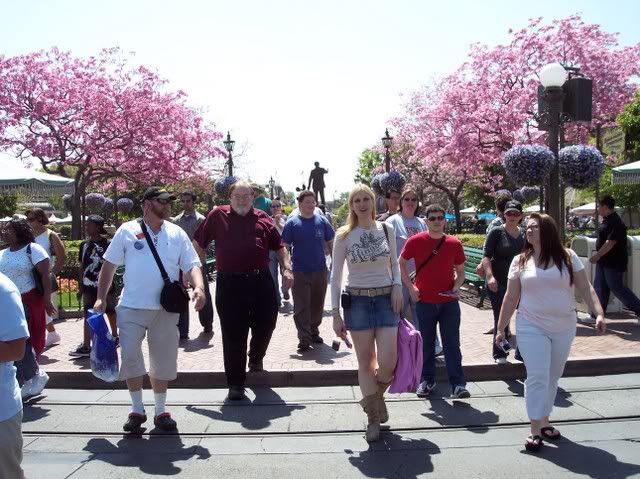 ...it's already too late!

Some post-photo pics of people basically hanging out trying to get motivated to move:


There's MickeyMax. And PugMan from Chi-town. Skywaygrl talks with Brian and Sandy from the frozen north of Montreal, CAN. Their first Meet, I believe.




Wouldn't be a Trip Report without Dusty's smiling face! And there is TrekkieDad (borrowing PugMan's shirt), who I have still not said one word to. Bad on me! Wolfy999 and Wolfette are always terrific additions to any Meet!





We did lunch at Plaza Inn, yadda yadda yadda. Great food and wonderful company...

Off to Space Mountain to do the Sideways Shuffle, thanks again to our beloved Purple Dove! The line was pretty long down there under the Mountain and somewhere in there it went 101 for a while. Luckily, Skywaygrl had brought with her some Giant Pocky!



DiZZZZZneyBallerina succumbs to fatigue as Snow_White_Raven uses her mind control stare to coerce more Pocky from Skywaygrl.

And then over to Haunted Mansion to experience the Shrinking Room and on our way to Pirates, we ran into, well, pirates!


The Bootstrappers put on a fine show, with or without the presence of Captain Jack but they had some good fun with a Child Auction and Captain Jack impersonation contest. The prize was supposed to be dinner with the Captain Jack impersonator - Johnny of the Deep. But.. April Fools! "Never trust a pirate."

Queenie and her entourage as we head on down NOS:


She is a Queenie I have not seen before. She is quite petite. And very neat. Such a lovely treat!

In line for Pirates:


DB, SWG, SWR, and PD. Isn't it nice to be on an Initial Only basis?

Later on, we ran into this character taking down the parade ropes:



The man, the myth, the Maynard!
Ever elusive and difficult to photograph in the wild.
Here is an attempt at a Character Shot with him:


Maybe next time...
It was still great to meet him for the first time officially. I mentioned Mice Chat and he said that he heard they were very nice people. Hasn't read my reports, obviously.

Still later, we went to the Disney Gallery where I broke down and actually purchased something (non-edible) at the Park:


Nif-Teee!

We went and listened to the incredible piano stylings of Robert and then it was time to go. Skywaygrl and DisneyBallerina had to drive back up to NorCal and I had work the next morning. We all went to the M&F parking city and bade farewell as the fireworks reverberated through the structure.

Thanks again to Purple Dove for hanging out with us and sharing your great stories and terrific spirit.

Thanks to Skywaygrl and Snow_White_Raven for your conversations which would never be clean enough to make any Trip Report. Ever.

And thanks to BarbaraAnn for wearing the T-Shirt which I think is soo cool and also happens to be...

THE END