Despite warnings of large Spring Break crowds at the parks, we decided to venture forth on Saturday afternoon into DCA. We presumed that the smaller park would be less crowded than DL. And we have been spending more time at DCA than DL over the past year--it's been growing on us.
Knowing that the lines for attractions would be long, we decided that the focus of this trip would be the entertainment offerings at DCA. One of the reasons we enjoy DCA is the entertainment--from the bands to the shows to the parades. Today's photo tour will include the familiar and some-not-so-familiar acts within DCA. HSM Pep Rally, Block Party Bash and Disney's Electrical Parade, naturally, are on the itinerary. But we will also see the Miner 49'ers and the Mariachi Divas--with guest appearances by Push the Talking Trashcan and the dynamic duo of Lightning McQueen and Mater. The day would end with a view of the fireworks from the Mickey & Friends parking structure. So, I'll stop procrastinating and get going.
We entered the park a little after 1:30pm, breezing quickly through the bag check and turnstiles. Maybe it wouldn't be so crowded after all. There was a quick stop at Soarin' to get fastpasses (5:55pm-6-55pm). Then we heard that there were some miners gathered by GRR, so we decided to take a look: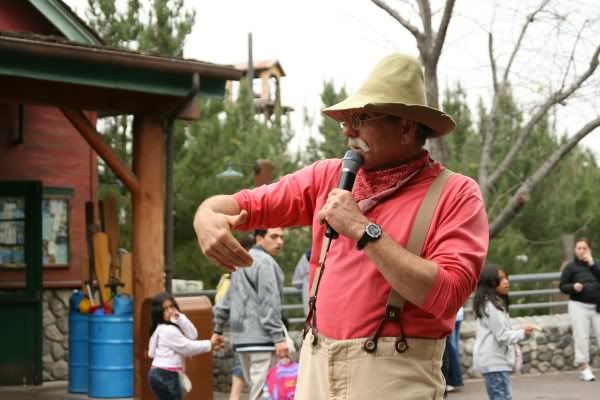 Jedadiah Jones was inviting people to come over...
...and listen to the Miner 49'ers play some songs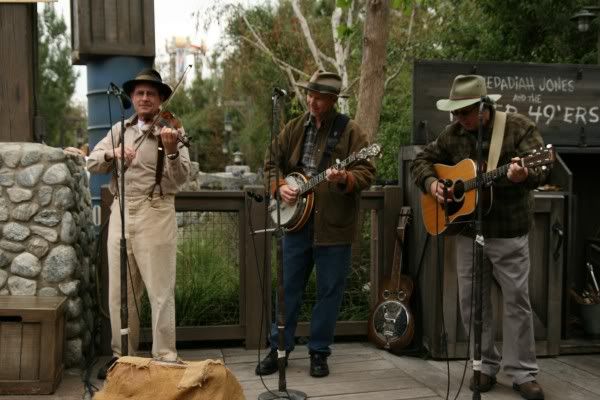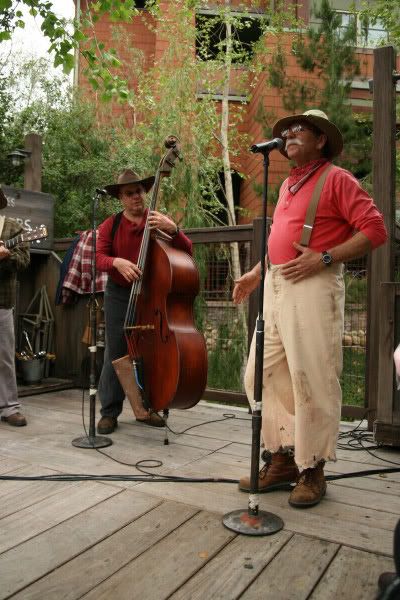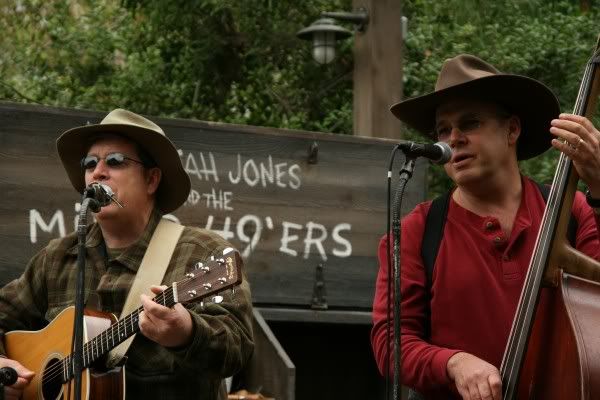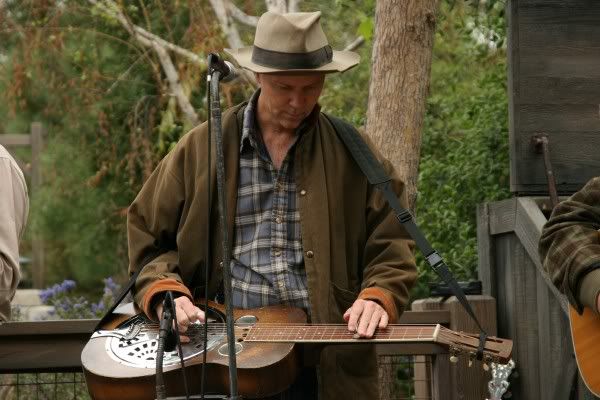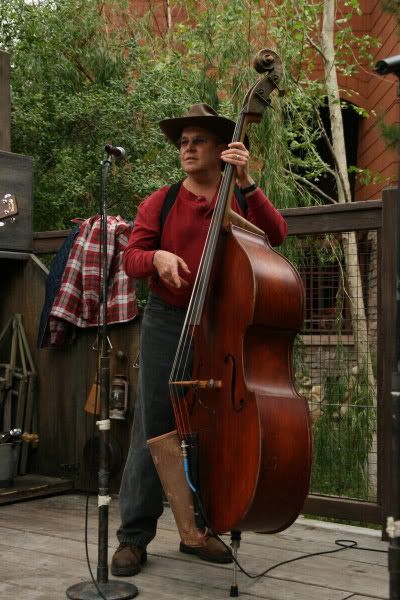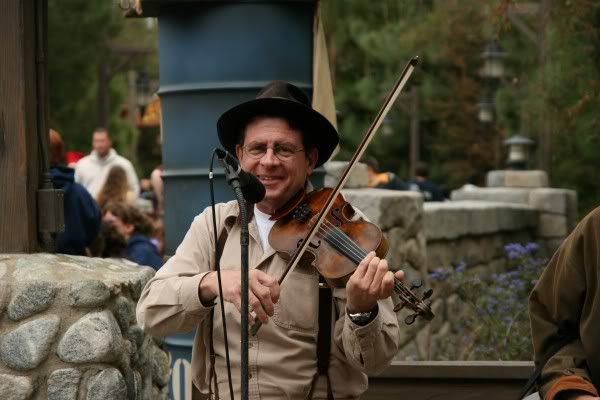 I love good fiddling. There would be another variety of string playing later.
After a fun, interactive set, Mr. Jones thanks the crowd for coming.
All that bluegrassy goodness made us hungry, so we went in search of chicken caesar salads at Pizza Oom Mow Mow. After creating a small mess while tossing one of the salads, we ate our lettuce and chicken and pronounced it good. We were brave enough to do a quick ride on the Golden Zephyr as the wait was only 15 minutes.
After a lovely spin on the Golden Zephyr, it was time for the High School Musical Pep Rally. We really like this show despite not being near the target demographic at all. LOL!
The two leads of HSM Pep Rally climb a ladder to sing about meeting that someone special.
There are basketball players...
And cheerleaders...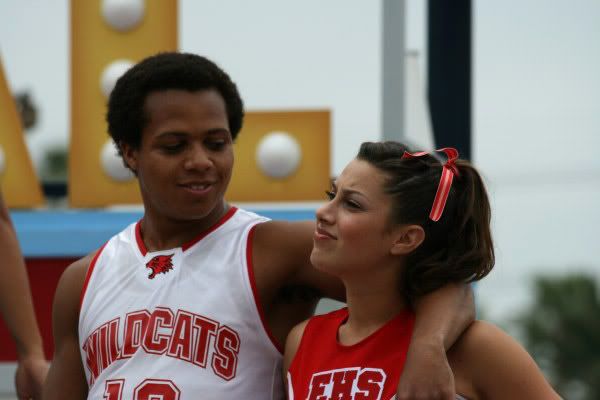 And sometimes, basketball players and cheerleaders together.
There are also random high school students.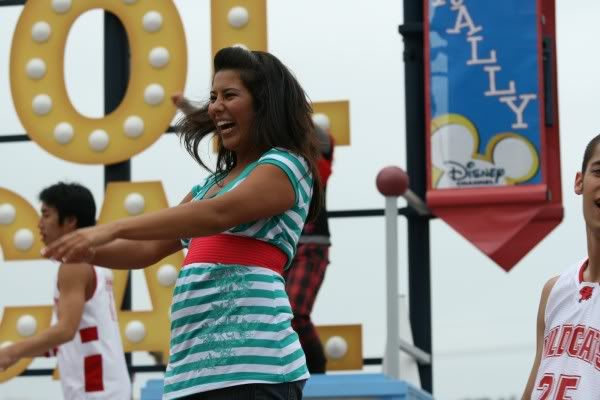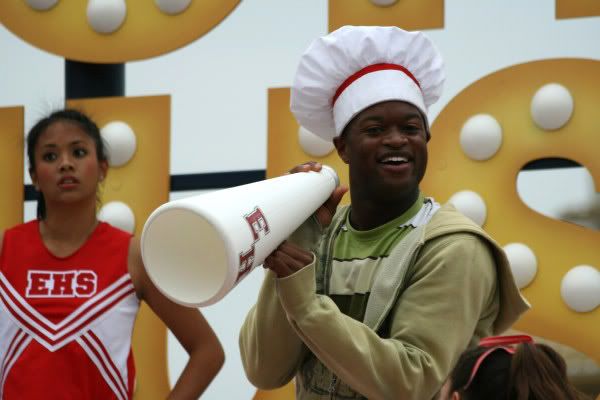 Some of these students have career dreams that involve cooking and megaphones.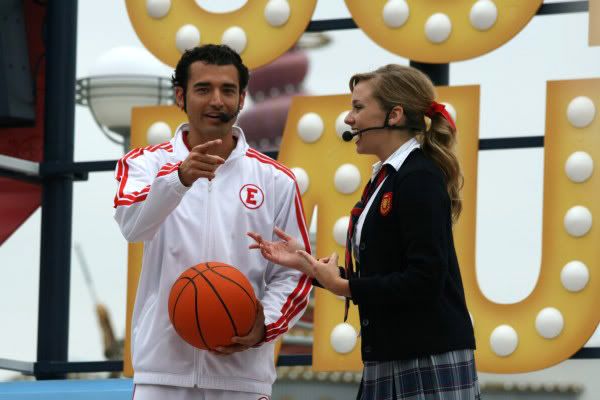 Look, someone is taking our picture.
Made you look!
The girl who plays "Stephanie" can really sing.
As the stage rolled away, we noticed that it wouldn't be long until the next scheduled appearance of Lightning McQueen and Mater. So we went to get a cup of coffee and wait. Soon, it would be photo opportunity time for fans of Cars.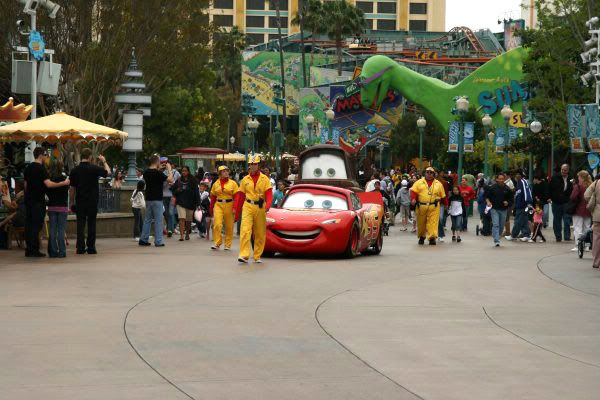 Smiling CMs clear the way for Lightning McQueen and Mater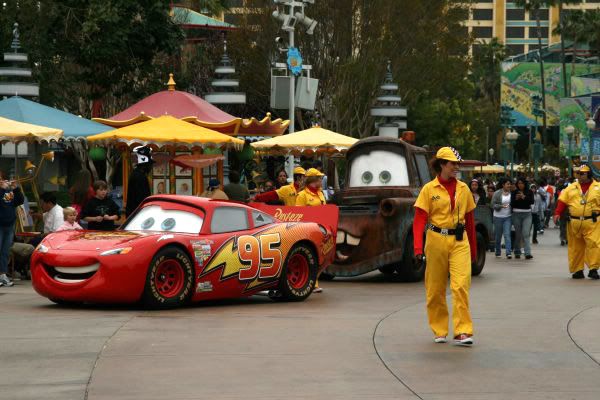 Maneuvering into position...
Mobbed by eager fans. Somewhere within this crowd are Lightning McQueen and Mater. Can you see them?
The man in the foreground is wiping tears of joy from his face, after finally being photographed with his hero, Lightning McQueen.
Their publicity obligations fulfilled, our two intrepid Cars head back to the garage.
We now take a brief time out from our entertainment tour of DCA for a flower break.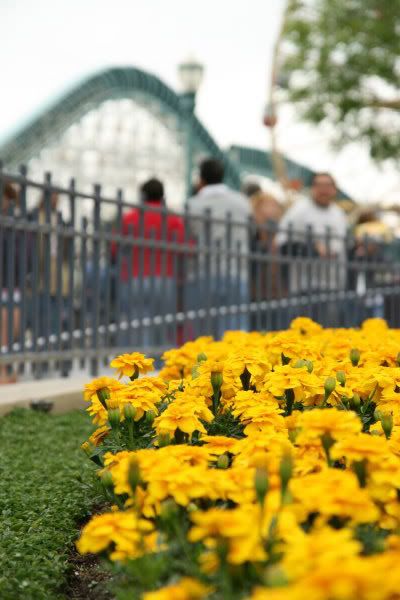 We'll be back in a few minutes with more from DCA, including appearances by the Mariachi Divas, Push the Talking Trashcan and the Block Party Bash!