Another update... Enjoy
WELCOME TO DISNEYLAND!
MIDWAY MANIA PROGRESS
Darkbeer has been covering Midway/Toy Story Mania progress so well that I haven't really been checking up on it. Here are a couple pictures from a different perspective than Darkbeer's...
Over at Disneyland... We rode the train around the park and then to New Orleans Square/Frontierland Station to check out...
PIRATE'S LAIR CONSTRUCTION
Other have reported it, but The Burning Cabin is safe, and it's actually getting some well-deserved TLC. It has an all-new roof, and hopefully will be on fire again soon.
Apologies for the blur - its the best I could do while on the moving train:
Rebuilding the stairs on the Island.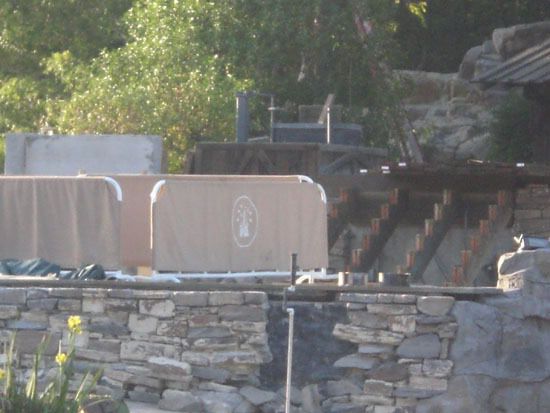 Re-doing some sprinklers in the planters near Splash Mountain: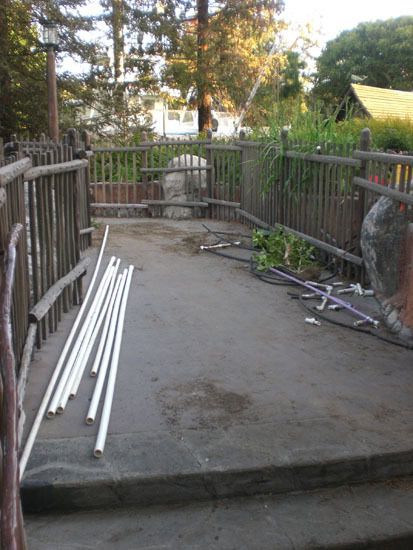 Transporting some lighting techs (?) over to the Island:
People were watching activity on the Island (some with binoculars) up from the Fantasmic! control tower:
Whats interesting is that around 10:30pm on Easter Sunday (4/8), some of the CMs in black came out and brought the Fantasmic! lighting tower closest to the Haunted Mansion up from ground. A CM was notifying on-lookers that they were just doing some testing, but we hung around for a while and didn't see any lights coming on. Perhaps they waited until after park closing to do the light testing, but why then did they raise the tower so early?
(The following three pictures were taken April 8)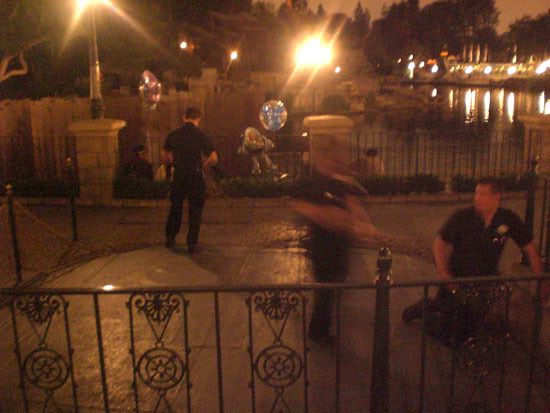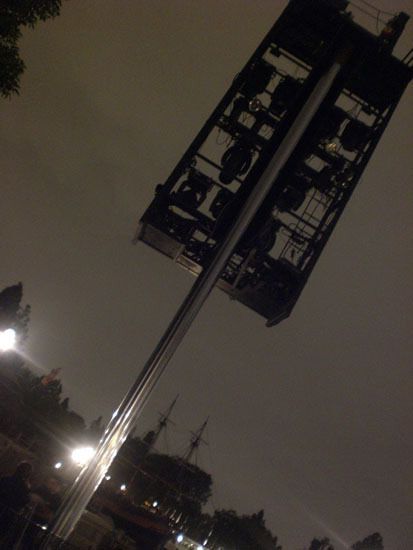 ED GRIER'S DIRTY PHOTO-OP
We ran into Ed Grier in the hub doing some dirty work - sweeping. He wasn't wearing the appropriate custodial costume, but blended in with his white dress shirt and black pants.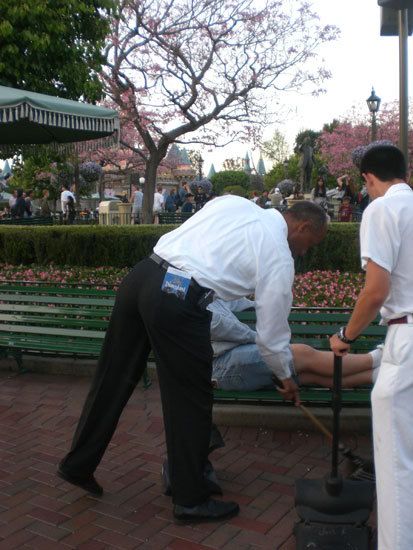 He's a nice guy. He asked what my favorite attraction was, and after I quickly offered the Haunted Mansion he asked if I liked Haunted Mansion Holiday. I said it wasn't my favorite, but it was okay. I prefer the original Mansion, I told him. "You're a purist, aren't you?" he asked. I admitted I was at least a little, and then he said "So what did you think about Rockin' Space Mountain?" Peoplemover1 gladly pitched in and said that it was bad and we haven't ridden it since it opened. To this, Ed didn't have a reply. He was responsive to our comments, but he didn't seem like he knew how to reply to negative criticism. He then changed subject to the Submarine Voyage. He asked if we were excited it was coming back, and naturally we said yes. He said the technology was amazing and that he's very impressed with what is being created in the Lagoon. Peoplemover1 asked if there would be any chance of AP Previews, and he said they're working on trying to plan a couple preview days. He said the Subs are a complicated attraction, and they're working on getting people trained on how to operate them properly with the new show and that hopefully they'd be able to offer a few AP preview days.
Anyway, after the chit-chat, I asked for a picture and then we headed our seperate ways. Overall, I left the encounter very impressed with him. He seemed down-to-earth enough, mentioning his family and wife in particular when I told him I had to go home to do some homework and that I was an art student after he asked if we would be sticking around for the fireworks. Apparently, his wife was an art major.
Then after all of this, it hit me. Peoplemover1 pointed out that someone was following him around with a camera, but it wasn't another fan like me - it was a Disney employee- probably a PhotoPass CM. After noticing this, we continued to follow as Ed and the photographer headed towards Fantasyland, posing along the way, sweeping up trash.
This wasn't Ed's noble attempt at garnering CM Matt-like respect from the online fan community and the frontline CMs that he was schmoozing with. This was just for some glitzy photos of him doing some dirty work. I'm willing to bet these snazzy Custodial CM Ed photos will pop up in the next Cast TV episode or CM guide.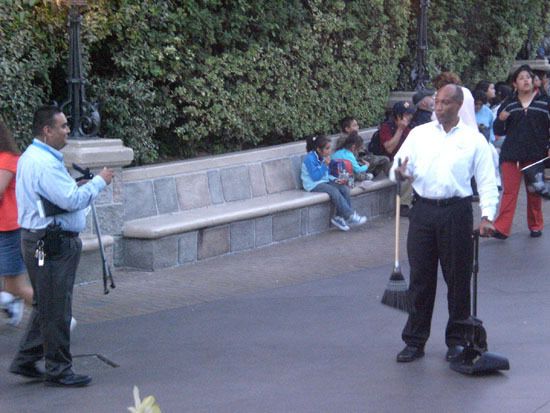 It's a shame. It seems like Ed's frontline duties aren't because he genuinely cares about the Cast or Guest experience - but because the press shots will be absolutely stunning with him, dustpan in tow, and the Matterhorn rising majestically behind.
Dirty photo op, indeed.
NEW WEDDING & CHRISTMAS MERCH
Some new wedding merch and Christmas merch are available at the Westward Ho! Trading Company in Frontierland. Mickey and Minnie sure look happy in their wedding duds, but with Disney allowing gay marriages now on-property where's the Donald-Goofy figurines?
And there's a Minnie Mother's Day 2007 plush now available: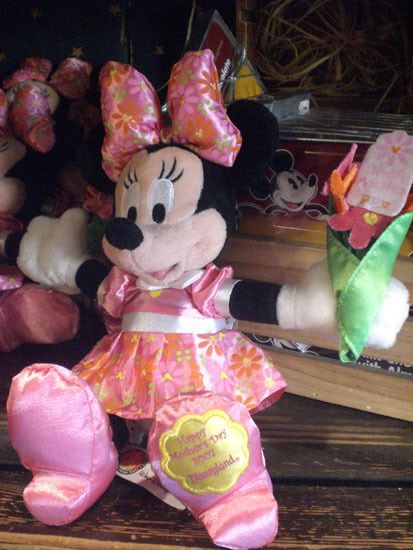 DISNEYLAND AFTER DARK
A couple of shots of Disneyland after dark (all of these were taken April 8)...
The way the Matterhorn lights up is amazing during the fireworks:
That photo was taken during the Indy portion of the show, of course. After hitting the standard color-correct option in Photoshop, this is what turns out - and I think the colors are as equally interesting, if not moreso: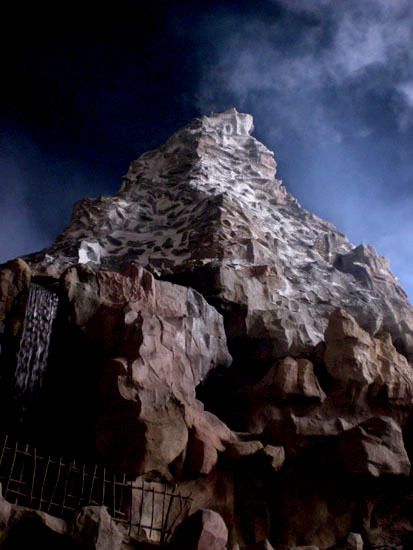 The new window on Main Street: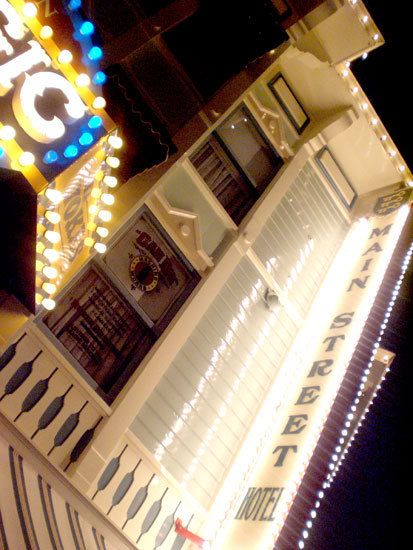 Alright, that's it for this update. Hope you enjoyed it