Yes, you read the thread title correctly.
Disney is selling tickets to attend the World Premiere of Pirates of the Caribbean: At World's End to anybody who's got the cash. Just how much will it set you back though? Well, only a cool $1,500 of course!
Here's an ad that Disney sent out in an e-mail: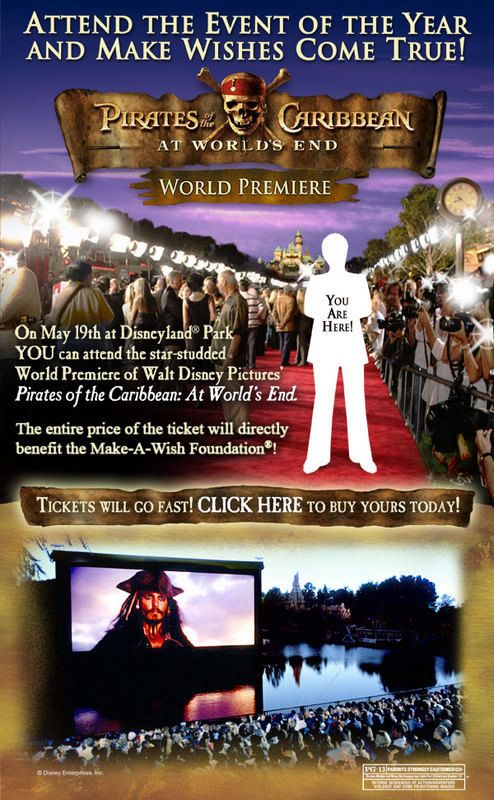 The good thing is that if you can afford it, your ticket price won't be going towards some studio exec's Christmas bonus, but instead every penny of your ticket cost will be going to the Make-A-Wish Foundation.
But what does that $1,500 ticket include?
Well, here's the run-down:
Admission to Disneyland Park, beginning at 6 p.m. on May 19, 2007
Access to the following attractions

Jungle Cruise
Indiana Jones Adventure
Big Thunder Mountain Railroad
Splash Mountain
The Haunted Mansion, and of course,
Pirates of the Caribbean.

Complimentary parking.
Buffet supper at the pre-screening private Pirates party in Frontierland, Adventureland, New Orleans Square, and Critter Country.
Reserved seats (assigned on first-come, first-served basis) to view film presented in state-of-the-art digital projection and surround sound in outdoor ampitheater along the Rivers of America.
Popcorn and soft drink.

Regular photo cameras will be allowed on the red carpet and the pre-party, but not at the film screening. All cameras will have to be checked with security at the beginning of the film. No video cameras of any kind will be permitted.
So... got the cash? Well, you might as well spend it.
Tickets are available at
http://home.disney.go.com/movies/pirates/premiere/
...And be sure to have a trip report ready for MiceChat when you get back from the event