I went to Disneyland for the first time in October 2006.
Only just really started to come to this website, so thought i would post my pics now!
Living in england, I have been a regular visitor to Disneyland Paris - the craze started when I went for a day with my family when we were staying in Paris the year it opened - and i have been many times since. I was there on the 5th and 10th anniversary, and several short trips since with school, college etc.
I got to go to Disney World with my family in 1999 after wanting to go for as long as I remember - I used to order those holiday planning tapes off the Tv when I was in primary school.
But this year, after graduating University, myself, my girlfriend and two friends decided to go on a kinda road trip around California, and luckily for me that included three days at Disneyland!
To me, Disneyland has a different feel from the other two parks - it really feels like the original and has a kinda nostalgic feeling to it I really liked - as much as I love Disneyland Paris, it kinda felt more like the real Disney at Disneyland California.
I hope I can go back some day, as I hope I can visit TokyoDL one day and DW once again.
Anyway, here are some pics and comments!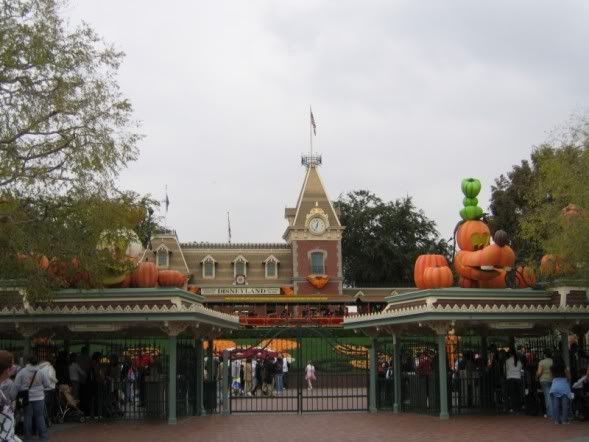 The gates - had to include this picture - I thought the pumpkin heads were great, never been to any of the Disney parks at this time of year, so it was all something new.
Another one everyone takes - one thing that hit me - the castle is TINY compared to WDW and DLP, but the main street shops are SO much better than DLP I thought.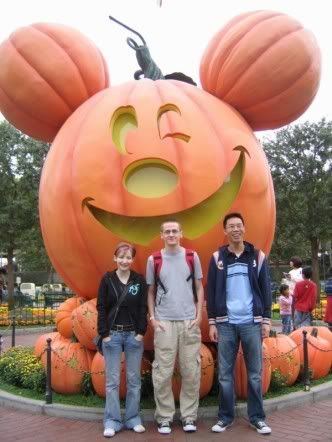 Me (centre) with two of my friends and the biggest pumpkin I've ever seen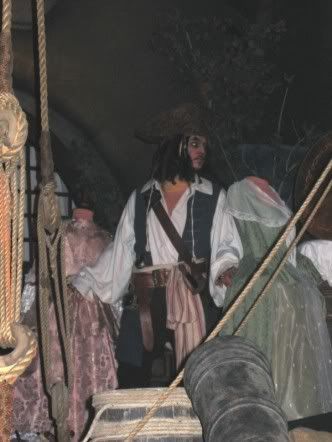 Don't worry, I didn't use flash on the ride - just photoshopped it later!
The ride layout of pirates is very different from DLP, but thought the new bits were well done and didn't ruin the old ride at all.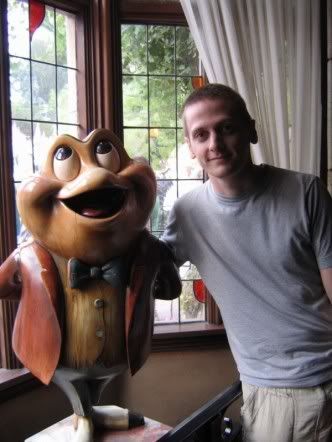 At last I got to go on mr Toad's wild ride! When I went to WDW, it had just closed and been replaced by Pooh.
I was devastated! everybody wants Mr Toad's wild ride!
I really enjoyed the ride, shame the WDW version is gone though as it had extra stuff. But I was so happy to finally go on the ride and get a photo with Mr Toad (kinda - where are the suit toads around the park?)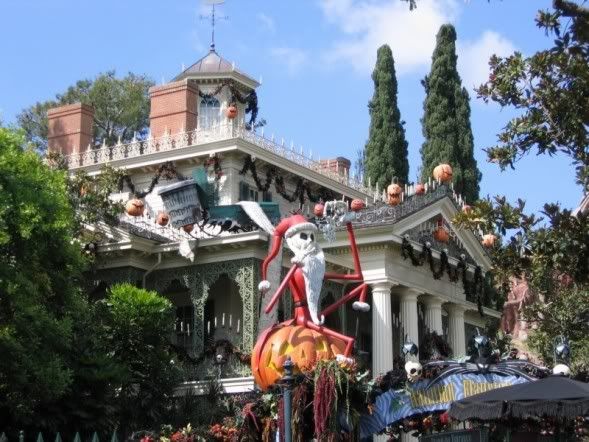 This was a really pleasant surprise. I never knew DL did this, it was a great way to enjoy an old ride all over again, and my friend Michelle loves jack etc, so she was over the moon!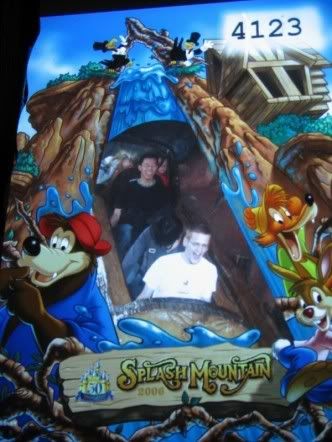 You can see my girlfriend ducking just before I get a mouthfull of water (lovely) I got absolutely soaked! Splash Mountain wasn't this wet in WDW (I WISH it had been considering how much hotter it was there!)
Ah, Tower of Terror. My Girlfriend Nicola didn't want to ride this as she has a sensitive stomach. And after going on it once, my friend Chiw refused a second go too! Michelle and i enjoyed it twice though - i love hearing Rod Serling introduce it (or is it a sound-alike?)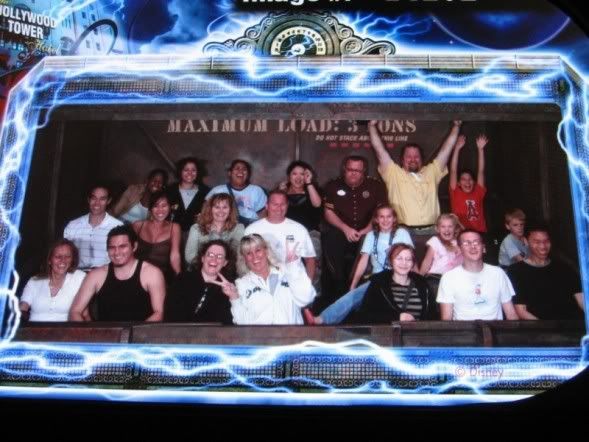 Look in the back row, third from the right! We never even saw this cast member boarding so we were kinda spooked out to see him there in the photo - the Twilight Zone strikes again! And he looks so miserable!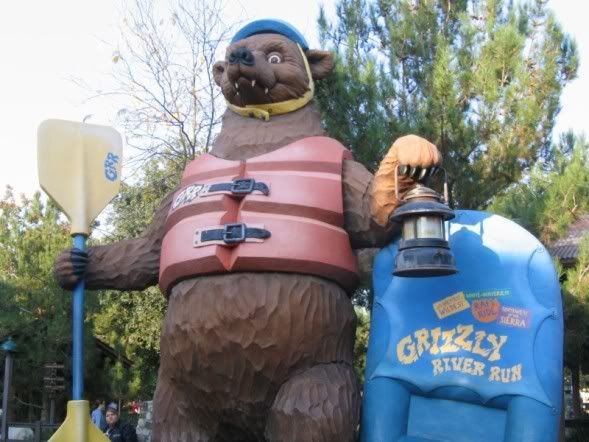 I don't understand the bad rep people give DCA, I enjoyed it a lot - ok it needs some work and more attractions, but it compliments MK well I thought.
Anyhow, in England, river rapid rides never really get you very wet, so we were all really shocked when we got absolutely drenched on this ride! again!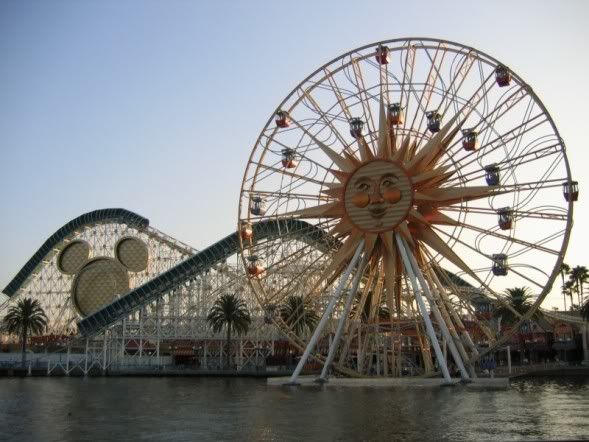 The Sun Wheel approaching sunset - I like this picture.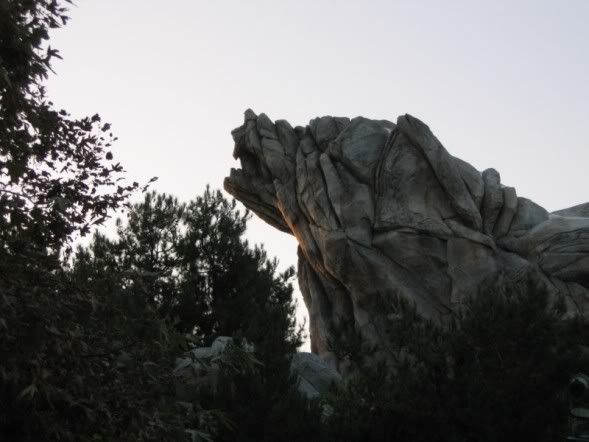 No-one else I was with realised this was a Bear until I explained it to them!
This ride is extremely photogenic - its exactly the same as the one at DLP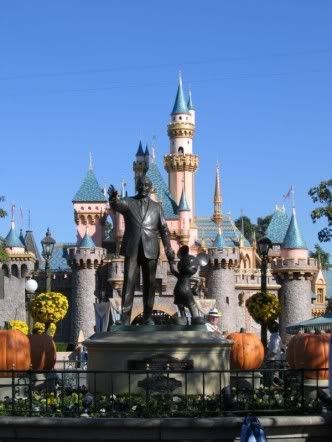 Really love these status in the different disney parks (its in the studios park at Paris) - the pumpkin lights around the edge depicting a character from each land were fun too!
Another Castle shot!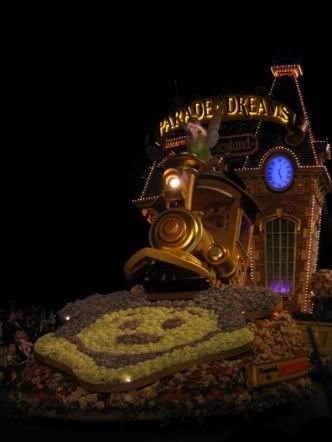 I was kinda let down they didn't have the full electrical parade, but I guess we were there at the wrong time of year really, this parade seemed really short to me.
All in all had a great trip, and i think Disneyland as possibly the highlight of our road trip around California - I just want to go back though now!
(edit) photos should be working now!