.....cuz we didn't quite make it to 16 hours!!!
Hi Folks!
I just got back from my weekend in Anaheim and what a fun weekend it was!
I went with a group of 8 adults and 18 6th-8th graders from my church.
We left our church Friday morning , Google maps in hand , which I assured our pastor I would do my best to follow even though I have a different route I usually take to get there. Last year's Google map he gave me took me on a tour of every airport in Southern CA and this year's Google map didn't look much better! I had another mom in my car helping me navigate and we still managed to come out on Highway 101 in a completely different place than we were supposed to...although I found it kind of humorous that the road we were on dumped us right smack in front of a place called Disneyana! And we never did find the highway we were supposed to take going East so we just took 46 like I usually do. We were the 4th car out of 5 to arrive at the hotel so I think we did all right!
The hotel we stayed at was great, especially for the price we paid. It is called Best Western Raffles Inn and it's directly across the street from the strawberry fields on South Harbor. The suite I was in had one room with two queens and a bathroom and another room with a bunk bed and pull out sofa bed and a bathroom and it was only $131 a night! Everything in the room was nice and clean and new looking. There was a breakfast room with a free continental breakfast and a swimming pool and jacuzzi area that was small but adequate. Also, the manager or whover was working last night was very very nice. The parking lot was completely full when we all arrived back from DL , but he met each of us at the entrance and said "Don't worry, we'll take care of getting you parked right near your room" and he did! I would definitely stay at this hotel again!:thumbup:
Another nice thing about the hotel was that it was within walking disrtance of a lot of good restaurants. We had a reservation at Buca Di Beppos at 6 pm so we starting walking down there at 5:45 pm and arrived right on time. Our youth pastor's wife had pre-ordered the dinner selections and then everyone just ordered their own drinks. We had ravioli, lasagna, spaghetti , salad and garlic bread and everything was delicious! And our check came to only $218 for all 26 or us! Not bad!:yea:
After dinner, we walked back to the hotel and had a short meeting in one of the rooms and then let everyone swim and go in the jacuzzi for a couple of hours. We were all in bed with lights out by 10:30 since we were planning to get up at 6:30 am the next morning so we'd have time to get dressed , eat breakfast and be at the park on time for rope drop at 8 am! Everyone stuck right to the schedule and we actually all got there not just on time , but early!!!:bow: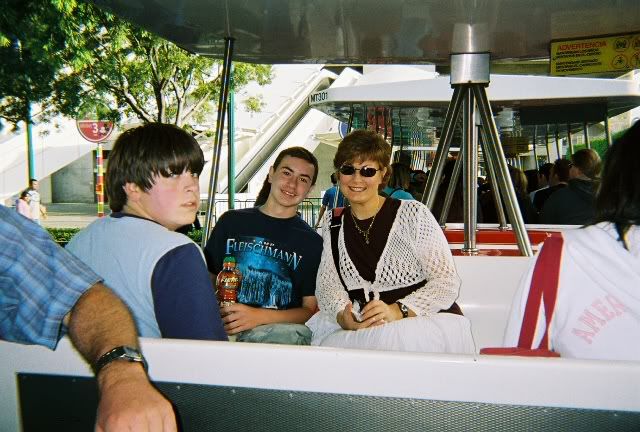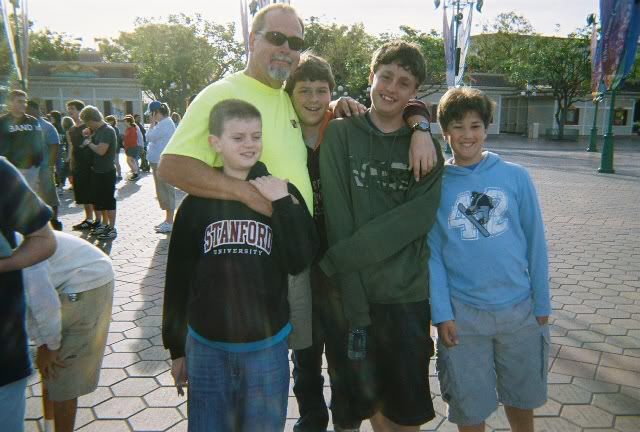 Have I mentioned yet that we had a whole bunch of DL newbies as well as a bunch of adults who had not been there since they were about 10 years old or so! I knew this was going to be a fun day seeing DL throught the eyes of 1st timers! We headed straight to Tomorrowland and went on Space Mountain first thing! Then we hit Buzz Lightyear and Star Tours! All three were quite fun to do as a large group! Then we split off into smaller groups so people could go their own ways. I went with a mom and 4 boys and we went and dropped off our things at a locker. I never really noticed before that there are noises coming from the wondows in that area by the locker. We heard a man taking a shower in the hotel, some patients at the dentist office being drilled, and some music students learning to play the piano........cute! Then we headed down to the Tiki Room and the mom told the 4 boys to wait in the waiting area for us while we went to use the bathroom. While we were in there , I said "I really hope they don't make a run for it while we're in here!" But we went back and they were stil there. I introduced them all to their first Dole Whip and then we went inside for the show. The looks on their faces when the show began was
classic
..kind of a "Huh? What the heck is this?" We told them "just go with it" and they were good sports about it and did.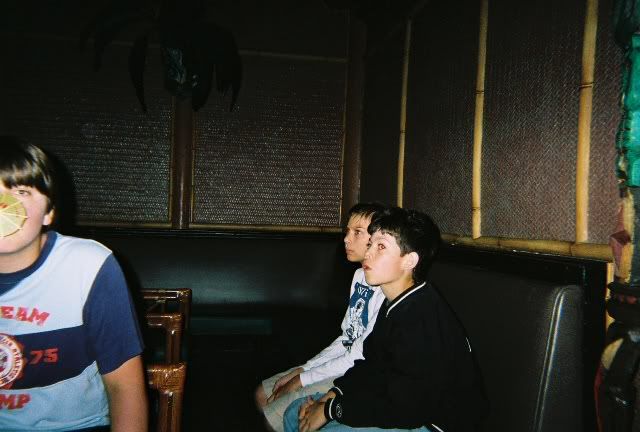 We went on the Jungle Cruise next and that was great! We had a really good CM named Jason who told some really funny jokes I had actually never heard told . Then we went and got fast passes for Indy and then went to get in line for POTC. It was only about 10:30 at this time and the line was already humongous....seriously the longest I've ever. They all said they didn't mind waiting and I said since I 'd seen it, I'd do a little window shopping in New Orleans Square and then maybe meet them at the end of the ride. So I went in a few shops then sat at a table by the little stand where you can get clam chowder and gumbo . Then I saw another of our youth group leaders and his group of three kids going by in the POTC line so I joined them. I would describe this group as hyper and witty and I loved their energy so I ended up spending a lot of the day with them. After we rode POTC, we were all really hungry so we went to the French Market to eat lunch. We were sitting right near the stage and right when we sat down to eat the band and singer came on. I told the leader, "watch out, the singer's heading your way" and sure enough , she sat on his knee and started singing right to him. He looked kind of embarassed , but his daughter was even more embarassed. Her face actually turned bright red. It was so cute that he asked me to take a picture of them!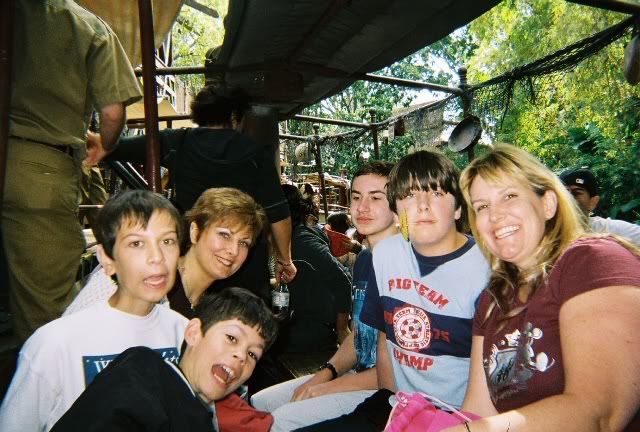 After we ate , we had about a half hour to kill before we needed to meet at the hub to check in with everyone. We got fast passes for BTMRR and then I said "If we hurry ,we can catch the Columbia and sail around the island." What I didn't realize was that it wasn't actually moving yet, but just sitting there since they're doing construction on TSI. But everyone had fun checking out the ship. The two boys in this group are ADD and they started running so I told them to stop right away, but one of them bumped into a little girl ever so slightly as he was stopping and the little girl's mom turned around and started
screeching
at him even though the little girl was perfectly fine. He said "sorry" and I thought he was gonna start crying. Then a few minutes later I saw the same little girl skipping and running all over the boat while her mom chased after her talking in this really syrupy voice! Some people!
We headed over to the hub after that and had a group picture taken by a very nice CM named Tibi! Then we decided to all go on the Pooh ride together This was the ride where I hooked up with my friend named Claudia and her group of girls since I had promised to go to the Country Bear Jamboree with her. The youth leader video taped me breaking the news to her when we got to the Hungry Bear Restaurant that the Bears were no longer there. Then he videotaped me showing her the Pooh Bear ride. Then I borrowed his camera so I could tape her reaction to the ride and the various heads that are mounted on the walls throughout the Pooh ride. Needless to say, she was not too thrilled with the Pooh Bear Ride!!:lol:
We took her in the candy store after that to cheer her up and everyone came out with assorted sweets. Our youth pastor was the funniest because he was eating one of the those cookie and worm covered apples and he had chocolate all over his face! Then , the HUGEST black bumblebee I have ever seen started chasing after one of the girls in our group. The youth leader thought it was fake and on a wire or something a la Disney cuz it was so big that it just didn't seem real!!!:lol: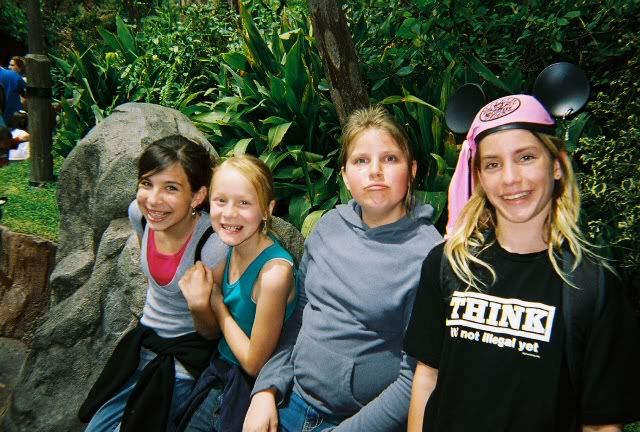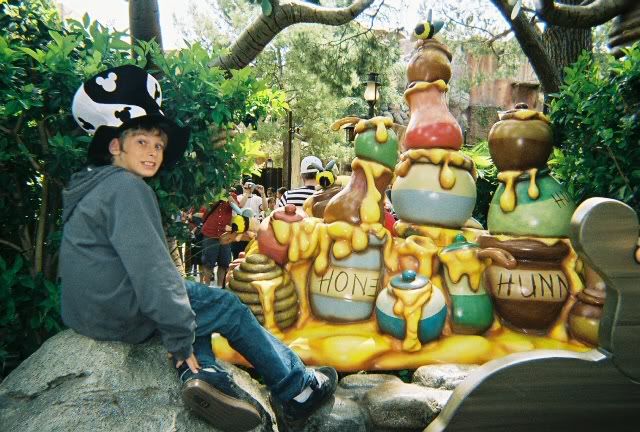 After that we headed back over to BTMRR to use our fast passes. Another thing I haven't mentioned yet is that our youth pastor is 6'3 and the other youth leader is 6'5. So the kids and I all had our hands straight up in the air for the whole ride and those two were just praying that they didn't whack their heads on the rocks of the ceiling!!!
More in a while.........