Okay, so I've been a Mice Chat member for a while now, and I always love reading the Trip Reports. Everyone always looks like they are having so much fun! It took me a while, but I finally got an AP, and then I read about PEZZ Lightyear's Sunrise Service Meet. At first I thought - "is he crazy? You've got to be kidding me! Nobody in their right mind would get up
before
the @$$-crack of dawn!" But at the same time, the thought was intriguing. Apparantly, the thought was intriguing to quite a few others as well.
You'll have to excuse the lack of photos - I was having so much fun that I kind of forgot to take many pics, and a lot of the shots I did take kind of sucked. :blush: Plus, I figured there would be quite a few photo-filled TRs circulating anyway.
We hung out in the parking structure because it wasn't even open yet! And got a nice surprise - commemorative magnets thanks to the efforts of Rixter and MickeyMaxx. After congregating in the parking structure, we parked in the Pinocchio lot (now that was a first for me!) and got to the gates in time for rope drop. First ride - Peter Pan! Yay! Then Mr. Toad, then we were off to take over Dumbo:
Sir Clinksalot looks pretty chipper for an early morning.
PEZZ Lightyear, on the other hand, is not looking quite so chipper.
Anders and Sunnygirl
After Dumbo, it was off to Casey Jr.
The obligatory "photo of someone taking a photo."
After Casey Jr. we hit the Matterhorn, then PirateMunkee, TikiRoomLiz and I split off to hit Space Mountain. Standby wait was posted at 30 min, but I swear it only took about 15. Okay, so maybe the early morning thing isn't such a bad idea!
After Space, we sort of caught up with the group at the River Belle Terrace for breakfast (they were finishing as we were starting) and then met up again for Haunted Mansion. And then it was time for an after breakfast Pooh!
I apologize, but I don't remember the name of the person who was giving me his opinion of Pooh (but I do remember that that's Mamabot on the right)
And then it was off to the now-famous canoe races. That was fun! It probably didn't hurt that I was in the winning canoe!
We headed to the hub to meet up with more people before hitting Space Mountain (my second time!)
Hollywood1939 and a frowning Fishbulb
Space Mountain, take two! superstacie and I tried to give the guys in front of us antlers, with limited success.
Here is where things start to get a little fuzzy. I didn't take any photos between 10:30 am and about 3:30 pm because I was just having so much fun. I do remember wandering around a bit before hitting the hub for the "official" noon meet. Although that actually happened around 11 am. There as a Crazy Legs fan who was visiting from New Jersey, and a very nice Australian couple who joined us for part of the day. I just remembered being blown away by the thought of MiceChat bringing people from so many different places together at Disneyland. I do remember Fishbulb ending up with his head in my lap so I could play with his hair!
After the hub meet, it was off to the Hungry Bear for lunch. I remember hitting Pirates (where we were joined by Sadako and cpdisneyprincess), Haunted Mansion and BTMRR, where I got to try the goat trick for the first time. Oh, and I sat behind Scarlion - that was fun. We're going uphill! Yaaaaaaay! LOL
We hit the teacups, and then we were off to the monorail. Okay everyone - smile!
MAXandBELLESmom...with Max and Belle! Aren't they just the cutest?!!?!! They were real troopers, too.
Subs!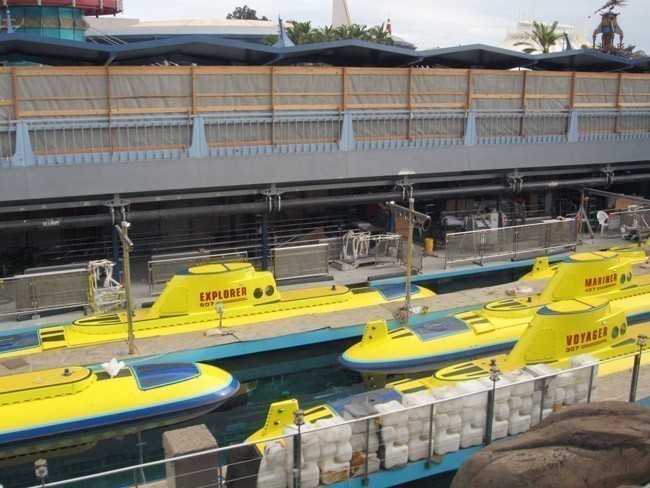 Mine! Mine! Mine!
After that, we hit Space Mountain one more time and then we were off in search of something to eat. We ran into Darkbeer and Deogge's Mom at the Esplanade, where he suggested the Cove Bar's Lobster Nachos. That sealed the deal for Mary Ann in Wndrlnd and me - we were now on a mission! After getting FPs for Screamin (10 pm return time!
) we hit the Cove Bar.
First things first - must have drinks! Mary Ann in Wndrlnd and hubby
DisneyIPresume
Hector - it was his recommendation to have an Alien Urine Sample. I know the name sounds disgusting, but OMG that drink was good! Spidergrrrl got sloshed.
Yummylicious!
Happy at the Cove Bar!
We had some time to kill, so we hit the MuppetVision 3D Show and then had some fun in the Animation Building. It was about 8:30 pm and things were definitely starting to wind down a bit. Our fearless leader PEZZ Lightyear had to go so we bid him good night. After the Animation Building, we hit the Mission Tortilla Factory.
Maseca!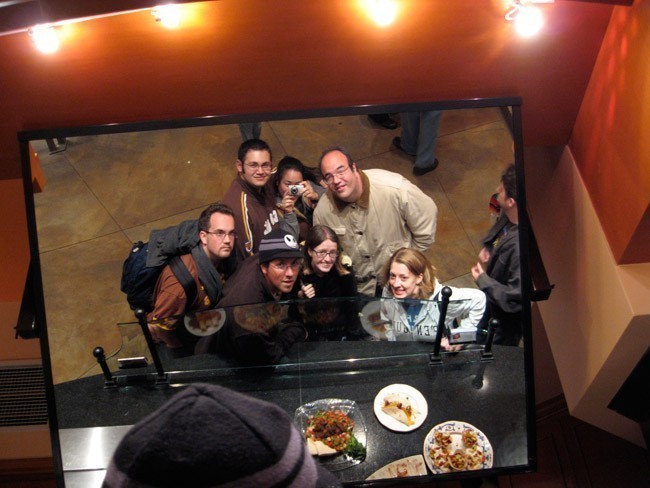 We were hoping to watch the MSEP, but unfortunately, it was canceled due to rain. It was now 9 pm, I had just spent 15 hours at DL and I was ready to fall over. So I called it a night.
I have to say, this was the most fun I have EVER had at Disneyland. I got to meet soooo many great people. And to think I was nervous because I was off to my first meet and didn't know anybody! I don't know how to describe it, exactly - but I was really struck by how caring and conscientious and just wonderful everyone was. I felt so welcomed by everyone - it was fantastic. Many, many thanks to PEZZ Lightyear for organizing the day.
And that is my first meet and TR.
The end.